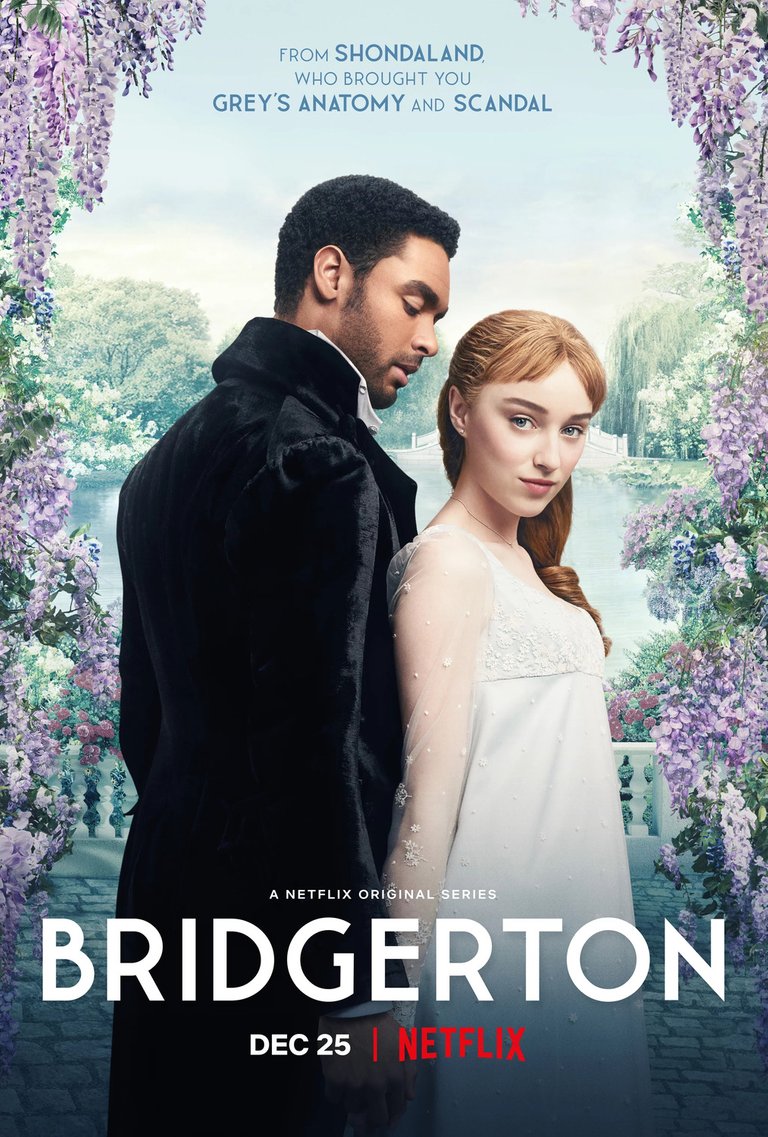 Bridgerton is pure fun catchy trash. I loved it. It is the perfect candy for the third lockdown. This show is Sex and the City meets Pride and Prejudice meets Gossip Girl meets fantasy in Regency England. If you are looking for historical accuracy, you should look for it somewhere else. If you are looking for a romantic fun show then this is the one for you.
This show is the first show that Shonda Rhimes produced for Netflix as part of their new mega deal and Netflix can be very happy. It's been a while since there was so much buzz around one of their shows, I think the last talked show they had was The Queen's Gambit. This show is not nearly as good, but it is entertaining.
The show focuses on a few families, but mostly it focuses on the Bridgerton, a rich and respectable family. The show depicts Daphne's (Phoebe Dynevor), the oldest sister and forth out of eight children, coming out into society. She is expected to find a good match, but Daphne wants to marry for love. Something which is hard to do back then. Daphne's younger sister Eloise (Claudia Jessie) is good friends with Penelope Featherington (Nicola Coughlan). Through Penelope we see the rest of the Featherington family. Daphne's oldest brother Anthony (Jonathan Bailey) has an old friend which is now back in town, Simon Basset, Duke of Hastings (Regé-Jean Page), who is the most eligible bachelor of the season. They are all mixed up together during the social season, and above them all sits the Queen Charlotte (Golda Rosheuvel). And Lady Whistledown who is voiced by the magical Julie Andrews. Lady Whistledown writes about all of the social scandals and current gossip in a newsletter which everyone are obsessed with. Yet she fails to see that the attachment between Daphne and Basset is a scam intended to make him appear not available and to help her find a match. But plans apart and reality apart, as their plan falls into difficulty. Still, it is all provides shallow, fun entertainment.
The show is about family, love, wealth, loyalty, but not reality. There is nothing realistic about this show. The diverse cast which is history inaccurate to some extant is actually the most realistic thing about the show. The close are inaccurate, the style of the dresses is somewhat accurate, but the colors and the absurd amount of decorations on them is not accurate. Then there is the music, just because it's an orchestra with a violin doesn't mean it's accurate. While the characters are talking about Mozart they are playing Billie Eilish' "Bad Guy" on violin. I think the wigs are also from a different period of time. It's a fantasy show basically, but a fun one and somewhat more grounded.
As for the plot, well, if you read or watched "Pride and Prejudice" there is nothing unpredictable here. Not all couples work out or find a match (I mean there are a lot of books in this series so there is room for more seasons), but those that do are fairly predictable. The biggest surprise is the identity of Lady Whistledown. That was a shocking one. There is a lot of sex and nudity in this show so you can take that into consideration as well. Other than that, you know what is coming before it happens.
The actors all do a fabulous work with what they are given. Plus, at the end of the day everyone I know watched the show only for Regé-Jean Page. Everyone are great, but he carrier this show with his charisma and good looks. Everyone else grows on you slowly, but he is it from the start. He is the breakout star of the show for sure.
If you want historical accuracy than the BBC's 6 episode adaption of Pride and Prejudice is just you for. If you want a fun, thoughtless romantic diversion that doesn't require too much concentration, this is the show for you.
Please follow me and upvote my posts to help yourself stay up to date with everything that is nerdy and awesome.
Sharing will also be most appreciated.
See you in my next post.