Took a vacation recently. First in three years. Didn't travel anywhere. Why would I? Already live in one of my favorite places. Just don't get to spend enough time here.
Have a hard time sitting still, though. Spent a lot of time jogging, kayaking, pottering about the house.
Eventually thoughts turned to writing.
---
As they used to do, when I scored a period of idleness. It's kind of a curse, this sense that you should be writing all the time. Especially when you're biologically programmed with an inability to sit still. Which is kind of a prerequisite to writing.
So I went on a little day trip. This is different from travelling. Anyway, I've been meaning to go to this place for ten years. Seriously. I sent this guy an email ten years ago saying I might stop by his shop one day. Trade in my collection of amateur-restored (meaning I did it) typewriters for one or two professionally refurbished machines. Or maybe some money. He said, "Sure, stop by anytime."
Ten years later. Today was the day.
At one point I had 20 typewriters.
---
Couldn't help it. They just speak to me.
Kurt Vonnegut said of his own machine, "I never met a blacksmith who loved his anvil." That's probably why he'd written 20 books by the time he was my age, while I had 20 typewriters.
Anyway, I got sick of moving them around. And I discovered the joy of giving them away.
One went to the elderly aspiring author of children's books. One to a woman who was planning a cross-country trip in a beat up old van. One to the 6th grade daughter of a co-worker, who was so excited to have it, she lugged it to school every day for an entire week.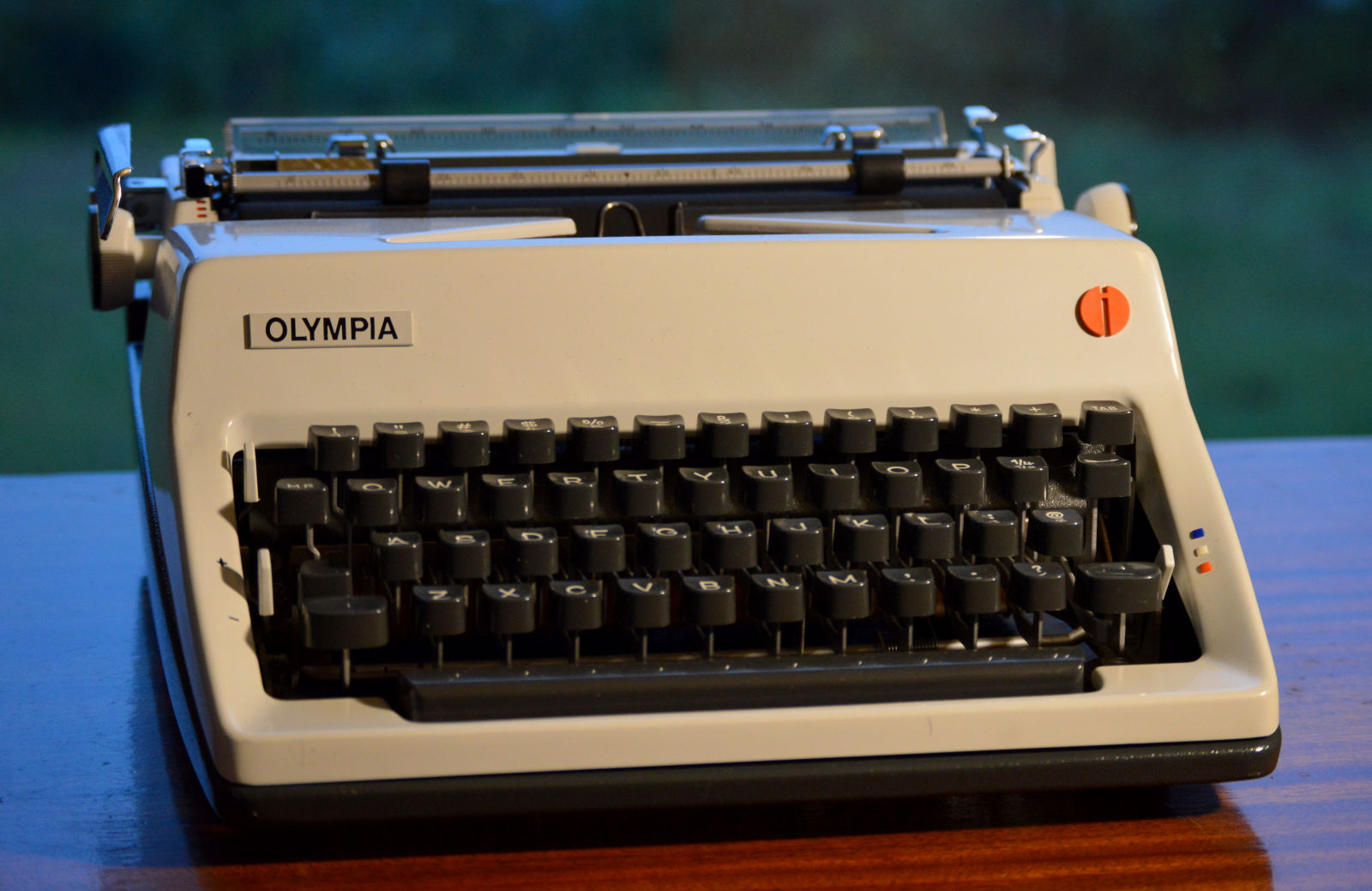 When I loaded what was left into my car last week, I had eight left.
The drive to Cambridge Typewriter took about two hours, which seems like a significant length of time until you realize that's only one half of one of Joe Rogan's podcasts.
I went in hoping to find an Olympia SM9.
---
It was always a holy-grail machine for me. More modern than classic, maybe, but it hit the pinnacle of durable engineering in the service of function, just before the 80s swept in with spreadsheet driven cost-cutting measures that drove manufacturing to a lowest common denominator of cheap plastic and disposable goods.
My high school typewriter was an Olympia SG3, the desktop equivalent to the SM9 portable. It weighed nearly 50 lbs and typed with the responsiveness of an electric, and I didn't know how good I had it (even if most of my classmates were using word processors hooked to some kind of dot matrix). I'd let it go sometime before Y2K and missed it ten years later, but I certainly don't want anything that heavy now. Still, in my most torrid years of typewriter acquisition, at dump swap-shops and thrift stores and friend's parent's basements, I'd never come across another Olympia.
But I saw one, almost immediately, upon entering the store. Waiting. Shining white. Almost MacBook like in its modern stylings. Okay, I thought, the only thing that could make it better was an elite (smaller) typeface. "Go ahead," Tom said, "roll some paper through."
I never imagined it would have the modern, sans-serif font. I pecked away in a daze, imagined this was the manuscript for some SF tale for Omni Magazine.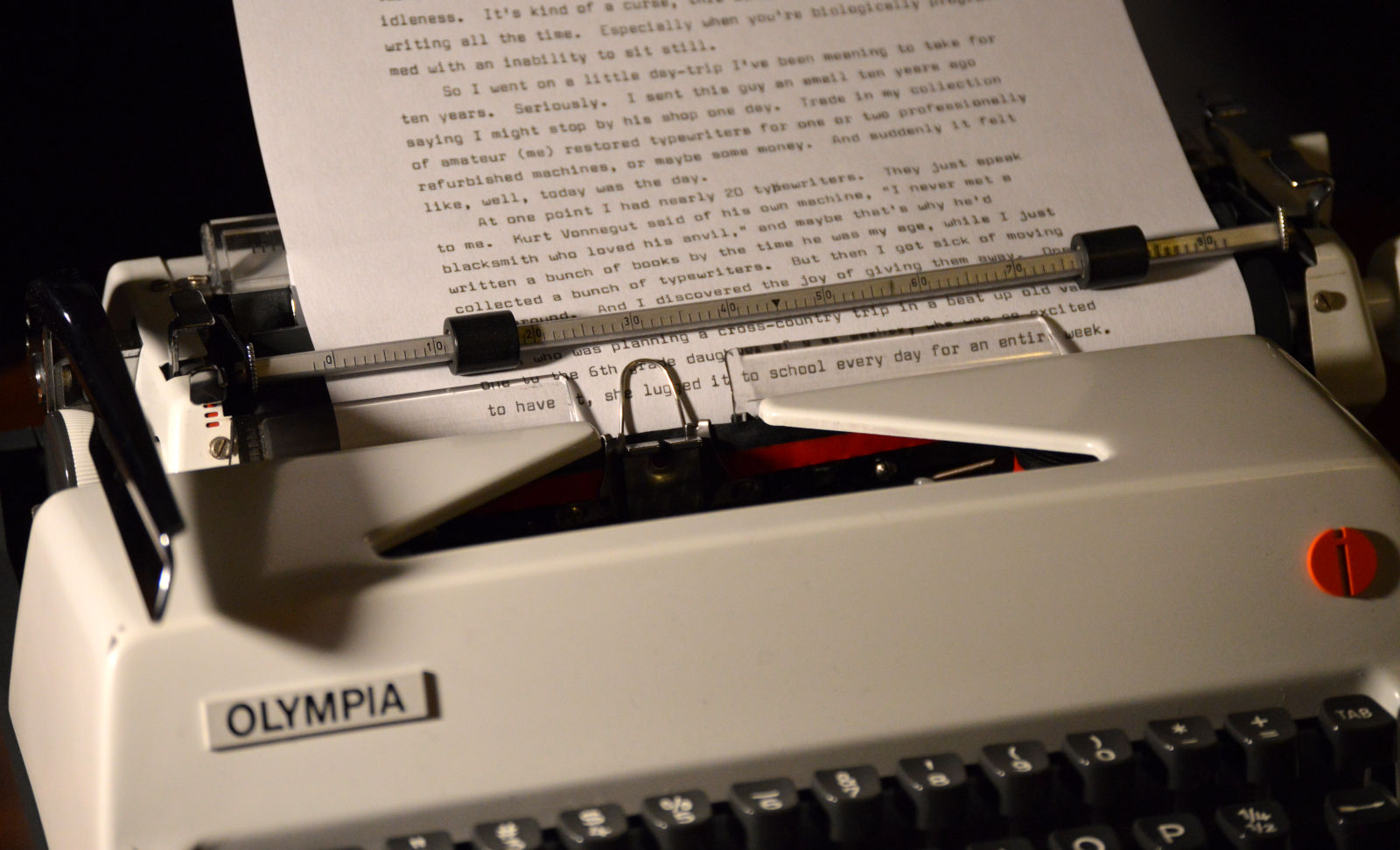 There really was no question that this was the one, but I still tinkered around with some other machines for half an hour pretending I might take something else.
I nearly did come home with two. There was a Royal DeLuxe with elite courier typeface, and I've never felt those tombstone keys quite so gentle and soft. But the goal was to turn eight typewriters I never use into one I might, so I shouldered responsibility and left with just the Olympia and a generous check for my ragtag collection.
Tom was more than fair in his dealings. There was no need for haggling.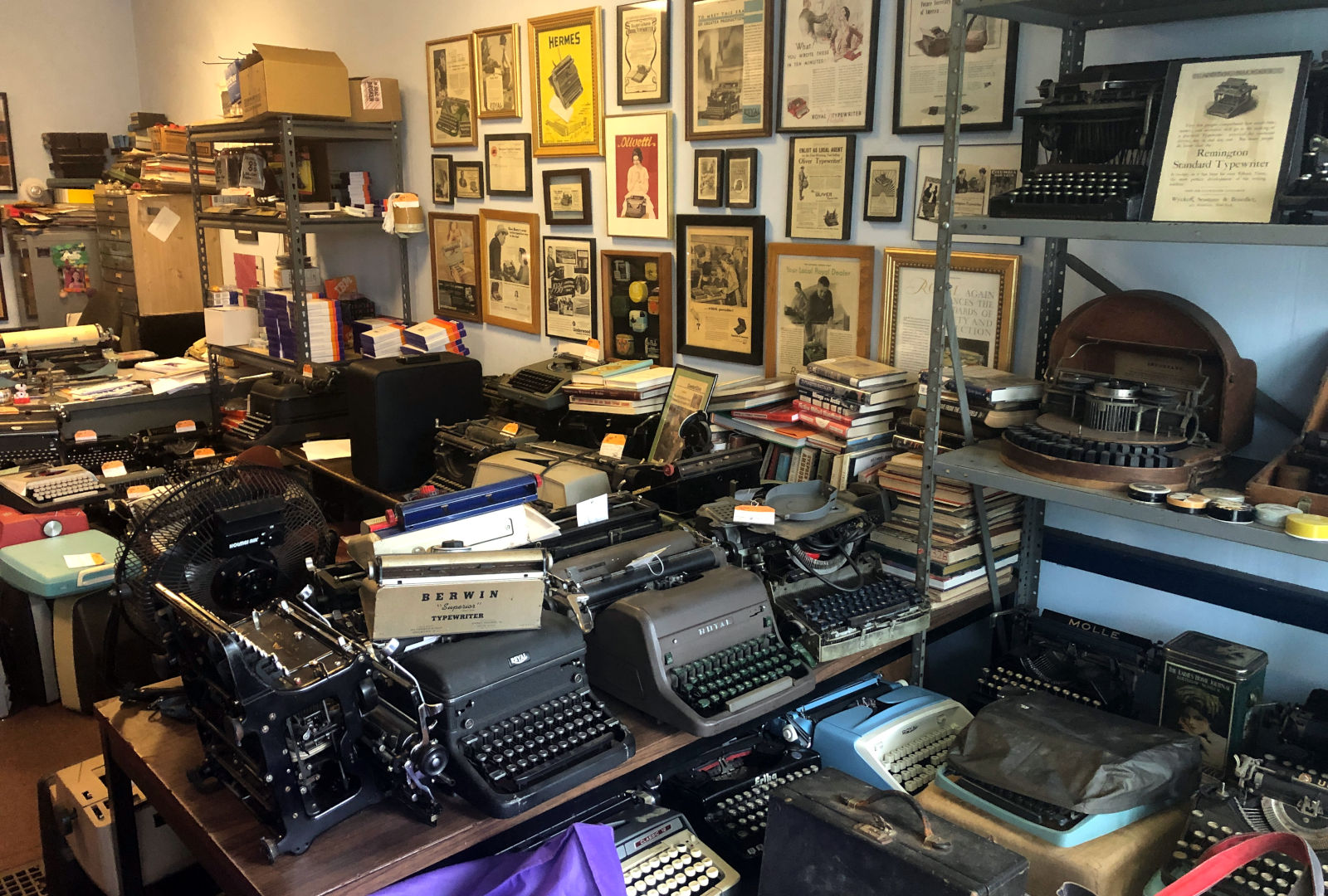 It's surreal, typing on a professionally restored machine. All of the parts work. The platen is soft and responsive, so typing doesn't feel like hammering into concrete. It's also surprisingly quiet. The rubber feet grip the surface of the desk so it doesn't slide around with every swipe of the carriage return. The segment is clean and shiny, not gunked up with dust and flakes of co-rec-type. I can set tabs! It even has a paper support in the back with a ruler to tell you how many lines you've got left before the end of the page. And of course, the bell chimes, soft but resonant, at the end of every line.
I don't know how Tom gets these machines so clean.
---
There's probably some kind of solvent/lubricant bath involved, and a lot of patience and witchcraft. But the result feels like going back in time and discovering what it would have felt like to pick up a typewriter from the showroom floor.
Business is going well for Tom.
---
Interest in vintage typewriters was already on the rise over the past decade. I found out about his shop all those years ago through his blog, and I used to read it with interest until he got too busy to post frequently. The recent lockdowns have set a new generation looking for a way to create and write that provides a break from the constant connection and distraction of phones and computers, remote learning and zoom calls. He's had to hire help to keep up with demand. And they took several calls from interested buyers and sellers in the half-hour I was there.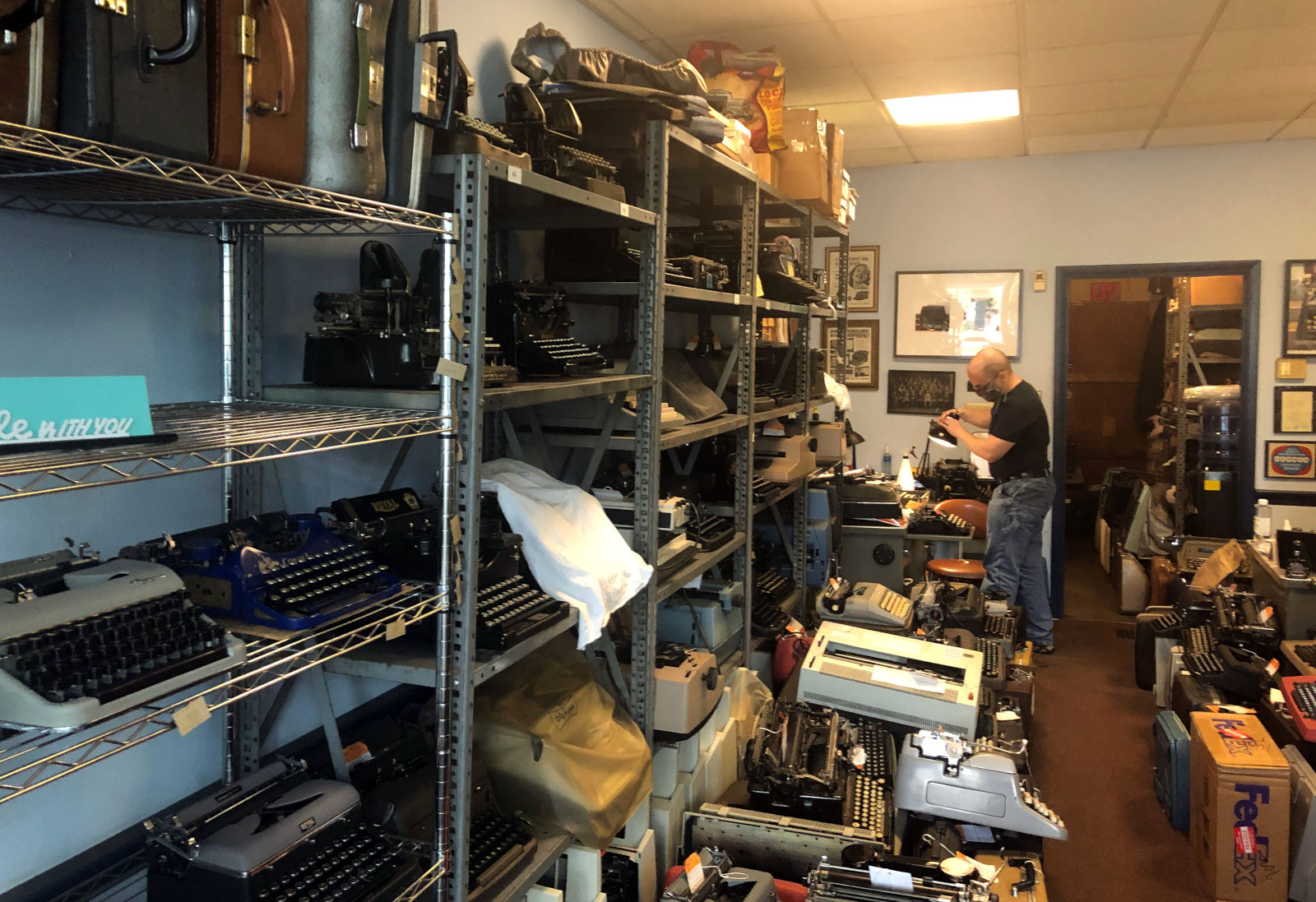 It was nice to see. As a tobacconist, it's always a pleasure to discover that another old-fashioned business is a success.
---

---

---
Unless otherwise stated, photography is the work of the author. Feel free to copy, remix and share photographs from this post according to the terms of a Creative Commons Attribution Sharealike 4.0 International license.
Camera divider and signature illustration by @atopy.
If you'd like to read more, you can check out a categorized catalog of my posts on Steemit here.