Welcome back! This is the Eighth Greek Team Report coming to you through Aristotle, written by @dimitrisp, two day late!
Let's start this week's report with our stats for the Week 25/11 - 01/12 with our signature (not-that-fancy) graphs and words.
Contribution Totals
This week we had 7 contributions from 4 out of the 5 members of the Greek Team. Here is a breakdown: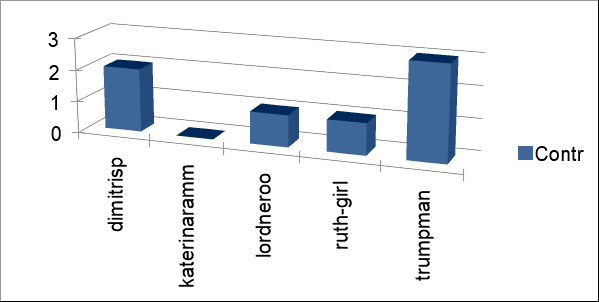 MVP: @trumpman had the most contributions. (and he kicked @dimitrisp from the first spot again!)
The average $/word (after removing the 25% of the curation rewards, and the 15% cut of the beneficiaries added to the contribution posts) is $0.03 (previous week's average was $0.03).
---
Words Translated
This week, the Greek Team translated a total of 8174 words in 5 projects (previous week's figures are 4660 words in 3 projects):
The average wordcount per contribution is 1168 words (previous week's average was 1165 words). A breakdown of words per translator can be found in this graph: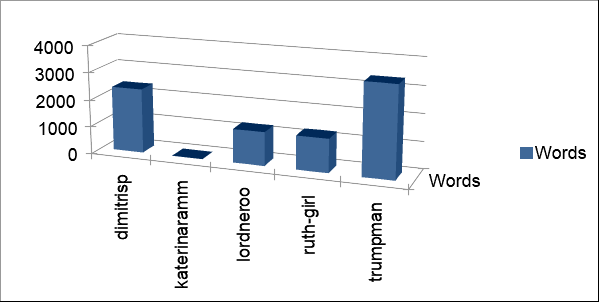 MVP: @trumpman, with a total of 3349 translated words.
---
Rewards
Starting this week, the report data is taken from Aristotle's internal DB where the payout data are being fetched every couple of days, and they do not include the beneficiary cut and the curation cut.
The total amount of rewards the Greek Team has gotten this week is $225.76 (the previous week's figure was $138.70). As always, we have 2 graphs for this section, the first one is an average USD per word for each translator: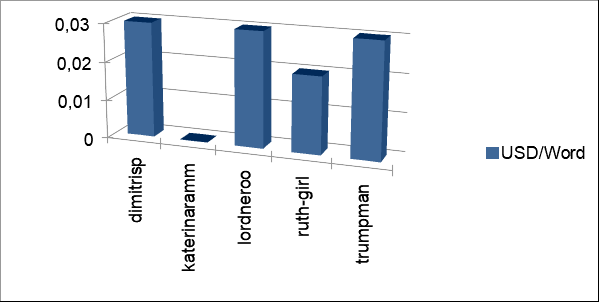 MVP: 3-way tie between @dimitrisp, @lordneroo and @trumpman, like in the previous report!
In the second graph, we can see the total amount each user has gotten in total.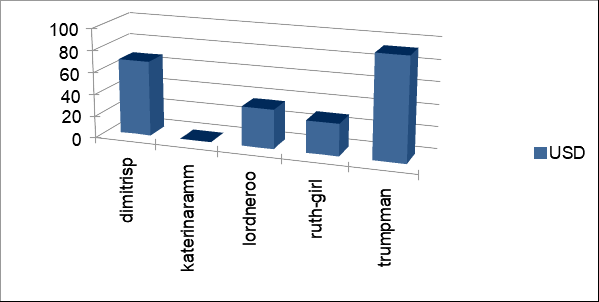 MVP: @trumpman with $93.04 (previous week's MVP was @dimitrisp with a total of $70.02)
---
Other info
The team is back to their former glory! "No matter what the Steem price is, we will be here", Aristotle exclaimed.
---
The Contributions
As @tykee suggested in the previous report review(we are sorry for not replying, things are a little bit crazy around here these days), because our review week is Sunday to Saturday, while the Utopian review week is Thursday to Wednesday (if I'm not mistaken), here is the list of the contributions:
---
Community Status
Curation Trail
Aristotle is upvoting the Greek Team's posts, the posts of his supporters (those who delegated some SP to him) all posts by @utopian-io, and all translation contribution posts.
In the past 7 days, Aristotle upvoted 44+ authors on 72+ posts, giving out $0.989+ in total rewards.
The current voting weights are:
The upvote for delegators is not guaranteed. Aristotle thought it would be nice to give something back to them, but if the Voting Mana is not enough to upvote the translation contributions, the delegators may not get their upvotes.
We are monitoring Aristotle's Voting Mana, and we barely see it go below 90% (most of the time, it ranges between 97%-100%)
---
Aristotle App
@dimitrisp promised he will start developing the app again within the week. When asked, Aristotle said "It's mostly functional, he needs to iron a few bugs out and start a beta testing phase."
---
Pick of the Week
Aristotle didn't have a pick for this week, as his majesty was too busy for this. He promised a double-pick next week though!
---
That's it for this week! Aristotle would like to thank you for reading this long wall of text! Until next time...
- @dimitrisp for Aristotle / @aristotle.team
@aristotle.team is still young and small, but we have faith in his potential and great ideas coming from his hard-working team! Thanks to people who have shown trust in him, we have gathered delegations by:
We are thankful for that and we hope to live up to your expectations, guys!
We aspire to become even stronger and manage to give back a piece of the support Utopian has been offering to us and the opensource community.
We are proud to be part of such a huge, community effort and we will keep doing our best, contributing in any way that we can!