Hi everyone,
New apps are developed every day and more and more are using Steemconnect to connect users to their app. However from a user point of view it's still a bit blurry, what is actually happening ?
Before we had that: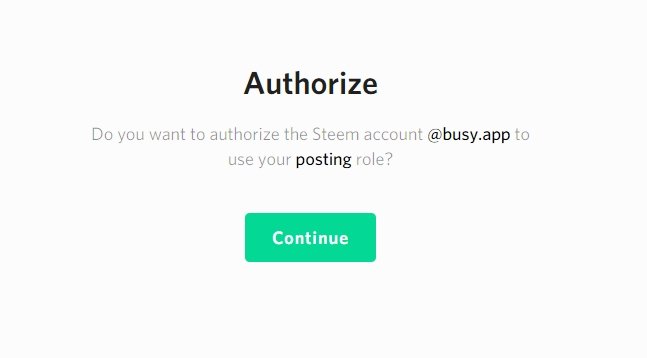 Ok so I'll allow the app busy to use my posting role, sure why not. But next:
Holy guacamole, type my active key ! No way.
So let me explain a little bit what happens here. What you are actually doing is allowing SteemConnect to modify your profile using your active key in order to allow busy for instance to use your posting role meaning writing comments from the application. The active key is NEVER EVER transmitted to the server, all encryption happen in your browser and the applications like busy DOES NOT have knowledge of the active key.
Here is a link to the transaction transmitted to the blockchain:
https://steemd.com/tx/34703ca4257735d924c080047a1a420f1ed5c866
And a little screenshot for the lazy ones :)
Although you have authorized the application to use your posting role it was not really clear nor precise of what the app could do. So we have improved the design to make it a lot more beautiful for one and added more details:
Ok so now I see that the app will be able to vote, write a post or a comment, etc. That way you will know what YOU are allowing the app to do.
That's great but what if I don't want that anymore. Let's say I don't want to use busy.org anymore. Well that's insane how come you don't want to use busy.org no more !!!
...
...
Okay, we've provided you with a way to do that (we're kinda of sad though :'( )
Did you know that SteemConnect comes with a dashboard ? (And we are currently redesigning it by the way ;) )
If you click on the Authorized Apps menu you'll see what apps have authority other your account
And at the bottom of that list the way to revoke tokens, meaning the authority you have previously allowed. Here you revoke the token for all the apps.
If you go on the app page, you'll be able to revoke only the rights of the concern app.
Thank you for reading, that's all for today.
Don't forget to follow the busy team to stay updated !
---
Open Source Contribution posted via Utopian.io
---