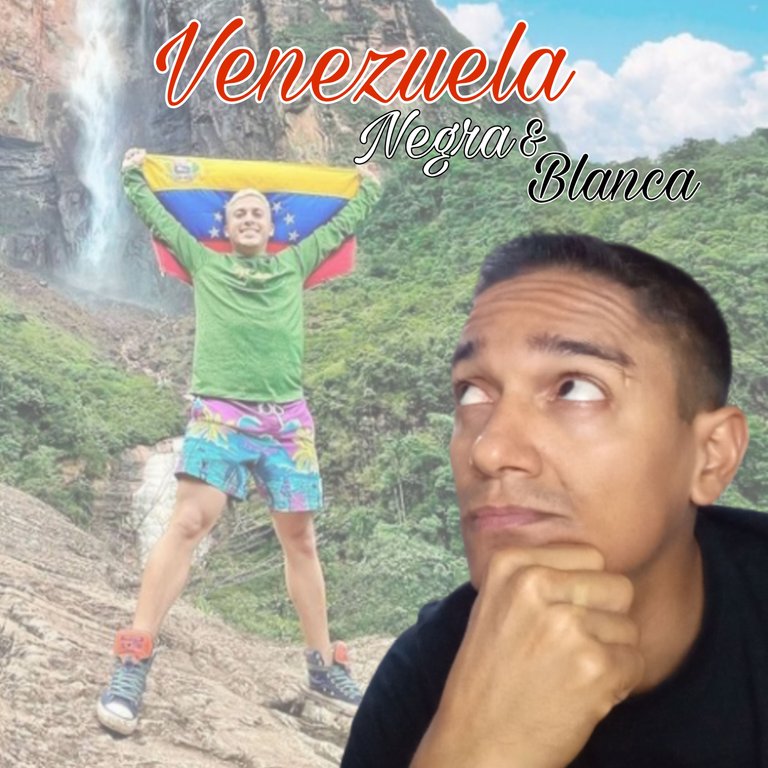 Hay algo en lo que tengo tiempo trabajando en mi cabeza y lo aprendí de un Libro "El monje que vendió su ferrari" y es la siguiente afirmación "HAY MUY POCOS ABSOLUTOS EN LA VIDA" y como todo en la vida a veces se nos olvidan estos detalles, porque no todo es Blanco y negro.
There is something that I have been working on in my head for some time and I learned it from a book "The Monk who sold his Ferrari" and it is the following statement "THERE ARE VERY FEW ABSOLUTES IN LIFE" and like everything in life sometimes we forget these details, because not everything is black and white.
Hace unos días tuve el privilegio de ver el Documental del Youtuber Alex Tienda sobre mi país Venezuela y realmente quedé impactado, más que eso es me revolvió muchos sentimientos, que tal vez muchos venezolanos hemos bloqueado por tanta turbulencia de nuestra historia.
A few days ago I had the privilege of watching the Youtuber Alex Tienda documentary about my country Venezuela and I was really impacted, more than that it stirred up many feelings that perhaps many Venezuelans have blocked because of so much turbulence in our history.
El ver cómo se cuenta la historia de nuestro país en cada historia de cada Venezolano, me hizo recordar que el ruido ensordecedor de los problemas hace que se nuble nuestra visión completa de la situación que nos rodea, obviamente no hay que negar la crisis que vivimos desde hace 2 décadas en su etapa más crítica.
Seeing how the history of our country is told in every story of every Venezuelan, reminded me that the deafening noise of the problems clouds our complete vision of the situation around us, obviously there is no denying the crisis that we have been living for 2 decades in its most critical stage.
Pero parece que se nos olvidan las cosas que están ajenas a la crisis, la calidad de la gente, la amabilidad y ese sentimiento de que a veces somos amigos de todo el mundo, a pesar de haberlos conocido en 1 día, sin mencionar que en muchas ocasiones, algunas personas viven en circunstancias que tal vez muchos jamás vivimos, pero nos remueven las tripas al ver tal situación sin filtros, ni campañas, ni adornos para exagerar.
But it seems that we forget the things that are beyond the crisis, the quality of people, the kindness and that feeling that sometimes we are friends with everyone, despite having met them in 1 day, not to mention that on many occasions, some people live in circumstances that perhaps many of us never lived, but it stirs our guts to see such a situation without filters, or campaigns, or embellishments to exaggerate.
En medio de una precaria situación se puede ver a un niño que lo tiene todo con una simple pelota y su sonrisa no se borra sólo por el hecho de jugar a la pelota, también ver el sacrificio de una madre al quitarse una comida o tal vez 2, sólo para que sus hijos coman y dentro de dicha tragedia tragar en seco y reunirse en familia a hablar y contar chistes.
In the midst of a precarious situation you can see a child who has everything with a simple ball and his smile is not erased just for the sake of playing ball, also see the sacrifice of a mother by taking away a meal or maybe 2, just for her children to eat and within such tragedy to swallow dry and gather as a family to talk and tell jokes.
Muchas veces me pregunté; como alguién de fuera puede entender esto? Es que así somos y es la realidad, buscando siempre un chiste, somos millones de historias diferentes, una inmensa variedad de sonrisas, lagrimas, coraje, amabilidad, errores, también expuestos a la maldad de pocos, la corrupción, la delincuencia y al mismo tiempo, la opulencia, arrogancia, trabajo duro y flojera, todo mezclado en caras que ni sabemos.
Many times I asked myself; how can someone from the outside understand this? We are always looking for a joke, we are millions of different stories, an immense variety of smiles, tears, courage, kindness, mistakes, also exposed to the evil of a few, corruption, crime and at the same time, opulence, arrogance, hard work and laziness, all mixed in faces that we do not even know.
Las noticias no siempre cuentan todo, el escándalo de lo negativo hace más ruido que ver a un niño poniendose zapatos nuevos que quizás jamás tuvo, se nos olvidó que la política tiene años y nuestra naturaleza tiene millones de años allí, para recordarnos que está ahí y es parte de nosotros también, cada atardecer, cada nube, cada clima y sin mencionar las maravillas naturales me hicieron reflexionar y preguntarme muchas cosas.
The news does not always tell everything, the scandal of the negative makes more noise than seeing a child putting on new shoes that maybe he never had, we forgot that politics has years and our nature has millions of years there, to remind us that it is there and is part of us too, every sunset, every cloud, every weather and not to mention the natural wonders made me relfexionar and ask myself many things.
Cuando fué la última vez que viste una atardecer hermoso y dijiste Wowww sin tener que ir a Grecia o Japón para tomar una fotografía? O tal vez apreciar la amabilidad de una señora que te da una empanada con cariño y conversa contigo un rato? Nos bloquearon una parte de nosotros y Alex en casa Wowww por detalles sencillos pareciera que hubiese nacido aquí y fuese más venezolano que la cachapa.
When was the last time you saw a beautiful sunset and said Wowww without having to go to Greece or Japan to take a picture? Or maybe appreciate the kindness of a lady who gives you an empanada with love and chats with you for a while? They blocked a part of us and Alex at home Wowww for simple details it seems that he was born here and was more Venezuelan than the cachapa.
Su documental me recordó mucho a palabras que escuché de Renny Ottolina, te invito a buscarlo en youtube, dónde decía que "siempre que viajaba por el país y tenía que precisar el lente de la camara para ver un arbol, el país se le metía dentro y se quedaba ahí" creo que eso le pasó a Alex y a todos nosotros a través del documental, por eso pienso que Reny decía que todo Venezolano debía ir al Salto Angel para entender No con palabras sino con la experiencia propia, de qué somos parte nosotros.
His documentary reminded me a lot of words I heard from Renny Ottolina, I invite you to look it up on youtube, where he said that "whenever he traveled around the country and had to point the camera lens to see a tree, the country got inside him and stayed there" I think that happened to Alex and to all of us through the documentary, so I think Reny said that every Venezuelan should go to Angel Falls to understand, not with words but with his own experience, what we are part of.
No todo es política, no todo es crisis, como tampoco no todo es bochinche y guachafita claro, solo debemos ver ese matíz como nuestro plato de Pabellón criollo, con carne, arroz, caraotas y tajada, diversos sabores, no todo es amargo, no todo es dulce y de lo malo siempre podemos ver oportunidades, que no se nos olvide nunca, nosotros siempre podemos hacer la diferencia y quedó demostrado con la colaboración económica de una idea de recaudar fondos para ayudar a una parte de la crisis, sin Políticos con conferencias de prensas, sin medios de comunicación en busca del ruido, simplemente poniendo su grano de arena se aporta más y de seguro es el inicio de muchas cosas para mejorar que vienen, Dios les bendiga a todos y que sepan que nada como tener tu propia opinión, sin dejarte llevar por una sola versión del cuento.
Not everything is politics, not everything is crisis, comi also not everything is bochinche and guachafita clear, we should only see that matíz as our Creole Pavilion dish, with meat, rice, beans and slice, various flavors, not everything is bitter, not everything is sweet and from the bad we can always see opportunities, that we never forget, we can always make a difference and it was demonstrated with the economic collaboration of an idea to raise funds to help a part of the crisis, without politicians with press conferences, without media looking for noise, simply by putting your grain of sand you contribute more and surely it is the beginning of many things to improve that are coming, God bless you all and know that there is nothing like having your own opinion, without being carried away by a single version of the story.
Las imágenes usadas en esta publicación fueron sacadas de la cuenta de instagram de @soyalextienda y editada por mi en Pics Art
English: The images used in this post were taken from @soyalextienda's instagram account and edited by me at Pics Art