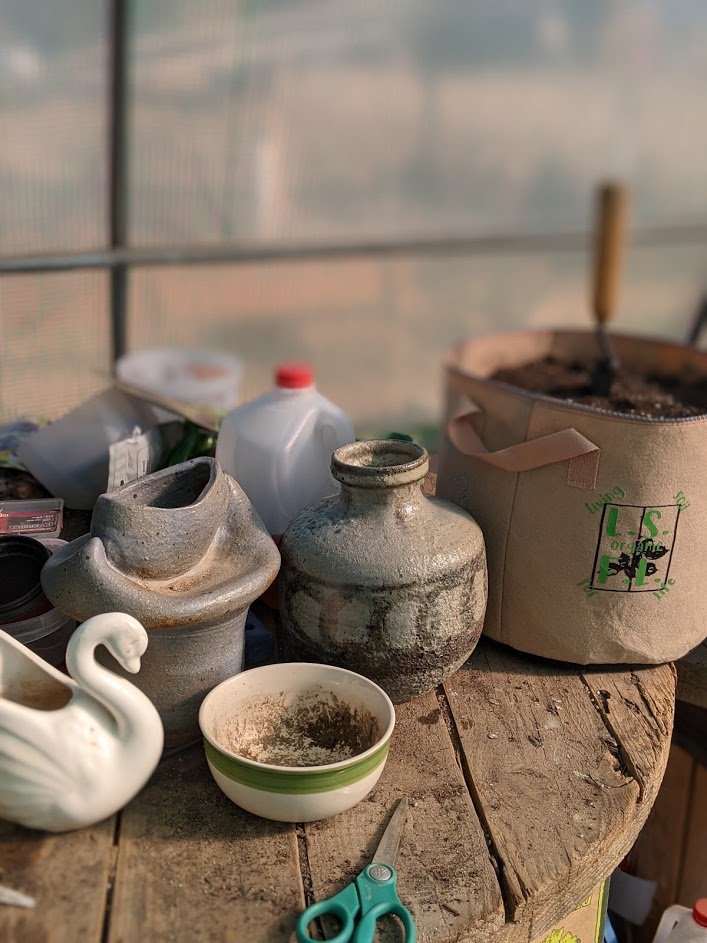 Age Before beauty they say. Well to be honest the ladies all broke ground on the same day, this here is transplant day for the seedlings. Age being mentioned those Ol' clay fired pots there have a handwritten brand and date at the bottom of, 1973. The Swan and bowl much younger I am sure, although I did not purchase either. Both were found in my mothers planters. Yep. K.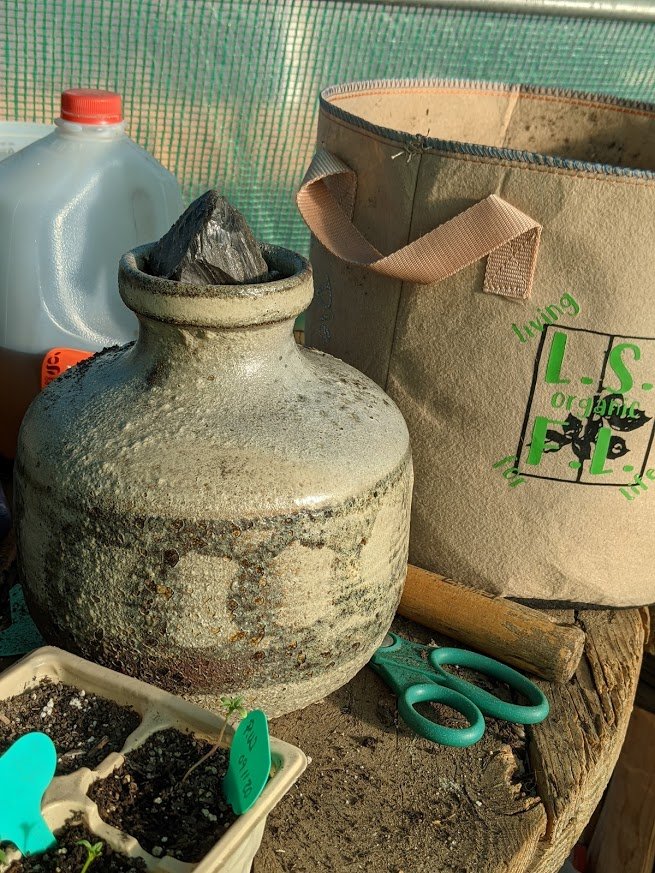 Tigers Eye Obsidian is the stone that I went with in this ornamental grow. I like to take the object I'd like to trap, and let in soak in some water for 24 hrs or so just to see what it might do to the Ph for the life of the grow. Mostly trying to make sure I don't put anything that might be harmful to the ladies, right next to where they bring life into their systems.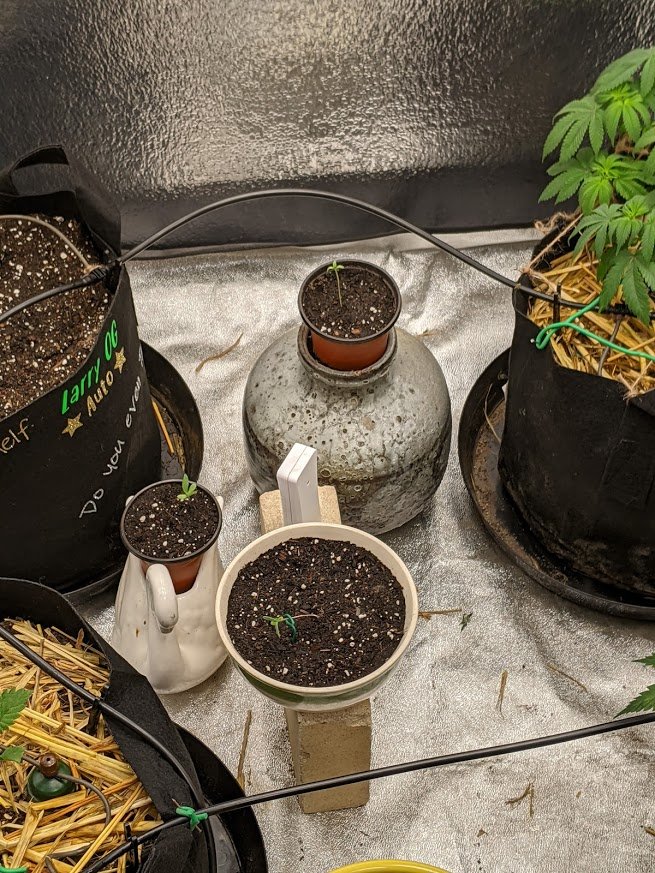 I love to watch things grow. Anyhow, I use a super soil mix of my own concoction, using Down to Earth. Once all squared away in the larger planting area an the stone is set I cut the bottom of a starter pot out and get the best placement possible and begin backfill. It was pretty nerve racking to say the least when I moved them from the plug tray to the rock, only 1 week out of the dirt when that took place. For sure gonna wait longer next time I do that.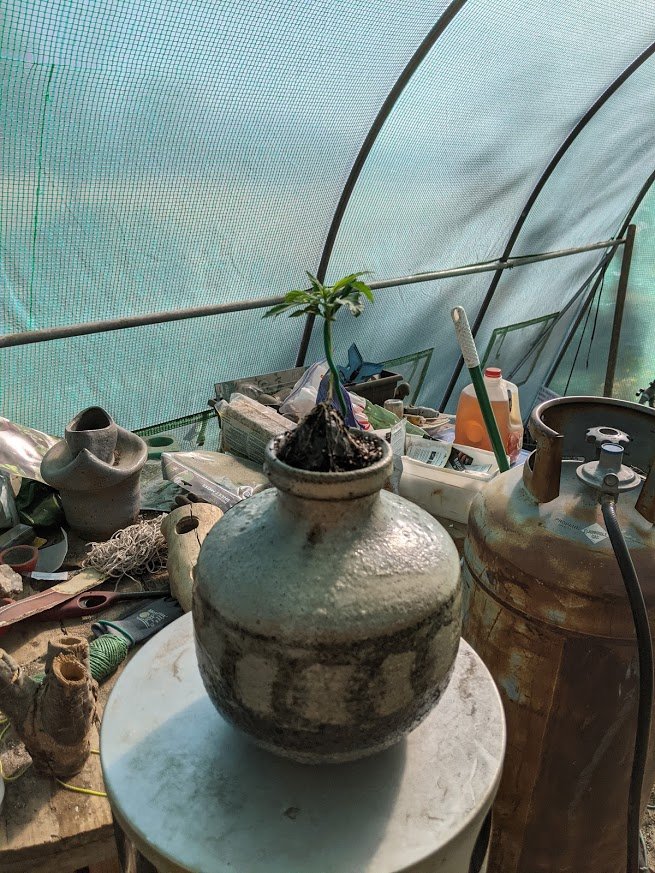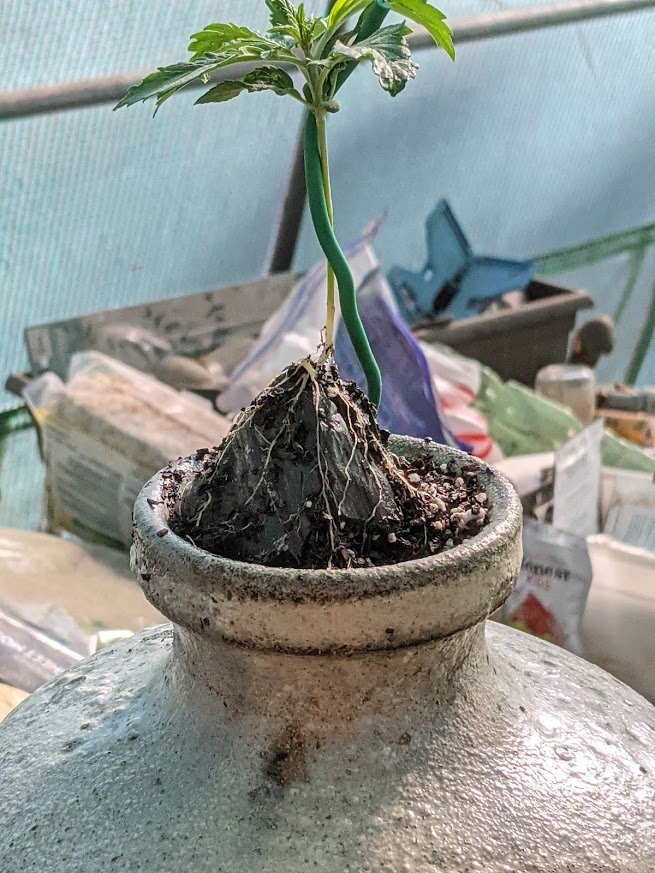 That is just something there. Exactly what I thought when I pulled the cup away an lightly worked the soil away from the rock. Probably more like That's Fucking Cool right there.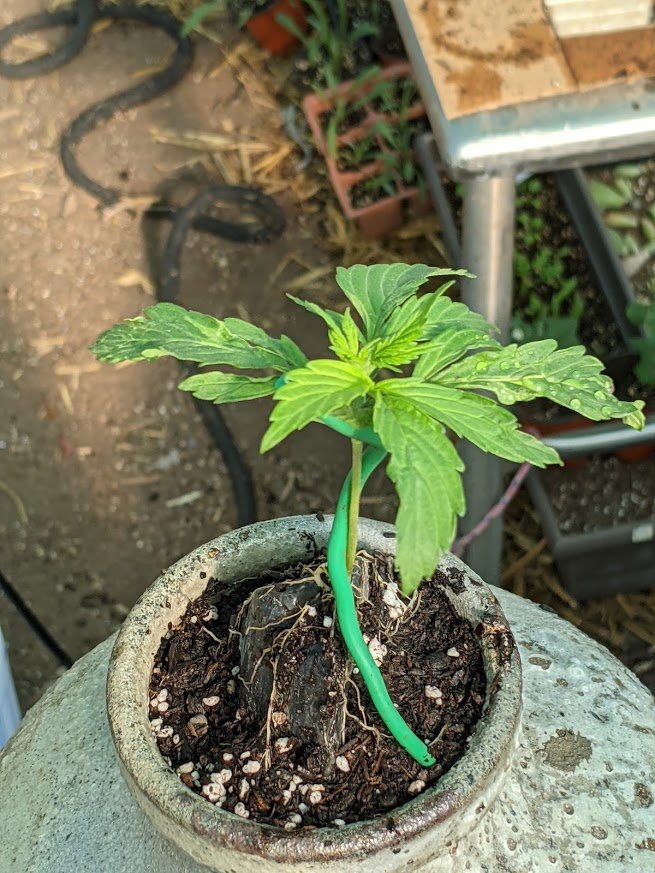 Cause it is fucking cool.
I did have to support the lady after that. I also did replace the planting cup from earlier to place some peat moss around the newly exposed roots. That can be a lot of shock and they do have to stay moist, still a root system after all.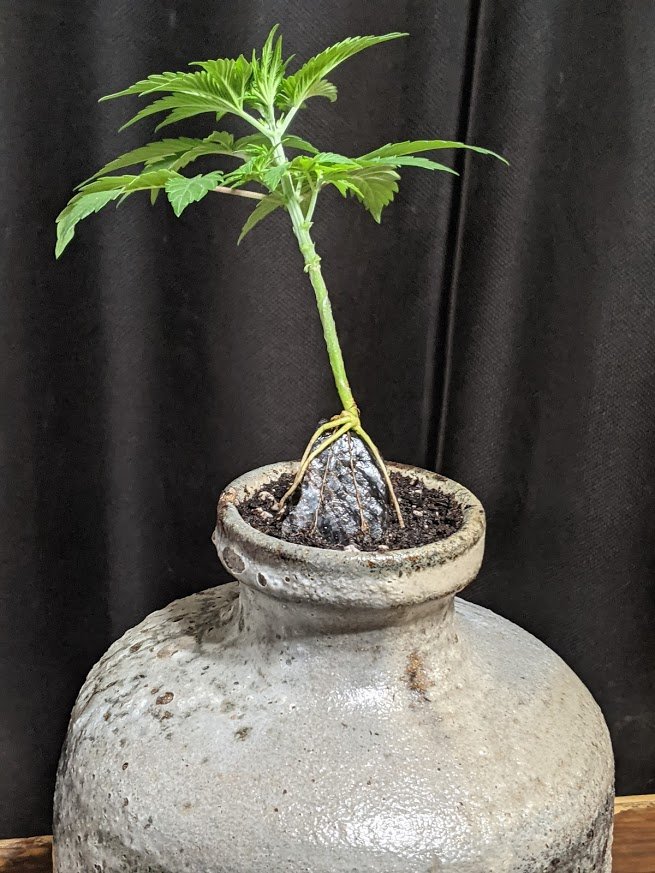 "There are no strings on me"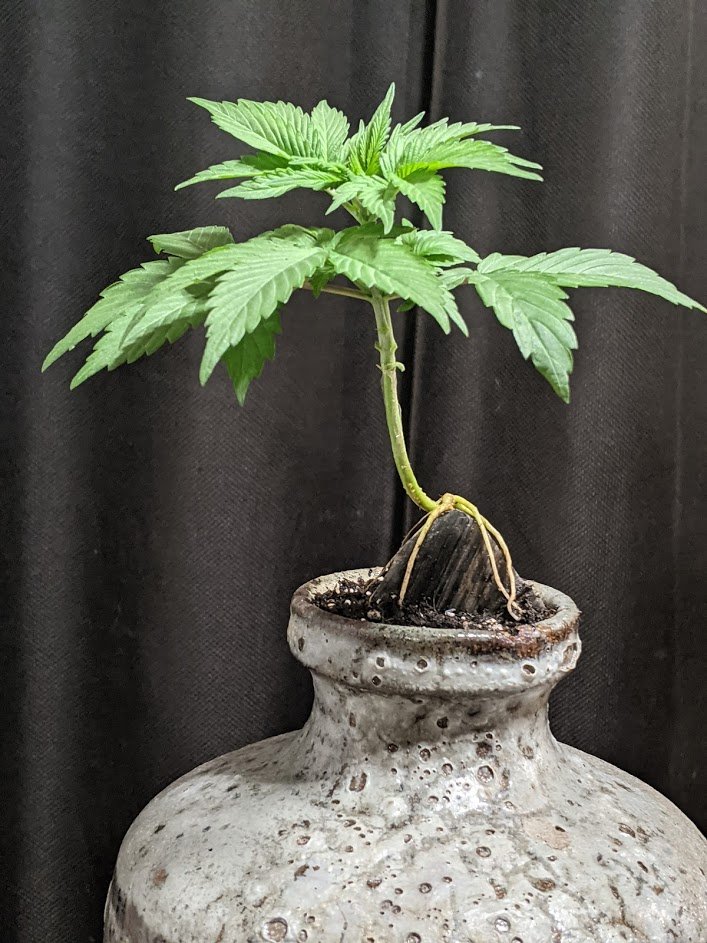 Yet, that is. She did lose her support wire though, on the second round of train and drain. You can see the layers in the obsidian, and the size of the roots at this point. Got pretty tough in 2.5 weeks. This pot, that I choose out of pure vanity requires that I tea feed. No room for the top dress style here, an also I'd like to point out that there is also no room for the Blumat.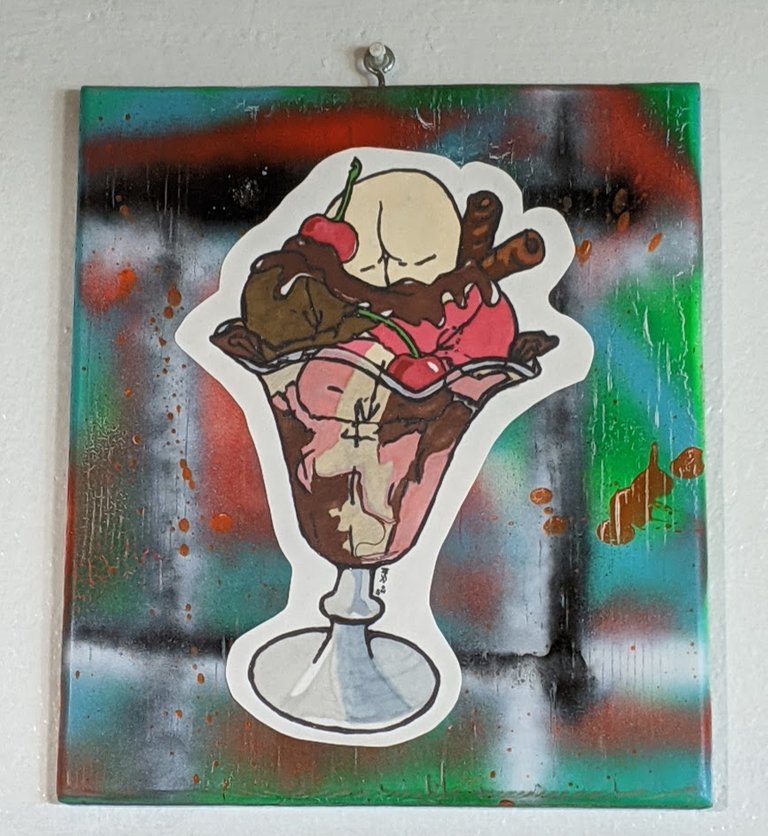 I have put work into art before so these canna-bonsai are right up my alley. To which I ask...
Who hasn't stopped into the odd creamery now and again after a good toke of your homegrown?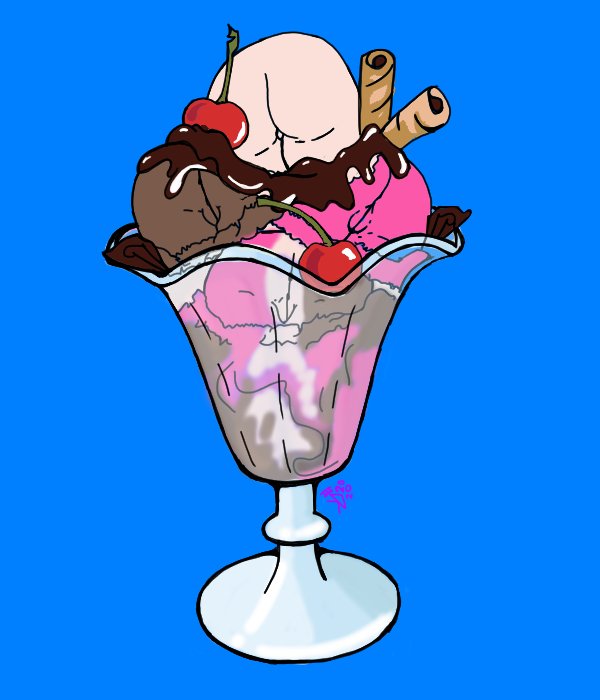 I'd love to stumble into a Sexy Sundae shop on my next little hike an toke.
I grow it and I smoke it as well. Helps to dream up and paint what a scooper might look like shaped like my favorite ass. It's a fun concept I have been playing with.
Enjoy your greens so you can have your dessert.
Knottydaddy, Tied off.