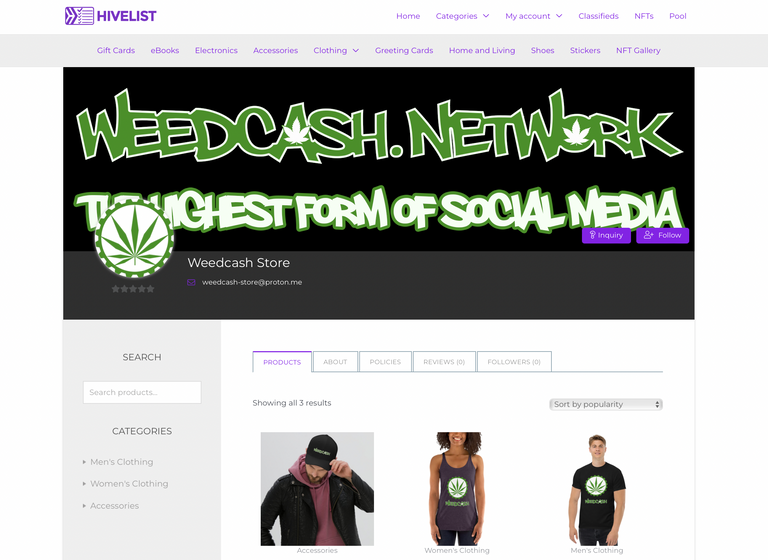 This has been a long time coming for our friends over at the #Weedcash Network! As you may or may not know, Weedcash was the first ever Steem Engine tribe and of course the first to fully fork over to Hive. We were also one of the first to have an actual ecommerce use case to our WEED token by way of the Weedcash Store.
Well as time has gone on, there hasn't been as much activity on the store as we had hoped, plus there were issues with accepting WEED on the store due to issues with payment plugins not keeping up with newer WooCommerce updates, so the decision was made to merge the store into the Hivelist Store!
This was done so that I can better manage the store and to lighten my work load a bit as well as hosting resources. Plus having the Weedcash Store as a vendor on the Hivelist Store, it might encourage other communities to get onboard and sell their merchandise through our platform!
I will be working on adding back some of the merchandise items like stickers and other clothing articles and accessories over the next week or so. Hopefully we can also get some smoking accessories back on the store as well, but the overall costs of just having access to those products was putting me in the negative on this store every month.
I am working on trying to a good deal and vendor for glass pieces that I can just purchase and warehouse versus the drop shipping format as before.
Glad to have the Weedcash Store back in operation but now incorporated into Hivelist!
Check out the Weedcash Store here: https://hivelist.store/shop/weedcash-store/
Do you have designs or products you want to put up for sale and earn crypto?

Come and take a look at becoming a vendor on our store! We pay in HBD for all of your sales and commission! We handle all payments and exchanges so you don't have to worry about all of that! Sell your own products or submit your designs to our print on demand service!
If you are interested in starting your own ecommerce business in the crypto world, then click here to learn more about becoming a Hivelist Store vendor!
Don't forget, we have Hivelist Store gift cards!!!

Need to get a special gift for someone, but don't know what to get them? Have you tried introducing someone to the crypto currency world, but want to make it an easy introduction, then try out one of our in store gift cards! You can purchase them with any number of our accepted cryptocurrencies!
https://hivelist.store/product-category/gift-cards/
Want to make some extra HBD? Become and Affiliate!

Come and sign up to be an affiliate and get paid monthly for any sales you refer to the store! Affiliate commissions are 5% of the profit from any sale! Get started as a Hivelist Store Affiliate Partner today!
Keep calm and Hive on!
https://hivelist.io - main info site
https://hivelist.org - blockchain classifieds/NFTs/DEFI Pool
https://hivelist.store - multi-vendor e-commerce retail store and professional services marketplace
Vote for @hivelist.witness on Tribaldex