@c-squared was a great curation initiative.
But it shut down everything, including its Hive witness, 6 months ago.
See their closure announcement post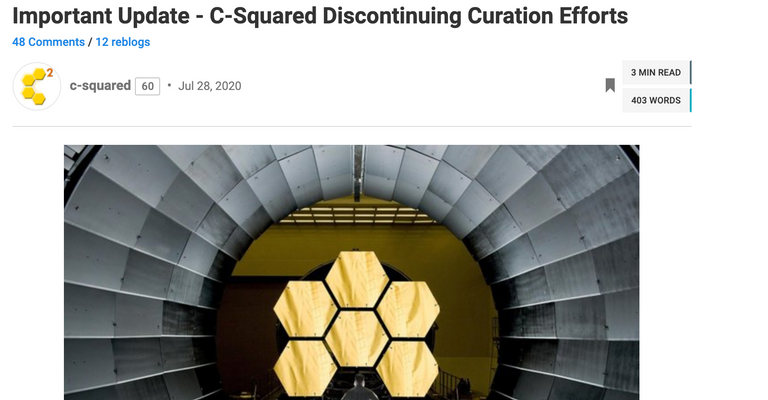 They specifically asked everyone voting for them to remove their witness votes but a large number of users, including important active accounts, still have not done so.
I apologise for tagging each account below but now that we are a fully decentralised blockchain witness votes are super important and the personal responsibility of each Hivean.
It sets a particularly bad example if major active accounts haven't updated their witness votes six months after a very public shut-down of a witness.
I'd ask each of you below to please go through your witness vote list and remove votes from dead witnesses, including @c-squared.
Consider voting for up-and-coming witnesses who are doing important things for Hive like:
And I should also mention another major Hive player that I'd like to see as a top 20 consensus witness. @leofinance
In both peakd (https://peakd.com/me/witnesses) and hive.blog (https://wallet.hive.blog/~witnesses) there is a section for witness voting. Also in Hive Keychain.
---
Please vote for my Hive witness. (KeyChain or HiveSigner)
Witness Vote using direct Hivesigner
---
List of current voters for dead @c-squared witness
In descending order of vote value (thanks @arcange).
@haejin
@steemmonsters
@steemychicken1
@minnowsupport
@ecoinstant
@isaria
@theusersparty
@marfonso
@donkeypong
@jacuzzi
@russia-btc
@ats-david
@itchyfeetdonica
@anyx
@therealyme
@runicar
@improv
@fredrikaa
@roleerob
@jeffjagoe
@brittandjosie
@papilloncharity
@knfitaly
@riverflows
@tonyz
@axeman
@petrvl
@discovereurovelo
@rycharde
@dwiitavita
@smjn
@davidthompson57
@ashtv
@c-cubed
@tobixen
@fem-of-war
@djynn
@sketch.and.jam
@kohsamui99
@mobbs
@bobinson
@juliakponsford
@aicu
@jaybird
@dexpartacus
@trincowski
@sjarvie5
@crazy-andy
@oscarps
@boddhisattva
@liberosist
@brumest
@raj808
@bearone
@pele23
@libertycrypto27
@txstorm
@lordnigel
@rubencress
@schlees
@darth-azrael
@marcocasario
@bambuka
@yangyanje
@fermionico
@knircky
@recording-box
@thatkidsblack
@braaiboy
@browery
@c-squared
@zyx066
@vicesrus
@digitalis
@kaelci
@camuel
@michelle.gent
@diverse
@bloom
@vesytz
@ecotrain
@misterc
@mraggaj
@fotostef
@ixindamix
@justclickindiva
@gandhibaba
@drago18121996
@denmarkguy
@zirochka
@singa
@photofeed
@ammonite
@wiseagent
@sidwrites
@heidimarie
@tristancarax
@reinhard-schmid
@likwid
@paradigmprospect
@deerjay
@alchemage
@justatouchfey
@gniksivart
@jocqua
@thebigsweed
@monochromes
@deeanndmathews
@marpa
@grindle
@jagged
@urbangladiator
@tht1
@julianhorack
@pechichemena
@in2itiveart
@planetauto