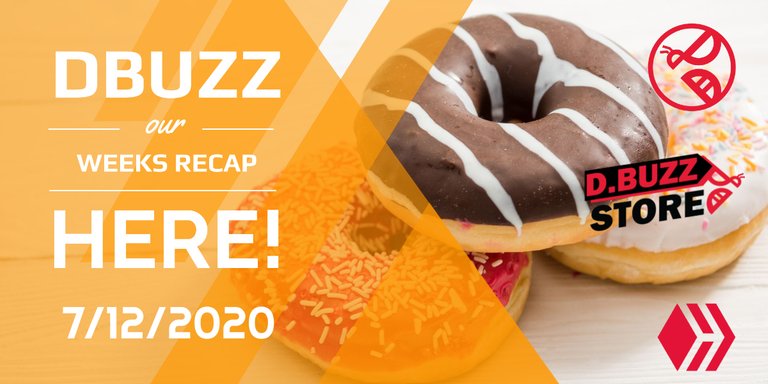 Recap of this Week's Posts by D.Buzz (7/12/2020)
I remember as a kid growing up, my dad would leave early in the morning to get the newspaper from the local newsstand. My sisters and I would wait for him to return. As when he did, he brought donuts and the Sunday comics! Many happy memories were made reading the paper on Sunday...
Sad to say, we don't have donuts for you, nor comics. Sorry, dear friend :(. However, what we DO have is our weekly recap of posts you may have missed :D. So, check out what topics you may have overlooked, and if you have not entered it yet, join the Golden Buzz awards and perhaps win 25 HIVE (If you win, you can buy donuts!)
Too much talking, here is the weekly recap from D.Buzz.
---
Monday
Our ongoing Monday Buzz challenge is rocking! We have had some great entries. You still, you have one day (ish) more to enter and WIN... I recommend you read the post and join today!
Read it here:
---
Tuesday
Post listing the project updates and the developments made to the D. Buzz platform. Progress, Every Week!
Read it here:
---
Wednesday
We released three new Crypto-related shirt designs!
Read it here:
---
Thursday
Our community highlight for the week! This week we highlighted the mysterious @AnonyMouser. Great articles on staying anonymous online line, I recommend you check this blogger out!
Read it here:
---
Friday
We started a new section, Dapp of the week highlight. This week we talk about the most EPIC dapp - @splinterlands!
Read it here:
---
Saturday
Saturday... the GOLDEN BUZZ Awards, round 3! Post your favorite buzz and WIN upto 25 Hive!
Read it here:
---
Sunday
That's today! You can read the summary by looking above
Please read it here. Literally. Just scroll up and start from the top. :P
---
Thanks for being an active reader here on our blog.
As we move forward, we aim to build a strong community.
If you have any suggestions on what we can do better, please let us know.
See you all Monday!
The DBUZZ team.
---
D.Buzz over and out.