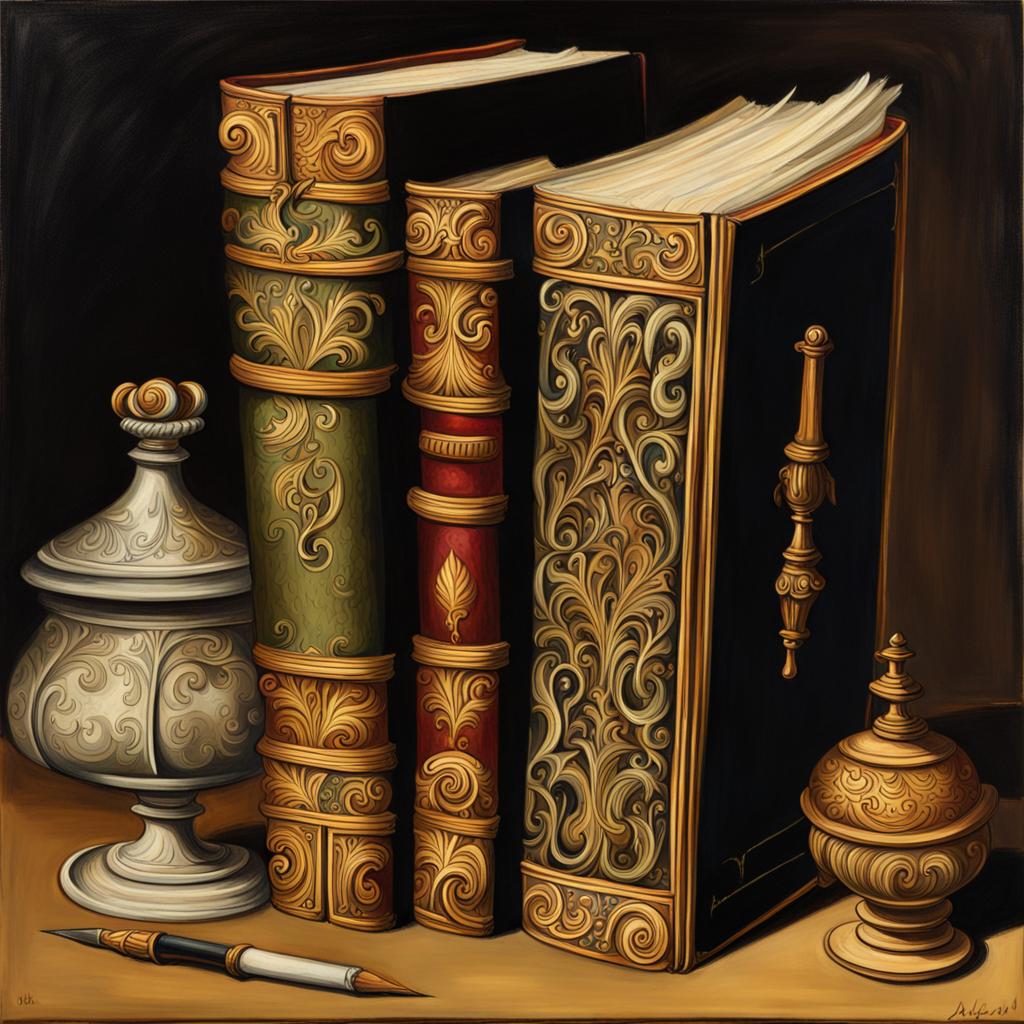 The above image was made with stable diffusion using the prompt 'painting of an ornate book.'
Recently I sent out my latest Substack newsletter, titled Shifting from I to We. It contained material from this blog as well as some original stuff. Although it wasn't a long piece, it felt challenging. Some of its ideas were hard to put into words.
Yesterday I sent off an article for the next issue of International Paneling. This one was about considering heavy stuff without letting it get to you. The topic is a departure from my usual fare, so hopefully the publisher approves. My guess is that it'll be okay.
My next novel is still stalled at the gate. Instead of finishing the first chapter, I'm overthinking the whole thing. I feel like I'm on the verge of understanding the story, but I'm not quite there yet. Like some gear in my mind will soon click into place and suddenly I'll know exactly what to write. That's how it usually works for me, but this time may be different.
In the meantime, I'm revisiting perennial questions about writing in the current social climate. What makes a good character? What makes a good story? How controversial can I be without getting canceled?
Realistically, I feel like I can be as controversial as I want with little danger of cancellation. This danger may increase as I become more popular, but for now I'm not on anyone's radar. Given the topics I consider, I'm more concerned about being censored by the control regime than I am about being canceled by the Woke.
Of course, thinking about how a work will be received is a barrier to good writing. I like to get a sense of a book's final form before I write it, but thinking about audience reception only gets in the way. The main thing I try to do is write books that I myself would like to read.
Thinking about what I'd like to read instead of about what I want to say is freeing in a way. It creates a structured space into which language easily fits. This space includes a quality standard that I rarely have to think about. The writing either entertains me or it doesn't.
I'm hoping to finally finish the first chapter of the next book this week. Rather than describing it, I'll just post the first chapter here when it's done. It might be weirder than my last novel. We'll see.
---
Read my novels:
See my NFTs:
Small Gods of Time Travel is a 41 piece Tezos NFT collection on Objkt that goes with my book by the same name.
History and the Machine is a 20 piece Tezos NFT collection on Objkt based on my series of oil paintings of interesting people from history.
Artifacts of Mind Control is a 15 piece Tezos NFT collection on Objkt based on declassified CIA documents from the MKULTRA program.