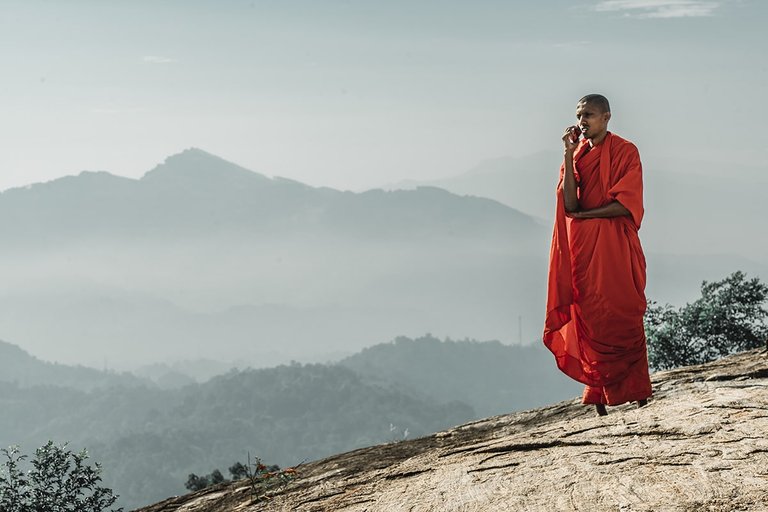 Sri Lanka - the land of trains and elephants, little India, or the Ceylon tea homeland - whatever you call it, this country is just awesome! In recent years Sri Lanka has become more and more popular destination among travelers. In this post, you'll find out why, as this is the best Sri Lanka Itinerary out there. Perfect for 2 week trip! We documented every step of our trip! Just keep reading, my friend, and this will be the plan for your next vacation, we can guarantee that!
Best Sri Lanka Itinerary - What to know before you go?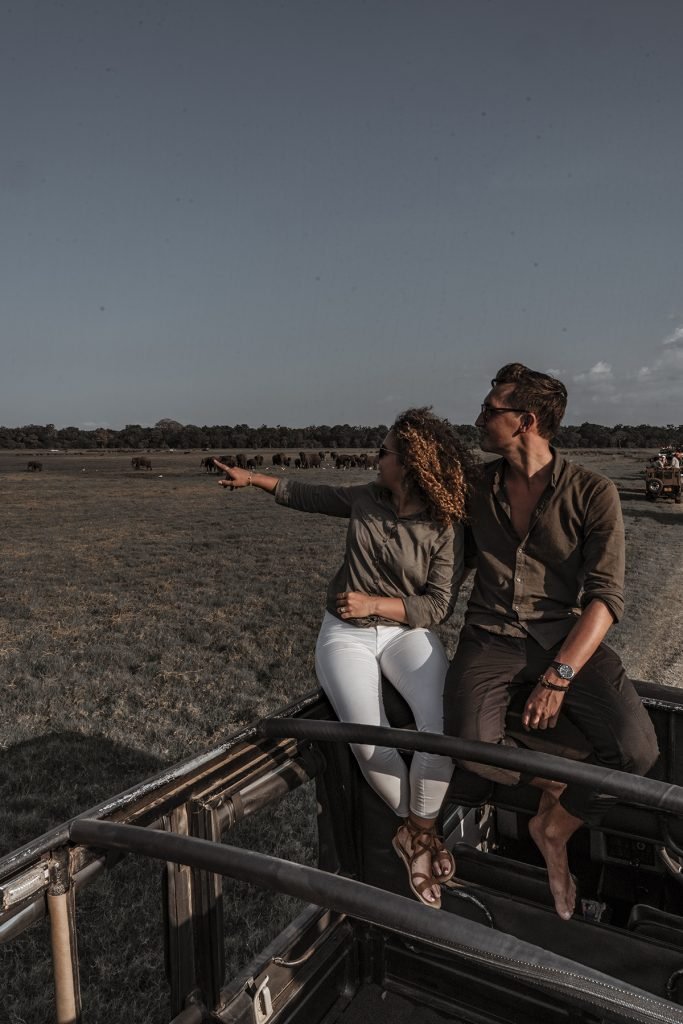 One of the Many Safari's in Sri Lanka
Money
The local currency in Sri Lanka is Sri Lankan Rupee (Rs.) and the exchange rate is 1EUR = Rs. 207 (01.04.2020.) As always, we suggest exchanging the money when you are in the country. For example, change a certain amount for a taxi at the airport and the rest in a local exchange place. Also, you can always use ATMs, especially if you have Revolut or Transferwise. Additionally, you can exchange money on some tourism offices, of course, in this case, the rate probably will be much lower. It takes some digging to find the best exchange place, but do not stop at the first booth, as you might be saving a lot of money if you keep searching for a bit.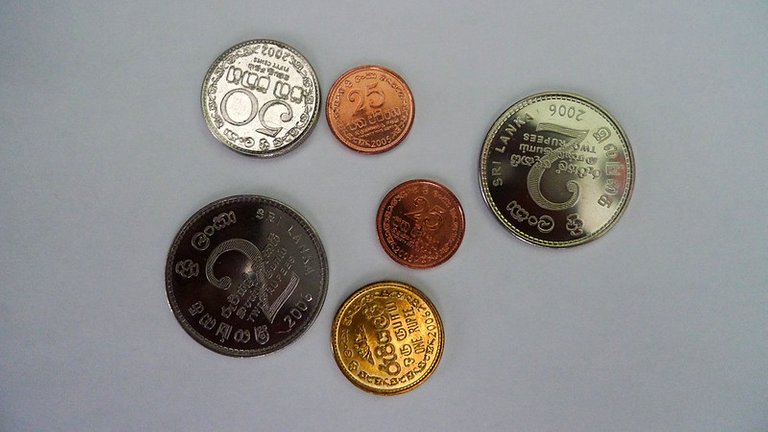 Coin that will confuse you a bit!
Related: Transferwise vs Revolut - Cheapest money transfers and withdrawals abroad
Getting Around
The best Sri Lanka itinerary cannot be imagined without the transportation part. Getting around Sri Lanka can be fun and frustrating at the same time. Public transport is cheap yet kinda slow. If you have only 2 weeks in Sri Lanka, getting around will take quite a bit of your time! It is surreal once you can see a bus driver in action as they are a bit crazy on the road. Also, when you google the distance between places you will be shocked how 50 km can take 1.5 hours ?! Be patient my friends, you will get used to the transportation timing in Sri Lanka. Of course, it depends on which option you choose to get from one place to another. Here are a few options.
Bus Travel Around Sri Lanka
Using a public bus (or as we call it the chicken bus) is very cheap and colorful. You can feel the local vibe in there as well as the driver's love for his bus. Each driver keeps his bus clean and full of cute and weird stuff, and of course a TV with great music that can be heard from the distance because of the impressive speakers. About the prices, for example, getting from Wellawaya to Matara (distance 150 km) will cost you only Rs. 500 ( 2.50 EUR, 3 USD). However, it will take about 3-4 hours with no a/c of course, so brace yourself! It is a lot of fun though, so you should try it at least once while in Sri Lanka.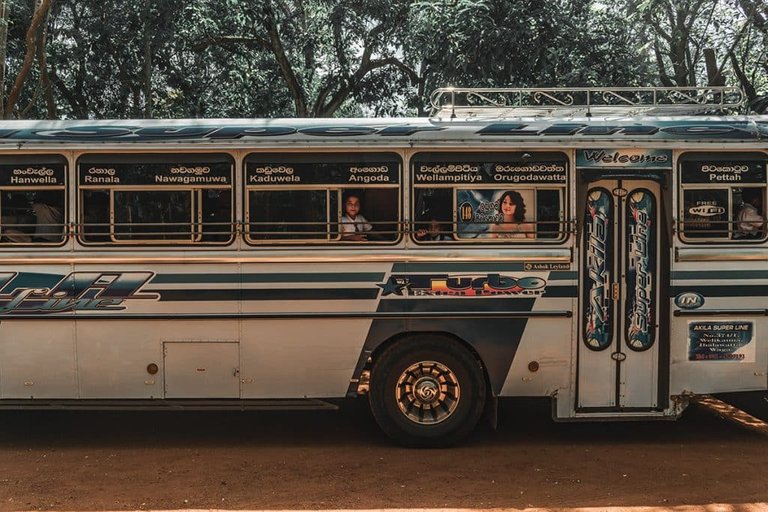 These are the local buses, fret not, this is not the overnight bus!
Train Travel Around Sri Lanka
We bet having at least one train ride is on your to-do list in Sri Lanka. Besides the scenic Kandy to Ella ride, a train is also an option of how to get around. For locals, it is everyday transportation but at some point, it is just another tourist attraction. Usually, ticket price varies depending on a route and selected class. We suggest the second class as you can move around the train and choose a free spot. For instance, if you take a late afternoon train from Hikkaduwa to Colombo, you will end up on a train with locals, chatting about life, and watching a beautiful sunset while heading to Colombo for 210 Rs. only (1 EUR, 1.20 USD)!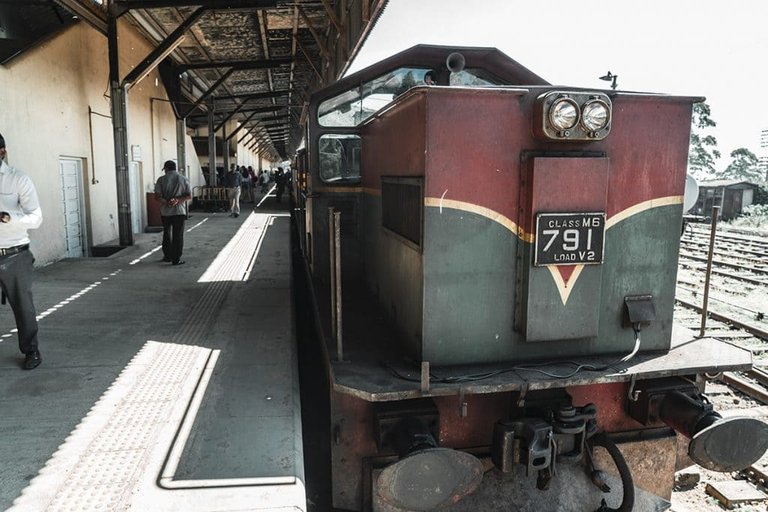 Train from Colombo to Kandy. This one is particularly empty.
Pick Me app
Ok, guys, this is serious! Pick Me app was one of the best discoveries while we were in Sri Lanka. Without any further delay, you must download it now! Did you do it? Ok, you can continue reading. The app is like Uber or Grab and gives you the opportunity to get a tuk-tuk or a car for a ridiculous price. The only thing, sometimes there are no vehicles in certain areas as other drivers don't like tourists using this app. In the bigger towns, there is no problem getting a ride while in places like Ella it could be difficult.
Nevertheless, you can meet great drivers and get some good deals. At this time, please write down this man's contact information: Fairoos +98 78 347 4747 (Whatsapp). We met him in Kandy while he was picking us up to drive to the hotel. We started to talk about the next day's plan and he offered to take us to Nuwara Eliya for 6000 Rs. (30 EUR, 35 USD for three people). On the way there he also took us to many local places with almost no tourists around. In the end, we became such good friends that he even insisted to take us directly to the train and made sure that we get seats on the train to Ella using his local contacts.
Taxi
As in any other country in the world, you can catch a taxi right on the street. If you decide to do so, we suggest first try to find out from locals what might be an estimated price for a particular journey. Otherwise, you may get ripped off as a tourist. Mostly, drivers are nice and honest (some of them even have a meter in a tuk-tuk), yet still some of them see you like a bag of cash. If you don't have anyone to ask, you can try to put the distance in the app mentioned above and then get an approximate price that you can negotiate with your next driver.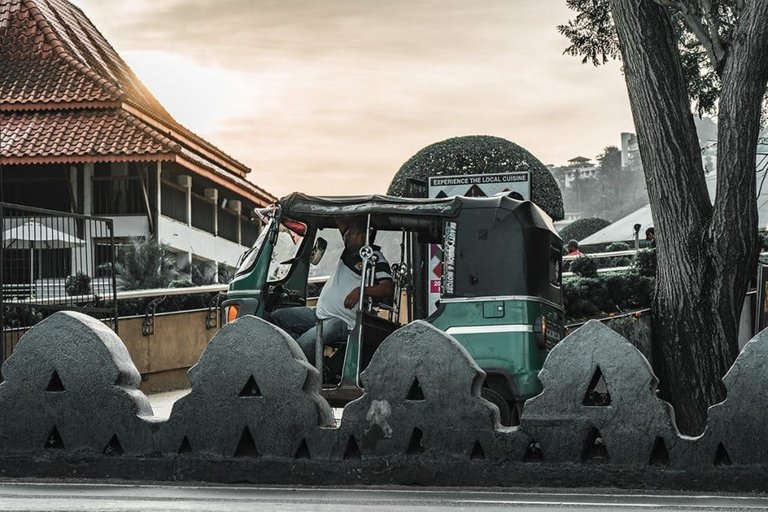 Sri Lanka Tuk-Tuk - a perfect way to get around
Rent Your Own Tuk-Tuk in Sri Lanka
Yes, you heard me right! You can rent your own Tuk-Tuk upon arrival in Colombo and roam around freely! You will have to spend a day to get it done, so if you are tight on time you might as well opt for private transfers and trains. However, tuk-tuk can be rented as cheap as 10$ a day. This great deal comes with the freedom to go wherever you want and whenever you want. You will have to convert your drivers license into Sri Lankan license, it will cost around 20$. This is the best way to explore Sri Lanka if you have a month in the country, so you will be able to travel where no one goes! Fellow travel bloggers explain it
here
in detail, it is all you need to know!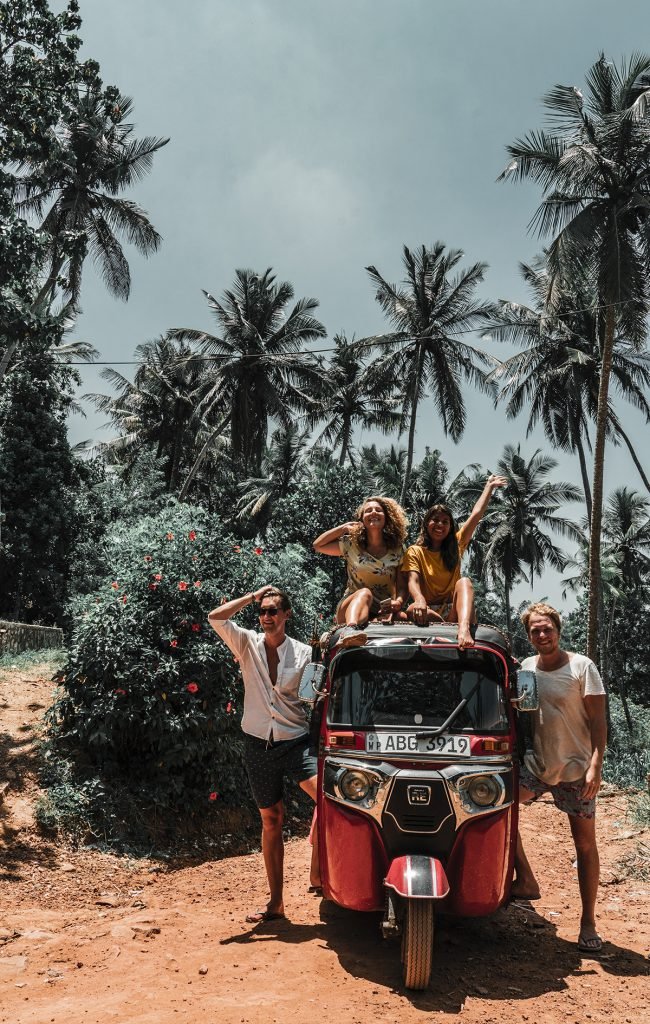 Look how happy we were roaming around with a tuk tuk!
Best Sri Lanka Itinerary
Sigiriya, Dambulla - 2 Days
Sigiriya Rock
Let's start our best Sri Lanka Itinerary with the most iconic landscape in Sri Lanka - the Sigiriya Rock. It is the ancient rock fortress and one of the most valuable historical monuments in Sri Lanka also claimed as the Eight Wonder of the World. It is located in the central part of the island and is easily reachable. The entrance fee is 30 USD (27 EUR), while locals need to pay only Rs. 50 (around 0.27 USD). Yeah, they tend to make pretty high prices for the touristy places for foreigners. Anyway, the rock is accessible from 7 AM to 5:30 PM (last entrance is at 5 PM), which doesn't give you the opportunity to see the sunrise from the top. Therefore, it brings us to the next point.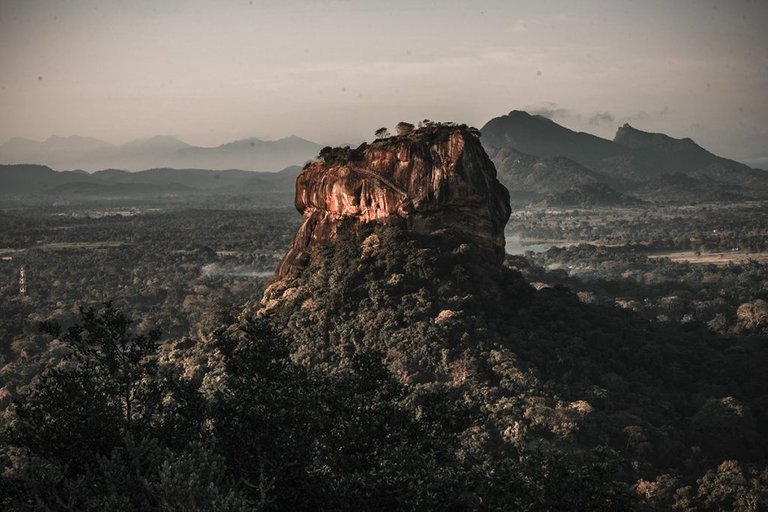 Sigiriya rock in a distance
Pidurangala Rock
That's why we have come up with the other plan. Our suggestion is to explore this Wonder of the World from a different angle. Go visit Pidurangala rock instead and experience one of the most gorgeous sunrises in your life. The entrance fee is only 3 USD (2.50 EUR). If after that climb you still feel like you want to explore Sigiriya rock, go there for a sunset. Thereby you will see this majestic rock both from the distance and close by.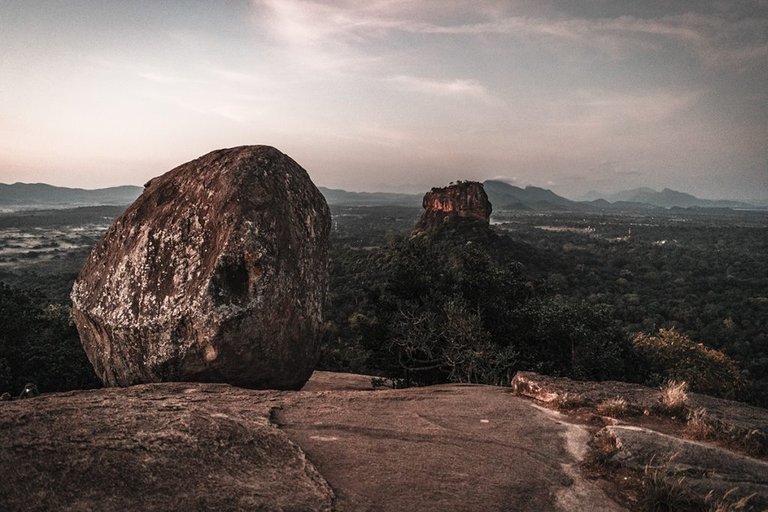 The most stunning sunrise view we have ever seen.
You can find many cool organized tours here:
Minneriya National Park
Another thing you should do while in this region is to visit Minneriya National Park. As always, to avoid crowds we suggest going there as early as possible. Additionally, it is not as hot during the morning hours as it is by midday. Minneriya Park offers many great safari tours and it is actually one of the least busy parks in the whole Sri Lanka. They offer morning tours, evening tours, half-day tours, and many more. For more information, you can visit
this website
.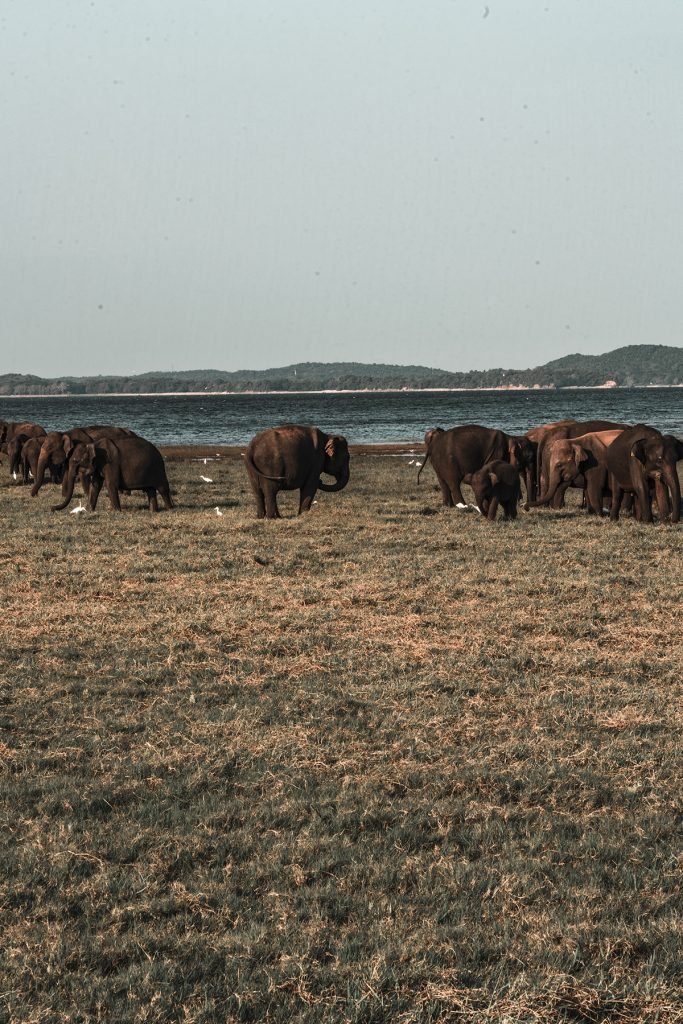 First time in our lives to visit a Safari!
Related: Things to Do in Dambulla and Sigiriya
Kandy - 2 Days
Kandy Lake
Kandy is located in the very center of Sri Lanka and you should include this stop in your Best Sri Lanka itinerary. Actually, if you are travelling around Sri Lanka you will have to visit Kandy sooner or later. Kandy Lake is the heart of the town and everything is happening around it. It is kind of like Lake Geneva in Switzerland. You can just walk around it, make some beautiful photos, also take a moment to relax and observe the lively atmosphere. For the sunset, we recommend going up to the viewpoint and appreciate the beauty from above.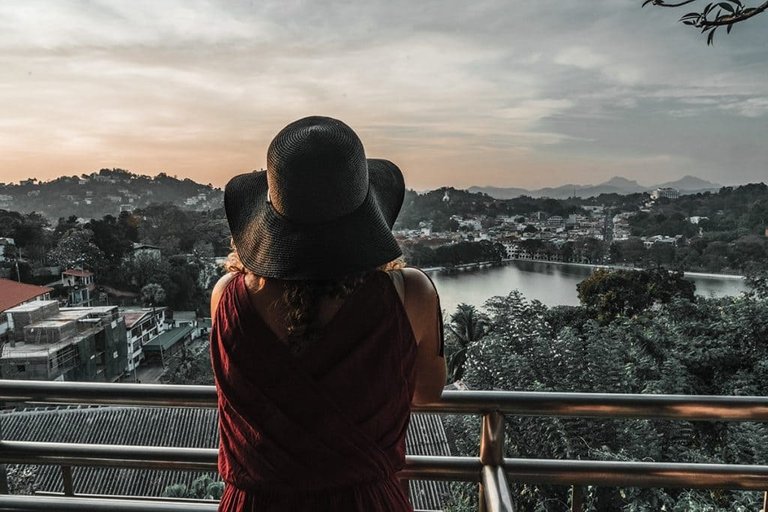 Beautiful sunset over the Kandy Lake
The Temple of the Tooth Relic
While exploring Kandy you cannot miss this temple, as it is the main attraction in the town and one of the holiest places in the whole of Sri Lanka. Located in the Royal Palace the temple is very beautiful and definitely worth visiting. Its name speaks for itself - this is the place where the Buddha's tooth is being kept. You cannot see the tooth every day but once a year there is a special celebration and parade dedicated to the tooth. Elephants march through the streets, locals dress up and a big feast is prepared.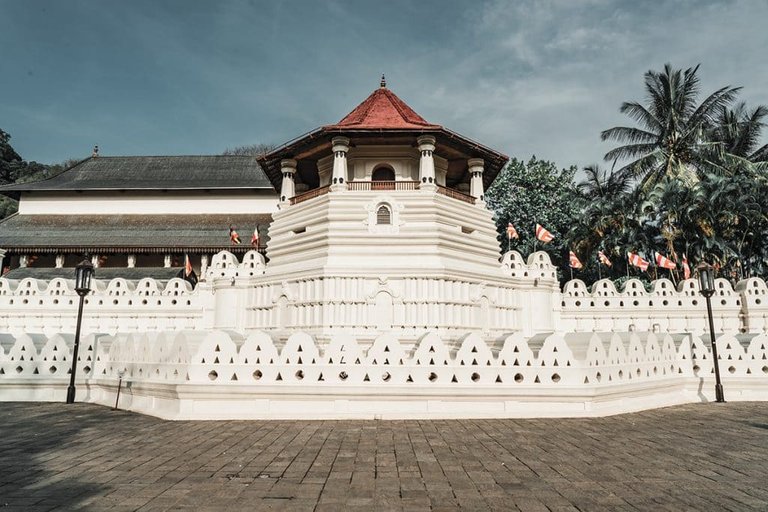 The famous Temple of The Tooth Relic in Kandy
The Big Buddha
If you are just wandering around the town, we bet your eyes will catch the Big Buddha at least once as it can be seen almost from every corner. The same happened to us, and we immediately became curious to visit it. The best time to go up the hill to the Big Buddha is during the sunset as you can get the full jackpot - sunset view over the lake and gorgeous, illuminated temple. The entrance fee is just Rs. 500 (3 USD, 2.50 EUR).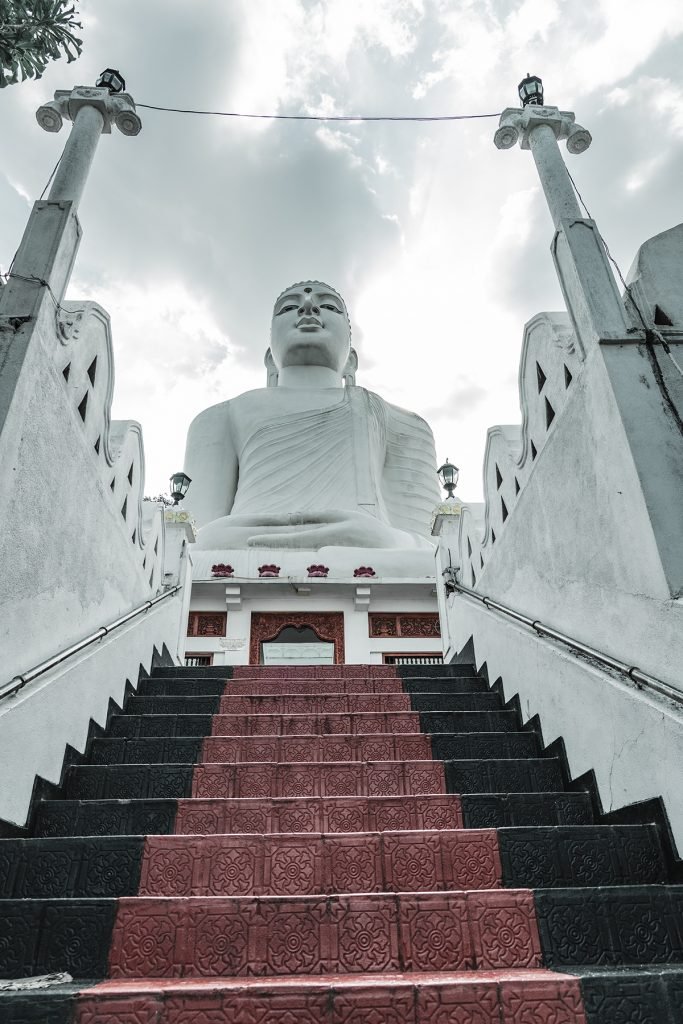 Big Buddha statue is one of the highlights and a must-visit in Kandy.
Related: What to Do in Kandy - Full Guide
Train to Ella
Probably this paragraph is the most anticipated when making your best Sri Lanka itinerary. We believe everyone who has googled something about Sri Lanka have come to a conclusion - a train ride is a must! For many travelers, the ride from Kandy to Ella has been the most scenic train ride ever. Well, no doubt it is out of this world beautiful but it is also way too long. The whole trip takes up to 7h (seven freaking hours!!). Can you imagine Linda sitting on a train for 7 hours? Me neither. That's why it is time for tips and tricks! Drumroll, please...
Take Nuwara Eliya to Ella trip! The train leaves from Nanu Oya station and this ride is 2 - 3 hours. Huh, what a relief. This part of the whole long ride is the most gorgeous and leaves you speechless. You can easily get a private driver to take you from Kandy to Nuwara Eliya, the price will depend on your negotiation skills. As mentioned in the first part of this post, for this ride we paid only 35 USD (30 EUR) for three people.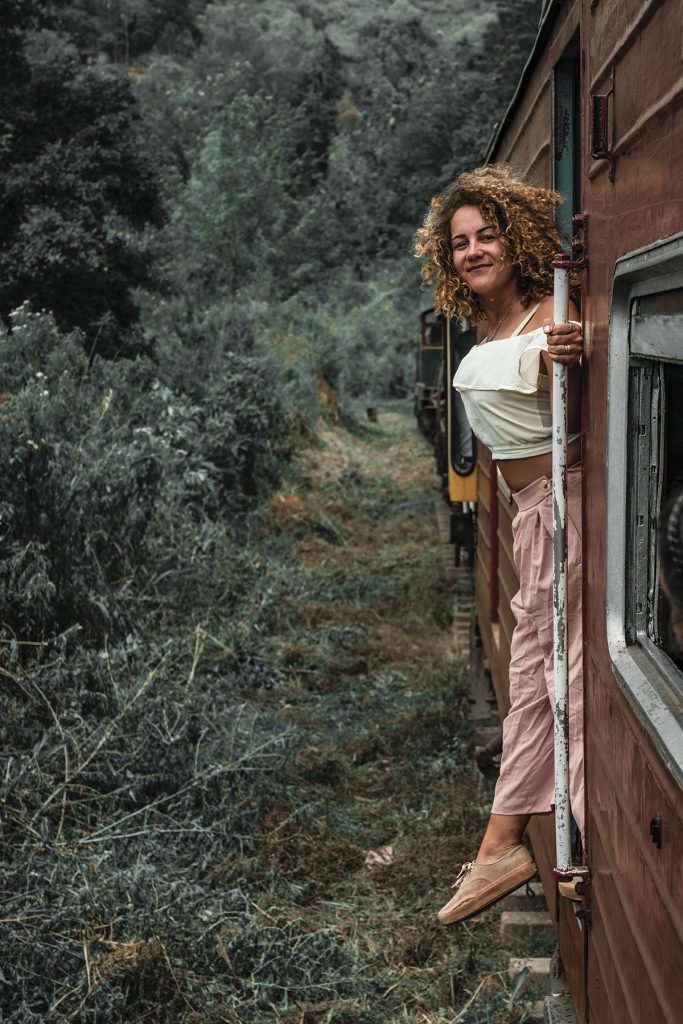 You probably have seen these hanging pictures all around Instagram, be careful and hold tight!
Ella - 4 Days
Ella Town
After traveling around the central part of Sri Lanka and being exposed to the sun, it is nice to spend a few days in the mountains of Ella. It feels great to finally get that fresh and green air! Yes, the green air is a legit word combination when speaking about Ella, haha. When we took our first bike ride around we were truly amazed by all the green shades around us. Although the town itself is quite small it is packed with restaurants, cafes, bars, and hotels. We truly recommend spending at least one evening just chilling around the town.
Nine Arch Bridge
Of course, there is no Sri Lanka travel itinerary without mentioning the legendary Nine Arch Bridge. Perhaps there are some people who can recognize the country just by this landscape. This unique bridge has been built using bricks, stones, and cement and looks unbelievably majestic in the middle of the jungle. It can be easily reached by 10 min walk through the forest from
this spot
. All you need to do is follow the path. There are two main spots, on each side of the bridge, to watch the train passing by, you just need to choose your favorite. Also, between the trains take your time to take all those Insta pictures. When the train is soon passing by, guardians will tell everyone to leave the tracks. As in all popular spots, it is best to go there as early as possible to avoid crowds.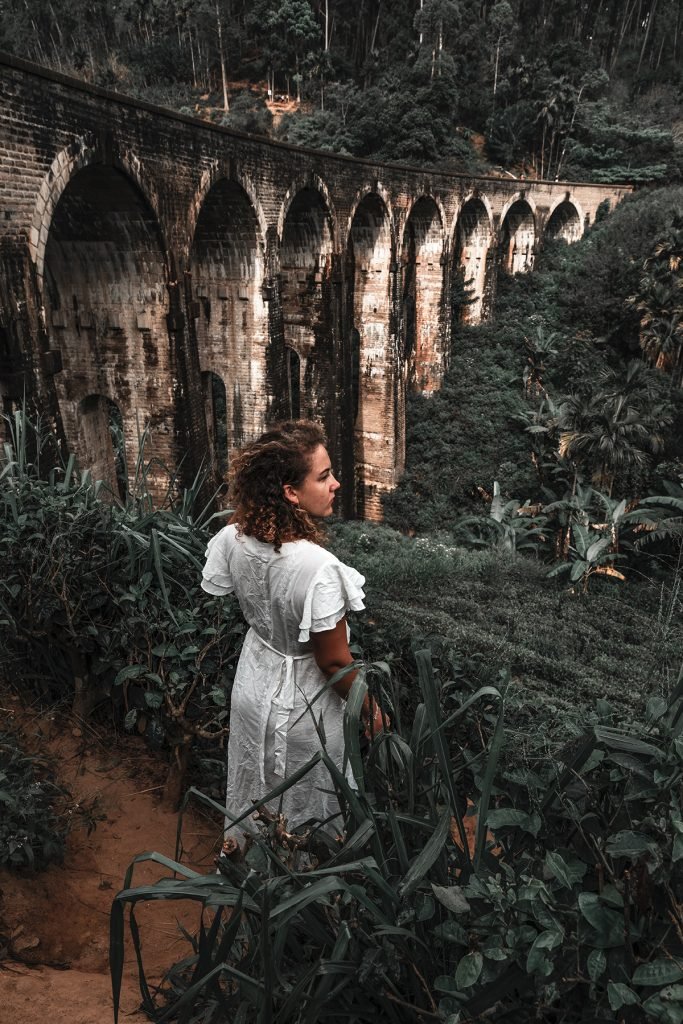 Little Adam's Peak
Unlike Adam's Peak hike, we would call this one more like a walk, as our friend could stroll up in a dress. You can catch the best scene during sunrise or sunset. The path is marked and you will see all the wanderers going up so you know you are on the right track. Kinda official start of the path is next to the Ella Flower Garden Resort, however, if you are not in a mood for a long walk, you can make the first part on the bike. There is a small parking spot at the end of this "road" where you can clearly see it is walking time from now on. When you reach the summit, there are three small peaks from which the view is pretty the same, you can just choose the one with fewer people and enjoy your sunset.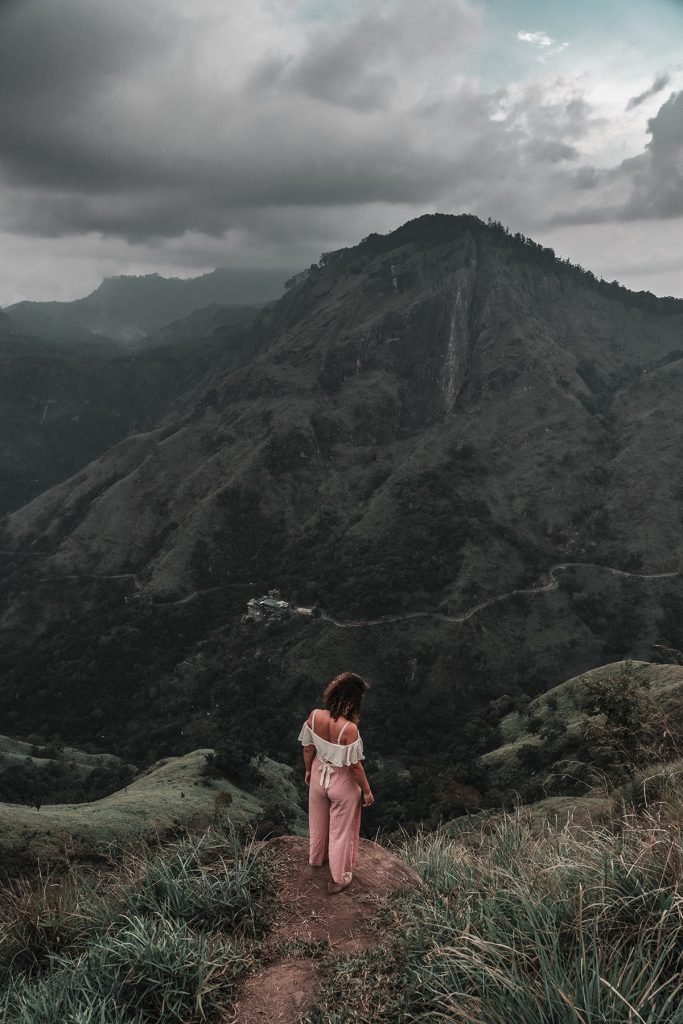 Cloudy sunset from Little Adam's Peak
Diyaluma Falls
The thing which you must include if you want to make the best Sri Lanka itinerary definitely is Diyaluma Falls. To reach the foot of the fall you need to take an hour's bike drive to Diyaluma Falls bridge. The view is beautiful and you can really feel the enormous power of the fall. After taking some pictures and enjoying your time, you need to start the real deal - hiking to the top of the waterfall.
To do that, just put this location in your navigation and drive for about 30 minutes more. From there you will need to hike the Upper Diyaluma Trek. Well, if you are lucky enough. As you know, all the fun things happen to us and we somehow missed the trek and cut out our own path (and here big thanks goes to Kris, who always knows the way, yea right). At some point, we thought we are stuck and will live there forever, oh well. Anyhow, when you reach the top of the waterfall, it feels like you are at the top of the World. You can swim in the pools, wander around, and maybe meet some locals playing great music. The most important thing - please be careful up there!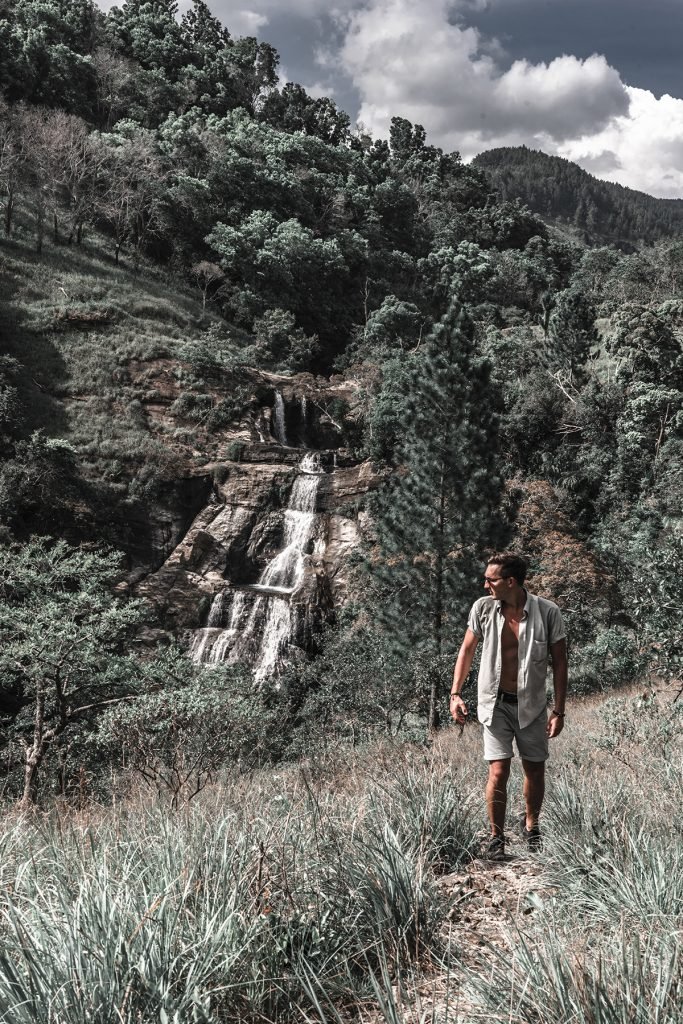 This is just the small waterfall, you need to see the big one!
Ella to Badulla or Haputale Train Ride
As mentioned above, the famous Kandy to Ella train ride is very crowded and time-consuming. A way to avoid crowds is to take the train ride to Badulla or Haputale. The views are great and you can see the real local life as most likely they are taking these trains. Take pictures, have a nice chat with locals, and enjoy the Sri Lankan vibe. The ticket costs only 25 cents and the ride is about 2 hours. After arriving you can wander around and then take a bus back to Ella, which will be a whole another adventure.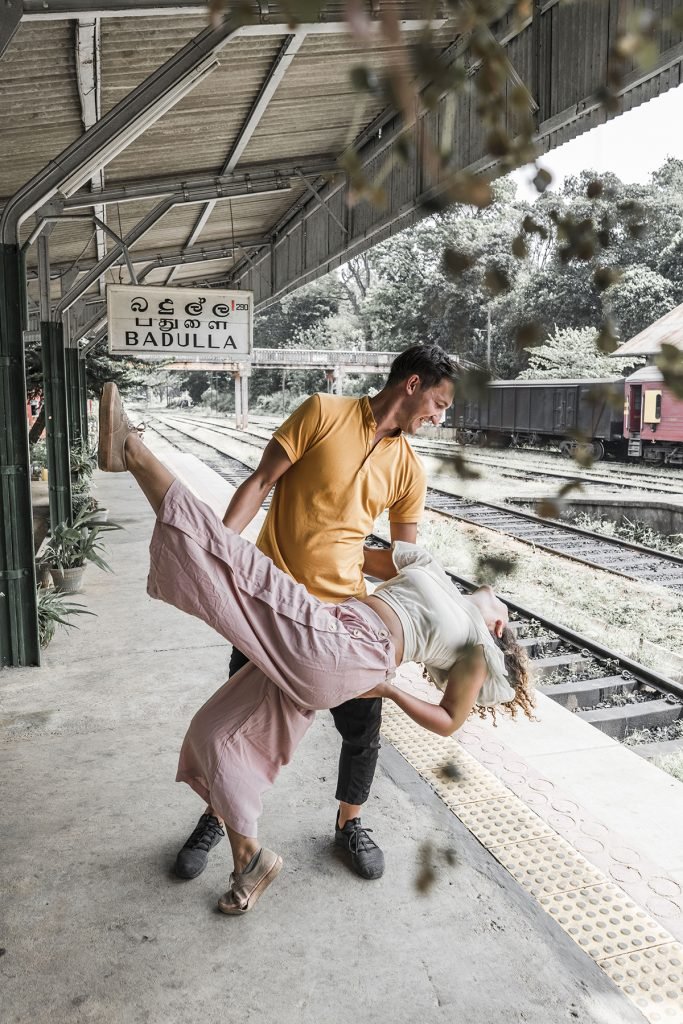 Empty train stations around Badulla, no tourists at all!
Visit a Tea Factory - Dambatenne
While you are exploring this mountain region, don't forget to visit a tea factory. The tea itself is a common symbol of Sri Lanka, it wasn't for nothing that the country's name was Ceylon before it was changed in 1972. You can easily combine two things to do while in Ella by taking a train to Haputale and visiting Dambatenne Tea Factory, as is it located just 9 km from the Haputale train station and is reachable by bus or tuk-tuk. The thing that makes the Dambatenne tea factory so great and famous is that Mr. Lipton built it in 1890. The entrance fee is Rs. 250 which is roughly 1.35 USD. In the factory, you can see all the tea-making processes, except for Sundays when everyone has a day off there.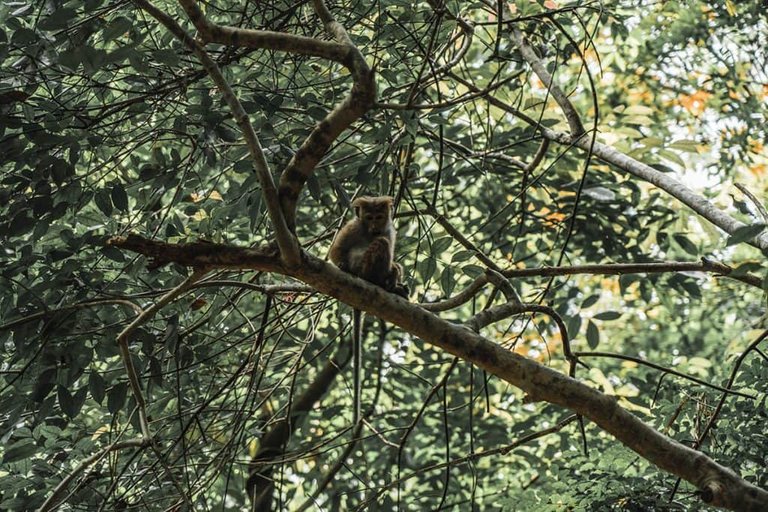 Beware of these guys, they scream loud and sometimes snatch your belongings.
Mirissa - 3 Days
Let's continue our best Sri Lanka itinerary with another great part of the island - beaches. The southern part of Sri Lanka is packed with many beautiful beach spots when you can relax and take your vacation to another level. As a base town, we suggest choosing Mirissa. From there you can go on many day trips to other great places like Weligama, Galle or Unatawuna. More on that you can read in our post about the trips from Mirissa. Mirissa is a relatively big beach town in the region and there are heaps of things to do. We spent a whole day just laying at the beach and relaxing after all the hiking and climbing. This is also a good place for learning how to surf, even Linda tried it, and we all know that means something.

Amazing but busy sunset spot.
Related: Mirissa – Best Sri Lanka Beach Town & WHAT TO DO
Hikkaduwa - 2 Days
Water Sports - Surfing, Diving, Snorkeling
Hikkaduwa is located in the southwestern part of Sri Lanka and is very close to Colombo which is the capital of the country. This town offers a lot of great things to do for surfers, divers, snorkelers, and also for those who just want to have delicious food and drinks. You can try one of the various water sports directly from the beach and there are also Professional Association Diving Instructors courses available from the diving shops. For the sea lovers, this place is a must to include in the best Sri Lanka travel itinerary.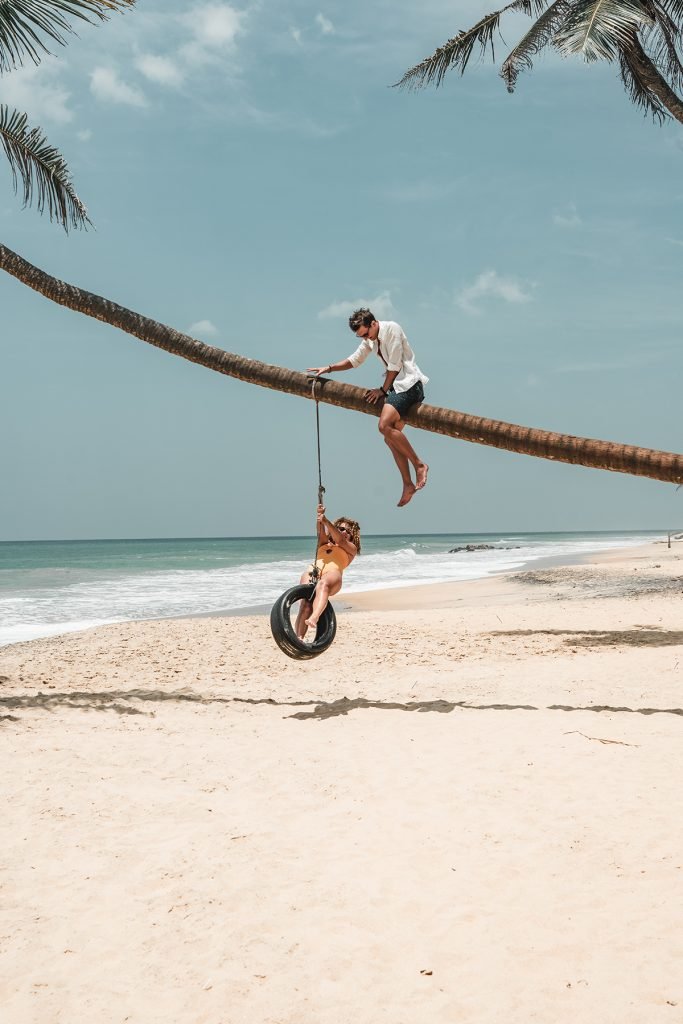 Having fun on one of the many swins again!
The Turtle Hatchery
As we love animals, especially baby animals, we needed to visit the Sea Turtle Hatchery and Rescue Center. It is a place where they take care of various turtle species that are rescued. It's a great way to spend some hours hanging out with turtles. The entrance fee to the hatchery is Rs. 500 (around 3 USD) and also donations are accepted. Additionally, in the evenings they are releasing turtles into the sea and it is a very beautiful process.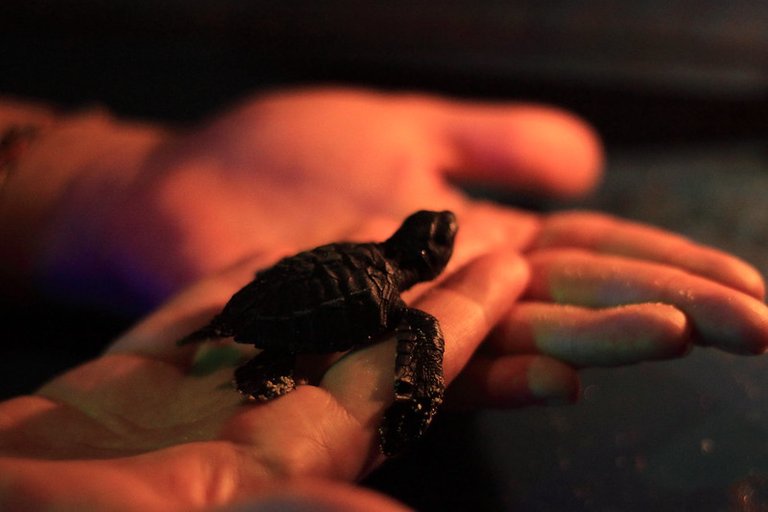 MUST.CUDDLE.THEM.ALL!
Enjoy the Nightlife
Hikkaduwa has many cafes, restaurants, and bars which are worth visiting to taste authentic Sri Lankan food and get some fresh juice. Many of those places are very lively by night as well and you can have a great night out. Have a meal in one of the beach side restaurants and later go for drinks and dance all night long! It is also a great way to get to know how locals are partying as not only tourists are going out here.
Colombo - 1 - 2 Days
No Sri Lanka travel itinerary would be completed without visiting Colombo. Like most capitals, it is very crowded and lively. Yet there are many things to do in this city and have a little bit of culture shock with all the madness going on there, especially around the central station. While exploring the city, we recommend visiting the Red Mosque, Kailawasanathan Temple, Viharamahadevi Park, Gangaramaya Temple, and just wander around all the colorful buildings. Also, make sure to visit the Pettah markets, where you can find everything from shoes and bags to fruits and veggies. Pin all these locations in google maps, order a Pick Me taxi from the app and go explore! In our opinion, the real Sri Lanka can be better seen outside of the capital, so we do not recommend spending much time in Colombo.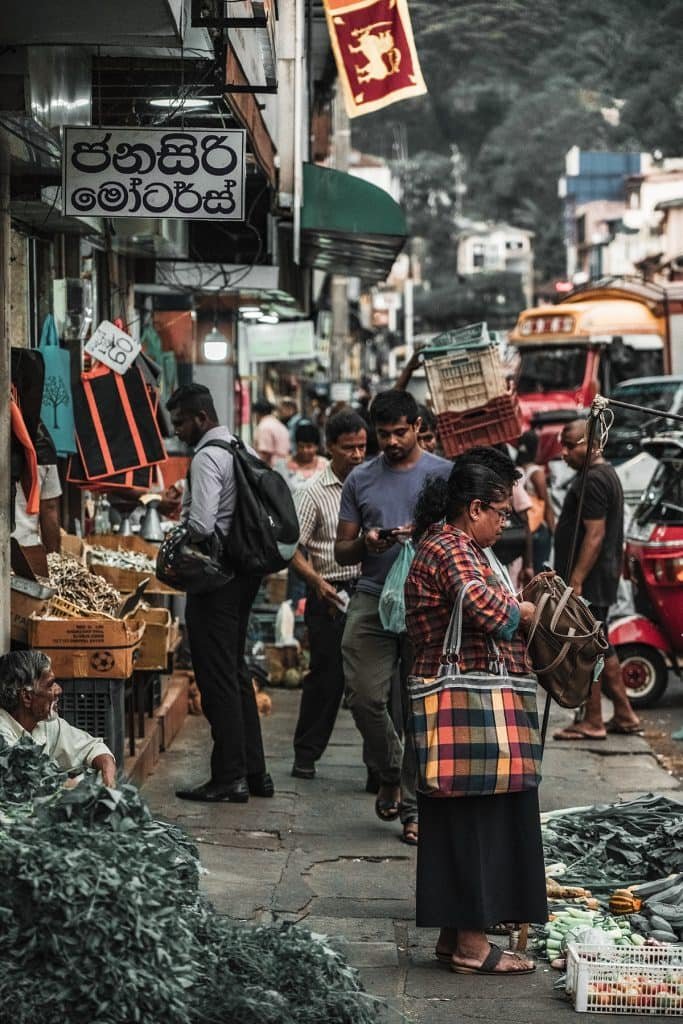 The streets of Colombo are similar to the streets of Kandy, however, with skyscrapers in the background.
Where to Stay in Sri Lanka?
Dambulla
★★★★★
Arika Villa
-
an oasis in the middle of the jungle. This hotel offers you a luxurious vacation you deserve. Rooms are spacious and spotless, bathrooms are also very clean. Some of the rooms open doors directly to the pool and you can have a morning swim right after you wake up. The staff speaks good English and is ready to help with any question. The restaurant serves high-quality food and gives you a fine dining experience.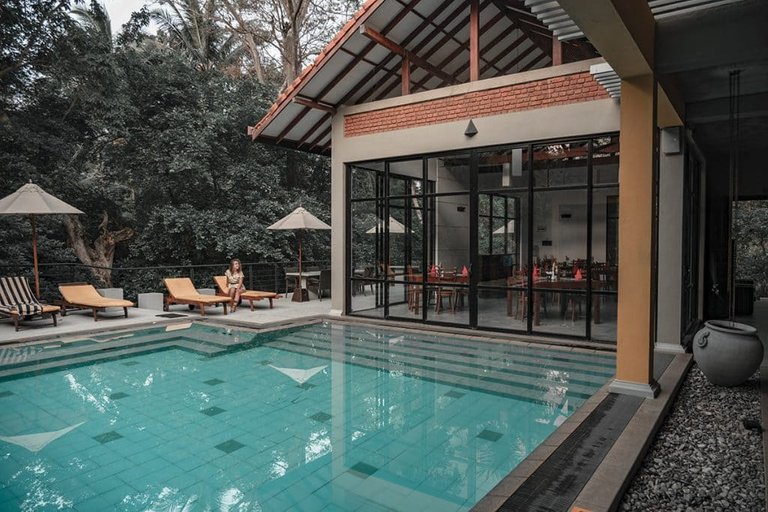 Beautiful huge pool and a place to enjoy the sun.
Budget friendly option for vacationers who still want some comfort and a huge swimming pool. There is a great pool bar where you could chill the whole day and relax after a long day of hiking. They offer buffet breakfast and tours! Location is super convenient as well.
Colombo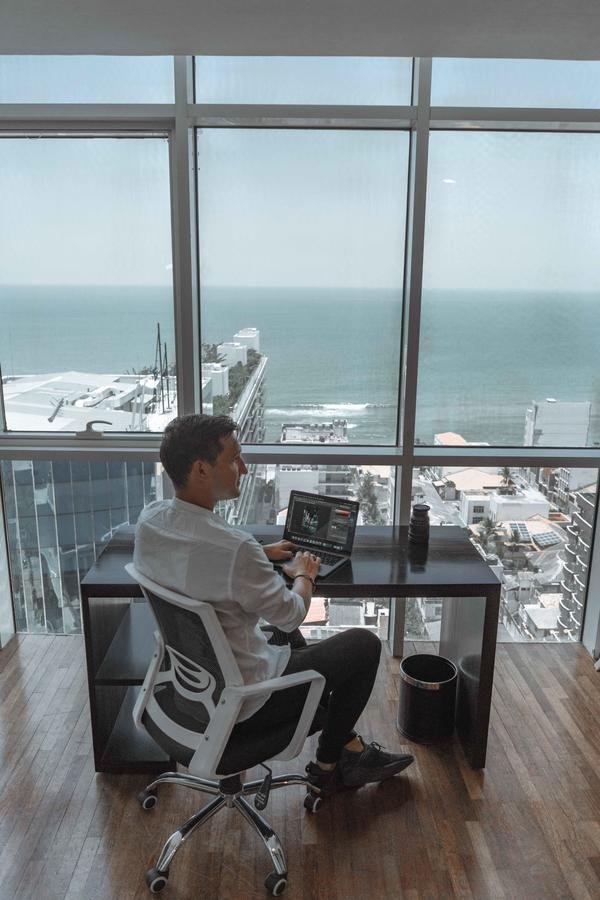 Look at that view!
★★★★★ - Platinum One Suites - these apartments will become your home away from home that's for sure. The location is great as it is in the city center, also the views from the top floors are spectacular. Apartments are modern, clean, spacious and with all necessary amenities. The staff is very friendly and speaks good English. Also, an excellent pool and gym are available to your use. It is mostly for business travelers, as the apartments are huge and very well equipped. We, as leisure travelers enjoyed it even more.
Kandy
★★★★★
The Radh Hotel
- the most modern hotel in Kandy located in the heart of the city. The price/quality ratio is amazing, this place is worth every rupee. The staff is very friendly and professional, they can even become your guides and give the best tips about Kandy and whole Sri Lanka. The rooms are spotless and designed to the smallest detail. The bathrooms are also very clean and well maintained. We had the chance to roam around the hotel and see all the rooms they offer .. ahh, the honeymoon suite is incredible!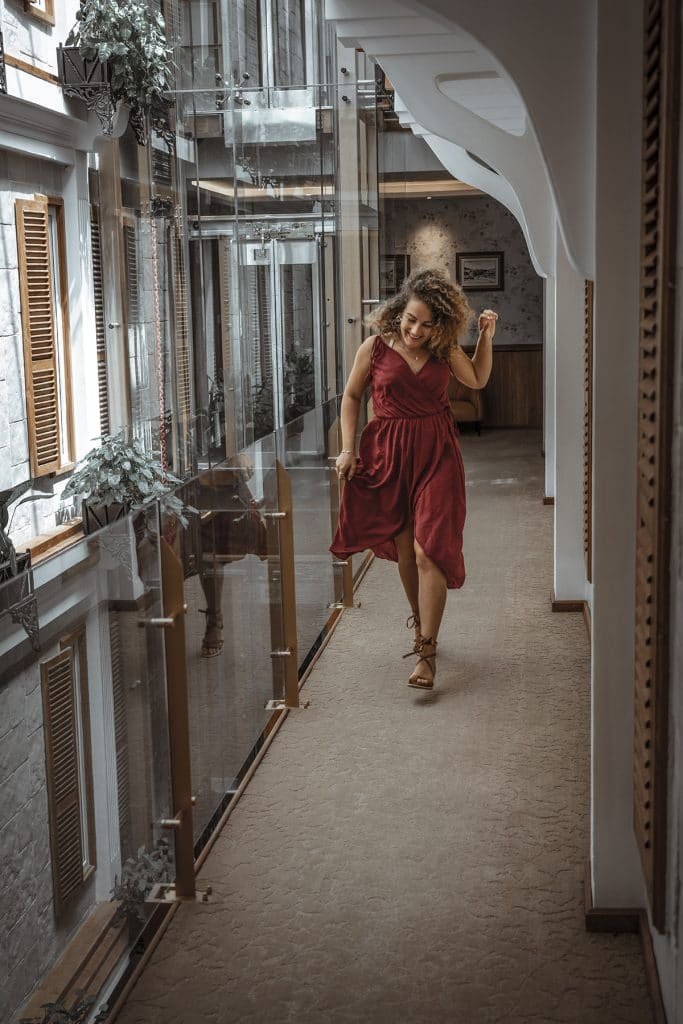 A design masterpiece!
Ella
★★
The Symbol of Ella
- your little nest in the mountains. The location of this hotel is one of the key factors for choosing it, as it is very central and near to the train station. The rooms are very beautiful and comfortable, the brick wall is a nice design element added. Mountain views around will leave you speechless. The hotel owners are very forthcoming and will make you feel at home right away.
Mirissa
★★★★★
Lantern Boutique Hotel
- paradise at the beach. From your room directly to the ocean, what could be better than that?! And if you are not a fan of salty ocean water, there is also a lovely pool. The food here is gorgeous, the chef is making magic in his kitchen. The staff is friendly and kind, very professional. Rooms are great, modern, clean, and spacious. The views around the hotel are also awesome.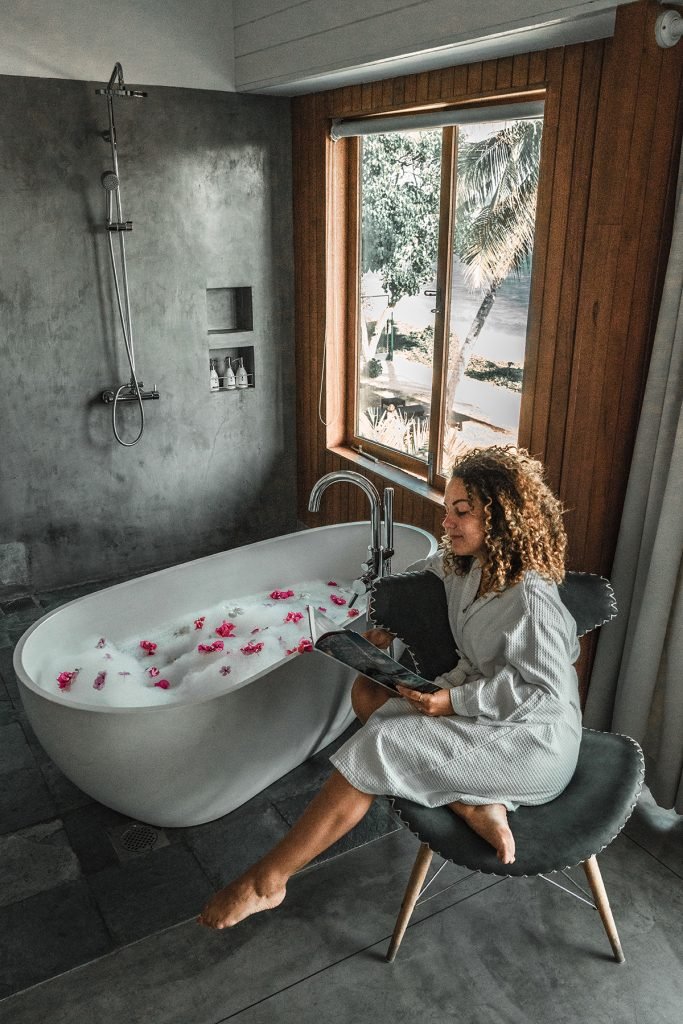 Amazing, romantic set up and a gorgeous view!
★★★ Handagedara Colonial Villa - Huge swimming pool and sunbeds for a really nice price. The staff is friendly as everywhere in Sri Lanka. Beach is just 5 minutes away. The breakfast and their outdoor spaces are really cool.
Hikkaduwa
★★★
Hikka FnR Villa
has a superb outdoors space with really nice and chilling pool. The rooms have a wooden design and are super spacios.
★★ Villa Comfort - a very affordable choice for everyone. The rooms are clean and have all the basic stuff, the same for bathrooms. There is a shared kitchen and living room that everyone can use. Also, this place has a cute little pool which will become your best friend during hot days. The owner is a very nice guy and will help with the scooter rent and any other questions you might have.
Summary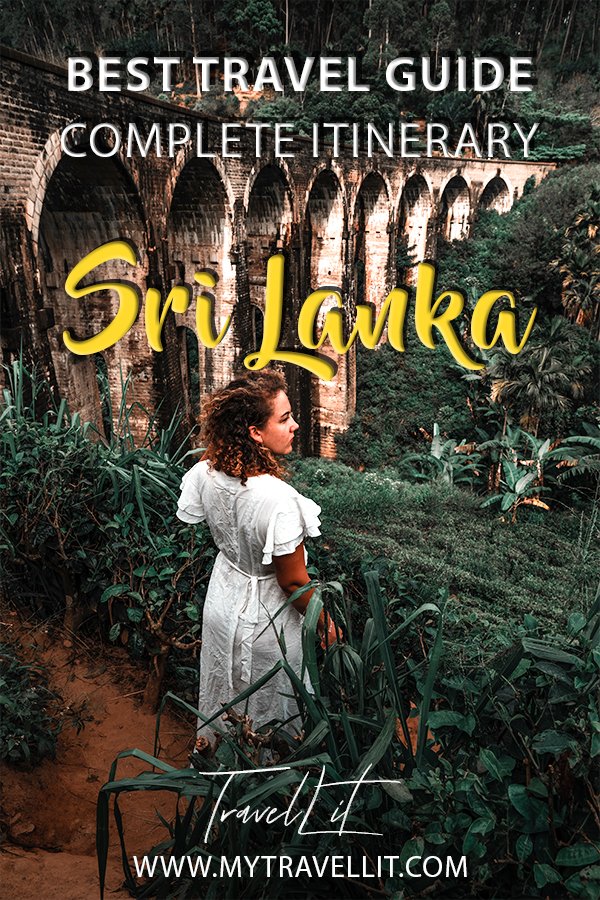 After spending 2 weeks in Sri Lanka we fell in love with it! The country offers so much for every visitor, no matter whether you are a nature lover, foodie, beach bum or any other kind of traveler. We hope that after reading this you will know that Sri Lanka has much more than train rides, elephants, and tea plantations. Actually, we know that you already are checking possible flights and thinking about what to pack for your trip!
---
Posted from my blog with SteemPress : https://mytravellit.com/best-sri-lanka-itinerary-complete-travel-guide/
---
Love you all!
If you are interested in our travels or our lives we encourage you to connect with us through one of the social platforms below.
Find us here and join our community!
If you feel particularly adventurous, become a part of our Facebook community (our moms and a couple of other great people) - https://www.facebook.com/travellitoriginal
Follow our daily adventures and stories - https://www.instagram.com/travellitoriginal
We tweet about remote islands with lightning fast wifi - https://twitter.com/mytravellit
Our blog - How to find cheap flight deals, budget accommodations, travel itineraries and how to make travel affordable while still super fun - https://mytravellit.com/