Log of upvotes used to counter downvotes from the Steemit "Defence" League.
Find out more by clicking the image below!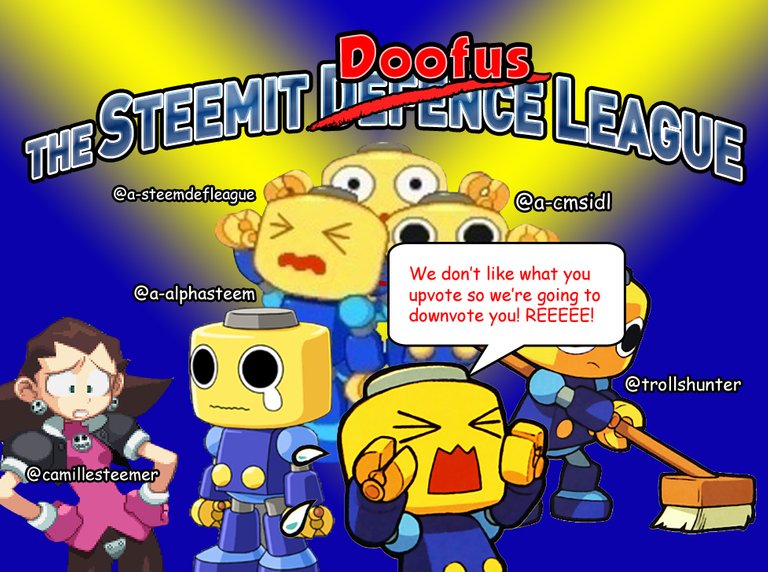 This is a raw report from the 25th of May.
We logged 485 upvotes from @neutralizer to neutralize negative rshares with @randohealer's added bonus upvotes.
Your upvotes will go directly to powering up these accounts so we can dole out more weighted votes. We are working on optimizing the code.
| voter | rshares | post |
| --- | --- | --- |
| neutralizer | 20085884223 | @steemflagrewards/steem-flag-rewards-activity-report-5-17-5-23-coinmarketcap-scammer-flag-campaign-open |
| neutralizer | 204958002 | @neliacordeiro/5qrutw-landscapephotography-for-today |
| neutralizer | 204958002 | @badcontent/re-20180519t192506111z-20180519t192607 |
| neutralizer | 409916004 | @iamstan/re-littleboy-airswap-had-a-large-sell-off-on-binance-price-manipulation-gone-wrong-or-bots-being-bots-20180525t055120829z |
| neutralizer | 204958002 | @winarobert/moments-of-expression-character |
| neutralizer | 204958002 | @stbrians/fingernails-galore-for-men-or-women-zg1hbmlh-gmdo7 |
| neutralizer | 204958002 | @schamangerbert/steem-blitz-chess-tournament-may-19th-2018-and-the-winner-is-video-commentary-by-schamangerbert |
| neutralizer | 819832009 | @soma909/sing--2012--2018-4-5-10-31-6 |
| neutralizer | 204958002 | @musicvoter/monday-update-for-musicvoter-and-atomcollectorrecords-com-choon-added-to-mobile-player |
| neutralizer | 409916004 | @badcontent/re-5bfqot-daily-deephouse-mix-20180522t072157 |
| neutralizer | 204958002 | @bulex/c75c2049-5baa-11e8-b4e1-0242ac110002 |
| neutralizer | 204958002 | @jorgebgt/mision-gaia-y-sus-primeros-descubrimientos |
| neutralizer | 409916004 | @selinnball/kitap-tavsiyelerim-2-bir-delinin-hatira-defteri-palto-burun-nikolay-vasilyevic-gogol |
| neutralizer | 204958002 | @badcontent/re-3fxquo-daily-deephouse-mix-20180521t191927 |
| neutralizer | 204958002 | @aroojrana/block-chain-simplified |
| neutralizer | 409916004 | @abusereports/abusereports-re-cqrtcre-abusereports-abusereports-re-cqrtclast-trading-results-for-cqrtc-crypto-trading-channel-70-profit-call-13-days-20180520t200927030z |
| neutralizer | 204958002 | @thefuriousj/l1snygrj |
| neutralizer | 409916004 | @johngreenfield/re-antimetica-7-day-positivity-challenge-day-1-the-30-year-plan-20180520t210113378z |
| neutralizer | 204958002 | @steemvest17/genting-skyway-15-minutes-gondola-ride |
| neutralizer | 204958002 | @abusereports/abusereports-re-ghanshamcomputed-tomography-scanner-market-key-insights-and-demand-forecast-highlighted-until-the-end-of-2025 |
| neutralizer | 409916004 | @eliarenas/written-communication-comunicacion-escrita |
| neutralizer | 204958002 | @steembasicincome/steem-basic-income-sbi-interview-with-dynamicgreentk |
| neutralizer | 204958002 | @apanamamama/what-happens-when-the-sewing-machine-needle-hits-your-finger-or-quilting-gwen-s-quilt |
| neutralizer | 409916004 | @abusereports/abusereports-re-carlsmithcolorchallengesundaypurple-ajs23s8vl5 |
| neutralizer | 204958002 | @gambetti/antoine-griezmann-to-join-barcelona |
| neutralizer | 204958002 | @badcontent/re-4x3gpr-cryptocurrency-20180520t222607 |
| neutralizer | 204958002 | @jlalvarez/vive-para-ti |
| neutralizer | 204958002 | @abusereports/abusereports-re-bravobravore-issamtalbi-price-watch-bitcoin-ethereum-ripple-bitcoin-cash-and-litecoin-begin-to-stabilize-20180520t160808264z |
| neutralizer | 204958002 | @ebruaydogdu/anne-marie-covers-the-spice-girls-say-you-ll-be-there-in-the-live-lounge |
| neutralizer | 1229748013 | @siosfl/arma-3-artwork-swat-arrest |
| neutralizer | 204958002 | @abusereports/abusereports-re-kr-anonyre-uksama-kr-title-6-20180519t135503454z |
| neutralizer | 204958002 | @badcontent/re-20180521t220005512z-20180521t220107 |
| neutralizer | 1229748013 | @abusereports/abusereports-re-bravobravore-ajilah-wildflower-macro-photography-5ab5d89478997-20180524t180254103z |
| neutralizer | 409916004 | @claroscuro/i-love-you-miku-zg1hbmlh-ga3zi |
| neutralizer | 409916004 | @abusereports/abusereports-re-boydsavagecolorchallengemondayred-vxqwiela8p |
| neutralizer | 204958002 | @badcontent/re-125rk5-luggage-and-leather-goods-market-size-share-trends-growth-regional-outlook-and-forecast-2023-credence-research-20180525t125517 |
| neutralizer | 204958002 | @gogalomidze/sunset-2018-4-5-11-29-2 |
| neutralizer | 204958002 | @sward/concentration-disorder-in-children |
| neutralizer | 409916004 | @yekrats/re-introducebot-introduce-bot-re-boyzmen99hichki-hichki-full-movie-hindi-2018-in-1080-hd-dvdrip-bluerayrip-20180522t151749802z |
| neutralizer | 409916004 | @marty-arts/my-art-round-of-flowers |
| neutralizer | 204958002 | @ekader/busy-will-take-over-bsteem-great-news |
| neutralizer | 204958002 | @badcontent/re-2l8m5l-psalms-103-12-kjv-20180525t074902 |
| neutralizer | 204958002 | @badcontent/re-4a9nvj-cryptocurrency-20180521t202902 |
| neutralizer | 819832009 | @soma909/fugees-and-zinc |
| neutralizer | 204958002 | @badcontent/re-20180522t141005777z-20180522t141132 |
| neutralizer | 204958002 | @bluefinstudios/colourfulphotography-wood-duck-too |
| neutralizer | 204958002 | @badcontent/re-20180521t031757097z-20180521t031902 |
| neutralizer | 2357017026 | @buildawhale/2sxyrm-buildawhale-blacklist-update |
| neutralizer | 204958002 | @max.ico.obzor/bezopasnoe-khranenie-vsekh-dannykh-s-casper |
| neutralizer | 409916004 | @iamstan/re-johnstone-pn0oe0vb-20180522t015128880z |
| neutralizer | 204958002 | @badcontent/re-20180519t151140190z-20180519t151312 |
| neutralizer | 204958002 | @rainbowlord/etkinlik-zamani-50296c9733829 |
| neutralizer | 409916004 | @rickbn/my-artwork-5-flower |
| neutralizer | 204958002 | @iamstan/re-berniesanders-bitcoin-btc-morning-update-yellow-abc-complete-20180519t234658868z |
| neutralizer | 204958002 | @badcontent/re-4pfphc-cryptocurrency-20180523t172837 |
| neutralizer | 204958002 | @abusereports/abusereports-re-ghanshamaero-structure-equipments-market-2018-industrial-chain-company-research-and-investment-analysis-till-2025 |
| neutralizer | 614874006 | @soma909/focus--1999--2018-4-3-8-14-26 |
| neutralizer | 204958002 | @badcontent/re-20180521t111005513z-20180521t111107 |
| neutralizer | 409916004 | @enforcer48/re-flagawhale-flag-a-whale-flagtarget-battle-update-1c-20180523t132213404z |
| neutralizer | 204958002 | @apanamamama/that-time-i-won-a-usd250-spa-gift-card-from-candace-cameron-bure |
| neutralizer | 204958002 | @deliberator/solar-power-quick-update-low-cost-energy-for-life |
| neutralizer | 819832009 | @steemflagrewards/re-re-oficialimdb-action-point-2018-pelicula-completa-hd1080p-20180522t160953252z-20180522t161022 |
| neutralizer | 204958002 | @ekader/barcelona-spain-wonderful-place-in-this-world |
| neutralizer | 204958002 | @ulfinajua/stunning-picture-surfing-at-banyak-islan-2018-05-21-23-47-28 |
| neutralizer | 204958002 | @abusereports/abusereports-re-ghanshamcable-assembly-market-size-pries-development-outlook-and-forecast-predictions-till-2025 |
| neutralizer | 204958002 | @homecook/steemit-sandwich-contest-week-41-egg-salad-and-cucumber-sandwich |
| neutralizer | 204958002 | @badcontent/re-57p4r5-20180520t100722 |
| neutralizer | 204958002 | @badcontent/re-25-foods-you-ve-been-eating-wrong-20180520t144402 |
| neutralizer | 409916004 | @purpledaisy57/rubix-cube-for-colourful-thursday |
| neutralizer | 204958002 | @chilix/reconozco-poema |
| neutralizer | 204958002 | @badcontent/re-colorchallengesundaypurple-0psos11rro-20180520t184107 |
| neutralizer | 204958002 | @abusereports/abusereports-re-ghanshamcanned-preserved-foods-market-size-pries-quantitative-market-analysis-current-and-future-trends-2018-2025 |
| neutralizer | 204958002 | @agrojaya/the-shape-is-beautiful-but-not-blooming-c84663d34b5bf |
| neutralizer | 204958002 | @homecook/if-you-want-to-race-get-a-damn-sports-car-the-cruelty-of-greyhound-races |
| neutralizer | 1229748013 | @abusereports/abusereports-re-bravobravore-blol-oky-2018-05-24-17-59-54-20180524t180107262z |
| neutralizer | 204958002 | @jlalvarez/when-you-decide-to-get-married |
| neutralizer | 409916004 | @klen.civil/cerita-leuh-ujeun-bak-uroe-nyoe |
| neutralizer | 204958002 | @badcontent/re-20180520t141005973z-20180520t141107 |
| neutralizer | 204958002 | @ziapase/ulog-7-ulog-experiment-via-social-media |
| neutralizer | 204958002 | @badcontent/re-10f3a960-5c35-11e8-b4e1-0242ac110002-20180520t135402 |
| neutralizer | 819832009 | @emrebeyler/re-kurodevs-pythontranslate-py-or-a-python3-6-x-wrapper-to-translate-your-strings-3-20180524t082957939z |
| neutralizer | 409916004 | @soma909/lene--1999--2018-4-2-14-46-14 |
| neutralizer | 204958002 | @badcontent/re-20180525t080005644z-20180525t080107 |
| neutralizer | 204958002 | @maverick0524/maverick-s-5-20-win4-lotto-pick-em-contest-current-jackpot-21-78sbd |
| neutralizer | 204958002 | @mikepm74/two-straight-days-of-new-silver-the-virus-is-spreading |
| neutralizer | 1229748013 | @siosfl/the-steemit-defence-league-is-a-fucking-joke |
| neutralizer | 204958002 | @steemflagrewards/re-re-spmmingcomment-re-cjsdns-2hcn5q-20180521t154343570z-20180521t155019 |
| neutralizer | 204958002 | @badcontent/re-10bestoneplus6casescoversandtemperedglass-308f4u8ge5-20180520t085607 |
| neutralizer | 819832009 | @enforcer48/re-davemccoy-come-on-over-lets-get-dirty-sprinkling-dust-all-over-this-post-to-everyone-20180524t175942246z |
| neutralizer | 204958002 | @badcontent/re-black-and-white-photography-20180519t174542 |
| neutralizer | 204958002 | @badcontent/re-2q6f7b-2-corinthians-5-19-kjv-20180523t114247 |
| neutralizer | 409916004 | @lunafrances/vicio |
| neutralizer | 204958002 | @sirvotesalot/the-time-chris-farley-got-really-honest-on-the-conan-obrien-show-but-we-all-still-laughed |
| neutralizer | 204958002 | @travelnepal/drive-back-to-kathmandu-fron-nagarkot-gif-image |
| neutralizer | 204958002 | @abusereports/abusereports-re-ghanshamcellulose-ether-derivatives-market-growth-opportunities-manufacturers-type-and-application-forecast-analysis-to-2025 |
| neutralizer | 204958002 | @badcontent/re-7gt9vc-cryptocurrency-20180523t180722 |
| neutralizer | 204958002 | @badcontent/re-2kfud1-bitcoin-research-profit-taking-system-3-watching-for-another-volume-price-high-20180521t113517 |
| neutralizer | 409916004 | @siosfl/re-drawing-steem-how-to-draw-lilo-stitch-20180524t123739817z |
| neutralizer | 204958002 | @badcontent/re-7kod5e-ghost-20180521t164927 |
| neutralizer | 409916004 | @morahn/boxing-stance-bnw-8a6f070129f2e |
| neutralizer | 1537185017 | @enforcer48/too-many-steemians-are-apparently-too-busy-for-that-zg1hbmlh-6l736 |
| neutralizer | 204958002 | @mahbub6213/football-world-cup |
| neutralizer | 204958002 | @xiaoshancun/5umsj1-or |
| neutralizer | 409916004 | @naturicia/re-janine-ariane-re-rihannas-re-vee2180-thank-you-steemians-i-have-500-followers-20180523t214750053z |
| neutralizer | 409916004 | @steemflagrewards/re-re-drawing-steem-how-to-draw-a-dragon-eye-20180524t123706137z-20180524t234808 |
| neutralizer | 204958002 | @raydersteemit/venison-93fa66185605a |
| neutralizer | 204958002 | @ragepeanut/re-pathforger-personal-update-still-out-of-commission-20180524t010927653z |
| neutralizer | 204958002 | @badcontent/re-5apj21-romans-5-7-8-kjv-20180523t105107 |
| neutralizer | 409916004 | @qiyi/house-built-by-amateur-geologist-has-fossils-and-rocks-from-all-50-states |
| neutralizer | 204958002 | @enforcer48/re-emergedinsteem-re-enforcer48-p352hmc35-20180519t150606493z |
| neutralizer | 819832009 | @abusereports/abusereports-re-gamanessential-steps-in-understanding-cryptocurrency-gaman-05252018 |
| neutralizer | 409916004 | @soma909/airport-exterior |
| neutralizer | 204958002 | @muksal94/beautiful-sunsets-2018-05-23-09-29-22 |
| neutralizer | 204958002 | @abusereports/abusereports-re-gamandlbm84zq-gaman-05252018 |
| neutralizer | 204958002 | @abusereports/abusereports-re-gamangaspricescouldhit3nationwidememorialdayweekend-8zn4ucade4-gaman-05252018 |
| neutralizer | 204958002 | @enforcer48/re-glenalbrethsen-re-enforcer48-re-glenalbrethsen-re-enforcer48-name-top-3-all-time-favorite-movies-20180521t222644979z |
| neutralizer | 204958002 | @daniel307/hello-steemit-folks-i-hope-that-you-ll-take-a-minute-to-check-out-this-new-vid |
| neutralizer | 204958002 | @marilunabella4/visita-a-la-universidad-tecnologico-de-cancun |
| neutralizer | 819832009 | @abusereports/abusereports-re-ghansham3d-gaming-console-market-2018-industrial-chain-company-research-and-investment-analysis-till-2025 |
| neutralizer | 204958002 | @abusereports/abusereports-re-ghanshamcompact-loaders-market-2022-consumption-analysis-growth-forecast-by-manufacturers-and-application |
| neutralizer | 409916004 | @taufik83/istirahatlah |
| neutralizer | 204958002 | @joseda94/mi-superheroina |
| neutralizer | 204958002 | @badcontent/re-4whlpw-cryptocurrency-20180522t104017 |
| neutralizer | 204958002 | @enforcer48/re-emrebeyler-travel-burnout-20180520t155921561z |
| neutralizer | 204958002 | @aroojrana/steemit |
| neutralizer | 409916004 | @okyrezasahputra/panen-udang-vanamei-doc-19-20-gram-c700e01c2d444 |
| neutralizer | 409916004 | @soumon/introduction-of-myself |
| neutralizer | 204958002 | @badcontent/re-lgcompletes21yearsinindiacelebratesitwithanewtvcaboutinnovationandanewindia-upwcp7wd3l-20180520t083402 |
| neutralizer | 204958002 | @mellissaying/c59027c0-5c53-11e8-b60f-c1f3b7c155ff |
| neutralizer | 204958002 | @abusereports/abusereports-re-raftaarre-flamingirl-happiness-2018-05-21-19-32-22-20180521t201212134z |
| neutralizer | 409916004 | @soma909/joe-2009 |
| neutralizer | 204958002 | @donatello/fitness-contest-week-33-my-promo-entry |
| neutralizer | 409916004 | @iamstan/re-iamstan-re-mepatriot-the-swamp-is-literally-draining-or-there-s-a-sinkhole-on-the-white-house-lawn-20180524t134608181z |
| neutralizer | 1332227014 | @soma909/paul-simon-and-photek |
| neutralizer | 204958002 | @carrioner/28a302d0-5e4b-11e8-80ae-97b33bad0315 |
| neutralizer | 204958002 | @badcontent/re-5tj111-funniest-pets-of-the-week-compilation-march-2018-or-a-video-link-by-funny-pet-videos-20180520t200402 |
| neutralizer | 204958002 | @badcontent/re-2018-2025-gynecology-lasers-report-on-global-and-united-states-market-status-and-forecast-by-players-types-and-applications-20180522t100017 |
| neutralizer | 819832009 | @abusereports/abusereports-re-ghansham3d-glass-market-to-undertake-strapping-growth-during-2025 |
| neutralizer | 204958002 | @enforcer48/re-kabir88-re-lyndsaybowes-ulog-2-the-sweetness-of-my-life-20180521t233302670z |
| neutralizer | 204958002 | @badcontent/re-20180523t112505385z-20180523t112607 |
| neutralizer | 204958002 | @badcontent/re-20180522t080005797z-20180522t080132 |
| neutralizer | 204958002 | @jamilhossain/vmv8t-life-of-a-man |
| neutralizer | 204958002 | @badcontent/re-200-frenchies-in-one-place-or-a-video-link-by-laura-price-20180519t192337 |
| neutralizer | 204958002 | @enforcer48/re-hanen-pizza-time--2018-05-21-20-34-24-20180521t225326430z |
| neutralizer | 204958002 | @winarobert/goodbyes |
| neutralizer | 1127269012 | @johngreenfield/re-entrepreneur916-so-i-transferred-79-steem-to-the-wrong-account-the-account-is-inactive-neo-what-to-do-next-anyone-feeling-charitable-20180521t220432937z |
| neutralizer | 614874006 | @berniesanders/re-clumsysilverdad-re-yabapmatt-re-steemitblog-steemit-blockchain-team-update-appbase-rocksdb-bandwidth-hf20-smts-and-more-20180522t195845208z |
| neutralizer | 204958002 | @ronahi/a-tweet-from-erdogan-corrected-to-outlin-2018-05-19-15-35-09 |
| neutralizer | 2664454029 | @abusereports/flag-report-2018-05-21 |
| neutralizer | 409916004 | @soma909/hcmc--2012--2018-4-0-11-29-18 |
| neutralizer | 409916004 | @abusereports/abusereports-re-gamanprivatejetcrashesalmostsplitsintwoathondurasairport-3fxiavm5uz-gaman-05252018 |
| neutralizer | 204958002 | @badcontent/re-colorchallengefridayblue-qxd781goef-20180525t183517 |
| neutralizer | 204958002 | @khaidiral/bakso-samalanga-aceh-e888822a21ca |
| neutralizer | 204958002 | @badcontent/re-4n7wbs-5-20180523t153812 |
| neutralizer | 614874006 | @selinnball/yesil-hayattir-hayat-dogadadir-green-is-life |
| neutralizer | 204958002 | @abusereports/abusereports-re-ghansham3d-semiconductor-packaging-market-industry-2018-key-findings-and-analysis-2025 |
| neutralizer | 204958002 | @badcontent/re-20180521t114959784z-20180521t115107 |
| neutralizer | 204958002 | @abusereports/abusereports-re-gamandecidingona524creditcardstrategy-zj4rtja4zp-gaman-05252018 |
| neutralizer | 204958002 | @ran.koree/ran-painting-on-the-wall |
| neutralizer | 204958002 | @badcontent/re-15-things-you-didn-t-know-about-microsoft-20180519t143632 |
| neutralizer | 2971891033 | @abusereports/flag-report-2018-05-22 |
| neutralizer | 204958002 | @karrina/jika-kita-baik-kepada-orang-biasanya-mereka-akan-jauh-lebih-baik-kepada-kita |
| neutralizer | 204958002 | @abusereports/abusereports-re-gamanjetschristopherjohnsonsayshewontfineplayerswhokneelduringanthem-76onjknfoe-gaman-05252018 |
| neutralizer | 409916004 | @mentalhealthguru/sypro-trilogy-reignited-the-classic-spyro-game-is-back-ready-for-pre-order |
| neutralizer | 204958002 | @ayusor/could-the-next-recession-be-upon-us |
| neutralizer | 1742143019 | @anthonyadavisii/flag-rewards-ride-along-with-anthonyadavisii-sunday-sovereign-grace-reddit-bitcoin-puzzle-cracking-attempts |
| neutralizer | 204958002 | @badcontent/re-2bhgwk-4-20180523t152747 |
| neutralizer | 204958002 | @badcontent/re-4xpdqm-hey-20180521t002902 |
| neutralizer | 1537185017 | @enforcer48/dapp-review-musing-io |
| neutralizer | 204958002 | @uwelang/sirtaki-dance-weekend-greek-style |
| neutralizer | 409916004 | @rahma98/beach-2018-05-22-05-02-37 |
| neutralizer | 2459496027 | @johngreenfield/steemit-the-ultimate-beginner-s-guide-to-steemit |
| neutralizer | 204958002 | @art-huntress/entry-for-artstorm-contest-25-first-love |
| neutralizer | 409916004 | @morahn/bnw-my-modelling-look-4e2b3e497f4e5 |
| neutralizer | 204958002 | @badcontent/re-2prjaj-100-free-mining-sites-sign-up-bonuses-make-money-without-investment-20180521t164607 |
| neutralizer | 409916004 | @morahn/dark-and-sexy-bnw-d8100261ae64b |
| neutralizer | 409916004 | @soma909/re-kaminchan-re-soma909-maja-1999-20180522t201938560z |
| neutralizer | 204958002 | @badcontent/re-3ygd6k-cryptocurrency-20180520t214812 |
| neutralizer | 204958002 | @badcontent/re-20180521t080005241z-20180521t080107 |
| neutralizer | 204958002 | @enforcer48/re-dragosroua-may-30-days-writing-challenge-day-twenty-who-was-the-first-user-you-followed-on-steemit-why-20180520t141826213z |
| neutralizer | 614874006 | @steemflagrewards/re-re-albesveseli-kendrick-lamar-officially-denies-copying-artist-in-all-the-stars-lawsuit-20180525t061420830z-20180525t061529 |
| neutralizer | 204958002 | @badcontent/re-digital-patient-monitoring-device-market-report-2018-20180523t080132 |
| neutralizer | 409916004 | @soma909/re-nomadicsoul-how-to-fly-from-hanoi-to-da-nang-for-just-usd13-20180523t154245975z |
| neutralizer | 409916004 | @abusereports/abusereports-re-arthurbrucecolorchallengesundaypurple-kkzmqgiybf |
| neutralizer | 204958002 | @badcontent/re-colorchallengefridayblue-7km8vinf01-20180525t183402 |
| neutralizer | 204958002 | @badcontent/re-2x7t7z-cryptocurrency-20180520t090657 |
| neutralizer | 204958002 | @musicvoter/3xcnrh-sunday-update-for-musicvoter-and-atomcollectorrecords-com |
| neutralizer | 819832009 | @emrebeyler/re-keepcalmandread-re-emrebeyler-imagehoster-python-client-a-python-client-for-steemitimages-20180522t100908974z |
| neutralizer | 922311010 | @abusereports/abusereports-re-camillesteemerimportant-announcement-about-steemit-must-read-and-resteem-asap |
| neutralizer | 409916004 | @badcontent/re-22kdhj-your-daily-motivation-20180520t100452 |
| neutralizer | 819832009 | @soma909/qotsa-and-unkle |
| neutralizer | 204958002 | @gambetti/is-manuel-neuer-participating-to-the-world-cup |
| neutralizer | 204958002 | @fauzan93/tour-peak-tour-grute-60fac3d567c22 |
| neutralizer | 614874006 | @soma909/re-camillesteemer-important-announcement-about-steemit-must-read-and-resteem-asap-20180521t071743757z |
| neutralizer | 204958002 | @arif019/6sbqjk-ipl-upcoming-match |
| neutralizer | 409916004 | @iamstan/re-aggroed-meme-the-news-5-18-18-20180523t213708906z |
| neutralizer | 204958002 | @badcontent/re-4bnvus-hold-long-position-online-users-at-poloniex-bitcoin-research-trading-system-1-20180520t112107 |
| neutralizer | 204958002 | @badcontent/re-20180523t080005528z-20180523t080107 |
| neutralizer | 204958002 | @gab2999/has-que-tus-dias-valgan |
| neutralizer | 409916004 | @calluna/a-sight-worth-beholding-a-one-paragraph-scifi-story-inspired-by-a-picture |
| neutralizer | 204958002 | @gab2999/dibujo-2-zoe-league-of-legends |
| neutralizer | 2561975028 | @johngreenfield/some-more-news-kanye-west-prager-university-and-the-illusion-of-free-thought |
| neutralizer | 1844622020 | @emrebeyler/posting-reward-rate-limiting |
| neutralizer | 204958002 | @ernestfung/the-building-of-bank-of-china-in-central-hong-kong |
| neutralizer | 204958002 | @uwelang/metal-weekend-i-am-finally-in |
| neutralizer | 409916004 | @soma909/rex-trading---media-centre--aka-2018-4-1-11-50-57 |
| neutralizer | 204958002 | @ebruaydogdu/anne-marie-ciao-adios-behind-the-scenes |
| neutralizer | 204958002 | @stbrians/cryptos-can-easily-slap-you-in-the-face-zg1hbmlh-9gzjj |
| neutralizer | 204958002 | @badcontent/re-20180521t013649429z-20180521t013747 |
| neutralizer | 204958002 | @badcontent/re-a-drama-presentation-by-shilpi-marwaha-20180520t082402 |
| neutralizer | 204958002 | @abusereports/abusereports-re-gamancoalitioncomesoutfiringinsupersaturdaybyelectiongunfight-w54dyjz1dx-gaman-05252018 |
| neutralizer | 2561975028 | @johngreenfield/legion-the-power-of-delusion |
| neutralizer | 409916004 | @gogalomidze/horizon-2018-05-24-12-57-01 |
| neutralizer | 409916004 | @abusereports/abusereports-re-ghanshamcone-beam-computed-tomography-cbct-market-product-scope-overview-trends-demands-and-supply-forecast-to-2025 |
| neutralizer | 204958002 | @badcontent/re-cmacq-cryptocurrency-20180523t085132 |
| neutralizer | 204958002 | @kona/daily-pet-photography-event-day135 |
| neutralizer | 1127269012 | @abusereports/abusereports-re-gamanare-you-a-lover-of-the-cryptocurrency-dogecoin-invest-and-earn-double-in-a-few-days-tutorial-002-gaman-05252018 |
| neutralizer | 2357017026 | @emrebeyler/witness |
| neutralizer | 409916004 | @claroscuro/mcfuckno-zg1hbmlh-yhzwi |
| neutralizer | 204958002 | @badcontent/re-avoid-me-once-1e829ecfad318-20180523t170312 |
| neutralizer | 614874006 | @klen.civil/gedung-serba-guna |
| neutralizer | 614874006 | @enforcer48/re-albesveseli-re-enforcer48-name-3-accounts-you-follow-on-steemit-because-they-are-useful-20180524t224928396z |
| neutralizer | 204958002 | @fauzan93/i-can-be-award-from-steemit-7ea18ffabeac2 |
| neutralizer | 204958002 | @abusereports/abusereports-re-phidung973cnw57-trump-bans-us-purchases-of-venezuela-s-cryptocurrency-petro |
| neutralizer | 409916004 | @rahma98/very-tasty-dishes-2018-05-23-07-08-01 |
| neutralizer | 204958002 | @bulex/7a9ebedb-5c0e-11e8-b4e1-0242ac110002 |
| neutralizer | 204958002 | @abusereports/abusereports-re-morganbarnettcolorchallengesaturdayindigo-j3p4nmlkew |
| neutralizer | 204958002 | @abusereports/abusereports-re-faereescolorchallengesaturdayindigo-sx4kniywdz |
| neutralizer | 204958002 | @badcontent/re-agility-training-australian-shepherd-charlie-or-or-a-viral-youtube-video-link-by-kiki-charlie-20180523t153607 |
| neutralizer | 204958002 | @carrioner/c72ef6e5-5f84-11e8-82ff-0242ac110002 |
| neutralizer | 614874006 | @yekrats/re-bananamemos-re-yekrats-re-mannacurrency-first-steemit-now-manna-100-000-hit-20180521t123913596z |
| neutralizer | 204958002 | @art-huntress/entry-for-artstorm-contest-24-face-painting |
| neutralizer | 409916004 | @madpotters/abandoned-shit-weekly-contest-17-vehicles-aswcontest |
| neutralizer | 204958002 | @badcontent/re-55to9r-1-corinthians-1-18-20180523t083517 |
| neutralizer | 204958002 | @kona/0b161be0-5c1f-11e8-b60f-c1f3b7c155ff |
| neutralizer | 204958002 | @abusereports/abusereports-re-hawtesccre-lionindayard-the-investor-s-dilemma-the-difference-between-an-investor-and-gambler-20180523t003630160z |
| neutralizer | 204958002 | @badcontent/re-4k1rfc-cryptocurrency-20180521t224017 |
| neutralizer | 204958002 | @badcontent/re-fbireportedlyoverestimatedinaccessibleencryptedphonesbythousands-91wowuuvt1-20180523t173017 |
| neutralizer | 204958002 | @primersion/vertical-challenge-week-6-1545-of-5000-completed-training-for-my-next-race |
| neutralizer | 204958002 | @badcontent/re-76ana8-20180522t085312 |
| neutralizer | 3074370034 | @abusereports/last-minute-upvote-list-2018-05-22 |
| neutralizer | 204958002 | @clemmycool/the-cat-nurse |
| neutralizer | 204958002 | @badcontent/re-die-tempel-von-malta---stoner-frankfrei-25-1527093272-8106637-20180523t165837 |
| neutralizer | 204958002 | @jamilhossain/fun |
| neutralizer | 204958002 | @badcontent/re-48xijh-cryptocurrency-20180522t131312 |
| neutralizer | 409916004 | @kartiksingh/flag-war |
| neutralizer | 1844622020 | @emrebeyler/current-state-of-traffic-in-istanbul |
| neutralizer | 1639664018 | @enforcer48/how-many-comments-per-day-do-you-post-why |
| neutralizer | 409916004 | @calluna/7-day-positivity-challenge-day-4-meet-the-chickens-the-pets-who-pay-for-themselves |
| neutralizer | 204958002 | @badcontent/re-2726fu-john-3-16-kjv-20180523t120337 |
| neutralizer | 614874006 | @badcontent/re-colorchallengethursdaygreen-kqq1kshob8-20180524t183722 |
| neutralizer | 409916004 | @abusereports/abusereports-re-arthurbrucecolorchallengemondayred-5owh8fnewx |
| neutralizer | 204958002 | @bobaphet/upbvfwji |
| neutralizer | 204958002 | @daniel307/funny-cats-compilation |
| neutralizer | 204958002 | @perry1/art-is-life-70-2018-05-24-10-35-41 |
| neutralizer | 922311010 | @soma909/lines-2018-4-5-11-14-57 |
| neutralizer | 614874006 | @badcontent/re-colorchallengethursdaygreen-jsk77fjns0-20180524t185517 |
| neutralizer | 204958002 | @badcontent/re-5puxfp-wildflowers-20180520t092657 |
| neutralizer | 204958002 | @slice223/my-crypto-journey-so-far |
| neutralizer | 204958002 | @sirvotesalot/the-new-reddit-design-is-terrible |
| neutralizer | 204958002 | @badcontent/re-der-integrations-hokuspokus---imad-karim--neues-hambacher-fest-2018-1527093283-5045257-20180523t171952 |
| neutralizer | 204958002 | @abusereports/abusereports-re-danpilkingtoncolorchallengesaturdayindigo-60tkcuuhz2 |
| neutralizer | 409916004 | @soma909/re-midday-re-soma909-rex-trading---media-centre--aka-2018-4-1-11-50-57-20180521t165244974z |
| neutralizer | 204958002 | @badcontent/re-4gqy1n-daily-deephouse-mix-20180520t083247 |
| neutralizer | 614874006 | @badcontent/re-colorchallengethursdaygreen-fcsh55q6q8-20180524t183157 |
| neutralizer | 204958002 | @abusereports/abusereports-re-kr-anonyre-cjsdns-re-kr-anony-re-skt1-nj5z8-20180519t143003776z |
| neutralizer | 204958002 | @badcontent/re-advanced-technologies-global-ppe-market-for-lab-and-research-facilities-rise-at-a-cagr-of-3-34-by-2021-20180525t104632 |
| neutralizer | 204958002 | @badcontent/re-4uuvec-titus-2-11-12-kjv-20180523t100902 |
| neutralizer | 409916004 | @steemitraj/10-benefits-of-eating-jackfruit |
| neutralizer | 1639664018 | @johngreenfield/re-antimetica-re-johngreenfield-internet-oddities-paradise-valley-stalker-discovers-equation-of-love-20180521t192823754z |
| neutralizer | 204958002 | @badcontent/re-apple-introduces-new-privacy-portal-to-comply-with-gdpr-1527093231-641973-20180523t170632 |
| neutralizer | 204958002 | @pvadhiya/nature-of-canada-1527003789690 |
| neutralizer | 409916004 | @thantzawko/cps-coin-airdrop-b23e2a09782eb |
| neutralizer | 409916004 | @abusereports/abusereports-re-gamanusandpartnersforminternationalalliancetopushnuclearpower-r1emjxw61r-gaman-05252018 |
| neutralizer | 204958002 | @faltermann/der-lichtbaum-the-light-tree |
| neutralizer | 204958002 | @badcontent/re-10-most-insane-pools-that-will-blow-your-mind-20180520t144222 |
| neutralizer | 204958002 | @tysir/patty-jenkins-ignites-a-new-ray-of-hope |
| neutralizer | 922311010 | @abusereports/abusereports-re-gamanbest-onesies-ever-babies-kill-the-patriarchy-gaman-05252018 |
| neutralizer | 204958002 | @abusereports/abusereports-re-ghanshamcomputer-accessories-market-industry-2018-key-findings-and-analysis-2025 |
| neutralizer | 922311010 | @soma909/distortion--2012--2018-4-5-10-22-36 |
| neutralizer | 409916004 | @soma909/caravelle--2012--2018-4-1-16-56-20 |
| neutralizer | 614874006 | @soma909/engine--2009--2018-4-3-8-9-9 |
| neutralizer | 204958002 | @badcontent/re-20180521t222255575z-20180521t222402 |
| neutralizer | 409916004 | @iamstan/re-lyndsaybowes-re-jonyoudyer-re-lyndsaybowes-ulog-2-the-sweetness-of-my-life-20180522t013221473z |
| neutralizer | 922311010 | @abusereports/abusereports-re-gamanhugot-contest-nasasaktan-pero-patuloy-na-nagmamahal-gaman-05252018 |
| neutralizer | 204958002 | @salmanrauf/today-s-photography-see-first-358d20080ece8 |
| neutralizer | 204958002 | @snooway/eating-in-melbourne-birthday-celebration-at-trattoria-il-casolare |
| neutralizer | 204958002 | @homecook/strawberry-the-healing-fruit-of-spring |
| neutralizer | 204958002 | @midnight-snack/20180523t125017790z-newday-minisong |
| neutralizer | 204958002 | @badcontent/re-20180521t112505528z-20180521t112607 |
| neutralizer | 204958002 | @practicalthought/gratitude-day-5 |
| neutralizer | 1742143019 | @emrebeyler/mute-operation-of-steemit-shown-as-follow-on-activity-page-at-busy-org |
| neutralizer | 204958002 | @khaidiral/senja-dusk-bc6600021fc6d |
| neutralizer | 204958002 | @abusereports/abusereports-re-bitcoinandcoffeeqs42app1 |
| neutralizer | 1127269012 | @cadgar/working-at-donalds |
| neutralizer | 1742143019 | @buildawhale/buildawhale-curation-digest-05-24-18 |
| neutralizer | 204958002 | @rubencress/travels-keila-waterfalls-paldiski-area-estonia |
| neutralizer | 204958002 | @salmanrauf/i-d-like-to-be-appointment-the-the--slowwalker-post-for-me-6b6709d0ee664 |
| neutralizer | 409916004 | @abusereports/abusereports-re-gamanthe-greater-the-difficulty-the-easier-it-is-to-succeed-find-out-how-gaman-05252018 |
| neutralizer | 204958002 | @jorgebgt/mas-descubrimiento-sobre-nuestro-planeta |
| neutralizer | 204958002 | @jorgebgt/more-discovery-about-our-planet |
| neutralizer | 409916004 | @teuku.reza/travel-25-or-6-travelers-sins-at-the-sea-353d3e8bf4cd1 |
| neutralizer | 204958002 | @badcontent/re-frimay2520181958-20180525t175952 |
| neutralizer | 1229748013 | @soma909/story-of-the-eye-2018-4-4-18-10-36 |
| neutralizer | 204958002 | @badcontent/re-20180521t091115373z-post-20180521t091222 |
| neutralizer | 409916004 | @badcontent/re-20180522t072505887z-20180522t072607 |
| neutralizer | 204958002 | @badcontent/re-eo-trade-one-coin-four-platform-20180521t163952 |
| neutralizer | 204958002 | @urchice/life-of-a-married-woman-419264ae69802 |
| neutralizer | 409916004 | @soma909/daft-punk-2008 |
| neutralizer | 204958002 | @jsalazar/hola-me-llamo-jose-alberto-soy-administrador-aficionado-en-criptomonedas-y-redes-sociales-9bd540b48a3ec |
| neutralizer | 1024790011 | @emrebeyler/re-abh12345-can-someone-beat-sami100-to-the-punch-20180521t163754938z |
| neutralizer | 409916004 | @iamstan/re-mepatriot-allstate-insurance-company-belittling-men-at-every-opportunity-but-still-glad-to-take-their-money-20180521t131449248z |
| neutralizer | 204958002 | @rubencress/bfe10180-5eb9-11e8-82ff-0242ac110002 |
| neutralizer | 204958002 | @badcontent/re-10-or-16-2018-or-20180520t151952 |
| neutralizer | 204958002 | @gogalomidze/cafe-2018-05-24-19-09-10 |
| neutralizer | 409916004 | @abusereports/abusereports-re-ghanshamcabin-cruisers-market-to-undertake-strapping-growth-during-2025 |
| neutralizer | 717353007 | @ipromote/bitcoin-as-explained-by-ai |
| neutralizer | 204958002 | @badcontent/re-20180521t192506132z-20180521t192632 |
| neutralizer | 204958002 | @badcontent/re-5-ghost-videos-you-shouldn-t-watch-alone-20180520t193747 |
| neutralizer | 204958002 | @jsalazar/hi-there-my-name-is-jose-alberto-i-m-administrator-enthusiast-in-cryptocurrency-and-social-networks-english-spanish |
| neutralizer | 204958002 | @abusereports/abusereports-re-ghanshamcomputed-tomography-system-market-to-undertake-strapping-growth-during-2025 |
| neutralizer | 3586765039 | @abusereports/flag-report-2018-05-24 |
| neutralizer | 204958002 | @stbrians/the-hump-is-light-to-a-camel-zg1hbmlh-0xb5v |
| neutralizer | 204958002 | @dimensco/banner-and-post-assets-design-for-utopian-io |
| neutralizer | 204958002 | @abusereports/abusereports-re-cqrtclast-trading-results-for-cqrtc-crypto-trading-channel-70-profit-call-13-days |
| neutralizer | 204958002 | @badcontent/re-15-rules-to-win-at-life-20180520t143657 |
| neutralizer | 204958002 | @udezee/steemjet-art-design-contest-by-dimimp-this-is-my-entry |
| neutralizer | 512395005 | @badcontent/re-frimay2520181028-20180525t082902 |
| neutralizer | 204958002 | @intansary/pasee-monument-cfd00755a7daa |
| neutralizer | 204958002 | @joseda94/un-dia-como-hoy-b609d5556b314 |
| neutralizer | 204958002 | @emmanueltare/what-can-you-do-to-get-true-love |
| neutralizer | 204958002 | @putry01/beautiful-butterfly-flower-leaves |
| neutralizer | 204958002 | @badcontent/re-4maqz5-1-corinthians-15-1-2-kjv-20180523t115312 |
| neutralizer | 409916004 | @divinoart/yrscnng9 |
| neutralizer | 204958002 | @iamstan/re-enforcer48-re-introbot-the-weekly-naughty-taggers-list-for-the-week-ending-yesterday-5-19-18-20180520t155008202z |
| neutralizer | 1229748013 | @johngreenfield/re-conradino23-re-johngreenfield-re-conradino23-re-johngreenfield-legion-the-power-of-delusion-20180522t095008672z |
| neutralizer | 204958002 | @ulfinajua/baby-island-2018-05-23-02-03-31 |
| neutralizer | 204958002 | @badcontent/re-biggest-animals-20180520t223952 |
| neutralizer | 204958002 | @abusereports/abusereports-re-boydsavagecolorchallengefridayblue-zvr9tmm5xe |
| neutralizer | 204958002 | @badcontent/re-cook-20180519t172607 |
| neutralizer | 204958002 | @badcontent/re-2npapv-romans-1-16-kjv-20180523t104517 |
| neutralizer | 204958002 | @girlplaying21/441da9f3-5c51-11e8-b4e1-0242ac110002 |
| neutralizer | 204958002 | @midnight-snack/20180522t120425332z-good-mini-punk |
| neutralizer | 204958002 | @faltermann/schwarz-wie-die-nacht-black-as-the-night |
| neutralizer | 204958002 | @abusereports/abusereports-re-gamanputnamrestaurantleadsbyexampleduringhepatitisaoutbreak-v8eo3jfwu7-gaman-05252018 |
| neutralizer | 1229748013 | @abusereports/abusereports-re-bravobravore-vtravels-exploring-cloud-forest-and-the-flower-dome-in-singapore-20180524t180415743z |
| neutralizer | 512395005 | @badcontent/re-frimay2520181018-20180525t081902 |
| neutralizer | 922311010 | @emrebeyler/re-drakos-steemjs-tools-witness-price-feed-in-nodejs-20180523t065707393z |
| neutralizer | 204958002 | @practicalthought/the-danger-of-mandatory-reporters |
| neutralizer | 204958002 | @abusereports/abusereports-re-bravobravore-sallys-palm-oil-plantation-pond-platoon-2018-05-20-16-09-13-20180520t161030665z |
| neutralizer | 409916004 | @emrebeyler/move-club-0z9mlkg2rmnd6day91yecz6r07y0nfue |
| neutralizer | 204958002 | @hananf/batido-de-brownie-delicioso |
| neutralizer | 922311010 | @emrebeyler/re-goktug0814-re-emrebeyler-witness-20180524t125655383z |
| neutralizer | 204958002 | @badcontent/re-20180520t152505831z-20180520t152607 |
| neutralizer | 204958002 | @lynncoyle1/don-t-let-life-pass-you-by-live-it-fully |
| neutralizer | 204958002 | @badcontent/re-epos-dei---die-geheimnisvolle-ordnung-hinter-den-dingen-1527093279-6465464-20180523t171247 |
| neutralizer | 409916004 | @abusereports/abusereports-re-kashifnaseemnuclear-ship-savannah |
| neutralizer | 204958002 | @jorgebgt/first-trip-to-the-heart-of-the-red-planet |
| neutralizer | 204958002 | @ran.koree/sketch-lips-2018-4-6-20-53-44 |
| neutralizer | 204958002 | @deliberator/winner-pay-it-foward-time-with-a-vote-for-life-for-you-x-10-winners |
| neutralizer | 204958002 | @armiaaceh/keep-steam-zg1hbmlh-siew7 |
| neutralizer | 204958002 | @badcontent/re-everything-is-interrelated-1527033414-3103151-20180523t153042 |
| neutralizer | 512395005 | @badcontent/re-american-and-britain-s-best-magician-ever-best-of-got-talent-magic-performances-20180524t203042 |
| neutralizer | 204958002 | @badcontent/re-bungee-jumping-equipment-market-2017-2021-novabraid-sailrite-taraflex-victorem-20180523t090107 |
| neutralizer | 204958002 | @matematikciemre/tea-time-is-here--2018-4-0-3-56-13 |
| neutralizer | 204958002 | @stbrians/ulog-3-he-is-an-artist-and-believes-god-can-break-all-chains |
| neutralizer | 409916004 | @abusereports/abusereports-re-gamanavengers4releasedatecastplotandtitlerumors-xaq5rfsmza-gaman-05252018 |
| neutralizer | 512395005 | @enforcer48/re-albesveseli-tekashi-6ix9ine-celebrates-day69-going-gold-20180525t061750208z |
| neutralizer | 204958002 | @tqm/btw-bitcoin-world-prices-coinegg-usd-0-01-usd-btctrade-im-usd-0-00010-usd |
| neutralizer | 204958002 | @badcontent/re-3ku6sq-mandala-20180523t094952 |
| neutralizer | 204958002 | @jorgebgt/mirrors-for-gold-espejitos-por-oro |
| neutralizer | 1844622020 | @ipromote/fedex-embracing-ethereum |
| neutralizer | 1229748013 | @abusereports/abusereports-re-bravobravore-girlbeauty-summer-flowers-orange-flowers-6-20180524t180158955z |
| neutralizer | 409916004 | @helengutier/ya-no-me-importa |
| neutralizer | 204958002 | @shanzaylizay/what-is-the-meaning-of-marriage-and-how-our-brave-asian-girls-face-the-oppsite-meaning-of-marriage-in-asian-culture-hats-off-to |
| neutralizer | 2152059023 | @buildawhale/5tb4fs-buildawhale-blacklist-update |
| neutralizer | 204958002 | @jman27/flamingo-reflected-in-ice |
| neutralizer | 409916004 | @yekrats/i-m-being-targeted-for-a-downvote-campaign |
| neutralizer | 204958002 | @bluefinstudios/vehiclephotography-early-times |
| neutralizer | 204958002 | @gab2999/drawing-2-zoe-league-of-legends |
| neutralizer | 2152059023 | @buildawhale/2jqf2p-buildawhale-blacklist-update |
| neutralizer | 512395005 | @badcontent/re-2hvgve-john-10-9-kjv-20180525t081632 |
| neutralizer | 204958002 | @art-huntress/entry-for-artstorm-contest-24-at-the-gym |
| neutralizer | 204958002 | @enforcer48/fkdq2ga35 |
| neutralizer | 204958002 | @urchice/being-a-leader-834fdcd62a2bd |
| neutralizer | 204958002 | @faltermann/der-sommer-kann-kommen-summer-can-come |
| neutralizer | 204958002 | @abusereports/abusereports-re-ghanshamconstruction-flooring-chemicals-market-detailed-analysis-of-business-opportunities-growth-and-forecast-to-2025 |
| neutralizer | 204958002 | @badcontent/re-4v9odc-cryptocurrency-20180523t091427 |
| neutralizer | 204958002 | @badcontent/re-4kdryu-your-daily-motivation-20180521t161747 |
| neutralizer | 204958002 | @misiek3301/retrocenzja-5-ratchet-and-clank-2002 |
| neutralizer | 204958002 | @practicalthought/gratitude-day-3 |
| neutralizer | 204958002 | @ulfinajua/hanging-bridge-situgunung-kadudampit-jaw-2018-05-22-15-22-45 |
| neutralizer | 204958002 | @rubencress/sneak-preview-rummu-quarry-paldiski-area-estonia |
| neutralizer | 409916004 | @gogalomidze/flower-2018-05-24-14-58-24 |
| neutralizer | 204958002 | @urchice/sharing-problems-d7527553bfa7c |
| neutralizer | 204958002 | @badcontent/re-67uj8i-matthew-16-25-kjv-20180523t080927 |
| neutralizer | 204958002 | @badcontent/re-eaemi-funniest-and-cutest-german-shepherd-puppies-23-funny-dogs-compilation-2018-or-a-video-link-by-grumpy-dog-20180525t175632 |
| neutralizer | 204958002 | @badcontent/re-2bgtoi-mark-8-35-kjv-20180525t075427 |
| neutralizer | 204958002 | @mickyscofield/entrepreneurs-aren-t-their-own-boss |
| neutralizer | 2869412031 | @abusereports/last-minute-upvote-list-2018-05-23 |
| neutralizer | 409916004 | @abusereports/abusereports-re-bitcoinandcoffeere-abusereports-flag-report-2018-05-21-20180522t124207387z |
| neutralizer | 204958002 | @moexyn19/the-slave-was-killed-because-of-his-fear-bilingual-38208bd3ee424 |
| neutralizer | 512395005 | @kamalsaputra/a-type-of-insect-that-has-a-stinging-smell-from-aceh-forest-0cbb0368747eb |
| neutralizer | 204958002 | @badcontent/re-5vzsg9-cryptocurrency-20180523t170157 |
| neutralizer | 409916004 | @yekrats/re-johano-re-yekrats-esperanto-your-foreign-language-starter-kit-part-3-20180521t210310136z |
| neutralizer | 204958002 | @steemflagrewards/re-re-michaelfries-20180517t193144646z-20180521t125802661z-20180521t125853 |
| neutralizer | 204958002 | @thefuriousj/l9rhzowz |
| neutralizer | 1947101021 | @buildawhale/cf3gl-buildawhale-blacklist-update |
| neutralizer | 204958002 | @badcontent/re-dog-tricks-by-australian-shepherd-charlie-or-or-a-viral-youtube-video-link-by-kiki-charlie-20180523t173337 |
| neutralizer | 204958002 | @badcontent/re-3hyjvs-cryptocurrency-20180524t144607 |
| neutralizer | 204958002 | @badcontent/re-colorado-is-the-real-mvp-1526735222-3716087-20180519t205337 |
| neutralizer | 409916004 | @abusereports/abusereports-re-ciarahamiltoncolorchallengefridayblue-yfp3bn9rn2 |
| neutralizer | 204958002 | @abusereports/abusereports-re-gamanmacrophotography-6-photography-contest-by-juliank-bilingual-804f98b0ecdcf-gaman-05252018 |
| neutralizer | 409916004 | @abusereports/abusereports-re-boydsavagecolorchallengesundaypurple-lwl7upkjwn |
| neutralizer | 204958002 | @abusereports/abusereports-re-gamannowmoreofuscancountonmoretimedodgingthedementiabullet-ey47c7uulh-gaman-05252018 |
| neutralizer | 204958002 | @badcontent/re-3p51wx-saltandpepe-20180520t200157 |
| neutralizer | 204958002 | @marylaw/2n5lxk |
| neutralizer | 204958002 | @steemflagrewards/re-re-pode-re-pode-i-ll-fight-you-with-my-bear-hands-20180521t014851003z-20180521t015017 |
| neutralizer | 204958002 | @durbisrodriguez/apps-para-comics-comicrack |
| neutralizer | 409916004 | @enforcer48/re-glenalbrethsen-want-to-grow-make-meaningful-comments-and-more-of-them-20180523t154853746z |
| neutralizer | 204958002 | @salmanrauf/my-today-s-photography-of-our-garden-vegetables-021ce36dbd58c |
| neutralizer | 409916004 | @abusereports/abusereports-re-antoniahenrycolorchallenge-wednesdayyellow-3z9icx30z6 |
| neutralizer | 204958002 | @badcontent/re-frimay252018208-20180525t180902 |
| neutralizer | 204958002 | @winarobert/leadership |
| neutralizer | 204958002 | @abusereports/abusereports-re-bravobravore-eukarisd-la-virginidad-femenina-en-tiempos-de-desinhibicion-20180520t160928240z |
| neutralizer | 409916004 | @abusereports/abusereports-re-gamanintroduction-gaman-05252018 |
| neutralizer | 204958002 | @tysir/asha-bhosle-to-be-awarded-banga-vibhushan-today |
| neutralizer | 512395005 | @ragepeanut/re-lifeaef-re-techsteemian-intriducing-first-steem-based-app-with-google-admob-steembuddy-20180519t170642970z |
| neutralizer | 204958002 | @theoccultcorner/dj-sparx-in-the-mix-805-beach-breaks-grandopening |
| neutralizer | 204958002 | @muksal94/the-freshness-of-the-waterfall-2018-05-23-12-07-48 |
| neutralizer | 409916004 | @abusereports/abusereports-re-carlsmithcolorchallengefridayblue-mwtjv7ihgg |
| neutralizer | 204958002 | @kinghearts/if-the-soul-mate-be-thankful-poetry-3495e74403fce |
| neutralizer | 204958002 | @btc.billionaire/today-s-event-20-5-2018-cac5cca3161ee |
| neutralizer | 204958002 | @matildah/4gb73n |
| neutralizer | 204958002 | @daisu/zteemio-daisu-2018-05-20t170936 |
| neutralizer | 717353007 | @abusereports/abusereports-re-gamanitalytoauction5gfrequenciesbyend-september-dvvmzreguy-gaman-05252018 |
| neutralizer | 717353007 | @badcontent/re-5qjmnx-romans-5-19-kjv-20180525t081132 |
| neutralizer | 204958002 | @badsha02/girlfriend |
| neutralizer | 819832009 | @anthonyadavisii/re-jrbuenavista-bitcoin-btc-usd8-144-98-usd-20180523t021627364z |
| neutralizer | 204958002 | @donatello/singing-a-cappella-week-11-my-unofficial-entry-o-sarracino-by-nisa-and-carasone-cover-by-donatello-singing-a-cappella |
| neutralizer | 409916004 | @purpledaisy57/week-3-ulog-3-heartbreaking-news-and-heavy-teardrops-for-me |
| neutralizer | 204958002 | @badcontent/re-20180521t003703343z-20180521t003812 |
| neutralizer | 204958002 | @badcontent/re-conitnuous-emission-monitoring-systems-cems-market-by-end-use-industry-and-by-application-forecast-to-2025-20180522t073427 |
| neutralizer | 409916004 | @yekrats/re-introducebot-introduce-bot-re-semprul74deadpool-2-2018-full-movie-online-720p-and-1080p-20180520t033815322z |
| neutralizer | 204958002 | @muksal94/the-concept-of-casual-modeling-b42f1e17fbda7 |
| neutralizer | 204958002 | @badcontent/re-1970s-classic-television-on-dvd-bring-variety-stars-like-sonny-and-cher-back-to-fans-20180525t124902 |
| neutralizer | 204958002 | @zd2216/venezuelan-monetary-reconversion-2018-with-many-interrogants-aun |
| neutralizer | 204958002 | @badcontent/re-4nancw-john-10-9-kjv-20180523t092157 |
| neutralizer | 512395005 | @ragepeanut/re-johngreenfield-steemit-the-ultimate-beginner-s-guide-to-steemit-20180522t145125977z |
| neutralizer | 204958002 | @badcontent/re-20180523t080054378z-20180523t080247 |
| neutralizer | 204958002 | @klen.civil/bang-yus-hawa-ie-tube |
| neutralizer | 204958002 | @pvadhiya/nature-of-canada-1527004744399 |
| neutralizer | 819832009 | @abusereports/last-minute-upvote-list-2018-05-20 |
| neutralizer | 204958002 | @febryrmadn/never-ever-ever-give-up-tidak-dan-tidak-akan-menyerah-winston-churcill |
| neutralizer | 204958002 | @anotsopopularkid/the-calming-subic-bay-zambales-philippines |
| neutralizer | 204958002 | @badcontent/re-7l3wpf-cryptocurrency-20180523t080157 |
| neutralizer | 204958002 | @donatello/donatello-club-music-awards-week-37-my-unofficial-entry-a-lovely-guitar-composition |
| neutralizer | 204958002 | @badcontent/re-6rm3cd-philippians-3-20-kjv-20180525t110632 |
| neutralizer | 409916004 | @enforcer48/re-dragosroua-may-30-days-writing-challenge-day-twenty-four-name-3-accounts-you-follow-on-steemit-because-they-are-useful-20180524t224043680z |
| neutralizer | 204958002 | @abusereports/abusereports-re-ghanshamadhd-drugs-market-cost-production-segmentation-status-and-forecast-2025 |
| neutralizer | 204958002 | @sadaipinto/jardin-botanico-de-merida-venezuela-parte-i |
| neutralizer | 204958002 | @carrioner/7ucwb4su |
| neutralizer | 204958002 | @badcontent/re-agricultural-disinfectants-market-sluggish-growth-rate-during-2018-2025-20180525t124952 |
| neutralizer | 409916004 | @badcontent/re-26pmkn-daily-deephouse-mix-20180520t123157 |
| neutralizer | 204958002 | @badcontent/re-flore-y-especies-raras-20180521t160927 |
| neutralizer | 204958002 | @pawan070/are-you-a-skrill-user |
| neutralizer | 204958002 | @badcontent/re-2kgoe2-cryptocurrency-20180519t183812 |
| neutralizer | 204958002 | @badsha02/funny-jokes |
| neutralizer | 204958002 | @badcontent/re-4ontcv-mountain-landscape-20180521t201722 |
| neutralizer | 204958002 | @bulex/6a1d2e77-5c59-11e8-b4e1-0242ac110002 |
| neutralizer | 204958002 | @xiaoshancun/5sfvcy-or |
| neutralizer | 204958002 | @badcontent/re-20180521t210358741z-20180521t210517 |
| neutralizer | 204958002 | @girlplaying21/3da7uk-test |
| neutralizer | 204958002 | @badcontent/re-beautiful-red-roses-20180523t184452 |
| neutralizer | 204958002 | @badcontent/re-6p5u9-global-automotive-air-tanks-sales-overview-trends-and-growth-opportunities-forecasted-till-2025-20180525t104927 |
| neutralizer | 204958002 | @gogalomidze/sea-2018-4-5-13-7-34 |
| neutralizer | 204958002 | @hery0823/8-benefits-of-sweet-potatoes-for-body-health-772432ae22195 |
| neutralizer | 204958002 | @badcontent/re-4besb9-1-john-5-12-kjv-20180523t081952 |
| neutralizer | 204958002 | @misiek3301/13-reasons-why-sezon-2-luzna-recenzja |
| neutralizer | 204958002 | @badcontent/re-best-buys-gamers-club-reportedly-ending-20180519t162132 |
| neutralizer | 204958002 | @marylaw/22cyq6 |
| neutralizer | 1332227014 | @johngreenfield/re-antimetica-re-johngreenfield-steemit-the-ultimate-beginner-s-guide-to-steemit-20180523t155641991z |
| neutralizer | 204958002 | @sirvotesalot/this-90-year-old-youtuber-used-to-make-absolutely-hilarious-advice-videos--sadly-last-month-he-passed-away--heres-his-advice-on-how-to-get-out-of-jury-duty- |
| neutralizer | 2049580022 | @emrebeyler/240eecc7-5f71-11e8-82ff-0242ac110002 |
| neutralizer | 204958002 | @badcontent/re-781hyv-cryptocurrency-20180522t083402 |