We are excited to bring you another one of our actifit updates, with major items on our plates which we pointed at on our last week's update.
Actifit Web Keychain Integration Live💥
As of today, we have officially pushed an integration to hive keychain via our actifit.io web experience.
Supporting keychain has been on our list for a long while, yet due to the complexity of our interim processes and middleware, we delayed this integration until now. Finally its LIVE!
So starting today, our actifit.io login features a keychain option which combined with your username, will allow authentication of your account ownership and proceed with logging you onto actifit.io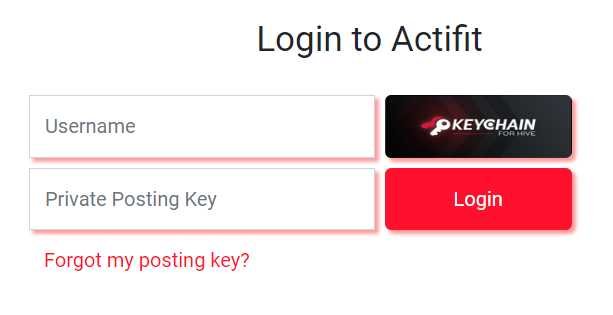 Additionally, we have integrated keychain into our different aspects of user experience, including voting, posting, commenting, and across all functionality in the wallet page.
So using keys on actifit.io is no longer a necessity.
The market page functionality relating to blockchain usage and keychain integration has still not been completed, but should be out over the coming few days.
OCD Curation Support Collab 💪😍
We hinted last week onto a new collaboration with a cool initiative, and here it is!
We are thrilled to announce that following our discussion with @acidyo, we joined OCD community support initiative (@ocdb).
As of last Saturday, OCD started supporting high quality content on actifit.
The reasons behind this collab are three-fold. We basically wanted to:
Increase the rewards to our existing high-quality content writers(in addition to our existing quality content focused report rewards and weekly staff picks selections)
Bring in new fitness bloggers to actifit and hive with quality focus
Motivate existing users to write better quality content and compete over rewards.
As we do for staff picks, our team curates reports for extra rewards. Several reports have already received OCD upvotes since then.
We will use a new account (@actifit.curate) to push updates and announcements about curated posts and content, so make sure to follow and check regularly.
Additional Developments Pushed
In addition to the above updates, we also pushed several features and fixes to actifit.io, as follows:
Implement wallet balance updates post actions
Improve twitter sharing from actifit web to include preview data
Adjust wallet layout for transactions to 3D
Append 3speak video count to user profile
Fix issue with tag entry on post creation
Fix issue with dual display of actions for both hive-engine tokens and hive core tokens
Offboard old wallet (V1) - end of life
Next Steps
We are collaborating with the 3speak team and progressing on the video creation functionality from within actifit.io web.
We expect to roll out the keychain market updates over the coming few days.
Additionally, a lot of tweaks will be coming to the post creation screen as well as the other new screens added to the actifit web experience.
Some other major features include the new revamped social experience which we plan to launch in the coming couple of months, alongside a large scale list of functionality in the pipeline.
Additional login options are planned as well highlighted in the proposal above..
We would love to hear your feedback about those new improvements and any suggestions you would have.
For a full preview of our 2023 plans, check out our DHF proposal and consider voting in support:
---
Actifit team