Hey Hey bees ! :)
This is our first official actifit weekly update on Hive....and we're loving it !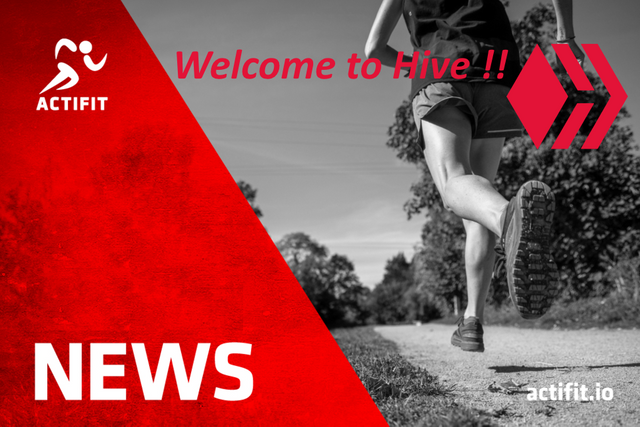 Hive Launch
Last week we announced how thrilled we are to the launch of hive, and posted our article including Actifit plans for hive Can You Hear the Buzzin? An Actifitter's Guide Plan to Hive !
As hive launched, we initiated the support for hive, whereby our actifit reports started being sent out to hive alongside a legacy support for posting on steem as a blockchain, and we spun off a witness node in its support.
We were excited as we monitored our witness node logs to see the hard fork unfold beautifully, and the hive chain kick off running in a smooth hard fork experience unforeseen before on steem.
We also introduced via our web version actifit.io, the capability to login using your private posting key, which we have been working on for sometime recently, and it came perfectly in time to support introducing hive.
When attempting to login now, you have the capability to choose which chain you are looking at logging in as, which will allow you to visit your posts on selected chain, but also mobilize your tokens the way you want.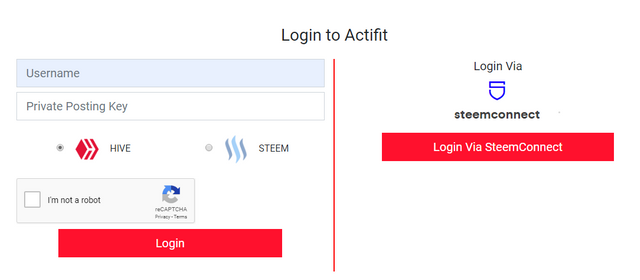 Actifit wallet already added support for hive following the same procedure as above, so as you can now view your HIVE, HIVE POWER and HBD balances and take relevant actions. Logging in as steem will allow you to manage your relevant Steem-based balances as well.
There are some functions not properly functioning yet, and we have been working tirelessly over the last few days to make everything perfectly functional.
We intend to allow our users to also decide if they wish their posts to go to steem, or just to hive, as some of the community is not interested or might not want at all their reports to go to steem. This is expected to be made available later this week.
HIVE Balance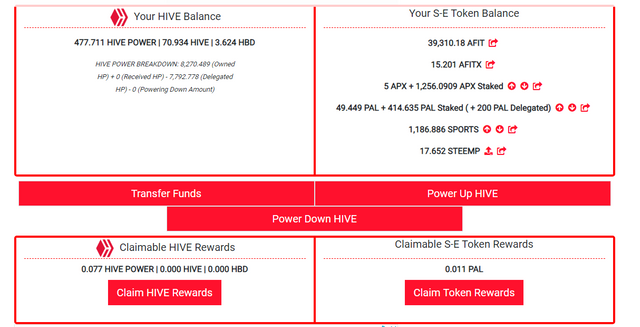 STEEM Balance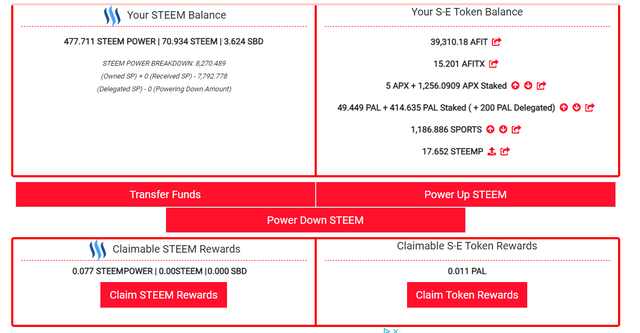 We are continuously merging and adjusting our processes to offer proper support to our community with a core focus on hive, and legacy support for steem.
Delegation & Voting Rewards
In terms of delegations to actifit & delegation rewards, as per our daily and weekly process, rewards have been going to our delegators based on their STEEM POWER support. This will start to be changed during this week, whereby we will introduce rewards to our users based on their support on hive as well.
The direction we are planning ahead is to have 50% of daily rewards go to HP (hive) delegators, and another 50% goes to SP (steem) delegators. Rewards have already been sent daily and weekly (today) for our existing SP delegators.
In terms of our voting process for daily reports, votes will go to posts on both chains, rewarding users with HP and SP votes, in addition to AFIT tokens. Please keep in mind you will only get rewarded once as AFIT, so no double AFIT rewards for posting on both chains, yet this allows you to earn both HIVE and STEEM.
Hive will be the primary blockchain, and hence reports will be fetched based on their presence on hive. If a matching report is present on both chains, they will both be rewarded.
The steem blockchain's API has been having intermittent down times, which has been causing some reports not to receive rewards or halts to our reward cycle.
We will keep on improving our rewards procedures as we go along.
Witness Node
As hive launched, we also had setup a fresh and new witness node ready to start supporting hive blockchain. We are currently at active rank 29 on hive, and are honored to be part of supporting hive block production currently as a backup witness. You can vote for actifit as a witness here
We have also kept our existing steem witness running as part of maintaining legacy support, currently at active rank 41. You can also vote or actifit here
This was a quick update as to the happenings last few days. We plan to keep on growing actifit with key focus on hive. We still have a lot of work to do to fully integrate the inter-workings, including account signups to hive and more.
Let's get buzzin y'all !
@actifit team