Crossbar-actifit-competition: English and other languages version here
Październik się już zaczął a to oznacza, że uczestnicy październikowej rywalizacji o nazwie @poprzeczka są pod szczególną obserwacją. Ich raporty actifit codziennie przenoszone są do tabeli a ta tworzy kolejne klasyfikacje.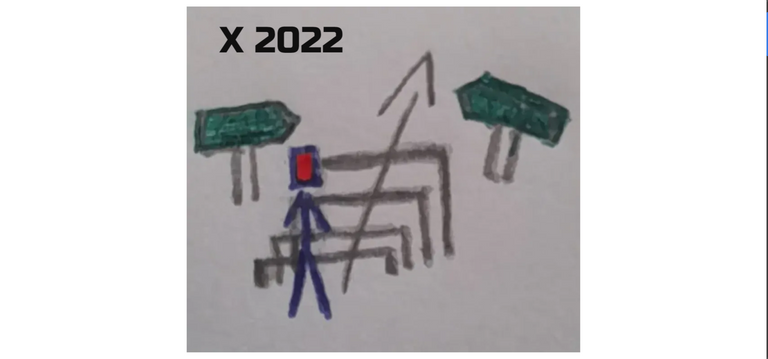 Amatorska rozgrywka- amatorskie logo
Każdego dnia dokładamy tysiąc kroków. Skoro dziś mamy 3 października to wystarczą 3000. Jeśli planujemy dwa dni przerwy lub jakąś uroczystość rodzinną to nie szkodzi. W poprzeczce można dwa razy z rzędu "przegrać" - tj. nie opublikować raportu lub opublikować raport z za małą liczbą kroków. Trzy porażki z rzędu oznaczają, że wypadamy z zabawy. Najlepsi zostają do końca - zdarzało się, że nawet do 50 dnia rozgrywki (brawa dla @matthew1).
Tu w** komentarzach** będziemy co pewien czas publikować bieżącą klasyfikację. Zapraszam do śledzenia, dopingowania i komentowania. Zasady klasyfikacji trochę przypominają wyniki w skoku wzwyż. Dużo nieudanych prób w przypadku remisu może zdecydować o niższym miejscu w klasyfikacji.
Ty również możesz pomóc w prowadzeniu konta i bieżącej klasyfikacji. Wystarczy, że sprawdzisz jak poszło uczestnikom, wprowadzisz ich wyniki do tabeli, a następnie tu w komentarzu zamieścisz klasyfikację. Wówczas część z puli nagród będzie szła do Ciebie. Współtwórzmy tę zabawę 🌸
O nagrodach pisałem w poprzednich wpisach. Każdy może uszczknąć coś dla siebie. Nagrody są nie tylko za zwycięstwo. Staramy się symbolicznie doceniać osobiste rekordy, poprawy pozycji itp. Oto ikonki, które to symbolizują. Możesz spróbować być kolekcjonerem wszystkich.

🏆🏅💪🥇🥈🥉🔹🔼⏫↗️🎅🐇💰
Zazwyczaj uczestnicy zdobywają od jednego do czterech osiągnięć. Wysokość nagrody za osiągnięcie to suma w skarbonce podzielona na liczbę wszystkich osiągnięć zdobytych przez wszystkich uczestników. Każde kolejne zdobyte osiągnięcie liczy się więcej niż podwójnie - bo liczbę kolejnych osiągnięć podnosimy do potęgi drugiej.
Nagrody narastają "potęgowo":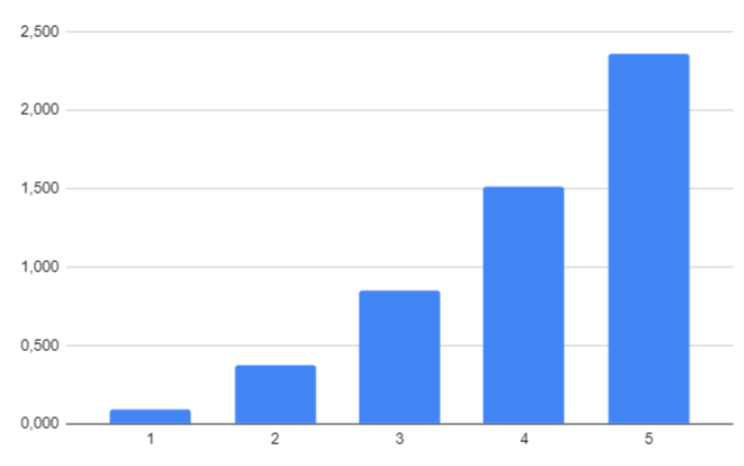 Na dole liczba osiągnięć. Oś pionowa wskazuje wysokość HBD. To przykład z poprzedniej edycji - w skarbonce było ponad 8 HBD i tak mniej więcej będzie wyglądał podział środków ze skarbonki po zakończeniu rywalizacji
Poniżej zweryfikowana (@) lista uczestników październikowej poprzeczki. Ta lista może się przydać do sprawdzania raportów wszystkich użytkowników.
@asia-pl @browery @cezary-io @drlobes @edycu007 @fredkese @homesteadlt @manuvert @matthew1@merthin @perymetr @racibo@sandraa1 @sk1920
Jeśli chcecie jeszcze dołączyć to konieczny jest raport Actifit z któregoś z pierwszych trzech dni października. Na początku miesiąca kroków należy robić na prawdę niewiele.
Powodzenia!