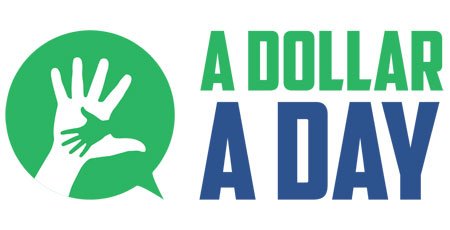 You may have noticed that A Dollar A Day has been quiet over the last 3 months.

This has been partly because of my being busy with the State of Steem Forums and the SoS Daily News.

And partly because the very low price of Steem made the previous model of giving small donations to projects daily less effective.

A Dollar A Day has not been dormant though. A smaller number of larger donations have been given out during this period.

And also a good number of very good people on Steem have continued to send donations to sustain the funds.

---
---
My Great Thanks


My great thanks go to these steemians who have continued to generously donate including...
@attoan.cmt @azizbd @coinbrew @cryptocurator @drakos @dses @d-vine @ghro @girlbeforemirror @goldendawne @lyndsaybowes @marblely @nainaztengra @quochuy @rumoeh.agam @shanibeer @steevc @stevelivingston
I am sorry I have not been able to thank you all individually, and my great apologies if I have missed out anyone who has donated recently.
Full details of donations in and out will be compiled shortly.
---
---
Steem in the Community


With so many changes going on in Steem over the past few months and with a number of the projects that A Dollar A Day had been supporting going quiet on the blockchain, I have taken the opportunity to rethink and rework how A Dollar A Day can most effectively operate from here.
I would like to see the reach of A Dollar A Day broadened to the wider community and for more people to be able to get involved with helping projects.
Going forward therefore A Dollar A Day will be looking to make donations to charitable causes and projects in the wider community - not just those with direct representation on Steem.
Members of Steem will be invited to identity causes and projects in their local community who need small amounts of money for specific items or events.
Examples might be an old people's home that needs a new TV, or a youth club that needs a printer, or a sports club that needs new equipment.
The funding limit initially is likely to be US$ 500. There will also be specific evidence requirements for the allocation of funds.
I am hoping this will broaden the appeal of A Dollar A Day and most importantly give Steem more visibility in the wider community.
I will be posting full details of how to apply for grants very shortly.
I welcome any feedback in the meantime.
Thank you for your continued support.
---
---
[ logo by @hungryhustle ]