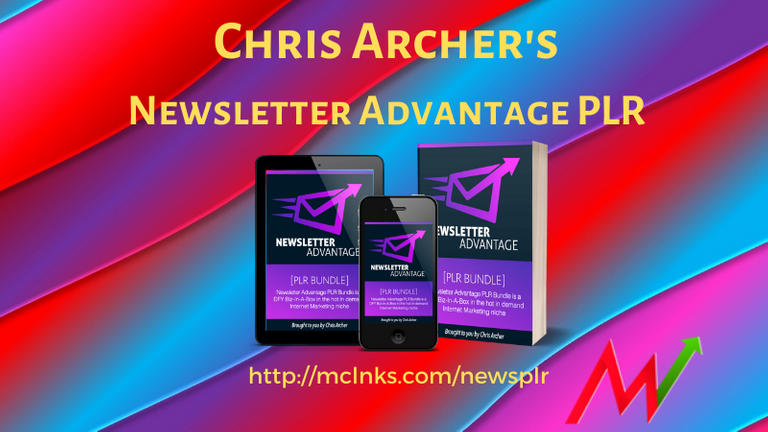 Introduction: Newsletter Advantage PLR Review
Chris Archer has just launched a new product about newsletters. Chris has been active in Internet Marketing for some years now. I met him at an Internet Marketing workshop in Thailand in 2014. When he told me this was his first product for a while I was keen to get on board - I like his style and it is something fresh and relevant – this is my Newsletter Advantage PLR Review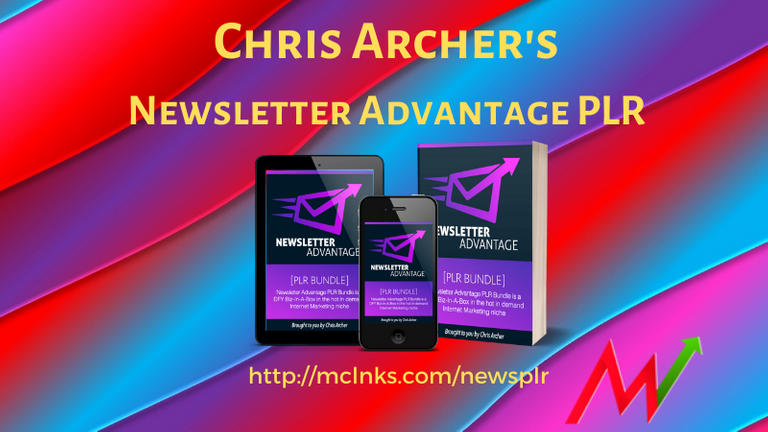 Newsletter Advantage is a PLR Bundle that gives Private Label Rights to done for you content in the rapidly growing Newsletter market.
The customizable PLR content gives a detailed overview of the Newsletter business and explores the possibilities of starting a newsletter. It warns of the dangers, and arms you with the tools to start your own newsletter business.
This content pack is designed to show the variety of ways newsletters can be used, the choice available in how to present them, and the financial gains that are possible if you choose well. This content pack is designed to help people create newsletters as either a side hustle or a full-blown business and find fun in their work at the same time.
I bought the front end and the first upsell - here is my receipt from WarriorPlus

This is where Newsletter Advantage will help your readers understand the choices and find the most suitable framework for their business. How to find a suitable niche, how to create the newsletter, and how to make sure it will be financially viable and become a success.

Why Are Newsletters Important?
Newsletters are a powerful way to build authority and trust with your audience. I did a little research
These are the 5 reasons newsletters work – this from quite an old article I found.
Cost effective way to market
Positions one as a thought leader and builds authority
A way to create multiple use content – do a newsletter, compile into a blog post, break into pieces for social media, make videos, etc
Create value and improve relationships – grab hold of those key KLT words – Know, Like, Trust
Provides a base for measuring results – track open rates, click rates, sell through rates.
https://zenmarketinginc.com/do-newsletters-really-work/
Stepping back a little I want to talk about email marketing and newsletters - a different take from another article
Email subscribers are incredibly valuable: on average, email marketing has an average ROI of $42 for every $1 spent. In other words, the average return is 4,200% of the investment.

Email marketing is also an excellent way to retain customers over a long period of time, which is important when you consider that acquiring a new customer typically costs five times as much as keeping an old one. This means that aggressively growing your email list can dramatically increase your income and help you build a more stable business over time.

Unfortunately, in today's busy world, the "build it and they will come" approach doesn't work. Every business your audience interacts with has a newsletter, and a person can only read so much email in a day. If you want to get their email, you'll have to set yourself apart from the competition. You can do this by creating a detailed newsletter marketing strategy.
https://www.mailpoet.com/blog/newsletter-marketing-strategy/
The Funnel: Newsletter Advantage PLR
The funnel has a low cost front end offer almost business in a box and two upsells directly complementary with the front end. Overall offer is a bargain at under $60
Front End: The Front End offer includes a comprehensive 11,500 word eBook, a lead magnet report, 7 articles for content marketing, a follow-up email sequence, a 14-day challenge, and more...
This is a no-fluff report which will help anyone wanting to start their own newsletter. I spent a lot of time with Chris when we first met and on social media since - no-fluff is his style. Maybe the best part of the front end is the 14 day challenge - people love completing challenges. The lead magnet report is 9 Reasons to Start A Newsletter - pop that on an opt-in page and sell the main report.
Price: $12.95 during launch
OTO #1 - Newsletter Advantage Slide Deck makes it easy to create an eClass, a Webinar, or a Training Program. These are fully brandable slides and includes the transcript notes. It will be really easy to rebrand with your own branding, do your own voiceover or run it through a platform like Pictory or Wave.Video to get an AI voiceover.
Price: $17
OTO #2 - Newsletter Advantage PLR Expansion Pack This is an expansion pack of videos, eye-catching infographics, and more great articles allowing the buyer to really put together create something that can dominate the niche.
Price: $27
These are all sold with Private Label Rights. That means you can edit it, claim authorship, sell it with personal use rights, add it to a paid membership. There are also giveaway rights for opt-ins and for your own list. What you cannot do is sell with rights other than personal use, add it to auction sites and sell on resale sites like Tradebit.

What is the Newsletter Advantage PLR promise?
There are a few ways to use this product.
First
is to deploy the material in the eBook to start your first newsletter. The guide takes you through a few key steps
Getting Started - testing viability, choosing a name, setting out a goal and setting up
Creating Content - Finding content, styling content and 5 sources of content are covered
Getting subscribers
Building a squeeze page
Getting traffic - free and paid
Converting subscribers from free to paid
There are then a range of more advanced topics like cost of acquisition management, maintaining subscriber numbers and churn rates.
The second way to use the product is to set up your own sales funnel and sell the report. There is a report provided for the lead magnet - edit that with your links and your own graphics. Build an opt-in page for the lead magnet and a sales page for the main offer of the book. Edit the book with your own links and graphics. You could also use the 14 day challenge as a lead magnet.
If you buy the slide deck you can add this to a membership site as a paid course on setting up a membership is a third way

What Are My Newsletter Advantage PLR Plans?
You might recall some months ago I bought a PLR product from Kam Jennings Newsletters on Substack. My thought then was to start my own newsletter on Substack - well that never did happen though I did find a good investing related newsletter on there which I have used a little to help with my investing. The Lund Loop.
That PLR product was series of training videos on getting started with Substack. I now have two products available for sale. One of my favourite PLR sellers has a Newsletter PLR subscription she sells - I can sell that too. Not only that, I can use her PLR newsletters as a basis for my own newsletter on Substack. And the smart way to get going is to do the 14 Day Challenge - this is a big project - I might make it a 14 week project.

Bonuses: Newsletter Advantage PLR Review
The key to buying a product like Newsletter Advantage PLR is to start and to do stuff. I hesitate to add bonuses to product launches like this because they get in the way of doing stuff. Bonus shopping makes sense only if it is not at the expense of actually using the product you have bought.
There two ways to win in Newsletter Marketing. One is to build a loyal tribe who will buy your other product offerings because they view you as an authority in your field. The other is to build a paid newsletter membership. My bonuses help on these two scores - build your authority and build your membership success.

I have included two memberships – the first on membership marketing. It will show you the ropes and also give you an insider look at a membership. The other gives you access to a suite of materials you might want to add into your membership site – private label rights on a range of topics. This way you will not be short of content for your membership. I have added in two reports presenting different views on membership sites so that you can really ramp up your knowledge and experience with contrasting views. Lastly I have added on 4 killer checklists to check off.

Summary and Conclusion
The report is well written and complete. It has a no-fluff approach. It will tell you broadly the things you need to cover but it does not tell you exactly what to do. For example, it lists 9 different ways you can publish your newsletter and it gives you a few pointers on some of them BUT you have to do your research to decide. As it happens, the report leans to using Substack (or Revue) which are free platforms that specialize in newsletters, They get paid a percentage of the fees you charge your members - so they are free until you start earning. Another example is it lists 5 main sources of content - you still have to go digging to find your stuff. That is why I have included a PLR membership as a bonus - start there.
I would recommend buying this product if you are going to start your own newsletter and/or you are serious about selling this as a product. If you are going down the training course as part of a membership the first upsell makes sense - that is what I did. The second upsell gets you moving fast as you do not have to go out and source all the infographics and stuff like that your self. I find infographics overwhelming - so that is why I skipped this.
Hit the button below to go directly to Newsletter Advantage PLR – your bonuses will be delivered automatically from WarriorPlus checkout.

Resources
Newsletter Advantage PLR
Review the sales page directly
here
– bonuses will be delivered directly with your order.
My Newsletter Advantage PLR Bonuses: Review my bonus offer valued at $296 which focuses on tools needed to build traffic success here
IM Checklists: I sourced my membership bonus checklists from Kevin Fahey's IM Checklists here. Price is $3 which includes all the 2021/22 checklists and then $17.95 a month – grab the ones you need and cancel if you have to. I wrote a review of one of Kevin Fahey's IM Checklist products here
Newsletters on Substack - Check my review on this product from Kam Jennings. Kam has taken this off sale but I can offer you a personal use copy for sale - send me an email and ask
Alice Seba Newsletters - Alice publishes a monthly newsletter PLR product. Topics are in self development niche. each month there are 4 articles which works nicely for a once a week broadcast. => grab that here
---
Posted from my blog with Exxp : https://markcarrington.com/newsletter-advantage-plr-review/
---