In today's first post-halving technical analysis, we will focus on Bitcoin, its dominance over altcoins, and then on one mid-cap altcoin, which is Algorand.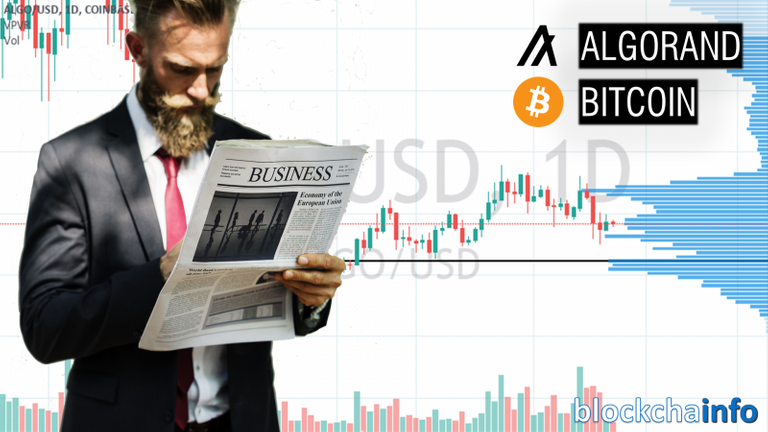 Two days ago, the Bitcoin halving event occurred. The cryptocurrency market, led by Bitcoin, reacted to this in its own way - with the classic saying "buy the rumor and sell the news".
Bitcoin dominance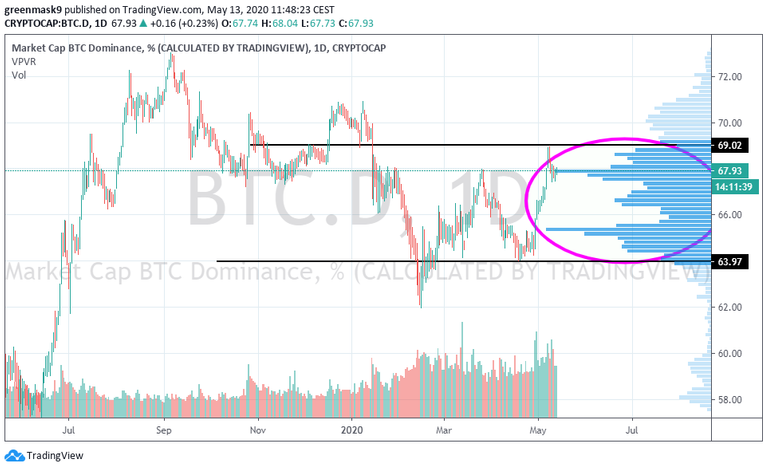 Looking at the Bitcoin dominance graph, we can see that more than 70% of the time dominance is spent between 64 and 69 percent (calculated on the basis of one year back). In the recent period before halving, price and dominance rose, but three days before it fell sharply and is now stagnant.
Bitcoin price action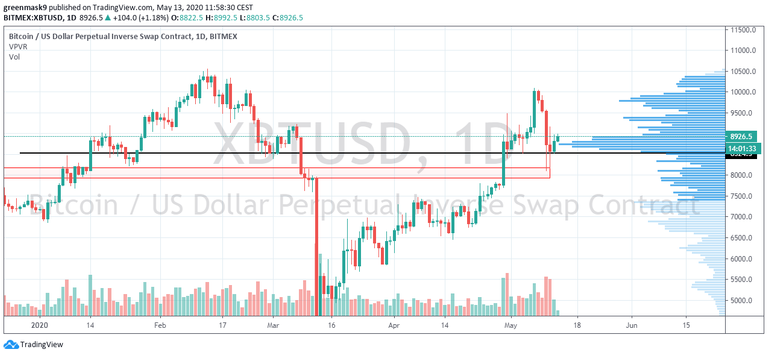 The price chart also shows increased sales volumes in anticipation of halving. Bitcoin is currently keeping the level above $ 8500. It is important that it maintained that level, but did not impulsively bounce back from it. Prolonged stagnation is possible and the dominance to spill over into altcoins is enough. So what does Algorand look like?
Technical analysis Algorand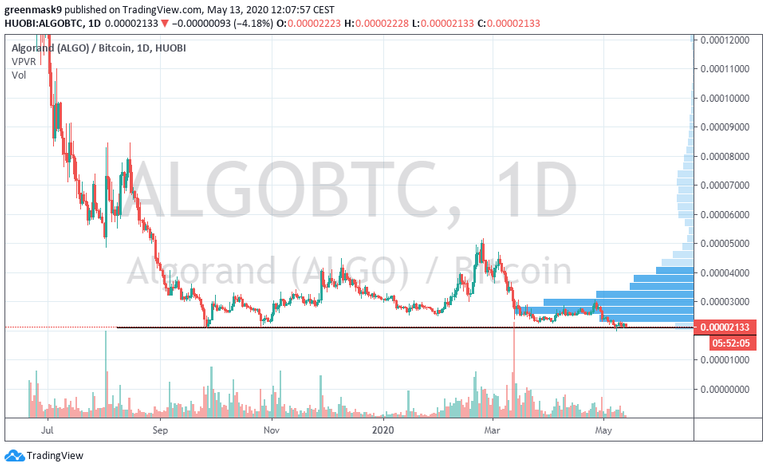 Algorand is at its lowest values in the entire annual history of the contract. It got below 0.000002000 BTC per ALGO. but quickly returned above this round surface. I think there will be more purchase orders at this round border because that is historically a very good price and round numbers often serve.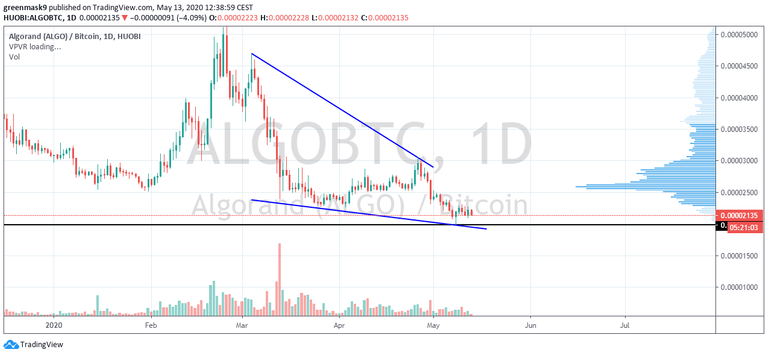 Moreover, if we combine the previous low and high in this way, the new high and low are much closer to each other than the previous ones. The problem with this investment, however, is the fact that there is no strong purchasing activity. The volumes are low and it is not even possible to clearly set an exact limit, the exceeding of which could be described as a confirmation of the future uptrend. There is no uptrend on the chart yet. However, if it starts, it has plenty of room upwards.
Personally, I would not be afraid to give a purchase order three ticks above 0.000002000, ie to 0.000002003 with a stop loss just below 0.000001900 (0.000001888 in my case). When attacking 0.000002000, the price should bounce back and soon offer a higher level to move the stop loss at least to breakeven. Below I attach a 15-minute graph that shows how long Algorand has been below this level.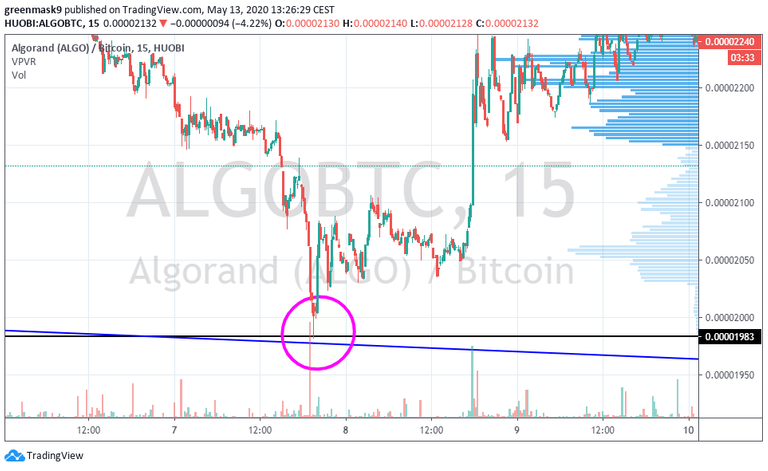 From the point of view of the ALGOUSD chart, the level around $ 0,16 is important from my point of view. The market hindered it and overcoming it could have a negative effect on price movements. But I mainly watch ALGO in the pair with BTC.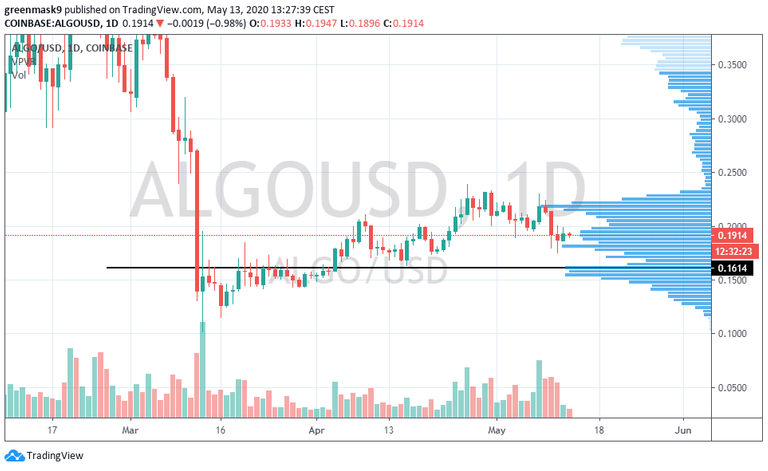 Conclusion
Of course, as always, diversification has its charm, and risk management is a must. If my described setup does not work out, it presents a loss of about 6% of the amount, and accordingly, with a risk tolerance of 1%, a maximum of 15% of the capital should be invested.
Although it is more likely that it will not even get to the limit order and will be immediately followed by other altcoins. An alternative process would be to buy it only when it drops to a level and keeps it on the daily chart.
Good luck with your trading!
What is Algorand?
Algorand is a blockchain platform that aims to achieve the so-called blockchain trilemma. It wants to ensure the speed and security of the network without having to lose on decentralization.
The Algorand Foundation is led by world-renowned cryptography expert Silvio Micali, co-author of Zero-Knowledge technology and holder of the 2012 Turing Award for laying the foundations of modern cryptography.