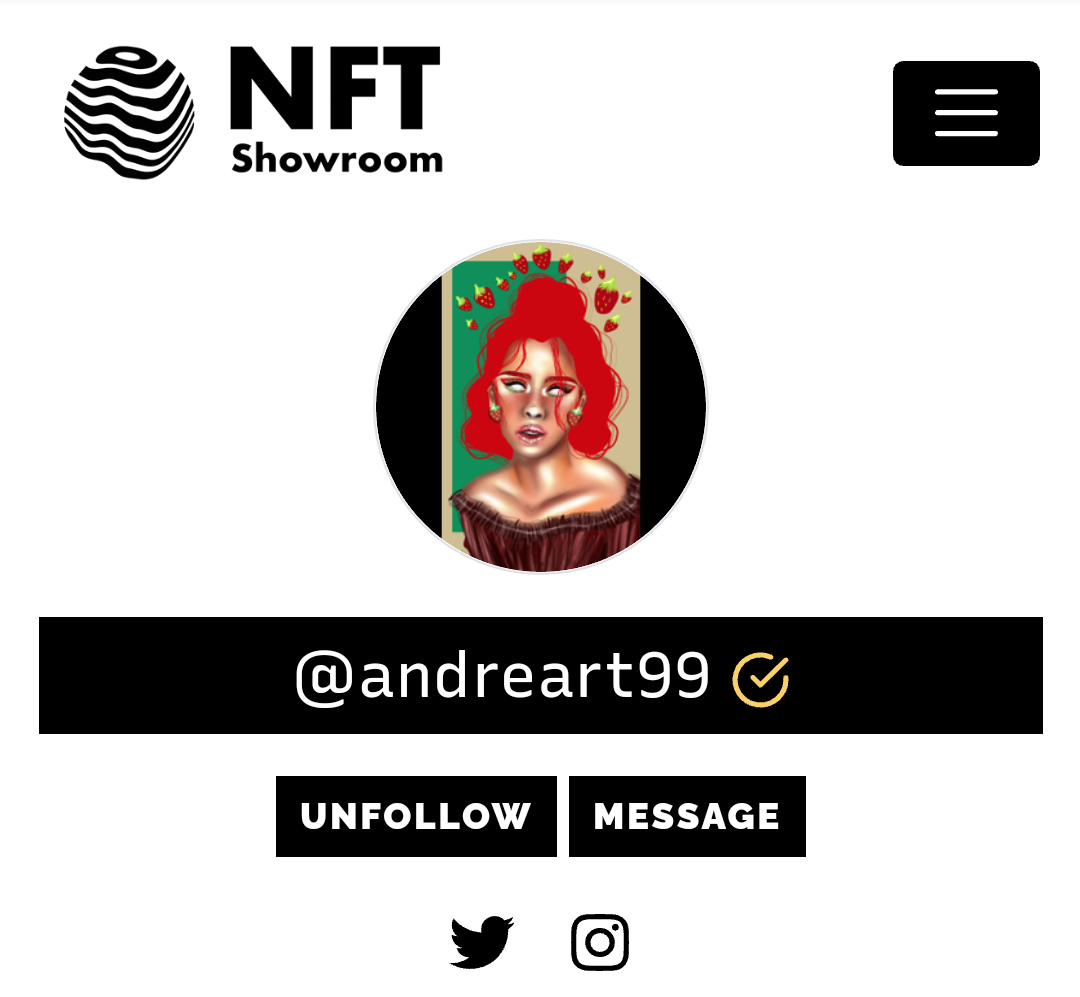 https://nftshowroom.com/andreart99/gallery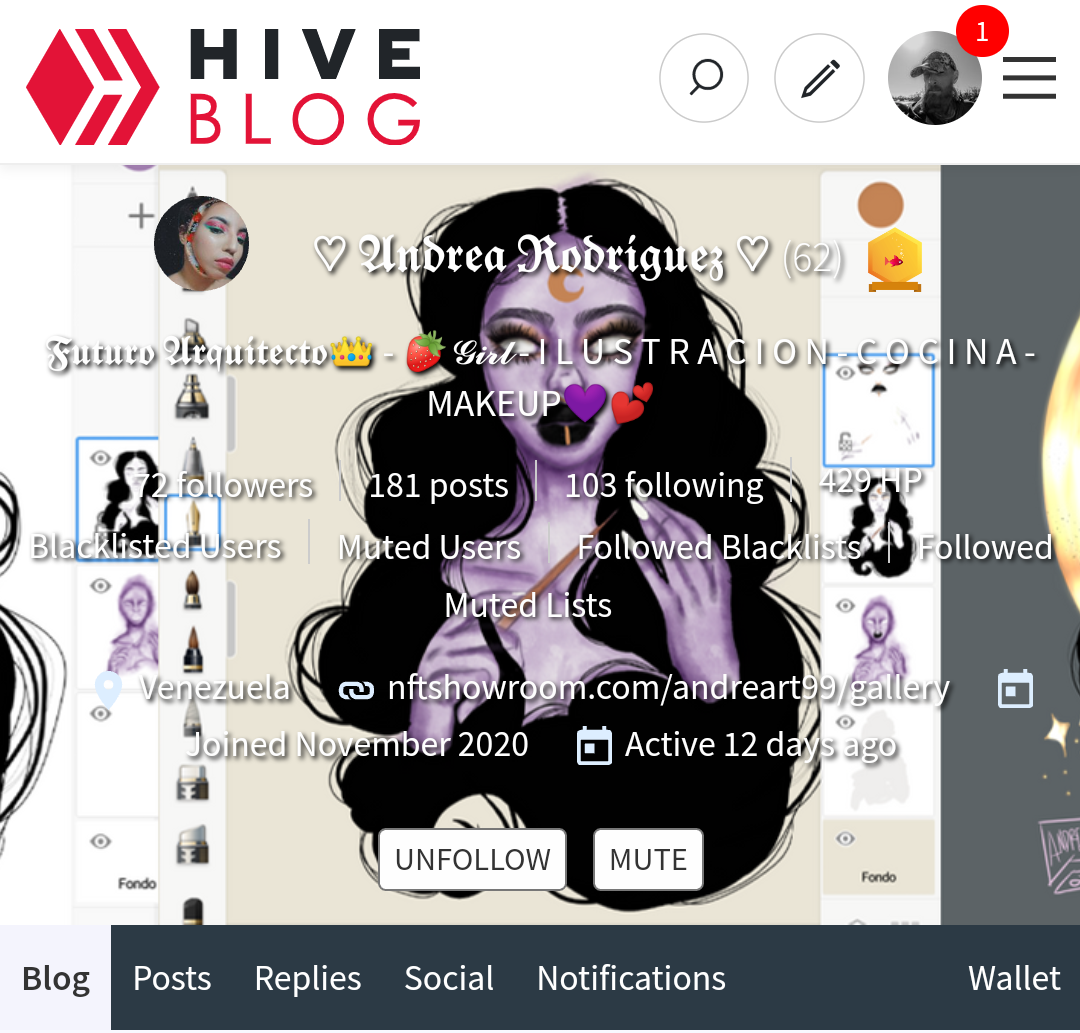 https://hive.blog/@andreart99
On Episode 7 of "NFT Artists On Hive" We have "AndreArt99". This is an exciting interview for many reasons. AndreaArt99 belongs to a NFT Power Trio! I've said to much, lets cut straight to the interview!
What is your country and city of origin?
AndreArt99: "My country of origin is Venezuela, a country in the middle of the Caribbean with many natural wonders and a very cheerful and warm people, I do not want to talk about the negative, because it is already too much with the day to day and these 20 years of disasters, I was born in the capital city of Caracas, the city of red roofs, my favorite city in all of Venezuela in spite of everything, I have lived in various parts of the country during my existence, I currently reside in the east of the country, in a city called Maturin, which is called the different city, it is a somewhat boring place but with its touches of charm in history, I remember my childhood with many trips and hidden towns, my grandparents always had a plan and I was their star companion, I had the fortune to know with them almost the whole country by car, it is incredible, the city that I keep in my heart from those trips is Merida, so if you come you should visit it is like a pause to a mystical world, cold and full of wonders and delicious food, also visit Caracas is not all crime, and above all go to their museums and the historic center for hot chocolate."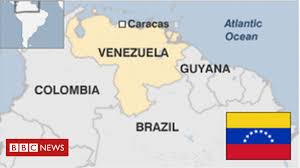 What is your story about your unique style of art? I can spot an Andreart99 NFT and know that you created it. your art is very distinctive!
AndreArt99: "Come on this is something curious about me, drawing for me represents a means of escape and my happy place, it is since my childhood that moment or space where I can forget all the problems and all the criticisms, rebuffs or mockery, when I entered the university I started to be in contact with people who shared my same vision of art, and the same love, I study architecture, I am about to graduate, then to put you in context I was in painting classes a second semester subject , and my grandfather had recently given me a big drawing pad, and in a conversation with her we started talking about the identity of the artist and that after so much time drawing I felt that I didn't have it, and I realized that I didn't have it either, I could recreate images or characters but it was like another drawing, nothing that shouted my name so I started to design my signature, the one I currently use that I feel is part of my identity, then I started to experiment with the style to draw tattoos, lines and details with markers and markers, and then I started to experiment with the style to draw tattoos, lines and details with markers and lots of ink Pinterest was a very good place to start to take referential, at first I did like drawings equal to those I saw but I always tried to give my touch, I remember that many told me that my girls were devilish for having white eyes but I felt and still keep it, that is the mystery of the people in that you want to sink , and let yourself be seduced , the big lips are for mine , So I began to practice every day to dare to keep trying and to perfect my perception of the drawings until I achieve that when I make any sketch or small drawing in the corner of a napkin someone sees it and knows that it is mine, I define this style as a "PASTEL GOTH" is all the sweetness contained but with a touch of evil and mystery, plus I love everything mystical and fantasy and well Ali has inspired me like nachys to take a more sexual role in my drawings and to normalize something so natural but at the same time is "impure" for many."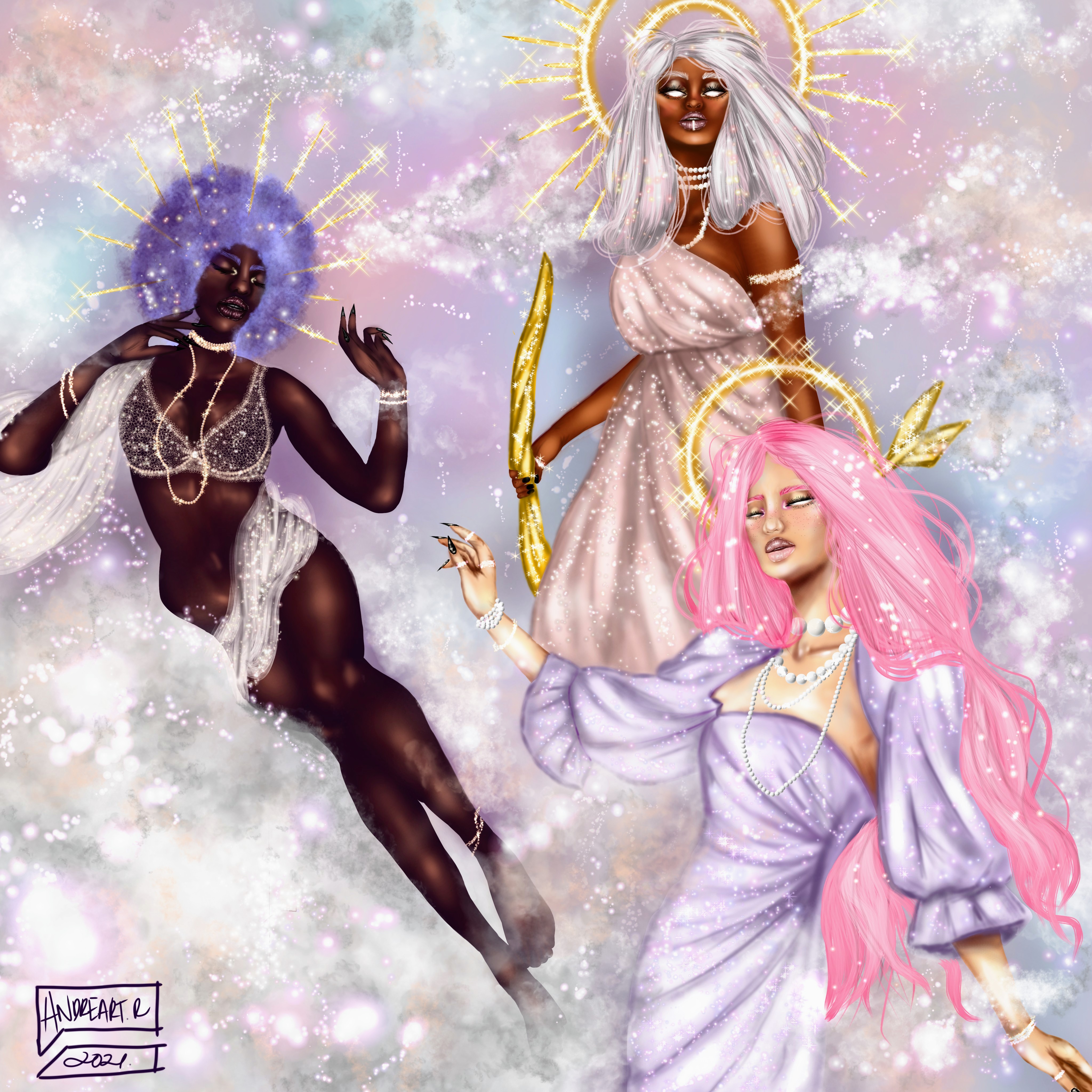 AndreArt99's new creation EL PARAÍSO Collection: Power woman is a "to die for" NFT. I am amazed and even mesmerized by the energy that you, @Nachy.art and @AliBastardo can project in art. You three have achieved the impossible by digitally capturing the very essence of the power of the female spirit in your art. What is your secret, if it is a secret I understand, and we can move on to the next question.
AndreArt99: "Paradise is my baby, it is so far my most ambitious project, it looks like a fresco of some European palace in the Renaissance or an opulent baroque, it transmits the power of the woman and the incredible of her being, I loved every detail I put in it and it also helped me to start practicing with my graphic tablet, another achievement of my effort in the NFT world, so I thank each collector for believing in me and my work, thank you for putting food on my table, contributing to my studies, to increase my work tools and a decent life despite the critical situations that my country suffers.
I think my secret is how much I love women, I mean they are beautiful and so diverse, we come from them, and it's amazing everything they can do, since I started to build the identity of my art I felt a special connection for drawing women, previously I only drew busts rather than full bodies, but from a year ago, specifically in the beginning of my forties I dared to experiment much more, implement new poses, backgrounds and even concepts. My admiration and love is very great, I feel that with each one I manage to convey a story and that I can convey messages just with an image."
Your NFT, MORGANA from the Collection: "The Witches of Salem" makes me feel like I'm falling in love with Morgana, and she is giving me that powerful feminine look that my very masculine DNA is built to respond to genetically. How did you learn to capture in your female models those exact looks that every man's subconscious responds to?
AndreArt99: "Morgana has a funny story behind her, I corrected her face more than 20 times, I was starting with new techniques to achieve a juicier skin, more neat and to define and elaborate the facial features to look harmonious, but I've always liked to implement a touch of mystery in the look of my girls hahaha, but with her I was inspired by a photograph of a girl of color that I loved , I personally feel that I achieve better dark skins than light skins in my drawings, they are my obsession and its essence is so energizing that I love too much, I think I was a long time avoiding them for fear that I would not look good, but I'm over it, Morgana is a witch controls the clouds and love, so do not make her angry a storm or a breakup can get to you, quiet is just a joke.
SASHA from the collection: G I R L S has your signature Smiling face with open mouth The lips and eyes of your models always make me dream. Sasha is powerful yet beautiful beyond measure. What is the story behind Sasha?
AndreArt99: Sasha was born around inktober 2020 together with Ali ,I set myself the goal to complete it, I had started it in previous years but never finished it, so it was a challenge, she was born around the first days I think the second, I was trying to bring my traditional drawing technique, I use watercolors often and markers to my digital drawing, I think the theme of that day had to do with the exaggerated, the big so I decided to increase the lips a lot, as much as it was harmonious, and I love the result, the glasses are I think an accessory that I put for me, I use glasses and I have always wanted a round one although they do not fit me well, I love to work solid geometric backgrounds, I feel that they enhance the drawing even more, and this composition consists of grays, blacks and a powerful yellow to give it personality, before I didn't like yellows, but right now I love it, it transmits joy and liveliness, it was a drawing that many people praised and for a while it was the wallpaper of the cell phone of several friends, so it made me feel that I was on the right track in this discover and in inktober in general, it is not easy to make a daily drawing following a specific theme but I loved the result of this challenge, I hope this year I can participate again, it made me very happy, thanks Ali for motivating me to participate, and that he also made many cool drawings, which are amazing, I love the way he draws the female body, it's amazing! , By that time I started to get to know Nachys art and I made a tremendous connection with her, I appreciate her very much, Ali and her have been key points in this constant growth.
I love the fact that your models eyes are white, it doesn't take away any feminine glamour but adds an element of power to the art, and the lips of your models leave me wanting to kiss your NFTs. Tell us how you interpret the female form.
AndreArt99: "Well the white eyes trend was born since 2017, I was experimenting new techniques and looking for my artistic identity , for me it is the mystery and seduction behind my creations, it is that touch of evil behind the angelic, and I love everything pink and tender , really if I could live in the world of sanrio , hello kitty house and her friends will be so happy, since I was a child I love it and even with my 21 years almost 22 I still love it, the female form that I perceive is a changing woman, a woman who feels comfortable, I like to work with voluptuous bodies, because I feel that they are a reflection of how I perceive myself but without so much buttock, the lips of my models are like normalizing mine, since I was little I suffered many teasing for my mouth and big lips, so it's like a self message that it's okay and you are beautiful, I have had many self-esteem problems, however I am currently on a journey of acceptance and self-love and try to leave aside all the negative comments I received throughout my life, I love making colored skins, especially pink or purple, for me it is like the detail that anyone can feel identified, I like the thick ones, I am always inspired by my best friend's is beautiful , but I try to be versatile, although the hair that I love to draw is the afro or wavy, my way of seeing the woman is diverse is from love, that any body, height or feature is amazing, over there I have new works of a series, I hope soon to see the light, in a preview, woman at its best, a visualization of how incredible and rich diversity is."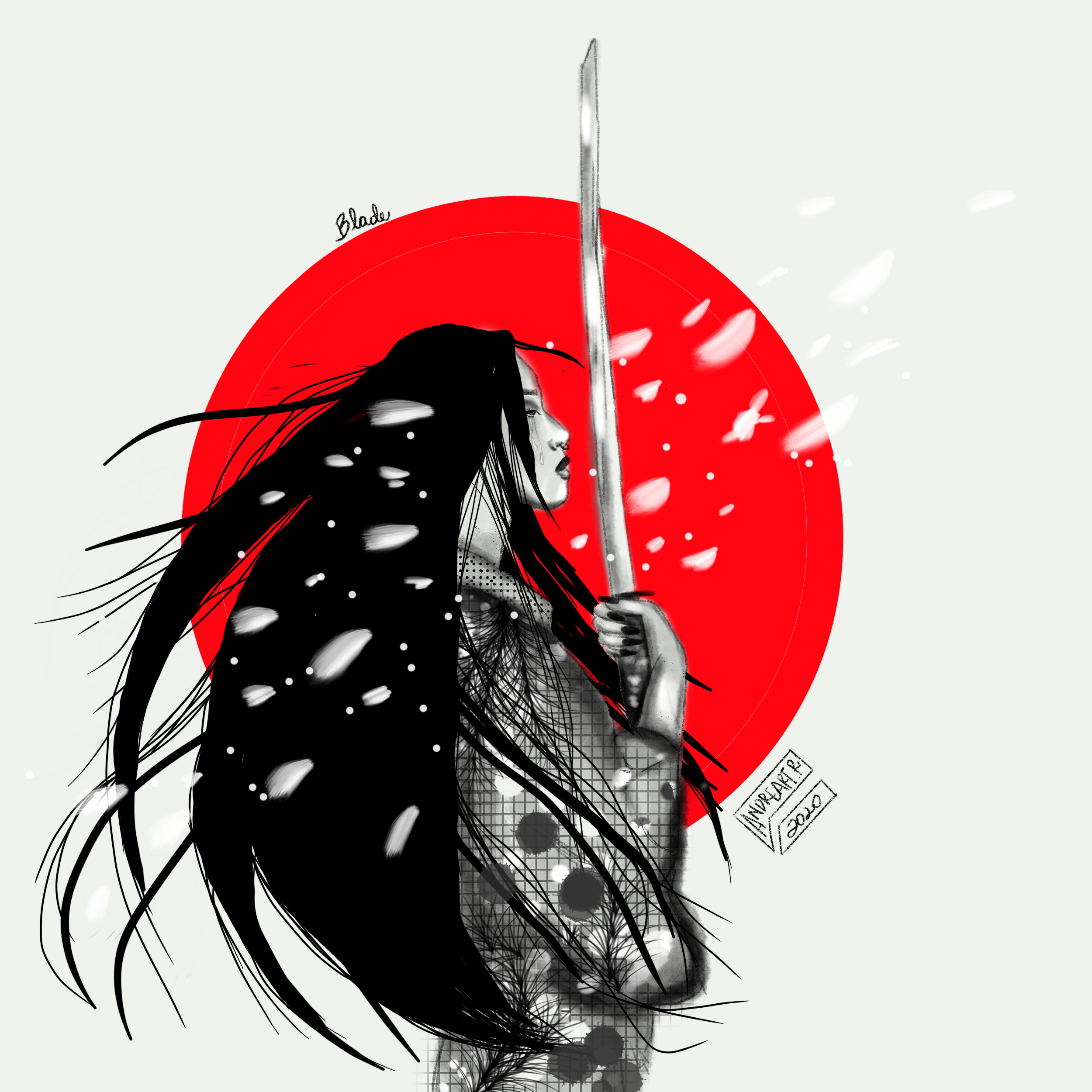 What is your opinion about what an NFT is or represents?
AndreArt99: "A market where to negotiate them and to have more reach, they represent food on my table, and a financial support in my family, and I am so grateful to be here, I know it is a growing market that is going strong and is revolutionizing the art world and the way to see and live museums and enjoy the artist in life and not just give fame after death, it's amazing."
Please make one of your dreams, goals or desires come true by telling the world about it and bringing it to life.
AndreArt99: My dreams, well my dream is to be able to graduate as an architect and to be able to travel a lot to many countries including Japan, Korea and Spain, I want to live in the latter in a small apartment with a beautiful cat, I want to be a woman of the world, to know and explore, that my art reaches every corner and be known, I want to live intensely without ties, learn every day I can and to be happy as my being and with my achievements, to be able to celebrate everything no matter how small it is, For me it is very important to help others, and to be able to reflect that love that my grandparents built in me with so much effort, and they let me know with every fiber of their being how much I represented for them, I want to have a studio where I can express all my ideas and to be able to transmit with passion the art that flows through my fingers, but not forgetting to always stop dreaming because for me it is an engine that drives you to do incredible things, which I trust I will be able to materialize each of them.
Artist's choice, you can talk about anything you have in mind or that has not been included in the questions:
AndreArt99: Well I will take this space to thank and to comment my arrival to all this world of which I had no idea , but very eager to learn, I came to hive in early November last year , in search of being able to share my art and that of being able to generate income with it , I was living a pretty critical situation in my home, @ambarvegas was an important pillar because he helped me to enter and patiently explained to me, to the @rutablockchain team for believing in me and promoting my art, and to a team of incredible artists who have accompanied me from minute one to expand my horizons @berlissanoja
@ofabastard @nachy. art. @alexa. art @hadley
@davideazul. @vitartex @brataka @jordan @yoslehz, and many others, that Venezuelans like me make a nice community are like my second family and I am very grateful to have them, it has been a hard road and very demanding I have tried to understand and to investigate a lot about these platforms, to create content and to start in new platforms nft, I am currently in nftshowroom, rarible and ghostmarket, thank you is important so kisses and brillitos for all of you."
Follow Me On Twitter!!!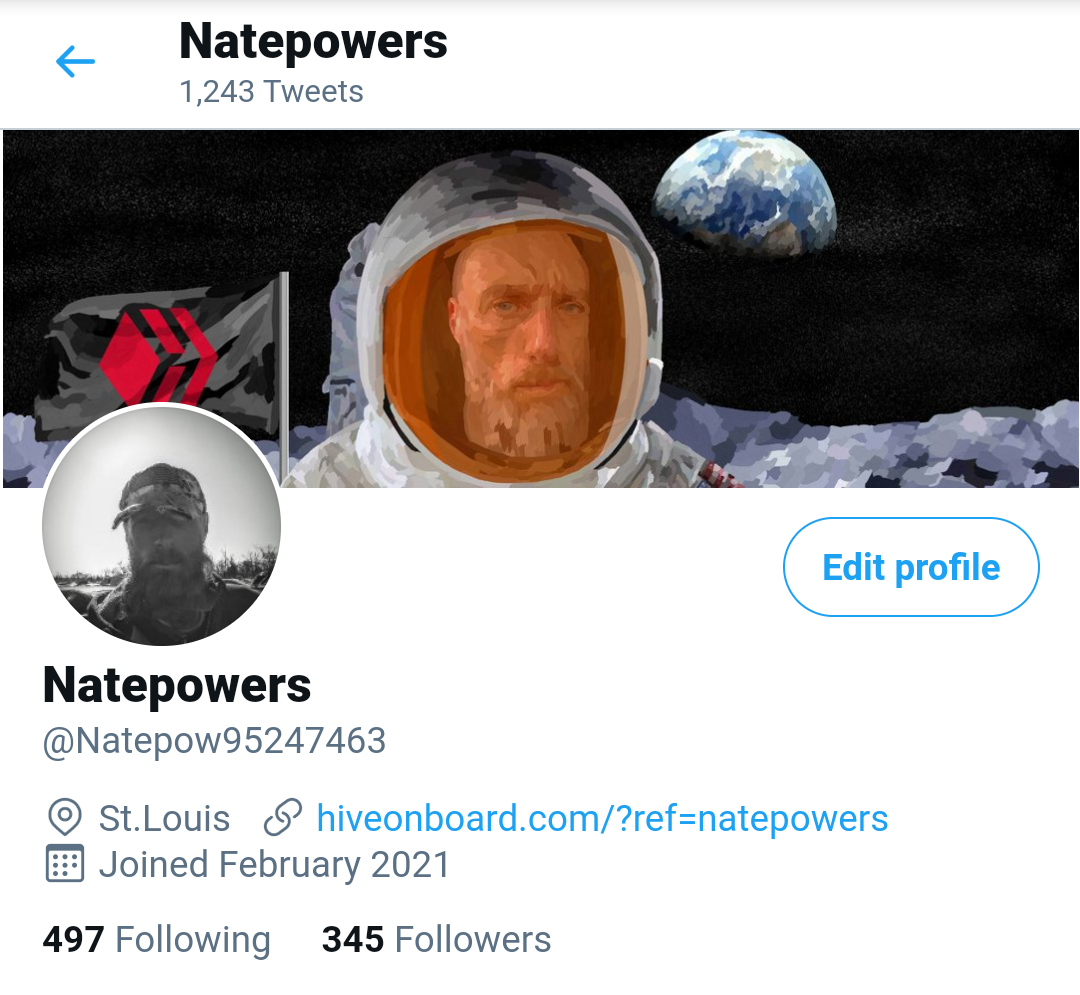 https://mobile.twitter.com/Natepow95247463