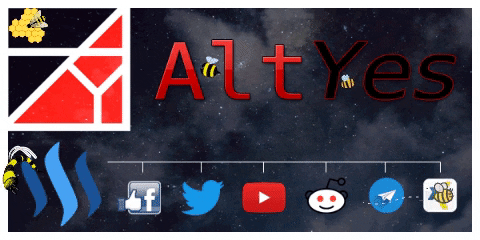 We Will 'Bee' There!
Here at FullAlt with our AltYes tools, we couldn't be more excited! The news is sweeping through the cryptocurrency realms that a new 'sister' chain of Steem will be launched on Friday! It's called 'HIVE'. We can see many a good pun and jokes coming from that! One thing that isn't a joke, you will be able to use AltYes with BOTH blockchains! Post and share from Hive to Twitter, from Twitter to Steem, From Steem to Facebook, From Facebook to Reddit, and then from Reddit back to the Hive! Oh, it's a beautiful thing!
Why Both?
At FullAlt, our mission is to tokenize the entire internet. Yes, we were born on Steem, but our little baby - AltYes - has to grow too. By adopting and adding 'HIVE' to our infrastucture, we will be a bridge to both chains! And, we won't stop there. As AltYes grows, we will surely add other cryptocurrencies you can utilize to help build your personal portfolio. If you have yet to get the extension, visit the website or our YouTube channel for instructions so you can be ready once we update it!
More Great News!
In the middle of all this debate and discussion between the former Steem consensus and Tron representatives, we have been busy little bees testing out our app version for you mobile users! It still has a few bugs in it, but we are almost there! We can't wait to have it available for you! Until then - Steem on! or - 'Get Your Buzz On!'
"Tokenizing the web."