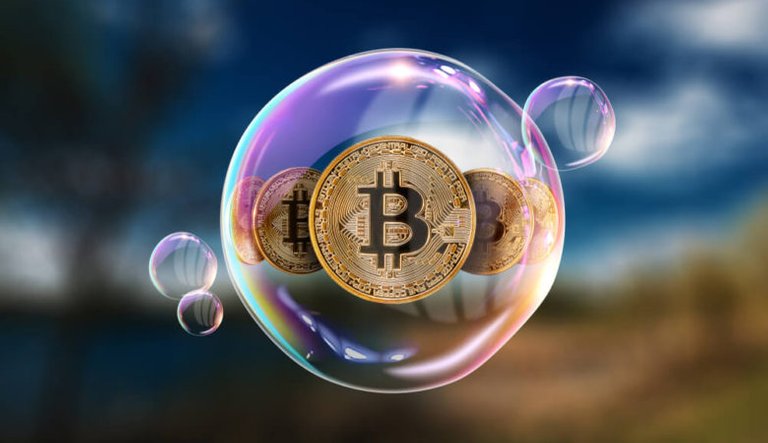 The year 2018 is at its end. Who had predicted prices above 100K for 1 BTC, he must be very disappointed with this year's development. I hate to recall the profound sentence "I told you so." The bubble behavior of Bitcoin could be detected already in autumn 2017. It can be quite easily detected. As soon as you tend to say "How is this possible?", then we are at the beginning of the bubble. It is only a matter of time when it will be broken down.
There is still space for further downward movement
And now we can look similarly at the situation. The price of BTC fell to 3000 USD, but it quickly got back above 4000. Overall, this is literally an insane crash. How many of you have begun to say "How is this possible?"... And even here there is just the question where it will break. I though the bottom was already found at about 3450 USD around November 25. However, from a further price development, I slowly cease to think this. We can calmly go even more down.
---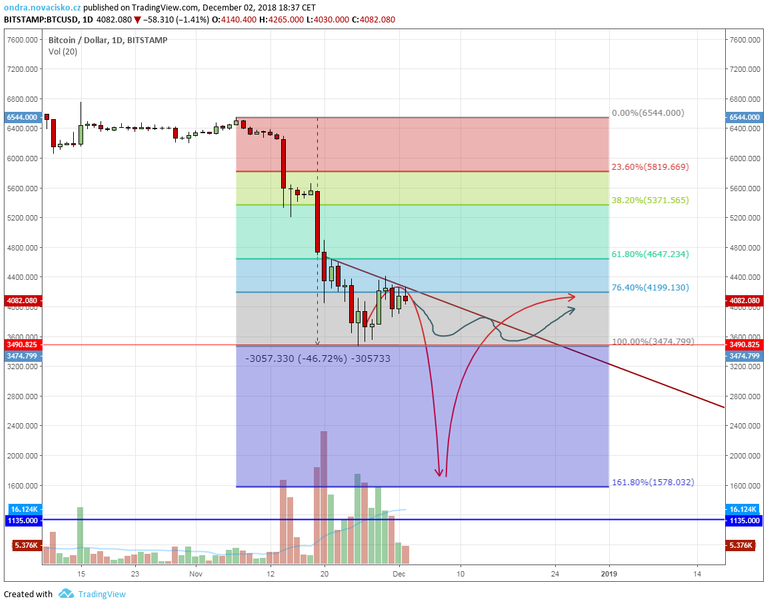 What do you think about the 1600 USD price? You do not like it? Well, it depends whether you want to buy or sell. For buying it would be a wonderful discount, wouldn't it? More than 50% when compared with today's price and more than 91% discount compared to the ATH. Why should it fall so deeply down? If you look at the last similar drop, the last fall before the accumulation phase in 2015, it was a fall that reached more or less the previous ATH in the form of a long candle followed by quick correction which had the same height as the fall itself. Subsequently, the market responded by a purchase fever, when the price where the fall itself began was exceeded.
If there are Bitcoin sales, the media is hungry
This has not happened so far, the response to the fall was not so huge and it stopped when the price went to 4450. Resistance has not been overcome, and further developments are looking a bit more bearish. That's why I expect further sales at the end of which there will be a panic phase, in which the media will compete by issuing Bitcoin condolences and counting every dollar of lost value of BTC.
An alternative development counts with the possibility that the support of 3450 USD will not be broken. Then the price should move near the support for some time - that is in the 3450 – 4000 USD range, and it could go upwards at the beginning of the year. With just a little probability there is a chance to return to 4450 USD and to break the resistance. That is an ideal price to buy with the STOP (stoploss) command.
Sentiment in the market
Bitfinex open positions: short (28:34)
OKEX top traders: short (44:56)
BitMEX leaderboard: short (24:76)
Recommendation: Rather sell more. When falling below 3450 expect a reflection in the range 1000 – 2000 USD. In the case support is not broken, we will go to the right. Stoploss over 4450 USD.
---
Disclaimer: These articles cannot be considered as an investment advice, and it is still a good idea to make speculation on bitcoin stock exchanges only with funds you can afford to lose. The high profit potential is balanced with a significant risk of losing, especially here on the crypto markets.
Česky: https://btctip.cz/bitcoin-kurz-analyza-panicka-faze-vyprodeje-na-obzoru/