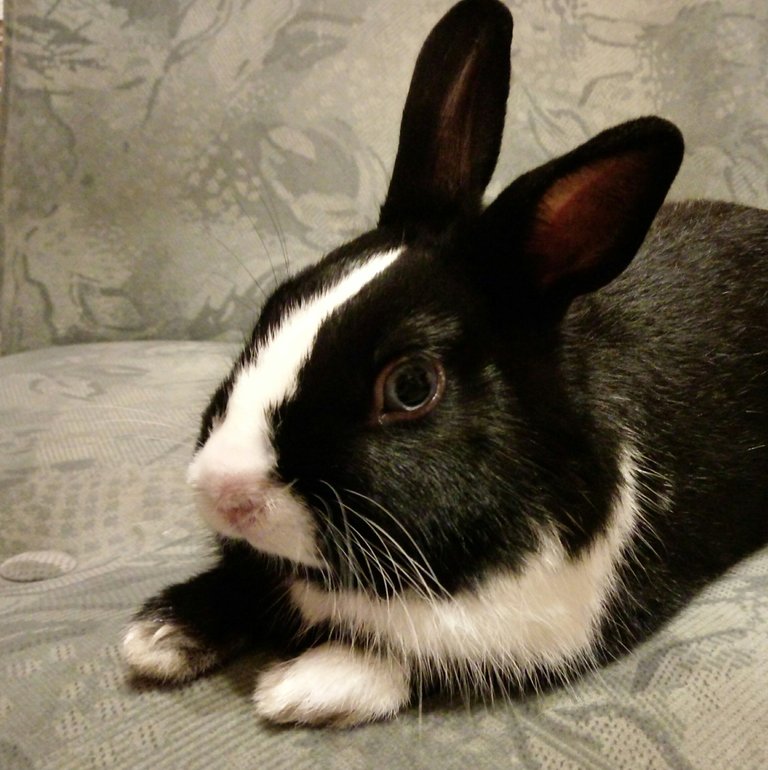 Niedawno ukazał się smutny post @baro89 o tym, że króliczka, która niedawno zakupił, umarła. By;o mi przykro to czytać. Sama mam królika i od razu zaczęłam się zastanawiać, co mogło być tego przyczyną i czy dało się temu zapobiec.
Niedługo po tym ja i mój partner też przeżyliśmy chwile grozy z powodu dolegliwości naszego królika.
Nasz królik jest zwierzątkiem wolno biegającym po mieszkaniu, ale na noc idzie do klatki. Zwykle robi to dobrowolnie, ale czasami trzeba go zachęcić jakimś przysmakiem, plasterkiem marchewki, kawałkiem jabłka albo banana.
Recently there was a sad @baro89 post about the fact that a bunny that he recently bought died. I'm sorry to read it. I have a rabbit myself and immediately began to wonder what could have caused it and whether it could have been prevented.
Soon after that, me and my partner also experienced moments of fear because of the problems of our bunny.
Our rabbit is a free-living animal, but he goes to a cage for the night. He usually does it freely, but sometimes it is necessary to encourage him with some delicacy, a slice of carrot, a piece of apple or a banana.
W poniedziałek rano odkryłam, że przysmaki, ktore mu dałam wieczorem nie znikły, nie ubyło też karmy, które miał w miseczce, a w klatce było mało bobków. Gdy tylko otworzyłam drzwi do drugiego pokoju, pobiegł do stojącej tam kuwetki. Zrobił tam kilka bobków, w tym cekotrofy, których nie zjadł. Cekotrofy to "nocne kupki". Są formowane w jelicie ślepym i są wydalane w formie zbitych, wilgotnych bryłek. Zwykle zdrowy zwierzak od razu je zjada.
On Monday morning I discovered that the delicacies I had given him in the evening had not disappeared, nor had the food he had in his bowl disappeared, and there were few droppings in the cage. As soon as I opened the door to the other room, he ran to the cuvette standing there. He made a few droppings there, including cecotrophs, which he didn't eat. Cecotrophs are "night poop". They are formed in the caecum and are excreted in the form of compacted, moist nuggets. Usually a healthy animal eats them immediately.
Tego dnia mój królik nie chciał jeść i stał się apatyczny. Robił mało bobków, a te, które się pojawiły były bardzo twarde i drobne. Próbowałam masować mu brzuszek i skłonić do ruchu, ale tylko bronił się ząbkami i pazurami i uciekał do swojego kartonowego tunelu. Tam siedział w pozycji, którą nazywam "na pumpernikiel", bo wygląda jak bochen zbitego twardego chleba.
Ja i mój partner musieliśmy iść do pracy i nie mieliśmy jak pojechać do weterynarza. Królik został sam. Pokój w którym go zostawiamy jest dla niego bezpieczny, nie ma w nim kabli, kontakty są zabezpieczone,nie ma miejsc, w które mógłby wejść i mieć trudność z wydostaniem się. Jest tam jego otwarta klatka, siano, jedzenie, woda, kocyk w którym lubi kopać, gałązki do ścierania ząbków, wszystko, co może go trochę zainteresować bardziej niż meble. Mam to szczęście, ze pracuję blisko domu, więc na przerwach mogłam podejść i sprawdzić, czy nic mu nie jest.
Zostawiłam mu sianko porozkładane w różnych miejscach, podobnie z wodą w miseczkach. Przygotowałam mu też starte jabłko z marchewką, siemię lniane i rumianek. Nie udało mi się nic z tego podać mu przed wyjściem do pracy, ale miałam nadzieję, że sam spróbuje , gdy zostanie sam.
Nie spróbował.
Gdy wróciłam nadal nic nie było ruszone i nie było kupek.
That day, my rabbit didn't want to eat and he became apathetic. He made few beavers and the ones that appeared were very hard and small. I tried to massage his tummy and make him move, but he only defended himself with his teeth and claws and ran away to his cardboard tunnel. There he was sitting in the position that I call "on the pumpernickel", because he looks like a loaf of beaten hard bread.
Me and my partner had to go to work and we had no way to go to the vet. The rabbit was left alone. The room where we leave him is safe for him, there are no cables, contacts are secured, there are no places he could enter and have difficulty getting out. There is an open cage, hay, food, water, a blanket in which he likes to dig, twigs to grind his teeth, anything that might interest him a little more than furniture. I'm lucky I work close to home, so during breaks I could come up and check if he was okay.
I left him hay spread in different places, similarly to water in bowls. I also prepared a grated apple with a carrot, linseed and camomile. I didn't manage to give him any of this before he went to work, but I was hoping that he would try it himself when he was alone.
He did not try.
When I came back, still nothing was touched and there were no droppings.
Królik wyglądał bardzo biednie, siedział i się trząsł. Mój partner zaczął wyszukiwać numery do całodobowego weterynarza w okolicy, ale mieszkamy na totalnym zadupiu i nic nie mógł znaleźć. Ja tymczasem masowałam małemu brzuszek i wyglądało na to, że przynosi mu to ulgę, bo choć zwykle nie lubi, gdy dotyka się jego brzuszka, tym razem się wyciągał i na to pozwalał. Nakłoniłam go do tego, żeby trochę pobiegał. Napił się trochę wody i skubnął parę słomek sianka. W miejscu, gdzie zwykle leży włożyłam mu pod materacyk ciepły termofor.
Wyglądało na to, że będzie dobrze, gdy zaczął wydalać cekotrofy i je zjadać. Zrobił parę zwykłych bobków i zjadł więcej sianka, choć nadal nie ruszał karmy. Tej nocy nie poszedł spać do klatki, chciałam, żeby miał większą możliwość ruchu.
The rabbit looked very poor, sat and shaken. My partner started looking for numbers for a 24-hour vet in the area, but we live in the middle of nowhere and couldn't find anything. Meanwhile, I was massaging the little boy's tummy and it seemed to be a relief to him, because although he usually doesn't like it when you touch his belly, this time he pulled out and let it happen. I persuaded him to run a little. He drank some water and picked up a few straws of hay. In the place where he usually lies, I put a warm thermoform under his mattress.
It seemed like it would be good if he started to excrete the cequotrophs and eat them. He made a couple of ordinary droppings and ate more hay, although he still did not touch the food. That night he didn't go to sleep in a cage, I wanted him to have more freedom of movement.
Rankiem było już lepiej. Mój partner został z królikiem w domu, żeby masować mu brzuszek i monitorować jego zachowanie, aby zareagować, gdy jednak będzie coś nie tak i trzeba będzie zabrać królika do doktora.
Byłam przeszczęśliwa, gdy będąc w pracy dostawałam od niego wiadomości "ganiamy się z królikiem po mieszkaniu", "je sianko", "narobił bobków".
Gdy wróciłam królik był odmieniony, zaczął jeść sianko, karmę, kicał i wykazywał radość.
Najgorsze minęło.
It was better this morning. My partner stayed home with the rabbit to massage his belly and monitor his behavior, to react when something went wrong and he had to take the rabbit to the doctor.
I was overjoyed when, while at work, I received from him the news "we're chasing rabbits around the apartment", "he eats hay", "he made droppings"
When I came back, the rabbit was changed, he began to eat hay, food, hopping and showed joy.
The worst was over.
Już wcześniej mieliśmy do czynienia z zatorem układu pokarmowego królika. Było to w okresie linienia. Króliki to czyściochy, bardzo często się myją i w okresie linienia należy je częściej wyczesywać, żeby pozbyć się sierści, ponieważ połknięta podczas mycia się królika, zbija się w przewodzie pokarmowym i powoduje zator. I ja wyczesywałam, jednak najwyraźniej za mało. Tym razem powodem zatoru mogły być włókna dywanu, bo zaczął podgryzać jeden z jego brzegów.
We've dealt with a rabbit's gastrointestinal embolism before. It was during the molt period. Rabbits are clean, they clean themselves very often and during molt they should be combed out more often to get rid of the hair, because if swallowed during washing, the rabbit collects in the gastrointestinal tract and causes a blockage. I also combed out, but apparently not enough. This time the blockage could have been caused by the fibres of the carpet, because it started to bite one of its edges.
Zator w przewodzie pokarmowym u królika jest bardzo częstym problemem i bardzo poważnym. Może nawet zakończyć się śmiercią zwierzaka.
Wkrótce napiszę więcej o posiadaniu królika i jak o niego dbać.
Congestion in the digestive tract of a rabbit is a very common problem and very serious. It may even result in the death of the animal.
Soon I will write more about having a rabbit and how to take care of it.