Man... time flies in so many ways. In the short term it's been a month since I last posted on HIVE, in the medium term it's been exactly a year since I left my day job to pursue comics and illustration full-time, and in the long term it's been probably 20 years since I last did any kind of artistic self portraiture. All of those spans of time are incredibly difficult for me to believe!
---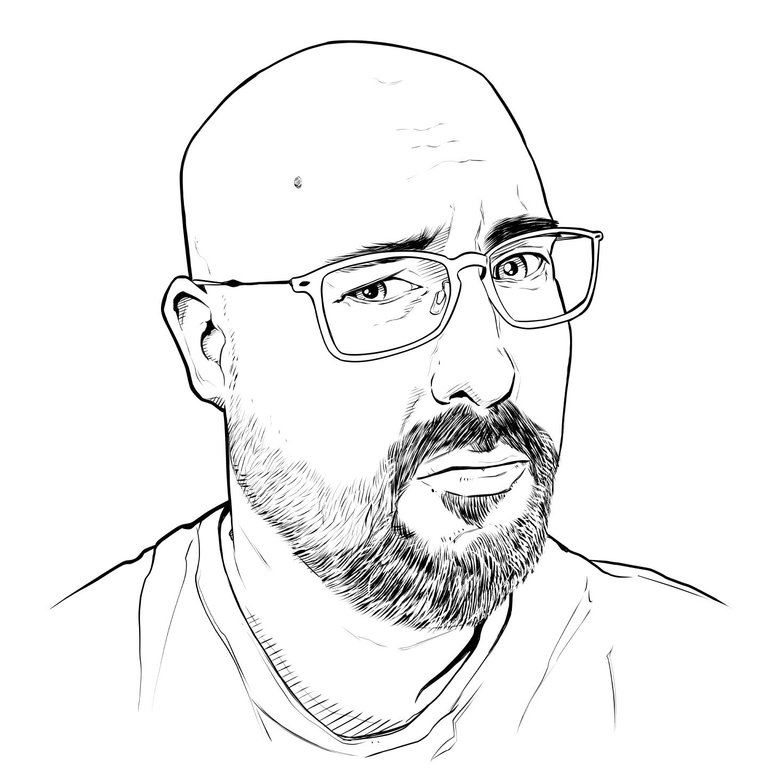 ---
There I am. Befuddled and worried is very "on brand" for me!
I recently finished up a batch of commissioned portraits in this style, I've done about 30 over the past year for a client. So I decided to do one for myself! I already had one small use for it in mind, a project I'll share here in the next couple days.
Self portraits are a quite common assignment in high school and college art courses, but I haven't done much in the way of self portraiture in my adult life. As you can tell I didn't really pull out a glamour shot expression! 😆 That wouldn't be my style.
Plugging away at this for a couple hours gave me time to mull over the past year as well. I didn't accomplish nearly as much as I'd hoped when setting out, but I've come to terms with that and am trying not to beat myself up too much and just move forward. Stepping away from the day job was certainly no magic bullet to cure the levels of burnout and depression I was feeling. It's only recently I've begun to put more focus on some pretty basic self care like sleep, nutrition, and exercise. So despite the perplexed expression above I'm actually heading into year two with some optimism and momentum.
Over this past year I have studied and learned and can actually objectively see improvement in some of my skills which is a big win for me. And I've done some work that I'm proud of, although not in the quantities I would have liked.
HIVE has been a big help. Pretty much all the freelance and commissioned work I've done to date has come to me organically through HIVE. I haven't even begun to seriously market myself in the comic industry! Those community connections and support are a blessing and I thank you all for that sincerely!
While April 9th isn't a holiday for most... with luck and a lot of hard work to come it'll hopefully forever remain my own personal "Independence Day!" (and not the alien invasion kind... that would suck) So join me in celebrating the year to come for HIVE and "the Imp!"
Ahh... the original slap...
---
---
-Bryan "the Imp" Imhoff
---
Follow me for more behind the scenes looks at the creation of "I Thought It Would Be Zombies..." Your votes help support its production! Also look for limited edition digital artwork for sale on NFTShowroom.com