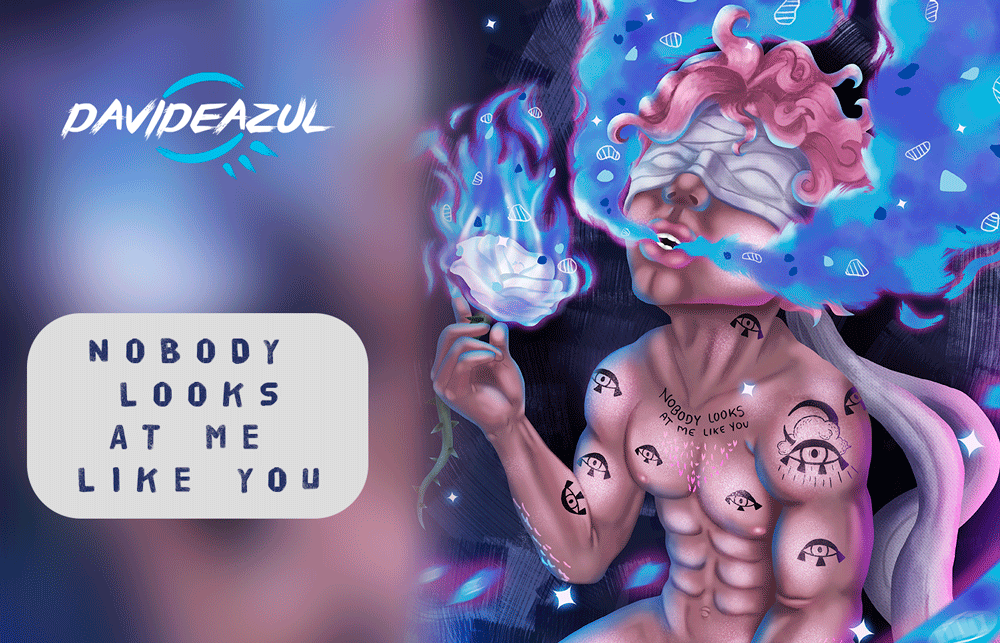 NOBODY LOOKS AT ME LIKE YOU ♥



Funny the title, right? You are right.
I'll explain what this title is about and a bit of the story behind the illustration, but first let's see how I started.
| | |
| --- | --- |
| It is fortunate that I still have some sketches of my illustrations, because I usually delete them after drawing, although sometimes I leave them, this time I managed to find the one for this illustration. | As I knew that the naked body of the character was going to attract a lot of attention, I decided to start painting from the beginning to get out of what I considered difficult within the drawing. |
There were things that I knew I should integrate into the illustration and one of those was the "magic".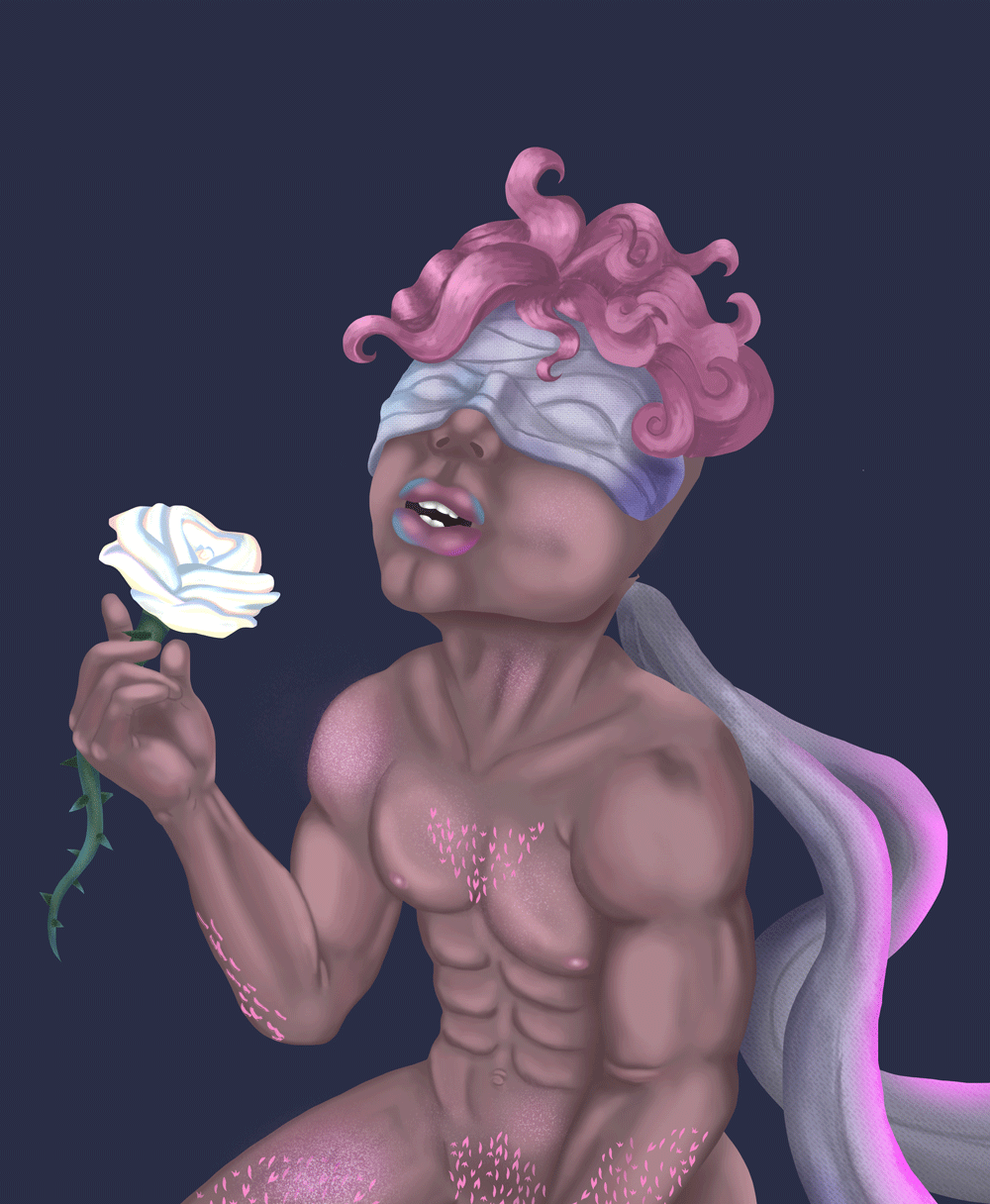 To get you into context I will explain a little the story behind this illustration. Some time ago the idea of drawing love came to me, but I did not want to get into the typical and for a long time I went round and round the idea, looking for a way to develop it.
So I started to have some notions: I wanted a naked man. This to show how exposed you are when you express your feelings, is a way of "undress what you feel" . So I went to Pinterest and decided to look for references that every artist uses to make a work of art.
REFERENCES: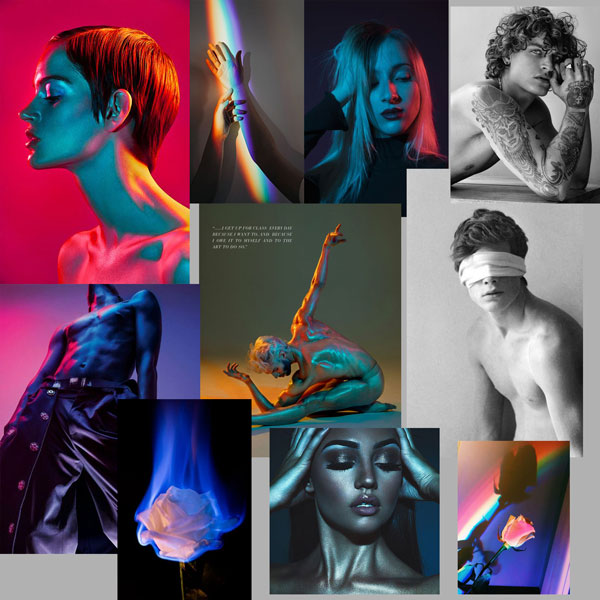 I found some images that I could locate in color, shape, composition... so I made a collage to guide me from there.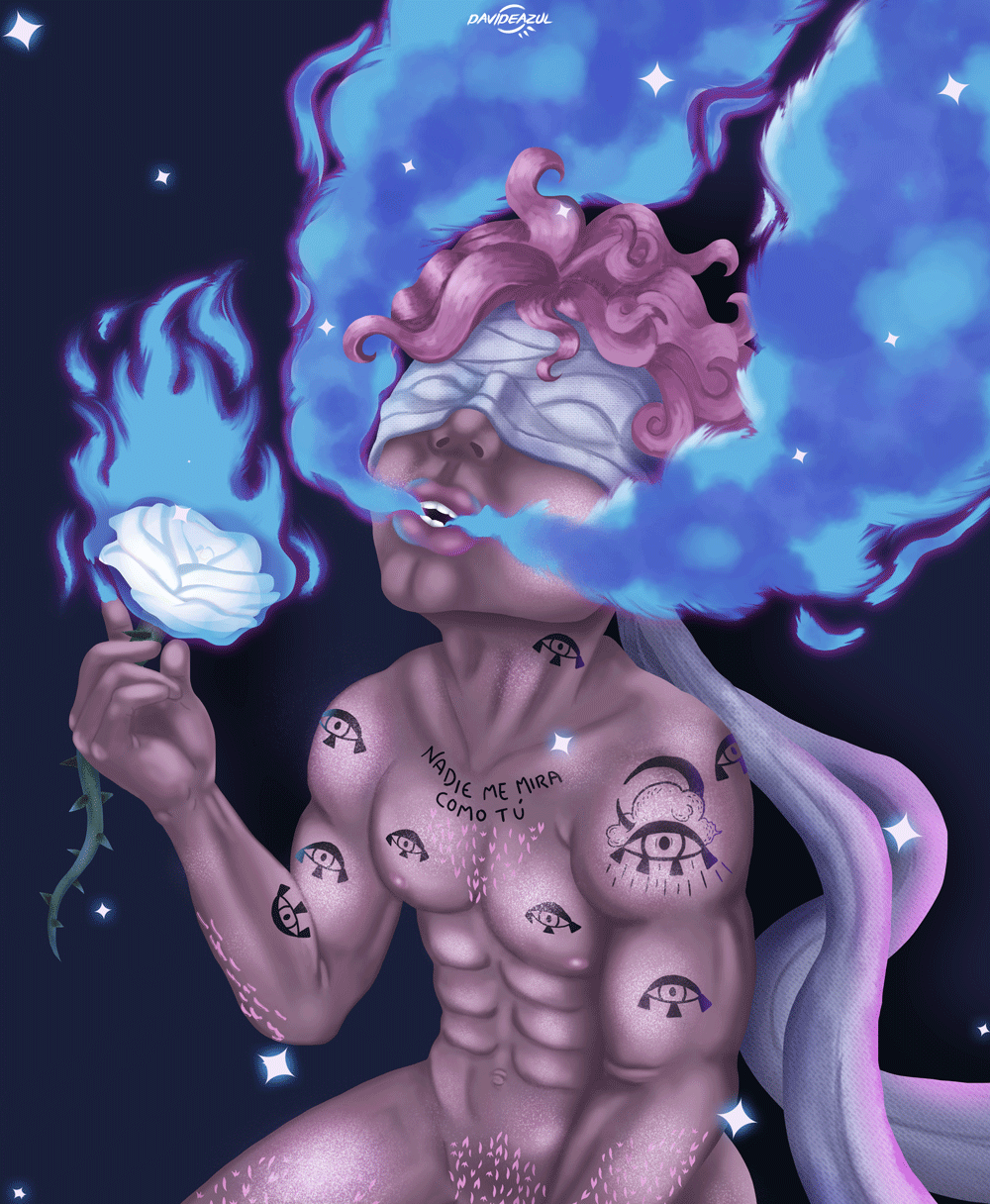 This guy is in love with someone he always watches. Every time he is near he does not stop looking at that person, he is madly obsessed. He knows that this person also has feelings for him, since almost always his gazes meet and so many things are said with his eyes that there are no words to describe it.
Curiously, they do not dare to take the first step, because they feel that the attraction that the two have is enjoyed even more from the looks. It hurts both not to see each other, not to feel with their eyes, not to imagine.

ILLUSTRATION FINISHED!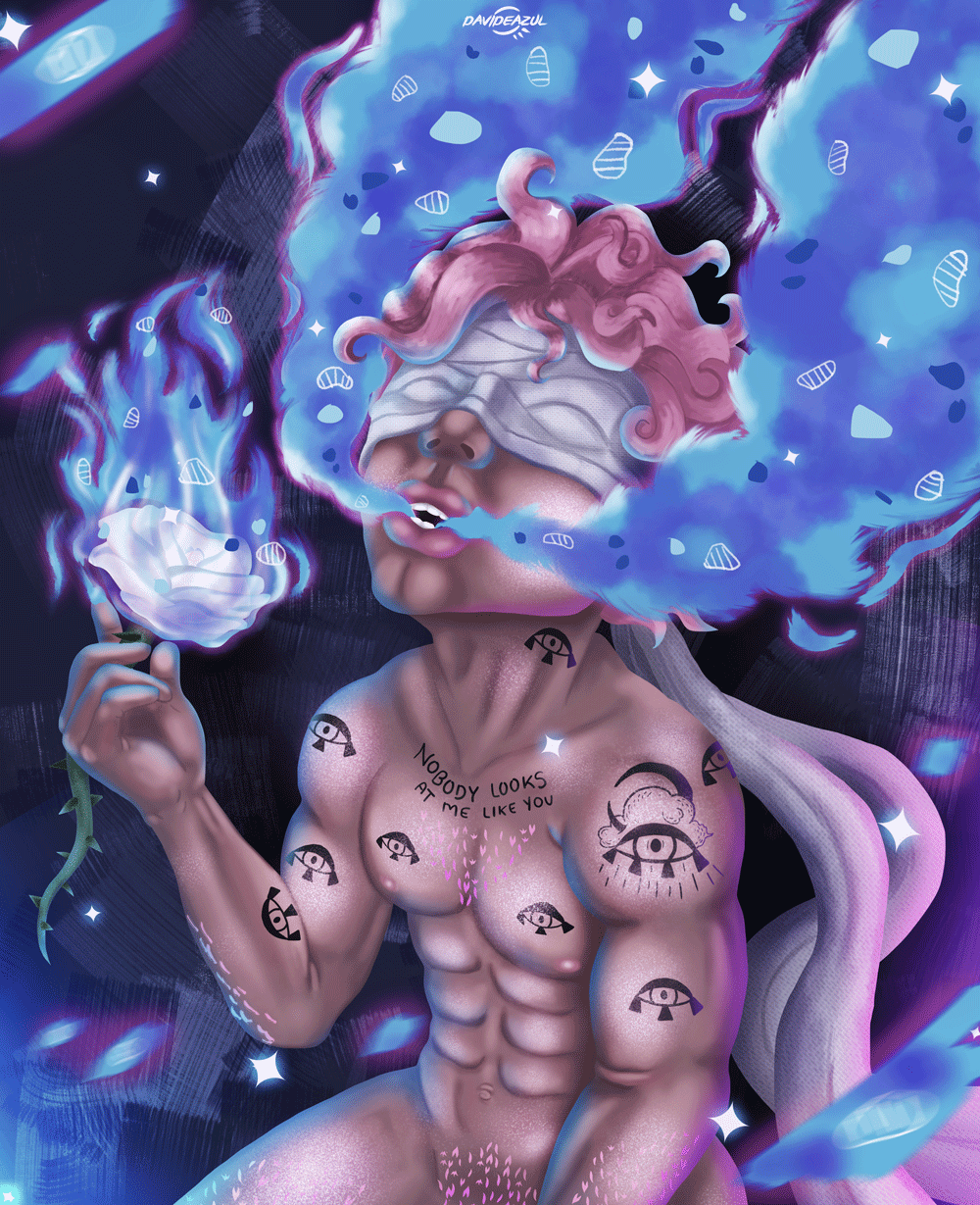 DURATION: 14 hours
PROGRAM: Photoshop ♥
I am very happy with this job. Even more so because within the color palette blue predominates, which is my favorite color and is found in my pseudonym (in Spanish it makes sense hehe). I thank those in the GEMS community for supporting my illustrations, many more to come! ♥♥♥

My social networks:
HAVE A GOOD DAY / AFTERNOON / NIGHT. SEE YOU IN THE NEXT ILLUSTRATION!

PUBLICACIÓN EN ESPAÑOl:
---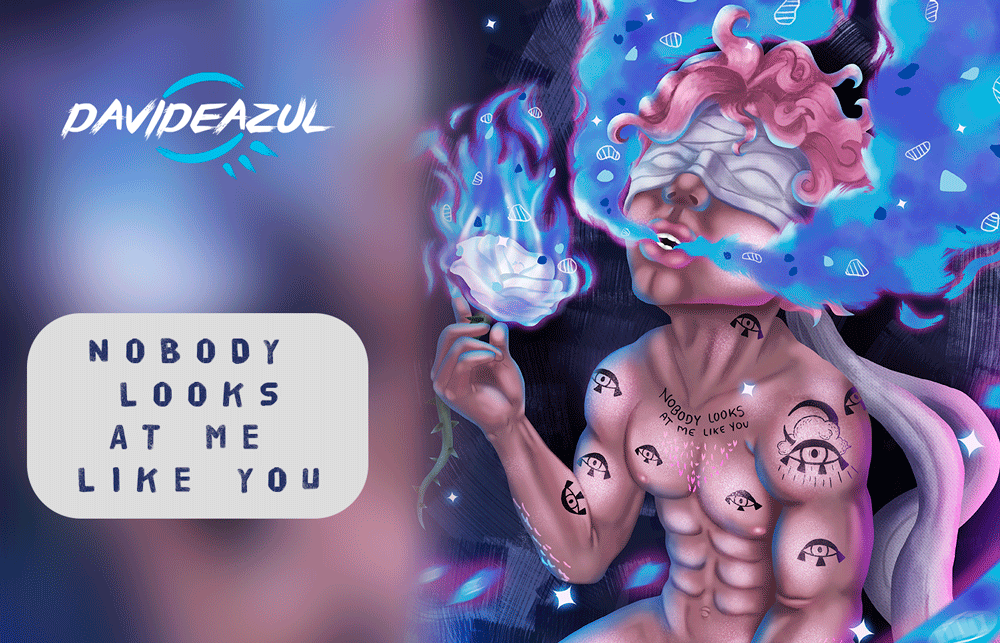 NADIE ME MIRA COMO TÚ ♥



Curioso el título, ¿no? Pues sí.
Te explicaré de qué va este título y un poco de la historia detrás de la ilustración, pero primero vamos a ver como fue que comencé.
| | |
| --- | --- |
| Es una suerte que aún conserve algunos bocetos de mis ilustraciones, pues suelo eliminarlos después de dibujar, aunque en algunas ocasiones los dejo, esta vez si logré encontrar el de esta ilustración. | Como sabía que el cuerpo desnudo del personaje iba a llamar mucho la atención, decidí comenzarlo a pintar desde el principio para salir de lo que consideraba difícil dentro del dibujo. |
Había cosas que sabía que debía integrar a la ilustración y una de esas era lo "mágico".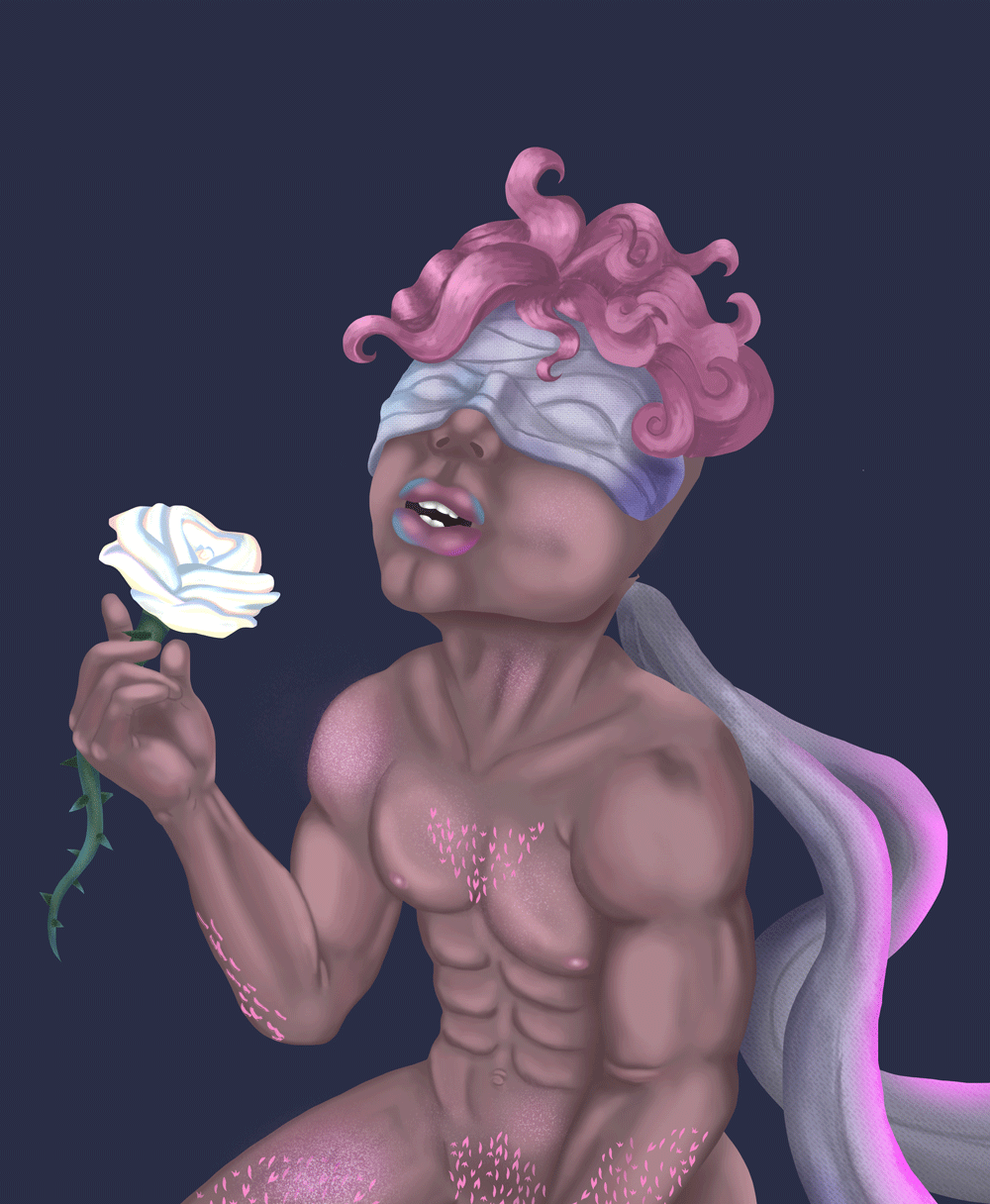 Para entrarte en contexto te explicaré un poco la historia detrás de esta ilustración. Hace tiempo me vino la idea de dibujar el amor, pero no quería entrar en lo típico y por mucho tiempo le di vueltas y vueltas a la idea, buscando la manera de cómo desarrollarla.
Así que empecé a tener algunas nociones: quería a un hombre desnudo. Esto para dar a entender lo expuesto que eres cuando expresas tus sentimientos, es una forma de "desnudar lo que sientes". Así que entré en Pinterest y decidí buscar referencias que todo artista utiliza para hacer una obra de arte.
REFERENCIAS: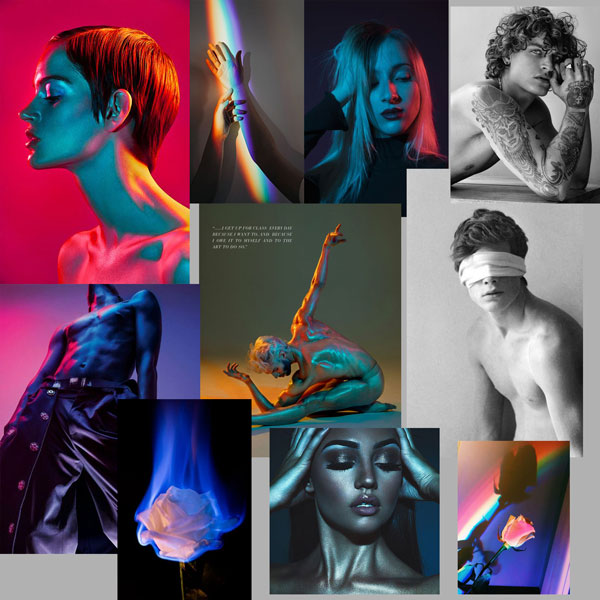 Encontré algunas imágenes que me podría ubicar en color, forma, composición... así que hice un collage para guiarme a partir de allí.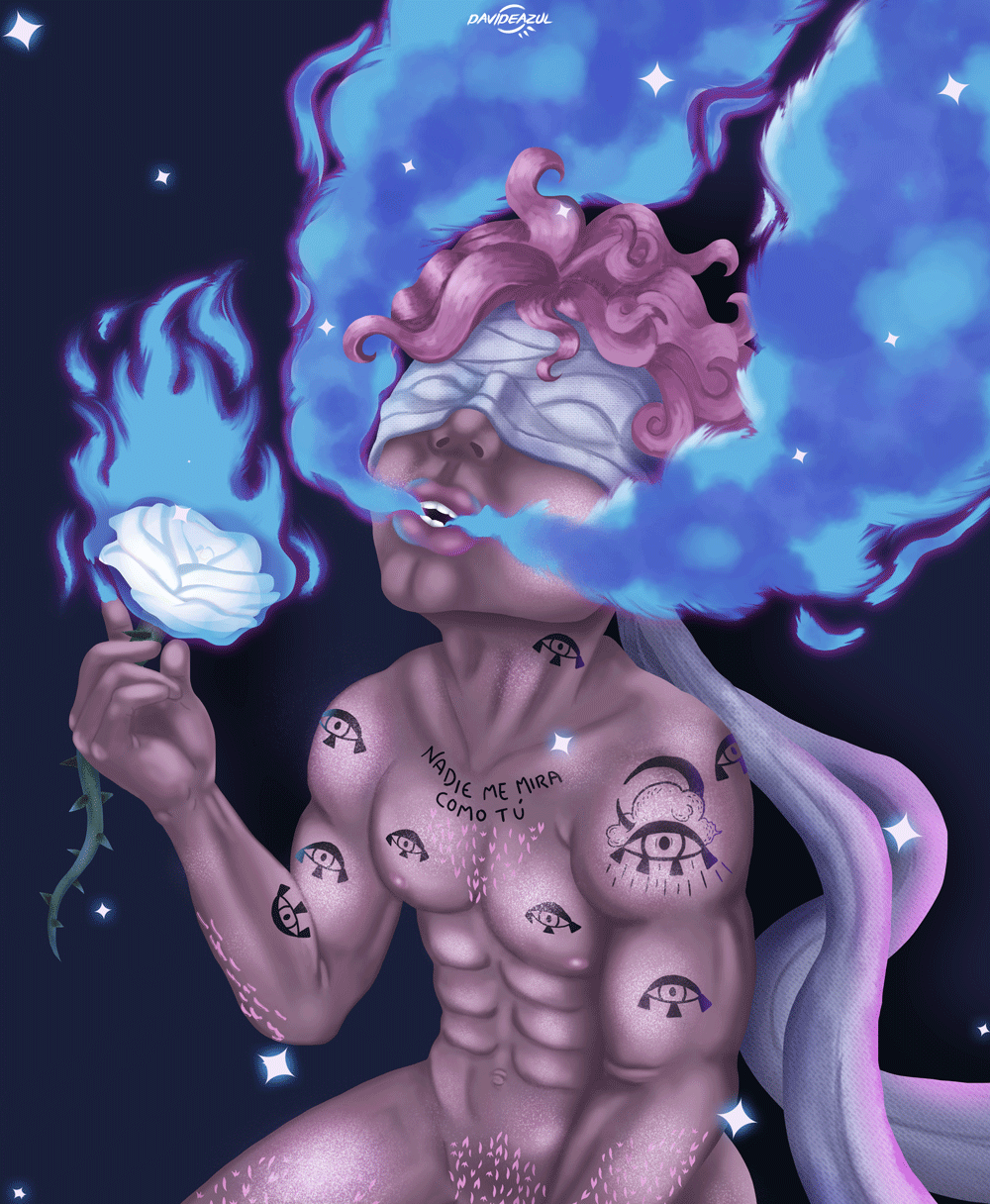 Este chico está enamorado de alguien a quien siempre se la pasa mirando. Cada vez que está cerca no deja de mirar a esa persona, está locamente obsesionado. Él sabe que esa persona también siente algo por él, ya que casi siempre sus miradas se encuentran y se dicen tantas cosas con los ojos que no hay palabras para describirla.
Curiosamente, no se atreven a dar el primer paso, pues sienten que la atracción que tienen los dos se disfruta aún más desde las miradas. A ambos les duele no verse, no sentirse con sus ojos, no imaginarse.

ILUSTRACIÓN TERMINADA!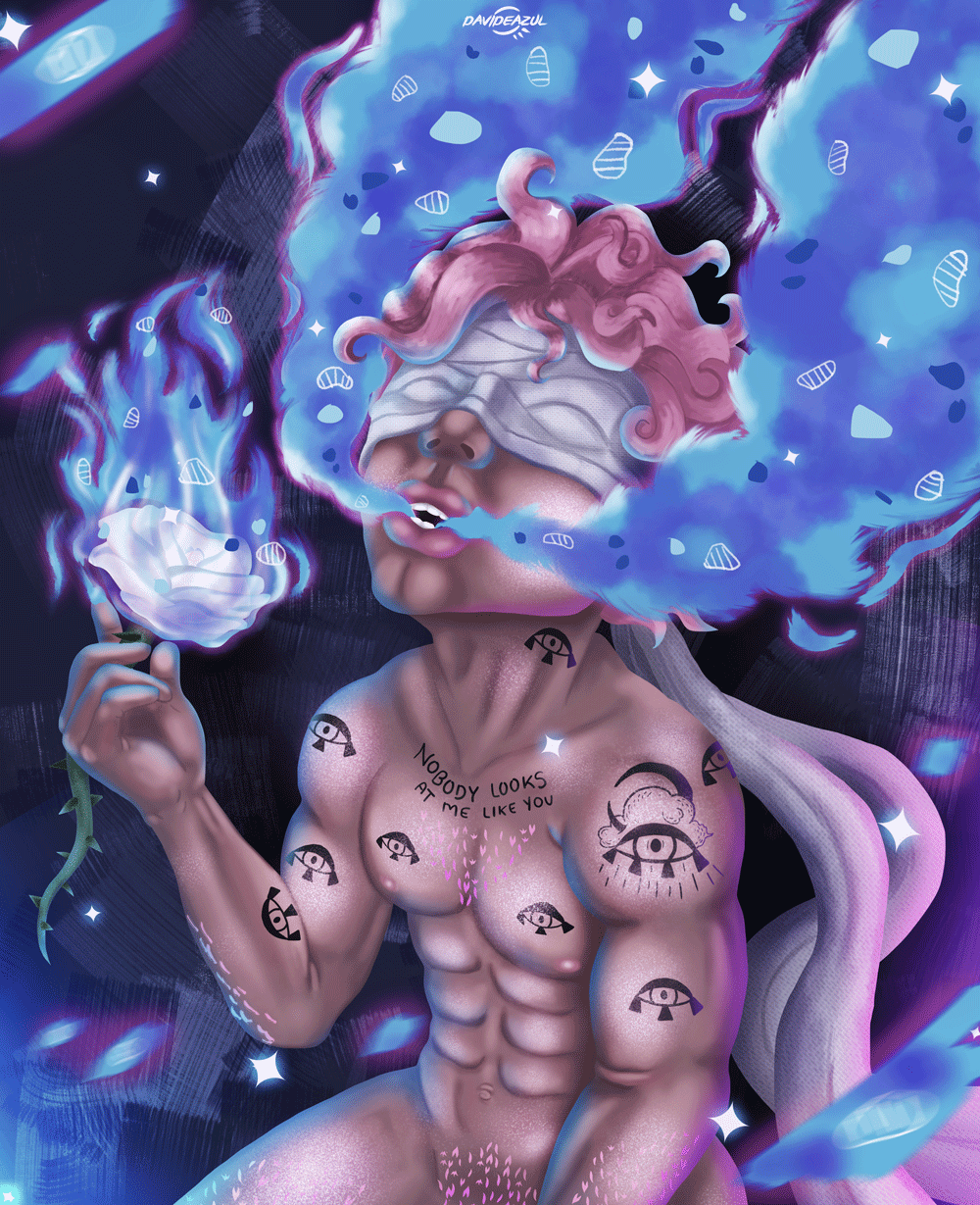 DURACIÓN: 14 horas
PROGRAMA: Photoshop ♥
Estoy muy contento con este trabajo. Más aún porque dentro de la paleta de colores predomina el azul, lo cual es mi color favorito y se encuentra en mi seudónimo (en español tiene sentido jeje). Agradezco a los de la comunidad GEMS por apoyar mis ilustraciones, ¡vendrán muchas más! ♥♥♥

Mis redes sociales:
QUE TENGAS UN BUEN DIA / TARDE / NOCHE. ¡NOS VEMOS EN LA PRÓXIMA ILUSTRACIÓN!