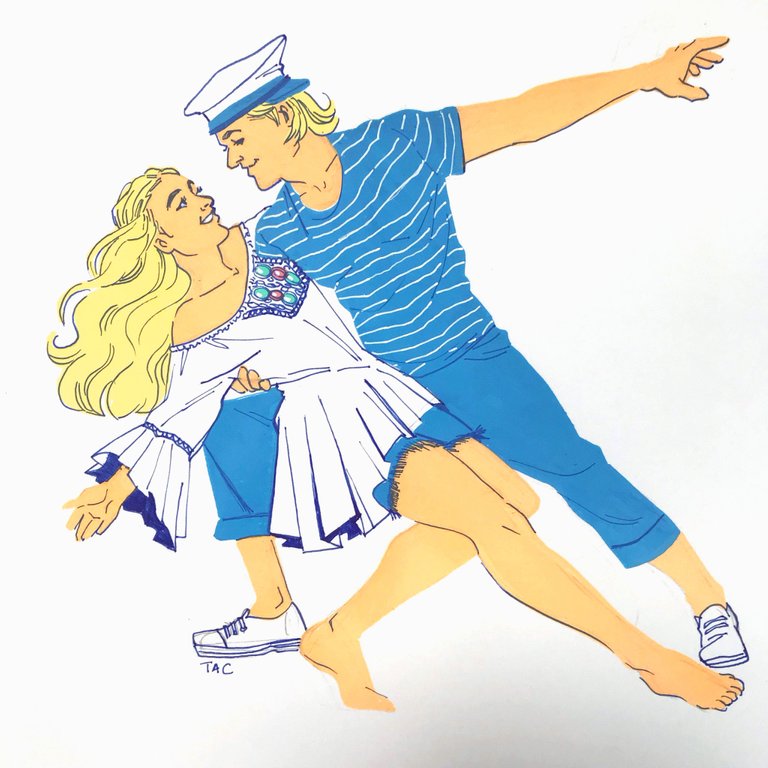 Happy Friday, everyone! Today's post is going to be short and sweet but I just wanted to share my latest posca pen doodle. Today's subject matter is young Donna and Bill from Mamma Mia 2 which just recently came out.
If anyone wants to discuss this movie, PLEASE, I encourage you to tell me your thoughts in the comments; I'm very curious to know what others thought.
Here's my hot take: right after seeing the movie I felt that it was fine. Was it necessary? No. Was the plot standing on thin ice? Yeah. Did they play fast and loose with the "mythology" of the first movie? For sure. But I still had a good time.
But, as what tends to happen with most musicals that I watch, I've been listening to the soundtrack nonstop and my opinions of the movie have skyrocketed because now all I can remember are the great bops I got to jam out to.
I've literally been listening to "Why Did It Have To Be Me" on repeat and it takes every ounce of restraint I have to not burst out into song and dance in public.
Also, can we all agree that young Bill was a dream-boat?? Why on earth did Donna *****Spoiler***** not end up with him? He stole my heart for sure, that smooth bastard.
Okay, that's all. You're dismissed. Hope everyone has a great weekend!

---
If you'd like to keep up with more of my work you can check me out at the following:
Instagram: @la.fumettista
Tumblr: http://la-fumettista.tumblr.com/tagged/art
Twitter: @TheresaChiechi
Website: https://www.theresachiechi.com/