~ 🌹 ~
"Being creative means to be in love with Life.
You can only be creative if you love life enough
to wish to increase its beauty,
only if you wish to bring a little more of Music,
a little more of Poetry,
a little more of Dancing."
~Osho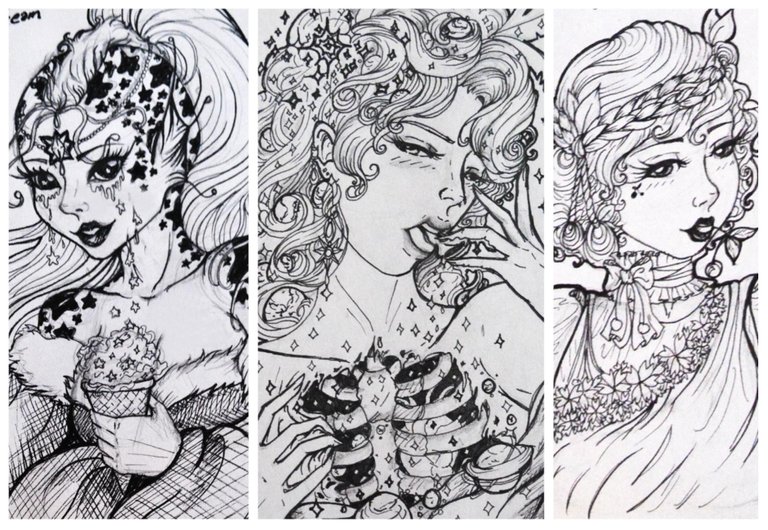 ~ 🌹 ~
🌸 Hi Hi once again, My Sweet Steemit Darlings, Have you missed me? 🌸
Cause I really have missed you all during this last month. In my last post (the Spanish version of this one) I said I was going to be more productive, but many things happened in the middle. I feel like a part of my life was not the same during those days, lacking the time to sit and write a post properly, even if all I have is a small percentage of days in the website. Steemit's Community and the feedback that I'm able to receive with every post are certainly wonderful, and now that I have opened a window of my heart to let my work fly and show them to all you, it feels a little weird to keep it closed for a while.
Why? Because of Health, actually. Since a couple of months I have been dancing a strange pace of feeling bad, then feeling good and then feeling terrible again it what comes to my arm due a median nerve compression and old lesions, and even if there was some kind of peaceful time, those last weeks have been somehow problematic whenever I wish to write, with an acute pain staying in my wrist and shoulder.
Fortunately, those last days I have been getting better and even if I still can't grab a pencil and draw tons of new material, I have the chance to present to you a little part of my original characters' collection that I created for a "3 Words OC Challenge" on my Instagram last year.
I really think that I managed to create some interesting characters, that I personally really adore. I hope to get the chance to draw them in more detailed and colorful illustrations!
~ 🌹 ~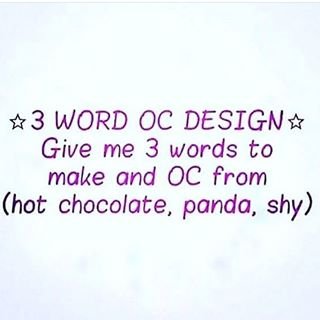 ♥ But, What is the 3 Word OC Challenge?
It is a very simple challenge where you post the image above on your social media, and then you wait for your followers/visits to give you three words that would be the bases to turn on all your imagination and create original characters. Long story short: Is just design and have fun in the process.
This is great for those who (as my pinky self xD) wish to step into the journey of Characters' 'Concept Art'. Sometimes, little hints can be far more inspirational than a extremely detailed explanation where you can find more limitations than creative freedom on what you can and what you can't include on the final art...
But, oh well! Before I start running in circles between paragraphs: Let me present you my new and beloved three OCs!

~ 🌹 ~

The Sweetest Natsuo_Cosplay said:




🍦🐸✨ Ice Cream, Frogs & Stars ✨🐸🍦
"And Esther, the Wish Maker, answered her Call!"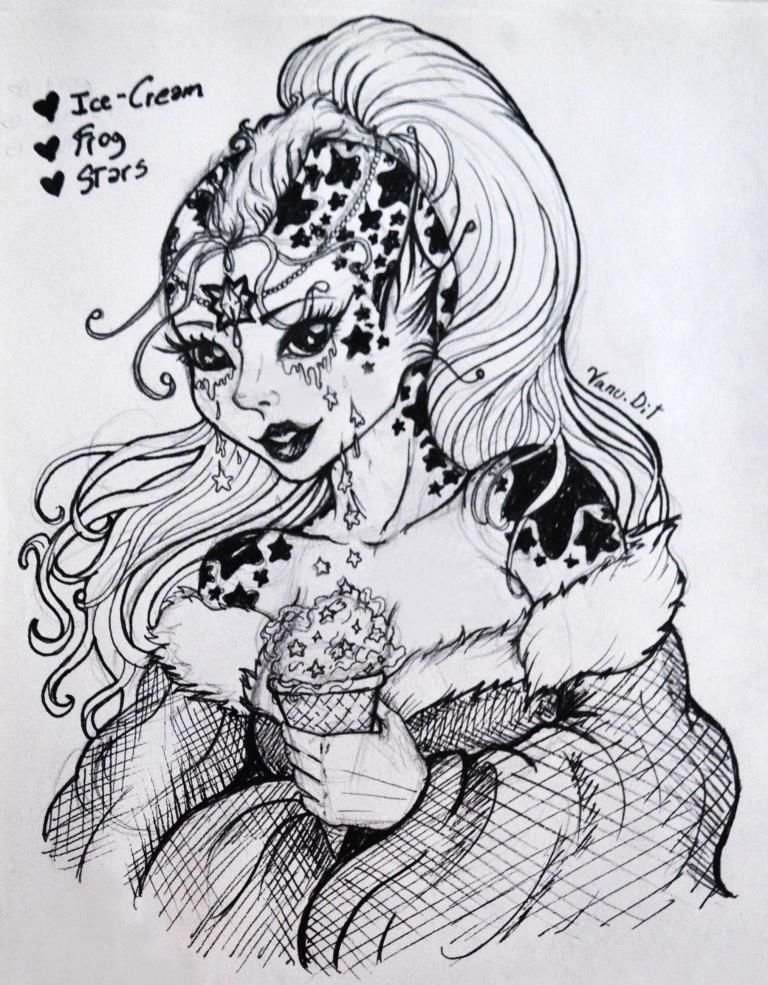 Esther is a Fairy who lives in the Darkest Lagoons. People fear her, calling her monster and cruel witch. Countless legends and rumors go around her… But little do they know, that in fact, she is a kind Nymph of the Rivers, whose tears of happiness can cure any illness and turn all your dreams into reality, no matter how difficult and distant they may seem...
...Of course, if you are willing to spice your food with her tears...
Careful, little pumpkin dear, some of her tears may be Poisonous as well.
How much are you willing to pay to see any of your Wishes come True?
~ 🌹 ~
The incredibly talented Vero Jezzi said:
🍒❤🌸 Cherries, Marionette and Braids 🌸❤🍒
"And Cheri, The Cherry-Wood Doll is ready for her Performance!"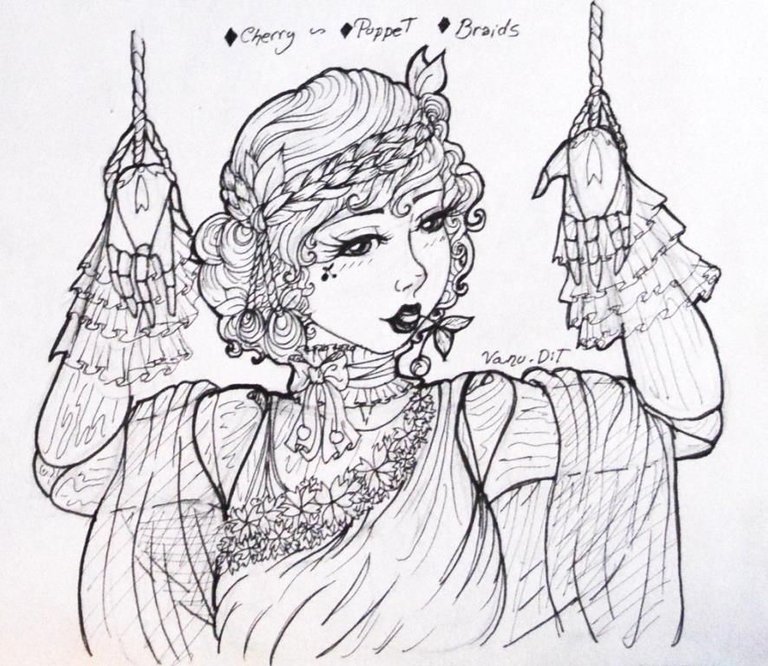 Her name is Cheri, a sweet and kind marionette made by a very old Magician. Her only wish is to entertain and provide a brief but beautiful dream to any sad and lost heart who may watch her performances. Cheri is part of a Circus Crew, full of artists, magic and unique Creatures, where Fantasy holds Reality's hand, and the line that divides both realms becomes blurry.
She may be made of Cherry tree Wood, but her heart feels and is as real as any human heart would be!
Don't be late, dear sweetheart, the Performance is about to Start!
~ 🌹 ~
Finally, the always creative Marie Carruyo said:
🌀❤🌠 Galaxy, Allure and Tangles 🌠❤🌀
"And Nova, the Chaos Muse, has awaken from her Slumber!"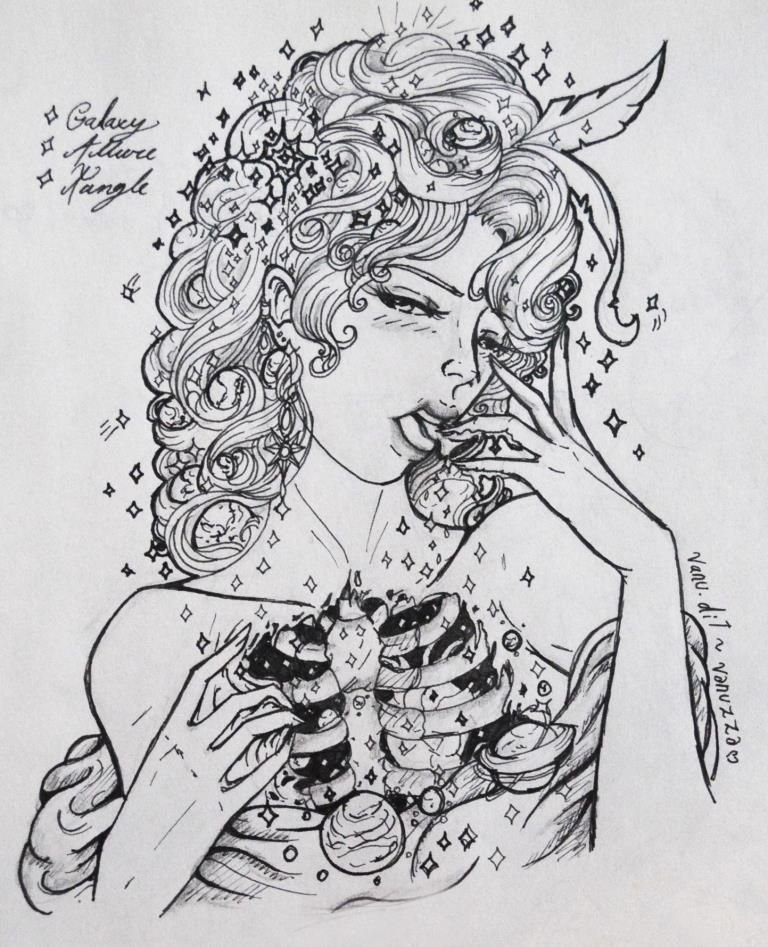 Chaos is both Start and End, the Void on every Soul. Nova is an ethereal entity of constant self-destruction, only to delight herself on the pleasure provided by watching how many stars and new planets will be born from her own darkness. Glistens when the Stars die and explode, smiles when the light comes back slowly, and everything is blown with new life, dancing and rebirthing.
Crowned by Stars, she always lets herself too open for others to see.
Dust to Dust, Ashes to Ashes...
...She is the Glowing Goddess of the Most Beautiful Pain:
Life.
~ 🌹 ~
Oh dear, this was certainly a small travel to the past for me. Those Drawings were done almost a year ago! I haven't noticed how much time has passed since then, and opening the sketchbook where I drew them, opened a window to the memories at the same time. I realize that many wishes, goals and plans that I had during that time… weren't possible to accomplish (mainly due health issues).
It also brings a lot of nostalgia and curiosity to me, asking myself how the last year would have been if all my plans would had happened. Would I be on Steemit? Would I be only dancing on my own drawing accounts and usual social media? Would I eat even more chocolate…? Ok, that question isn't related to the topic, but is still a very important question!

Adorable Gif of Cosmog and Rowlet, made by Chasekip
However, I must be honest that, despite all the situations that happened, good and bad alike, I wouldn't change the fact I'm thankful for them. Each one of them allow me to pay attention and notice things that otherwise I wouldn't have been able to see, and that even if I did, with how stubborn I can be, I'm sure I wouldn't do anything. Besides, I'm pretty much sure the moment my beloved waifu @Tesmoforia talked to me about Steemit came at the right moment for me to pay complete attention to this place and fully take this opportunity to create and share.
I'm dying to finish and share so much more pieces with you all when I feel better!
But for now, my dearest, I hope you liked those three original characters. I would adore to practice with this challenge once again So, if you have any three words in mind that you would like to share to me as inspiration to create new characters, please don't hesitate to write them down on the comments!
Thank you so much for staying here with me tonight!
🌸 Read You Soon! 💖🌸

🌻🦋🌻
🌸☕

☕🌸
🌻🦋🌻
Credits:
♥ Illustrations by: @Vanuzza
♥ Pokemon Gif by: Chasekip