🍓
She's a curious girl, a wanderer,
who spends her summers chasing fluttering pieces of prose,
and eating strawberries.
~Michael Faudet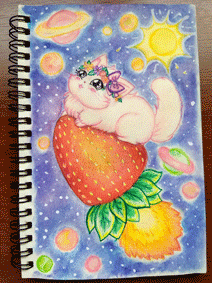 • • • ✨Happy and Cosmic Day, my Dear Stars! (≧▽≦)/✨* • • •
Beyond this little and gentle planet...
Greeting the Moon, running through galaxies...
A little super-fluffy kitten has covered her fur with stardust while traveling through Creativity, Imagination and Strawberryness. With cute eyes full of Wonder, flying on a Stawberry Rocket, she marvels herself with the Universe surrounding her. Filled with Sweetness, she visits every galaxy, leaving cute paw prints of love and contagious pinkie happiness for everyone who meets her.
✨She's the Fresi-Mau @Tesmoforia!✨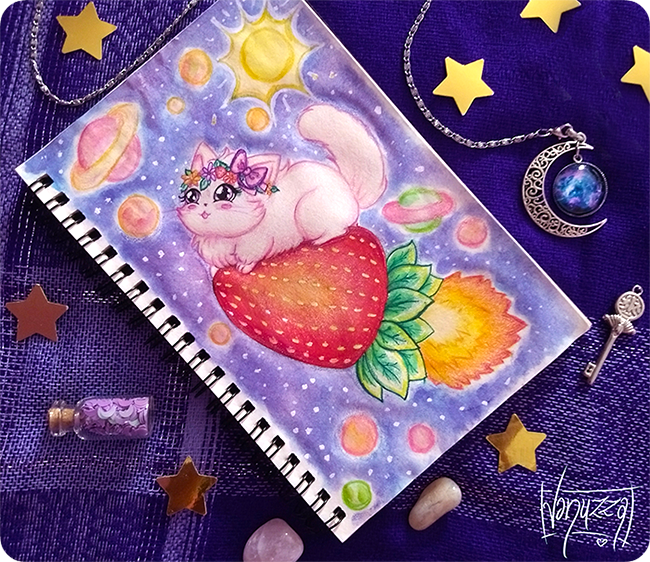 My favorite person, my best friend, my Waifu!
And I can absolutely affirm that I wouldn't be the same person without my beloved Strawberry @Tesmoforia and all her pinkie existence full of skills and gorgeous qualities. Always placing a smile on my face, she's present in the good, the bad and the worse, without ever stopping encouraging me –a.k.a.: pushing me from my nest of lazy cat – whenever I decide to accomplish a new project.
That's why I want to share with you all this Gif I made for her during the last weeks, beside it being one of my favorite illustrations in what regards to Traditional Drawings: The exact image of her Fluffy Spirit: A Space Fresi(Strawberry) Mau!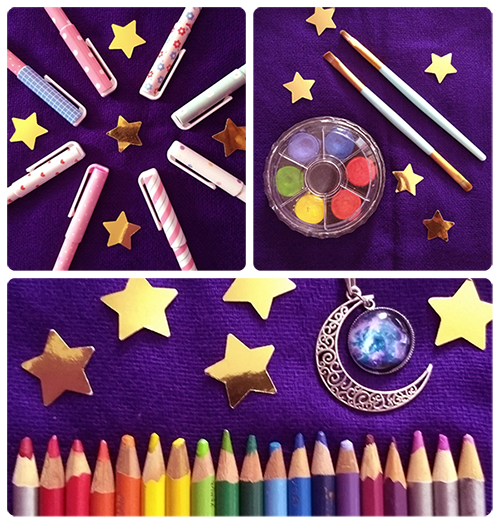 For this Mixed Technique Occasion, my helpers were Crayons, Glitter Pens, Black Ink, HB Pencil and Watercolors. Once again, I didn't want to place too many restrictions to my creativity process selecting one single exclusive technique for work. As I have been working on Illustration after Illustration, I have noticed how my creativity works better if I just bring every single traditional tool over the table and I select what I will use at every step of the process.
Maybe it isn't the most organized process but it works surprisingly amazing in my case when I think as a child who just wishes to color one of her drawings. It's funnier and fills my pieces with a lot more of love!
Traditional Drawing has never been my best skill (to be honest, I always feel like a true coward before starting), and I owe a lot to my Beloved Strawberry since she's always there to tell me everything will be awesome if I try something new, helping me to understand myself better through my art: Let's follow her example and try new things, the Universe is huge and vast to not enjoy all the stars on it!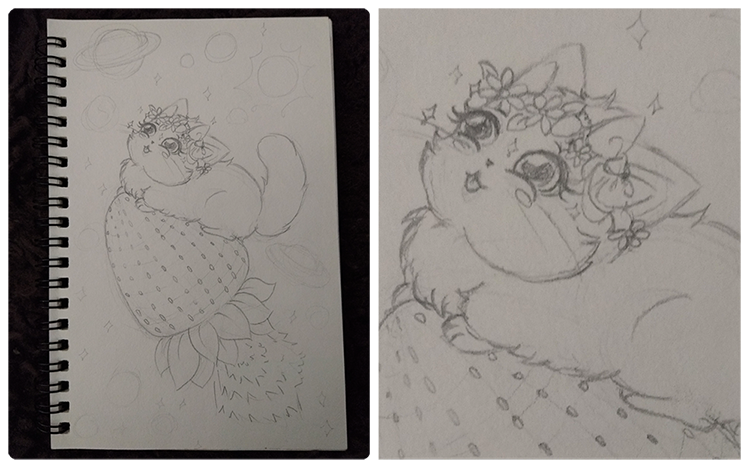 • The First Sketch of my Precious Bae, Strawberrish Realism indeed 🍓 •
There's not a secret for anybody that Cats reign over the Internet in more than one sense, and at the top of the Meow-Pyramid,
Pusheen the Cat
is the Queen in all her round and fluffy existence; and since we know about this sweet gray kitten, she has representing a lot of cute and special things for both of us. Jokes, happy memories, constant references, games, etc… that we have filled with love-filled paw prints to the point we consider our cosmic spirits as a pair of very fatty kittens:
🍓 We're the Fresi Mau and the Mau Flowey. 🌸
I hope to draw the Mau Flowey on the next occasion, as well and funny moments between those two cute OCs inspired by ourselves, but for now: The protagonist of this pusheenish post is the Fresi Mau, having fun and visiting al the new places over her Strawberry Rocket!
I wanted to represent in this Sketch, done with HB pencil, the wonder and happiness that surrounds my beloved one as she explores new opportunities, always with good heart and cheers. Steemit, Cosplay, Crafting, every space she's travelling to, there's no doubt she'll fine her place where to arrive and fill her fluffiness with tons of new colors, creating even her very own ones.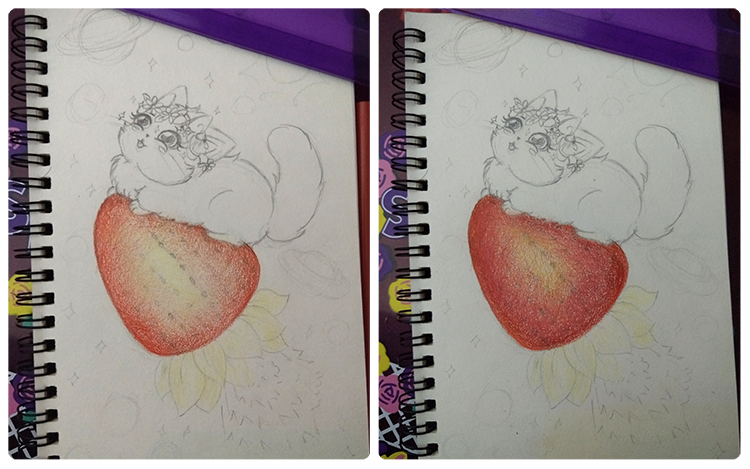 Coming back with the creative process, I decided to follow my instincts and start by using yellow watercolor over the strawberry's body and leaves, but when it comes to Red, I adventured myself with crayons, taking my own time while placing them to get the color I was looking for, one that would look the most delicious and cute possible. I don't know you, but those colors give me some hunger XD.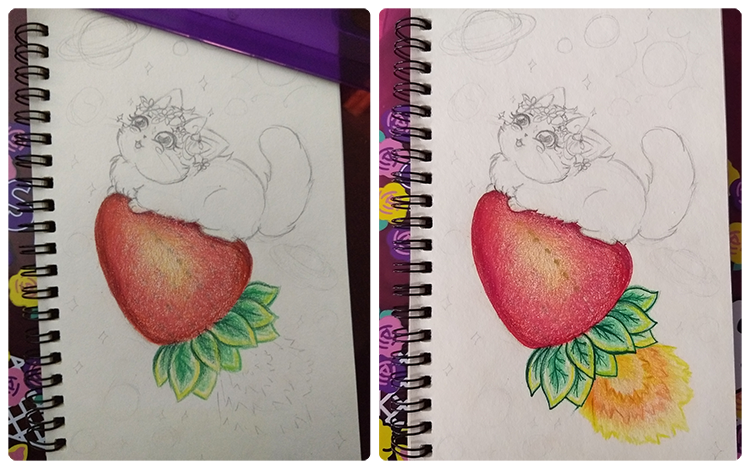 The leaves were one of my favorite parts where I could add the Green Glitter Pen. I love using those pens since it's very relaxing to do so, and they never give me any trouble. But, do you know what was a bit troublesome for me? Painting the Rocket's fire when I had never painted fire, not even cartoonish fire! In my mind, I was running in circles, totally afraid that it wouldn't look pretty in the slightest…
However, I was really happy to see it was looking well in this cartoon style as I was advancing with the drawing ♥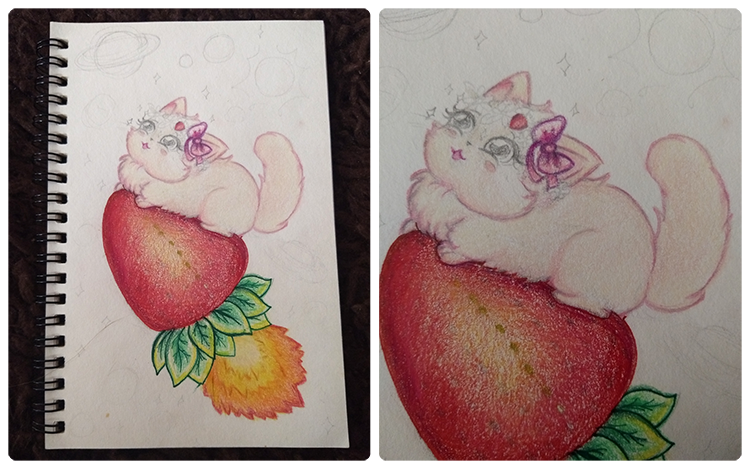 And so, what color shall it be the sweetest and gentlest soul in the whole universe? Pink of course! I was using a soft cream hue and later pinkish hue for all this girly and loveable fluffiness. The Fresi Mau has pink fur which stands out among all the other kittens within all the galaxies! She's unique on her kind, with her intense and sincere Strawberryness making mega pinkie!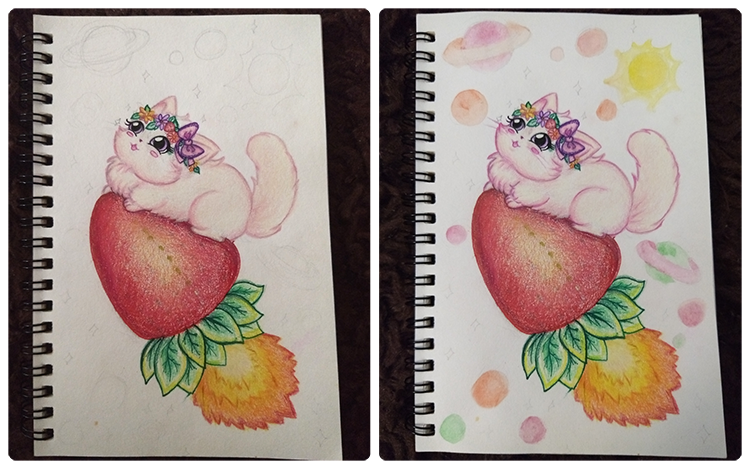 Again, the Crayons and Glitter Pens appeared for the flower Crown of the Space Fresi Mau, a little touch that was a gift from the Mau Flowey for her precious head full of incredible imagination.
Besides, I loved painting the Fresi Mau's eyes, loving how those would stand out as they do, before starting to having fun with the watercolors once again, painting contrasting colors for all the celestial bodies before starting with…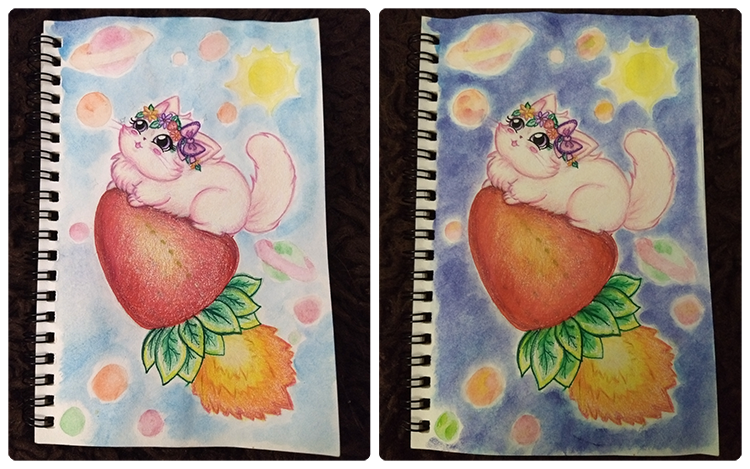 … The Universe, what gives life to all those planets and infinite possibilities >//7//<!
Finally, I added some purple touches over the blue hues, filling with White Ink Stars, using Golden Pens for the tiny seeds of the strawberry's body and…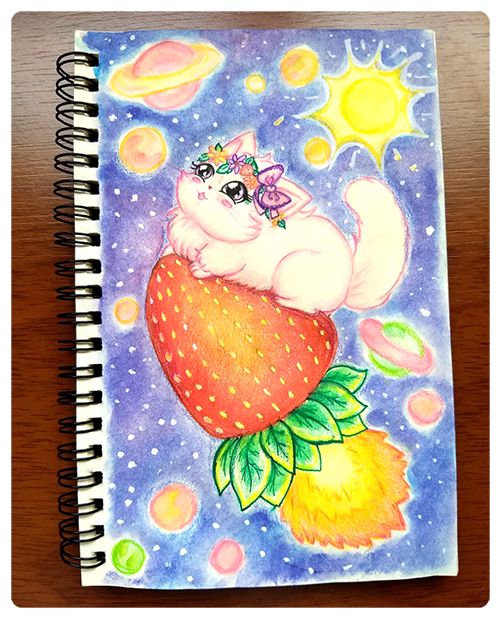 • • The Space Fresi Mau is ready for Traveling across the Universe, in order to conquest all the planets with her Creativity, Art, Strawberryness and Fluffy Magic! • •

This Illustration-Gift was made with all my love for my precious Waifu, commemorating all her creativity and the particular way she has to fill everything with her own brightness as the most beautiful and glowing star. Her radiant personality, her constant originality, and how faithful she is to herself are things that I have always loved about her.
My Art would not be the same without her. Her support and encouragement to improve myself more and more, urging me to try other tools such as crayons and watercolors, making me fall in love once again with the whole process of creating step by step and losing the fear of drawing in Traditional anything that isn't with just Ink... She has always helped me to know myself more as an artist and as a person. I am more than sure that nothing in my life would be the same without all the years we have shared together.
Thank you for always being with me, Precious Strawberry! Thank you for always been yourself and never lacking one single drop of your sweetness, happiness, love, encouragement, honesty; marvel with all things in life, and for placing colors and shine to every place you go!
Be always the Treasurable Fresi Mau you are, My Dearest @Tesmoforia!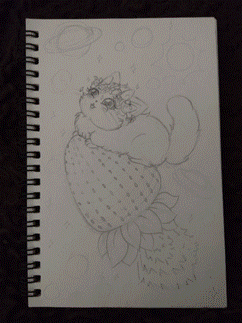 And to you all, my beautiful readers... Thank you so much for making me company once again in one of my Creative Processes! I hope to bring more drawings and things very soon (*≧▽≦)/
🌸 Read You Soon! 💖🌸

🌻🦋🌻
Credits:
♥ Text, Separators, Drawing and Photos: @Vanuzza
♥ Gifs: Giphy.com
🌻🦋🌻
• • • 🌸 All Rights Reserved • ♥ V A N U Z Z A ♥ 2018 🌸 • • •