This is another picture my son took in Dorset, England, in 2007. I transformed it into another fantasy piece with a CC0 cosmos picture.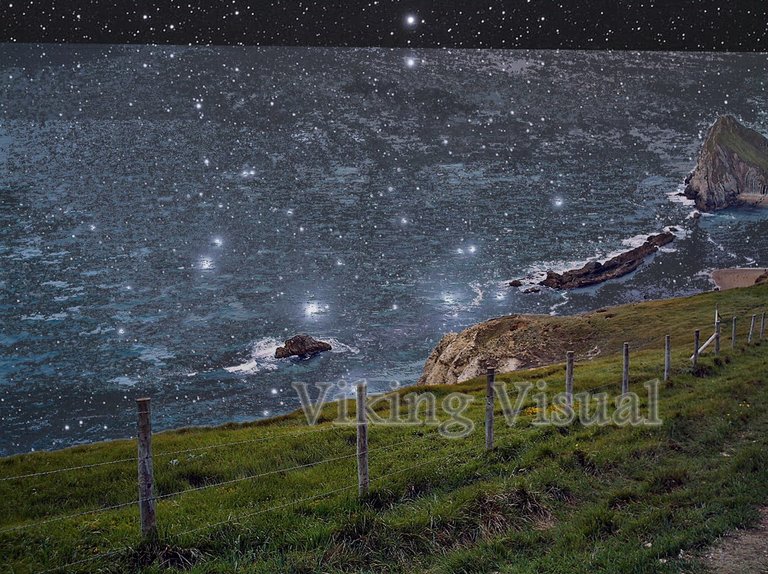 This piece, I'm using four layers.
The background is a CC0 cosmos picture from Piqsels, I think.
The next one is the cosmos picture duplicated and flipped vertically, so that it makes a mirror to the first, the axis is on the horizon.
The next layer had the most done to it. I added an alpha channel, then deleted the sky and most of the sea so that I have just a little texture to the water and a nice firm foreground. I also added a couple layers of dark bucket fill to the foreground to take it from broad daylight to a very bright night. (It didn't feel right to take it any darker.)
The top layer was the orignal photo (minus the sky) at 20% opacity so that the cosmos background came through the water very well.
I love how this one turned out.
The completed picture is available at RedBubble , TeePublic , and DeviantArt.
---
Image shot by my son Ian.
All editing work done by myself on: Gimp and/or Photoscape.
---
Previous works of fantasy
Destruction Island Night Magic, Birds Over Sunset Waves , Starry Happy Little Rock , Winter Baker
---

Lori Svensen
author/designer at A'mara Books
photographer/graphic artist for Viking Visual
(Buy my work at RedBubble)
verified author on Goodreads
find me on Twitter

---