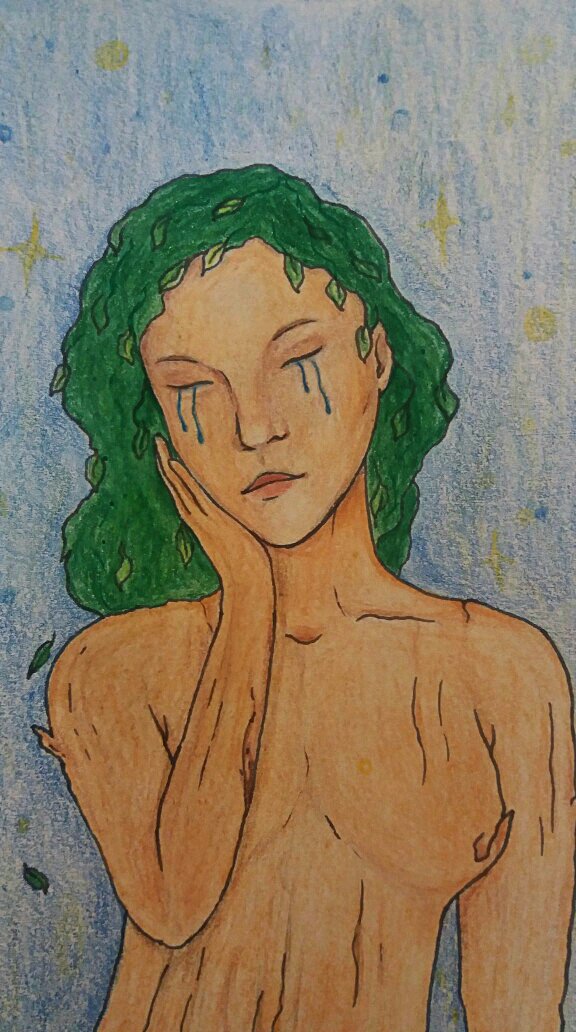 🌿🌿🌿

She's our mother nature, I based the design on Gea, or Mother Earth, was the great goddess of the ancient Greeks. She represented the Earth and was worshiped as the universal mother.
I made her gorgeous because that's how I percibe nature.
She's crying because I thought in all the situation that is happening at this moment with all the contamination, the extintion, deforestation and all the cruel things that we humans do to our home and to us ourselves.
We need to stop sacrificing our environment just to continue with banal luxuries.
"Only after the last tree is cut, only after the last river has been poisoned, only after the last fish has been caught, only then do we realize that we can not eat the money"
— Cree Indians
It's so sad to know that a species like the polar bear is already on the verge of extinction, we should take care of those things because we are the cause of all those things. Many people think that their help will not mean anything.
"Sometimes we feel that what we do is just a drop in the sea, but the sea would be less if it lacked that drop"
—Mother Teresa of Calcutta
So get up and work on it!!!, our resurrection will not be done alone.
Ella es nuestra madre naturaleza, basé el diseño en Gea o Madre Tierra, fue la gran diosa de los antiguos griegos. Ella representó a la Tierra y fue adorada como la madre universal.
La hice hermosa porque así es como percibo la naturaleza.
Ella está llorando porque pensé en toda la situación que está sucediendo en este momento con toda la contaminación, la extinción, la deforestación y todas las cosas crueles que los humanos hacemos en nuestro hogar y en nosotros mismos.
Necesitamos dejar de sacrificar nuestro medio ambiente solo para continuar con los lujos banales.
"Solo después de que se corte el último árbol, solo después de que el último río haya sido envenenado, solo después de que se haya capturado el último pez, solo entonces nos damos cuenta de que no podemos comer el dinero"
—los indios Cree
Es muy triste saber que una especie como el oso polar ya está al borde de la extinción, debemos cuidar esas cosas porque somos la causa de todas esas cosas.
Mucha gente piensa que su ayuda no significará nada "A veces sentimos que lo que hacemos es solo una gota en el mar, pero el mar sería menos si careciera de esa gota"
—Madre Teresa de Calcuta
Así que levántate y trabaja en ello, nuestra resurrección no se hará sola.
STEPS / PASOS
It all started with a simple sketch with a pencil, I drew a circle for the head and I used a cross for the characteristics of the face.
Then use lines to define the length of the body and its extremities.
It is not very clear in the drawing because of the clarity with which I made the sketch, it is recommended, since the sketch is deleted when it has the final line or the ink.
Todo comenzó con un simple boceto con un lápiz, dibujé un círculo para la cabeza y usé una cruz para las características de la cara.
Luego usa líneas para definir la longitud del cuerpo y sus extremidades.
No está muy claro en el dibujo debido a la claridad con la que hice el boceto, se recomienda, ya que el boceto se elimina cuando tiene la línea final o la tinta.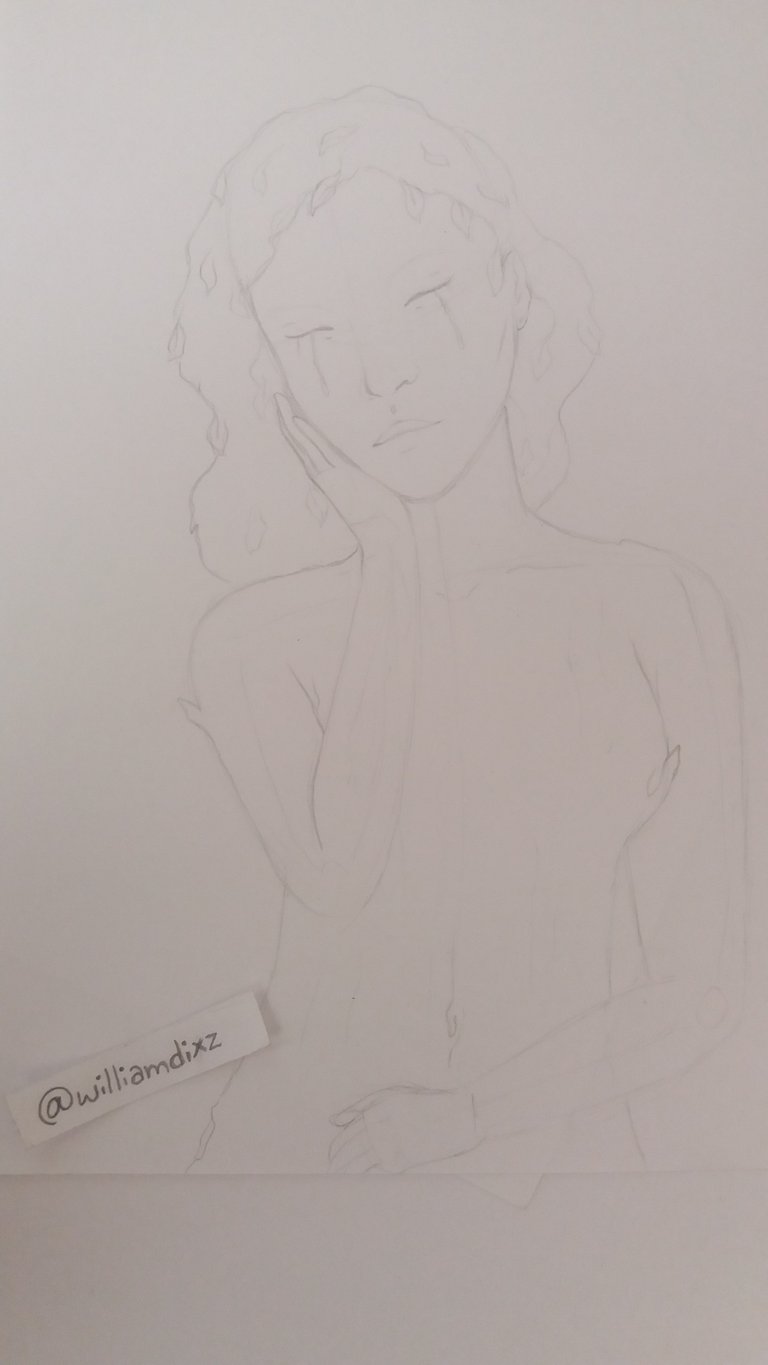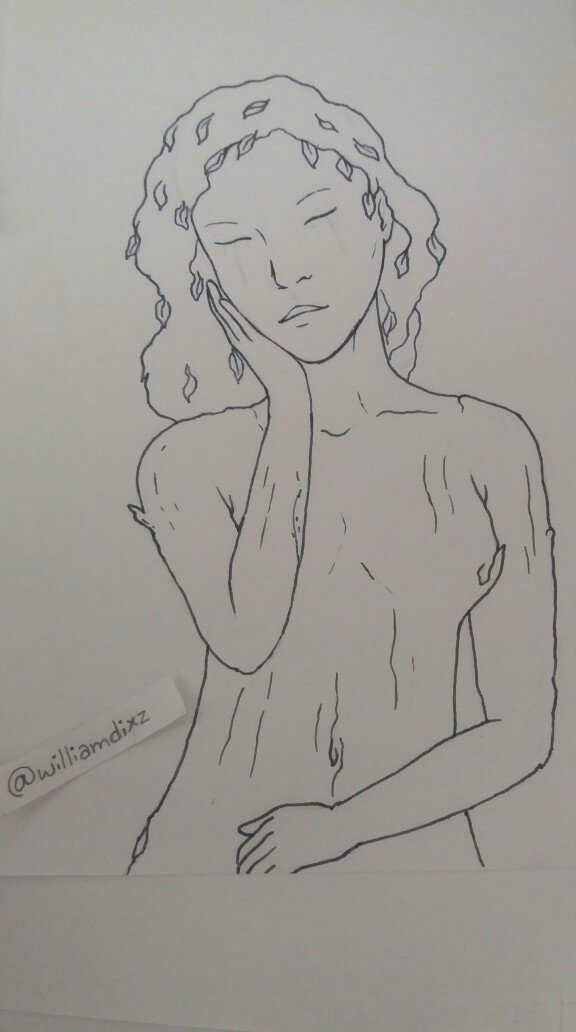 As I said, then the line of work comes and I started to outline the whole woman. To do this, you just have to have a good pulse and if you do not have it you need to practice and work on that.
Como dije, luego viene la línea de trabajo y comencé a delinear a toda la mujer. Para hacer esto, solo tienes que tener un buen pulso y si no tienes que practicar y trabajar en eso.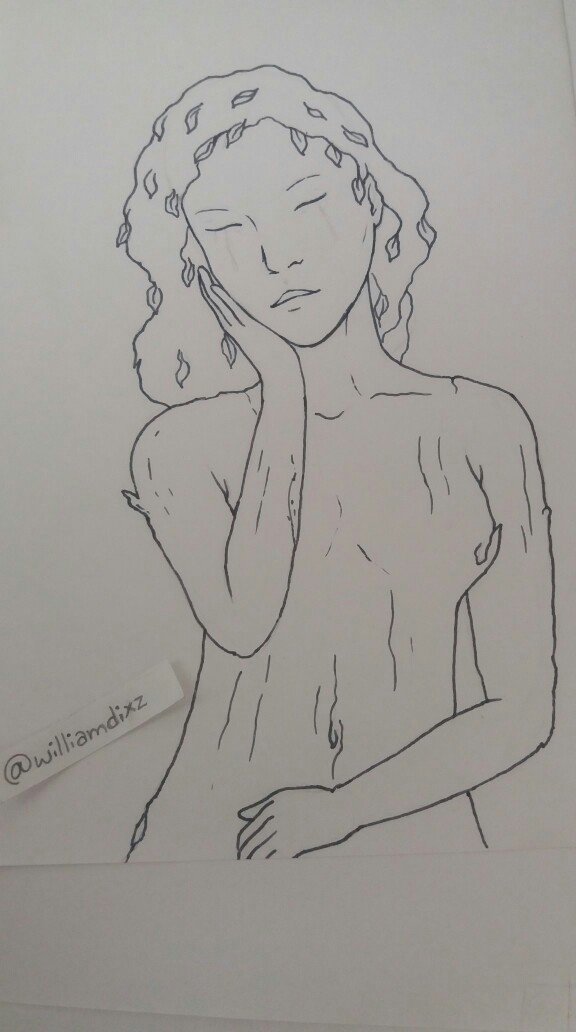 And finally I added all the color.
First color the goddess, as you can see, the mature skin on a trunk and her hair on the crown of the tree. She is like an oak.
Y por último he añadido todo el color.
Primero colorea a la diosa, como puedes ver, la piel madura de un tronco y su cabello en la copa del árbol. Ella es como un roble.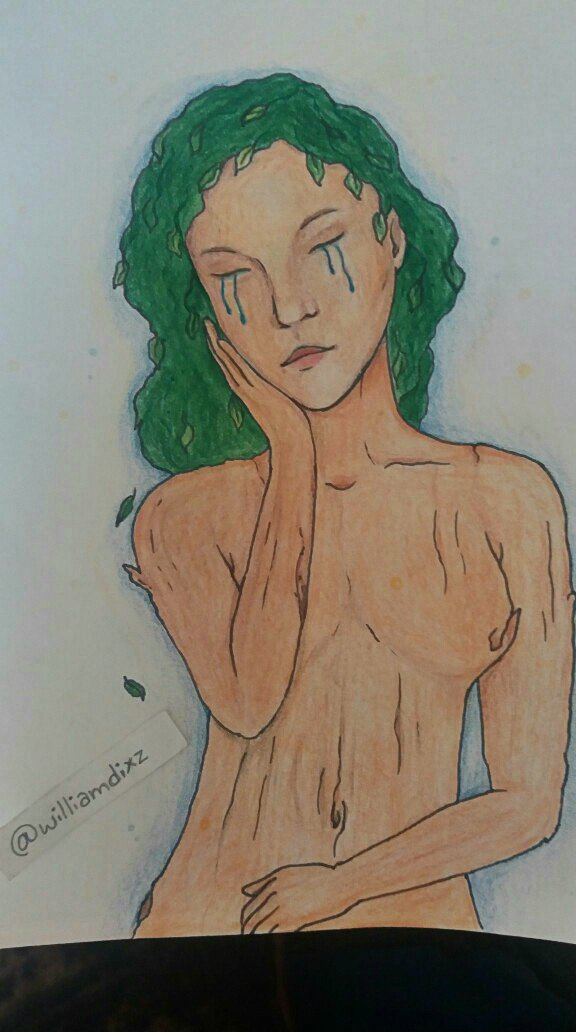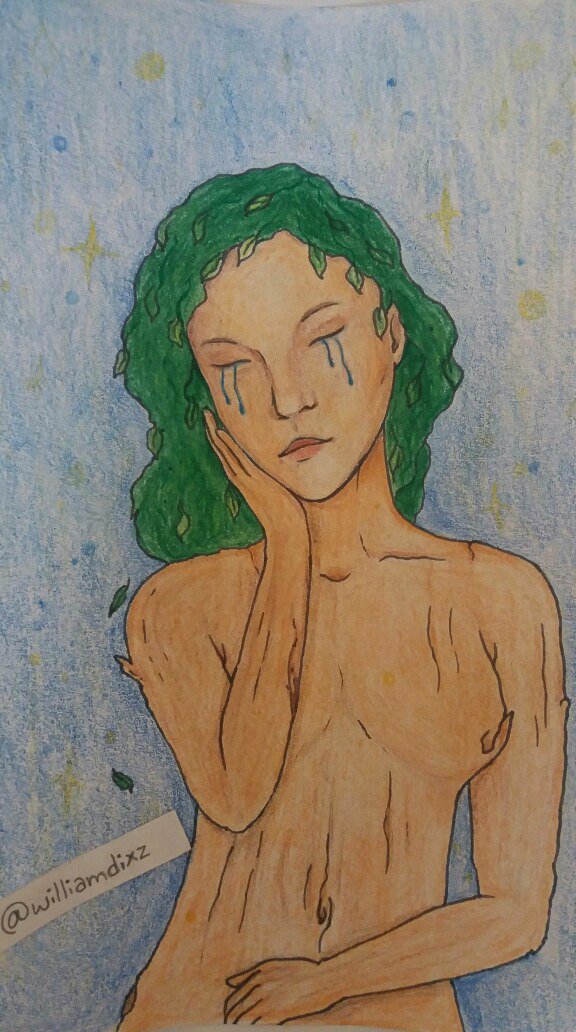 To finish the drawing I only colored the background, I made it like a starry sky, I wanted a similarity with the painting The starry night by Vincent van Gogh. Its blue and had some yellow like in the stars and the shine, it is to add some nostalgic to the drawing.
It ended it up looking like this.
Para terminar el dibujo solo coloreé el fondo, lo hice como un cielo estrellado, quería una similitud con el cuadro La noche estrellada de Vincent van Gogh. Es azul y tenía algo de amarillo como en las estrellas y el brillo, es para agregar algo de nostalgia al dibujo.
Termino luciendo así.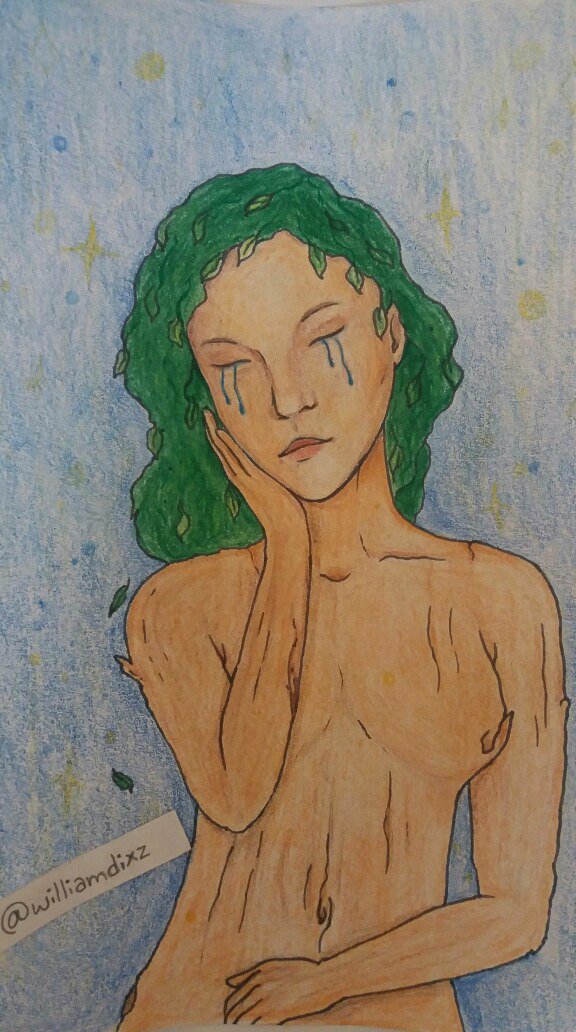 I hope you enjoyed it and thanks for all the support.
Consider to follow our trail on steemauto We thanks all the support.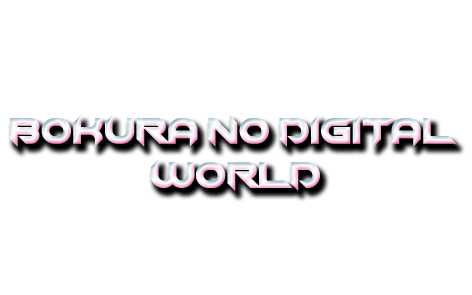 To all of you artists out here at Steemit! If you ever are lost please join Bokura No Digital World at our discord chat