Koh Samui is a beautiful Paradise Island off the eastern coast of Thailand where I spent 18 years of my life. It is a beautiful place straight out of Folklore as the Paradise "desert" island, but with all mod cons and even 5 Star hotels now. many tourists and backpackers still go there and there is a thriving Ibiza like community there too. Of course when I went there in 1989 as a resident, it was very basic. No electricity, no made up roads, and no Boutique Airport. The locals were very friendly. This was the era this song was written in, and the Utopian ideal we sought.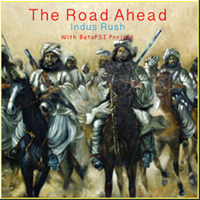 A song written by my 'ole Big Buddha Blues Band buddy, Barrie Manso, a long time friend, musician and blues writer. We used to do this song on Samui, and there's a vid knocking about somewhere on YouTube of us doing it with the Band at rehearsal at the Beatles Bar in Bophut, Fishermans Village, Koh Samui. I thought I'd re-record this Live version from a session we did at Secret Garden, also on Samui. I enhanced the drums and the keyboards a bit and sang it myself as it was going on my album, The Road Ahead. I think it worked out quite well in the end, considering....
LYRICS
Goin' Down to Koh Samui
I'm Goin' Down to Koh Samui
I'm gonna get myself a place down on the beach,
An' if you wanna call me,
I may be just a little hard to reach,
You can try to send an email, you can try to telephone,
If you think I'm coming back,
Listen to this song
Goin' Down to Koh Samui,
That's where I'm gonna be.
Ain't no more drivin' on the freeway,
No more sittin' in the office all day long.
No more talkin' to the tax man,
Or hearing preachers preachin' right and wrong.
And when you think about me you know I'm having fun,
I'll be chillin' on the beach,
I'll be sitting in the sun,
Goin' Down to Koh Samui,
That's where I'm gonna be.
I'm Goin' Down to Koh Samui,
I'm gonna join up in a rock n' blues band.
Gonna play the Secret Garden,
Every Sunday if I can.
Eat papaya salad gonna have myself a beer,
An' when i'm long forgotten
I'll still be sittin' here
Way Down to Koh Samui,
That's where I'm gonna be.
---
FOLLOW Indus Rush:
---
More about Indus Rush:
About Indus Rush…, aka Stephen Whitby. That's the artist name I use as the vehicle to release my music to the wider world. After Years of travelling, firstly as a child, and then throughout my adult life, I now reflect upon some of the stories, relationships, experiences and journeys I went through, and put them into the catchy songs I create in my Dalbeattie Studio in South West Scotland, under the name of Indus Rush. I especially like to write about places I've been to and incidentally, the very name "Indus Rush" actually comes from one of those places, Attock, in the Punjab, Pakistan, where the Indus river rushes past carrying the snows of the Himalayas down to the Indian ocean, past the old Fort.
As a child I listened to the great Bands and producers of the 60's, 70's and 80's including Brian Wilson and George Martin and the Beatles, and had many other favourites such as the Kinks, the Small Faces, Gong, Caravan, Kayak and Klaatu. Most of the music I loved bordered on rock and pop, reggae and symphonic. Most of these genres are present in Indus Rush tunes.
I am a Londoner by birth, but after 10 years in the Netherlands, 20 in Thailand, and having lived 3 years in Pakistan as a child, I speak more of an international English now, as well as Dutch, French and Thai. I'm heavily influenced by a World culture, which is plainly audible in my music. I sometimes consider myself as the dreamer in Lennons' "Imagine" – no religion, no countries or borders, I wish they didn't exist, but I'm not naive enough to overlook human nature's quest for belonging, for nationalism, greed and of course man's power hungry behaviour. You can sometimes hear this in some of the more gritty lyrics in my songs, "The Love Ambassadors" for example.
Whist in Thailand I managed and ran the famous Secret Garden Sunday music session, and as a direct result of that I had the opportunity to play with many pro musicians. Amongst others I played with many exciting musicians including Adrian Fisher (GB), Sparks guitarist famous for the lick in "This Town Ain't Big Enough…, Hans Vermeulen (NL) of Sandy Coast and The Rest, and producer of Stars on 45, Jaap de Jonckheere (NL) of Urban Heroes, G Carlsberg (NL) of Herman Broods Wild Romance, Matt Kelly (USA) of The Grateful Dead, Kingfish & New Riders of the Purple Sage, Wolfgang Rohde (D) of Die Toten Hosen, Ian Fisher (USA) of The Cowboys and John 'Sparko' Sparks (GB) of Dr Feelgood.
I now share my time between Scotland, Thailand and the Netherlands, but produce my music wherever i happen to be when the inspiration hits me.