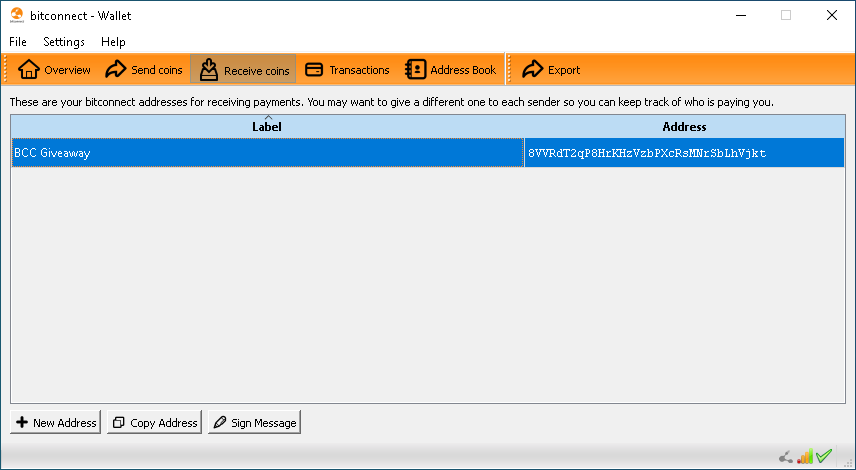 #₿-bcc-giveaway | https://discord.gg/JxMNabw
Mmm, no no no!!! bitconnect Community BCC Giveaway!
BCC BlockChain: https://chainz.cryptoid.info/bcc
BCC GitHub: https://github.com/bitconnectCoin/bitconnectCoin
Requirements
New Members
Existing Members
4 Ways To Sync BlockChain
Support
GiveAway Dates
Requirements:
To participate you must have a computer that runs Windows, Linux or MacOS and be willing to run the full-node, from the bitconnectCoin BCC GitHub.
To acquire the full-node GUI wallet, please navigate to #🏄-bcc-onboard and select the OS and BCC wallet brand you want to use. links are within this post too.
You must also post a picture of your address, (as shown within in the accompanying image of this post), of your address within your wallet, to verify you're participating in the blockchain network). Otherwise Your Win Is Re-Rolled!!!
You must select the emoji to be in it to win it 🎉
There are also optional tools created from this Discord to help sync BCC blockchain, via bitconnectCore GitHub tools.
New Members
To Do:
Verify As Human On Discord With Phone.
Select Your OS & bitconnect Brand User Interface Preference.
Windows Wallet Direct Download https://github.com/bitconnectcoin/bitconnectcoin/blob/master/setup/bitconnect-window-wallet/bitconnect-qt.zip?raw=true | https://github.com/bitconnectcoin/bitconnectcoin/blob/master/setup/bitconnect-window-wallet/bitconnect-window.zip?raw=true
Linux Wallet Direct Download https://github.com/bitconnectcoin/bitconnectcoin/blob/master/setup/bitconnect-linux-wallet/bitconnect-linux-qt.zip?raw=true | https://github.com/bitconnectcoin/bitconnectcoin/blob/master/setup/bitconnect-linux-wallet/Bitconnect-Ubuntu16-64bit.tar?raw=true
MacOS Wallet Direct Download https://github.com/bitconnectcoin/bitconnectcoin/blob/master/setup/bitconnect-mac-wallet/bitconnect-mac.zip?raw=true | https://github.com/bitconnectcoin/bitconnectcoin/blob/master/setup/bitconnect-mac-wallet/Bitconnect-mac.zip?raw=true
Move The Wallet Executable Into An Appropriate Folder & Make Shortcut To Boot From.
Sync blockchain from scratch with block explorer or with community boost.
Back up your wallet with your address offline.
Paste picture of address within wallet and address
Existing Members
To Do:
Create new address if needed and save it
Paste address and picture of address within wallet
There's 4 Ways To Sync The BCC BlockChain From The BlockChain Explorer:
Run the wallet an try to connect
Create your own bitconnect.conf file and place it in the bitconnect AppData folder (OS specific). With nodes from; https://chainz.cryptoid.info/bcc/#!network - And Sync The BlockChain From Scratch
Grab a community made bitconnect.conf file from GitHub; https://github.com/bitconnectCore/bitconnect-peers/archive/master.zip - And Sync The BlockChain From Scratch
Download community made bootstrap (1GB) from GitHub: https://github.com/bitconnectCore/bitconnectCoin-blockchain-bootstrap/releases/download/1.0/bitconnect.zip - Still Requires Time To Sync
Support
Giveaway Days Ending Between 3pm-11.50pm CEST Per Event
June; 11th, 13th, 15th,17th, 19th, 21st, 23rd, 25th, 27th & 29th
July; 1st, 3rd, 5th & 7th
14 Giveaway Days, Across Almost 1 Month
4 BCC Per Giveaway
56 Coins To Be Given Away
Weibo
https://www.weibo.com/7465421475/J50EkxQfn
Twitter BCCX