BCH has hopped on a shuttle and shot straight into orbit. If you got into BCH before the pump, you might want to consider taking some off the table: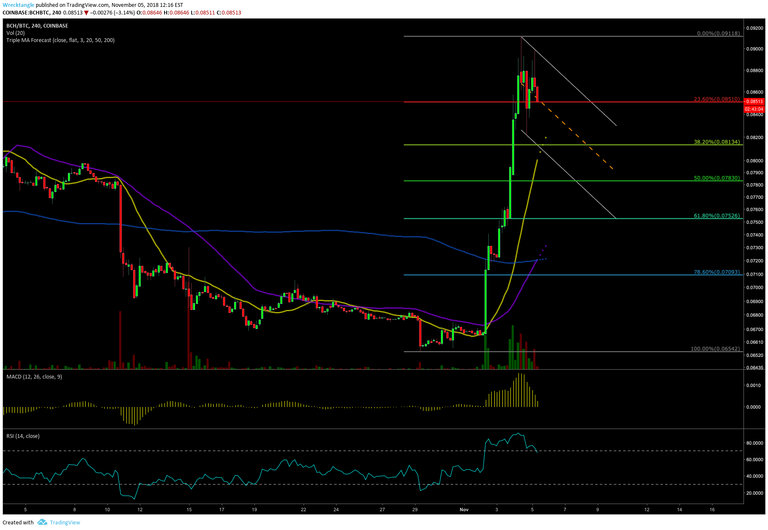 Theres a lot of variables I see here to lead me to think this is as high BCH will be for a while. For one, our RSI is way oversold, even on your daily. We are also seeing the MACD momentum rapidly falling off. Even if we make another higher high in price, we will most likely see a lower high on the MACD to give us big time bearish divergence. I plotted a fib along with a bull flag channel to chart areas we can retest if it wanted to stay bullish short term. We need to hold this channel to stay bullish because a break below it would negate the bullish channel and we could swiftly head down, quickly. This could take another week to give us an idea whether this was just another pump and dump based on the news of the upcoming fork. We all know very well of pumps leading up to a news event followed by a dump upon release. That very well could happen here as it's starting to show early on in the pattern.
The price is currently way above all your MA's so that's another signal to start taking profits. I do expect the price to at least fall to the 38% fib retracement and then eventually the 50% area. You can hit these targets while still remaining inside the bull flag so that's something positive. You can even drag out to the 61% level while remaining inside the channel. This could drag out until the fork is released on the 15th of November. These retracement targets could meet when the MA's start to catch up with the price. Only then will we know if it uses the MA's as support or plows below them leading us to be bearish as one should be.
Overall, great pump the past few days! Just take your profits and look for another entry when more bullish patterns develop, which is not at this very moment.
Hope this helps!
Good luck!