#BeerSaturday is at week 214 and I am taking that opportunity to visit a new regional brewery!


Source: https://www.pinterest.pt/goldensaintbeer/ with a little Zeke design on top.
I became a beer blogger because of the years I have spent brewing for myself, the breweries I work with now on their technology and marketing, and the decades spent imbibing combine for the self-decreed title of the #Blockchain #Beerologist.
This week, I am throwing on my mask and visiting a brewery...in person...which I haven't yet been to...and it feels like ages!!

Shorty of the Week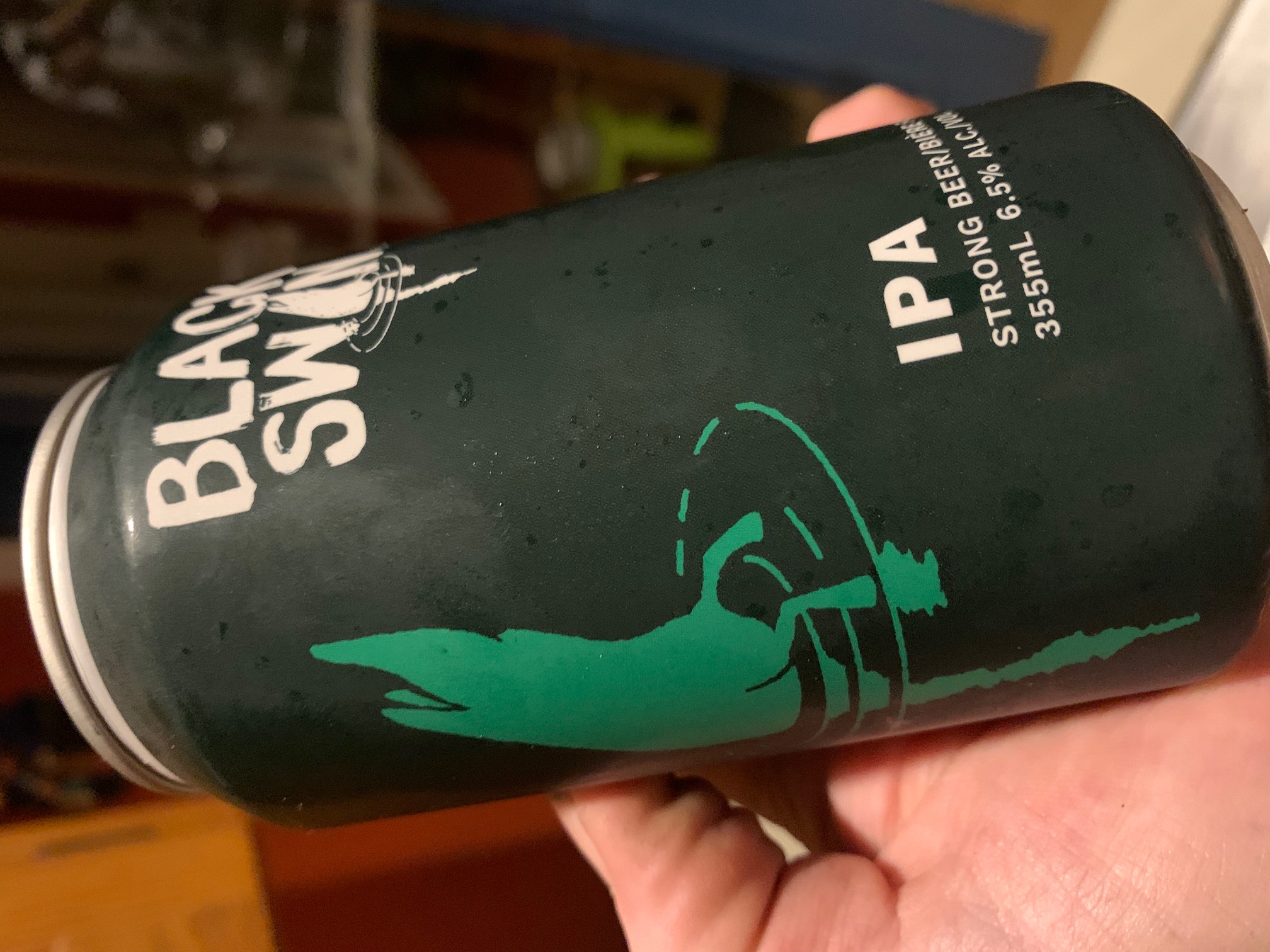 The Shorty of the Week returns again this week as the rest of the blog is filled with Pints of the Week on the town. As a refresher for longtime followers, I love to keep a few local, small cans of goodness in the fridge for those time when we want another beer, but a full pint would just be too much. Plus, the shorter cans are often the vessel of delivery for great one-off beers from our local brewers.
This week, I can't resist the new labels on one of my old favourites from Black Swan Brewing https://blackswanbrewing.ca/ It is neat to see them preserve and even enlarge the namesake swan on the label of their flagship IPA Black Swan IPA https://black-swan-brewing.myshopify.com/collections/frontpage/products/india-pale-ale-ipa They have stayed true to the taste I fell in love with years ago and seem to have a consistency you might not find at other smaller craft breweries. Their NEIPA from last week was good but it is nice to have an old friend in the fridge.

Introducing: Broken Rail Brewing!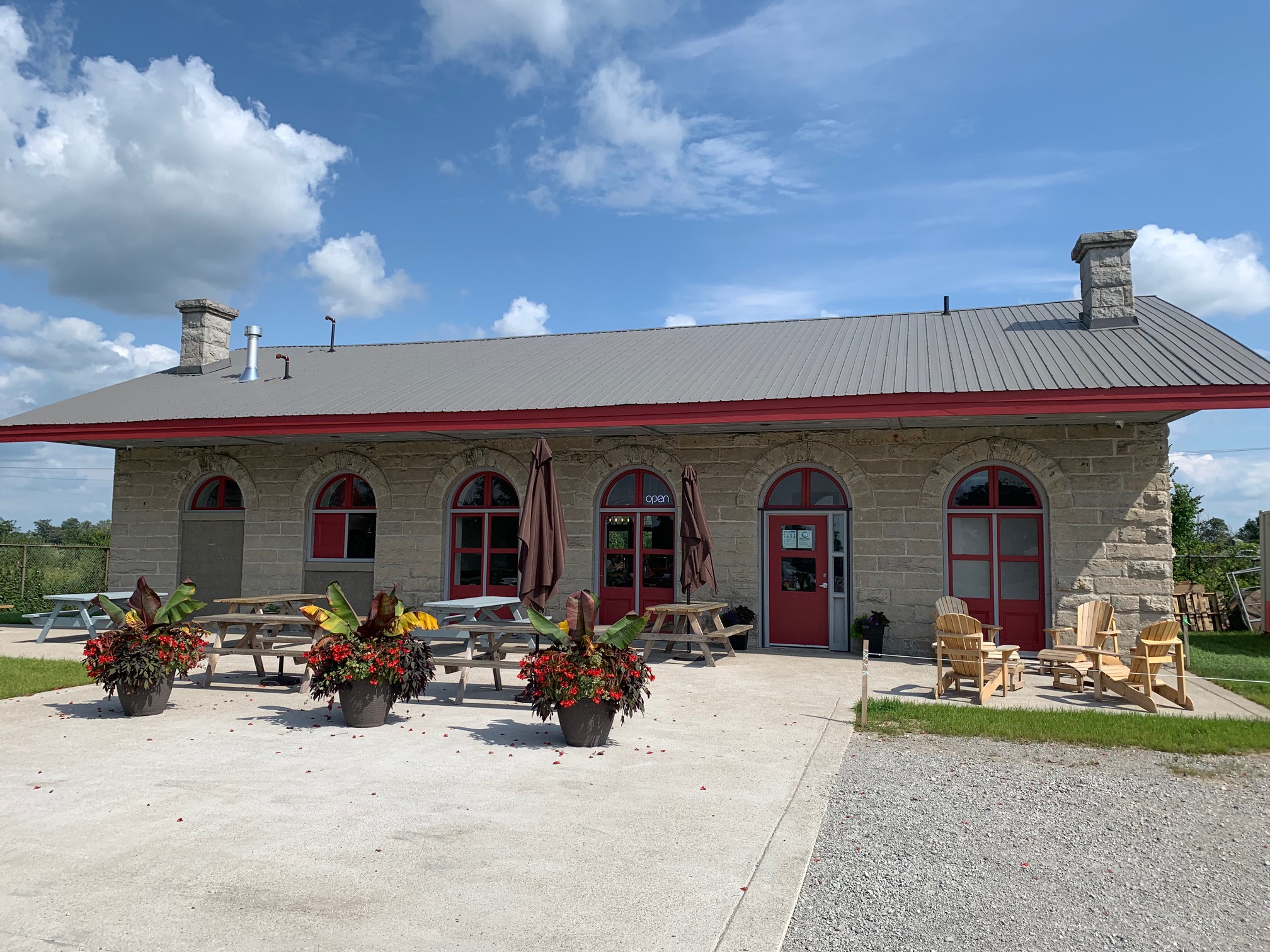 This little gem is tucked up beside the tracks in an old train station from an era gone by. I do love reclaimed buildings and will have to admit I wondered why the town of St Marys (~7,500 people) didn't have its own brewery until recently. Broken Rail Brewing
https://www.brokenrailbrewing.ca/
is a neat and modest location that is a little tricky to find, as is their relatively new webpage which definitely needs more of the story shared there.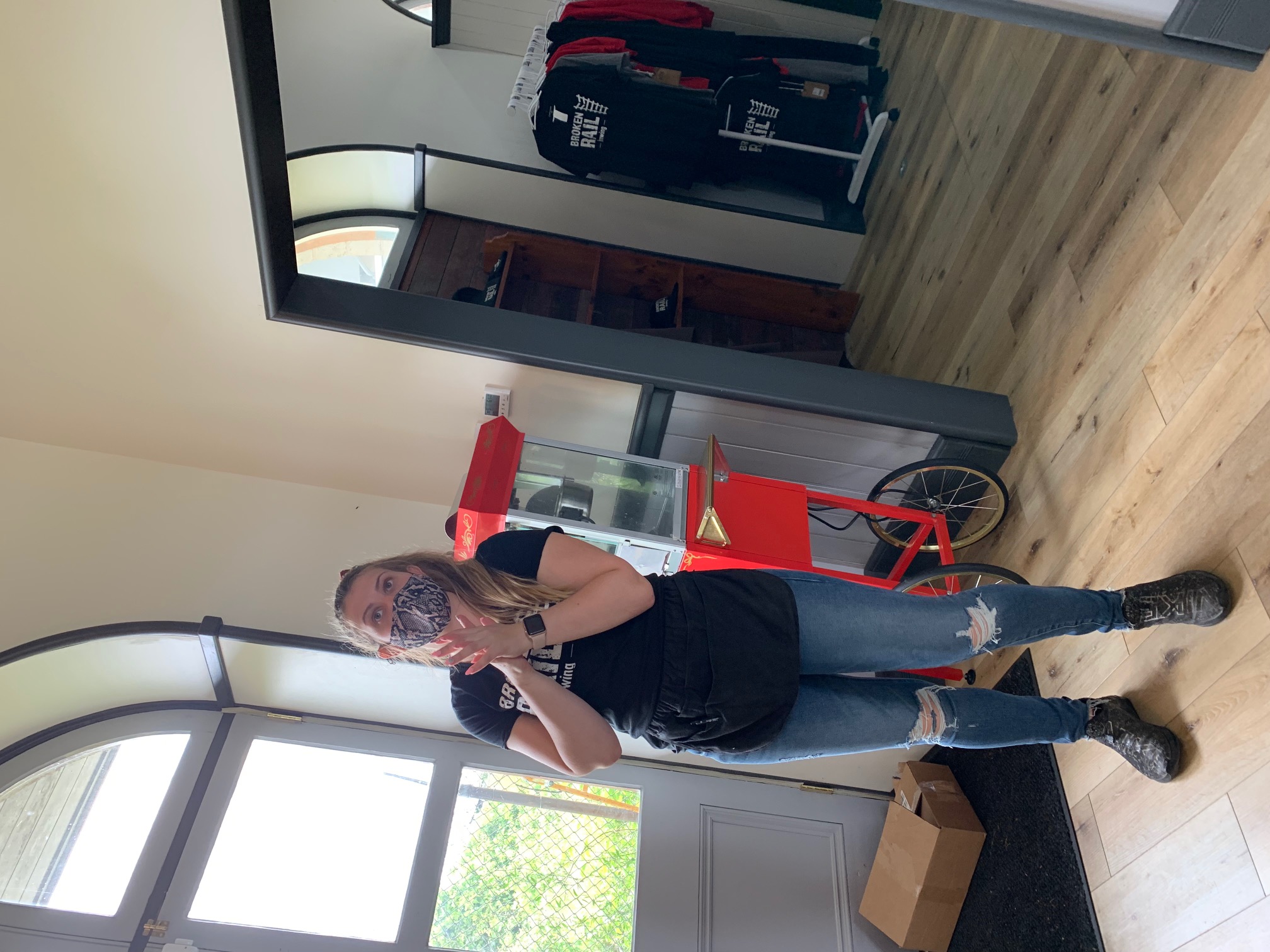 Good thing the staff is friendly and chatty and eager to share the story. The tales told are of the adventure renovating the building into a brewery, and of course, the names and stories behind each of the brands.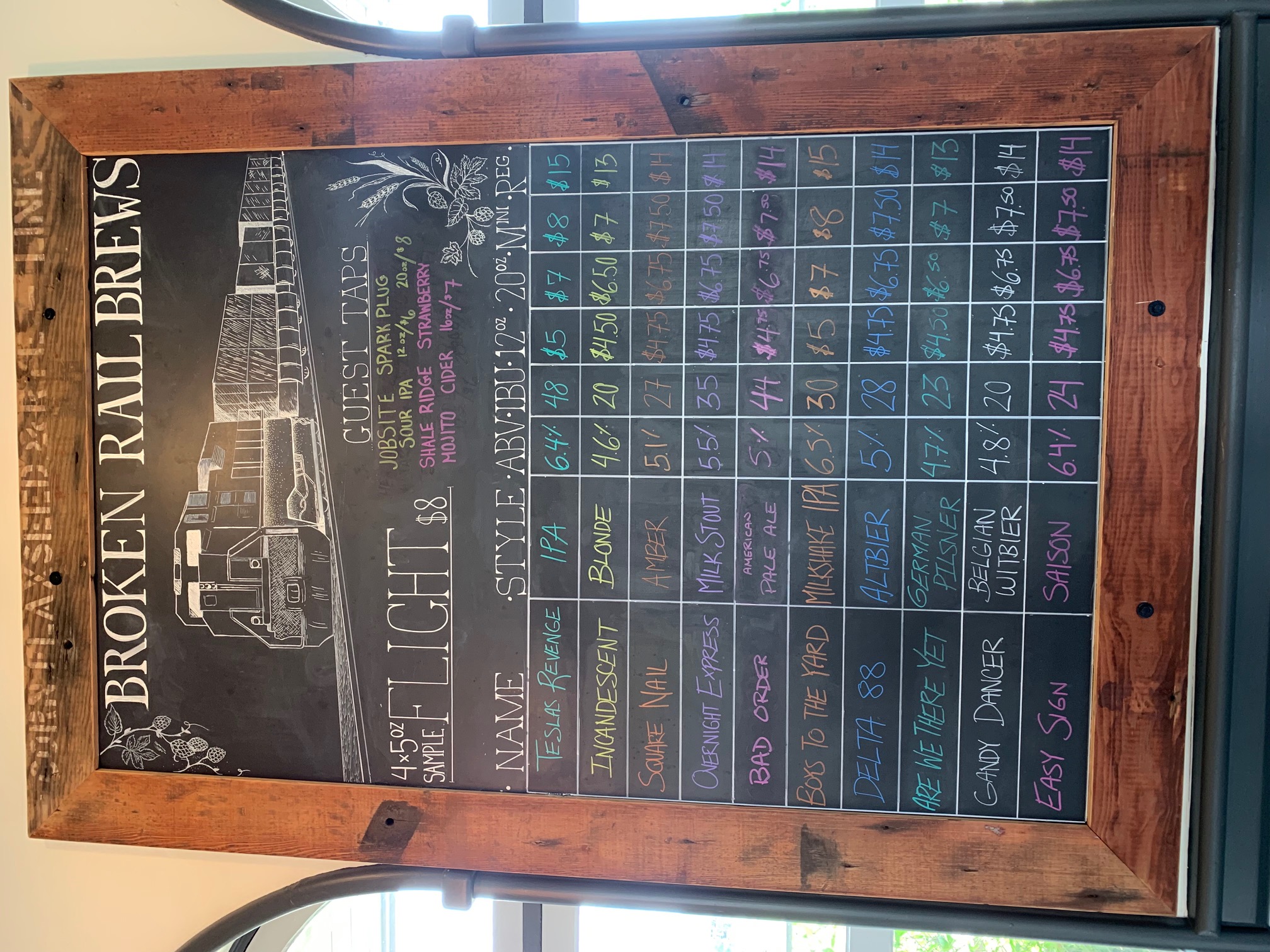 Speaking of beers, look at that long list of options! To be able to cover all of those styles properly in your first year of operation is quite the task but definitely a valiant effort no matter the outcome. Will I be able to down 10 pints and still be able to taste them? Worth a try! I even love the reclaimed wood they used to frame the board.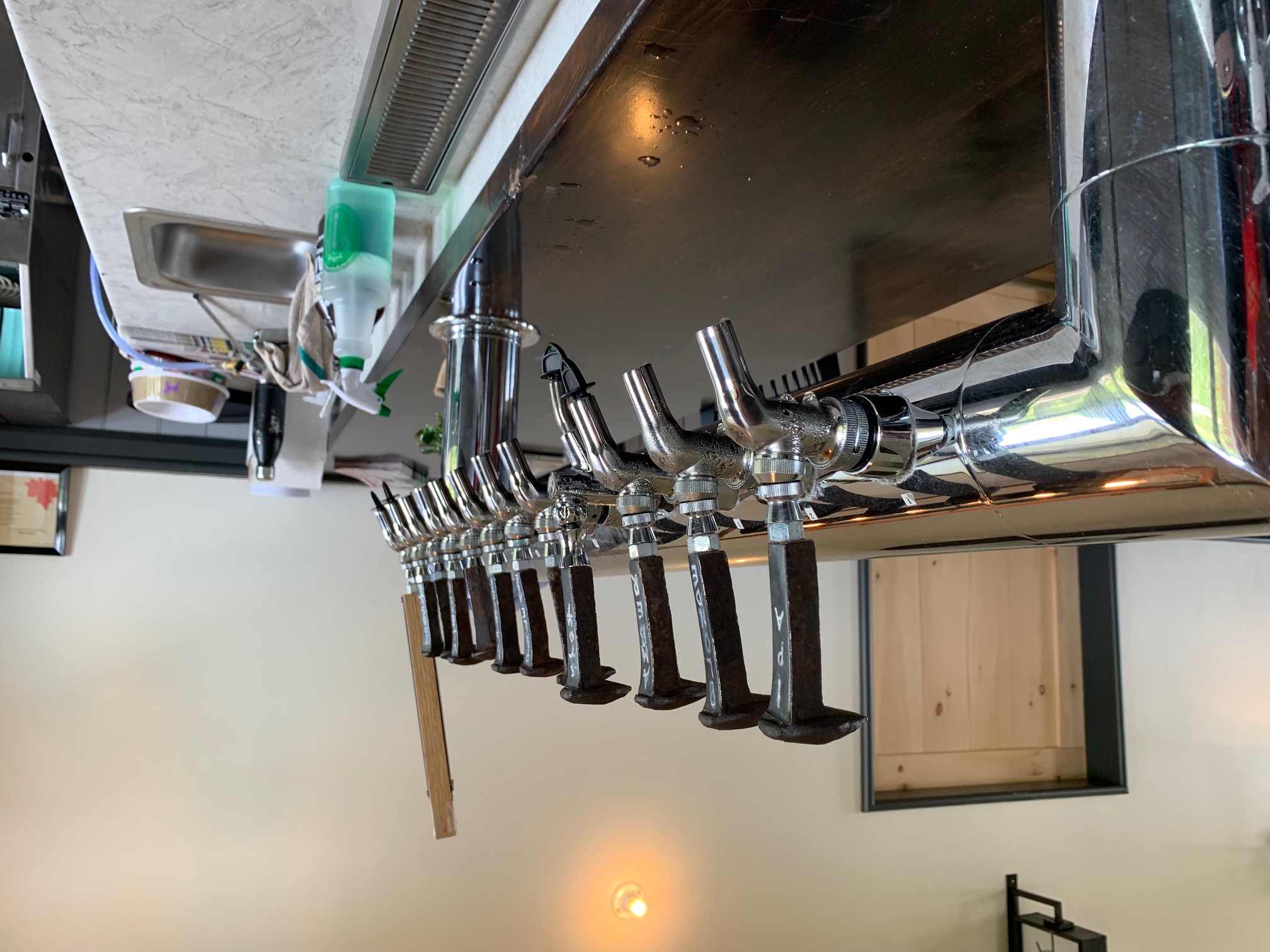 You would figure there was no shortage of railroad spikes to turn into branded draft tap handles and they have done it up right with 11 lines running to the bar. Even enough for a couple guest taps for more of that friendly coopetition between regional craft brewers. I am not sure who Shale Ridge
https://shaleridgeestatewinery.com/
is but apparently they are in this region as well and offering a nice cider alternative here has put them on my map. Jobsite Brewing you will know for the regular appearance they have on my Sweet Hops blog and are adding a nice sour option to the great variety.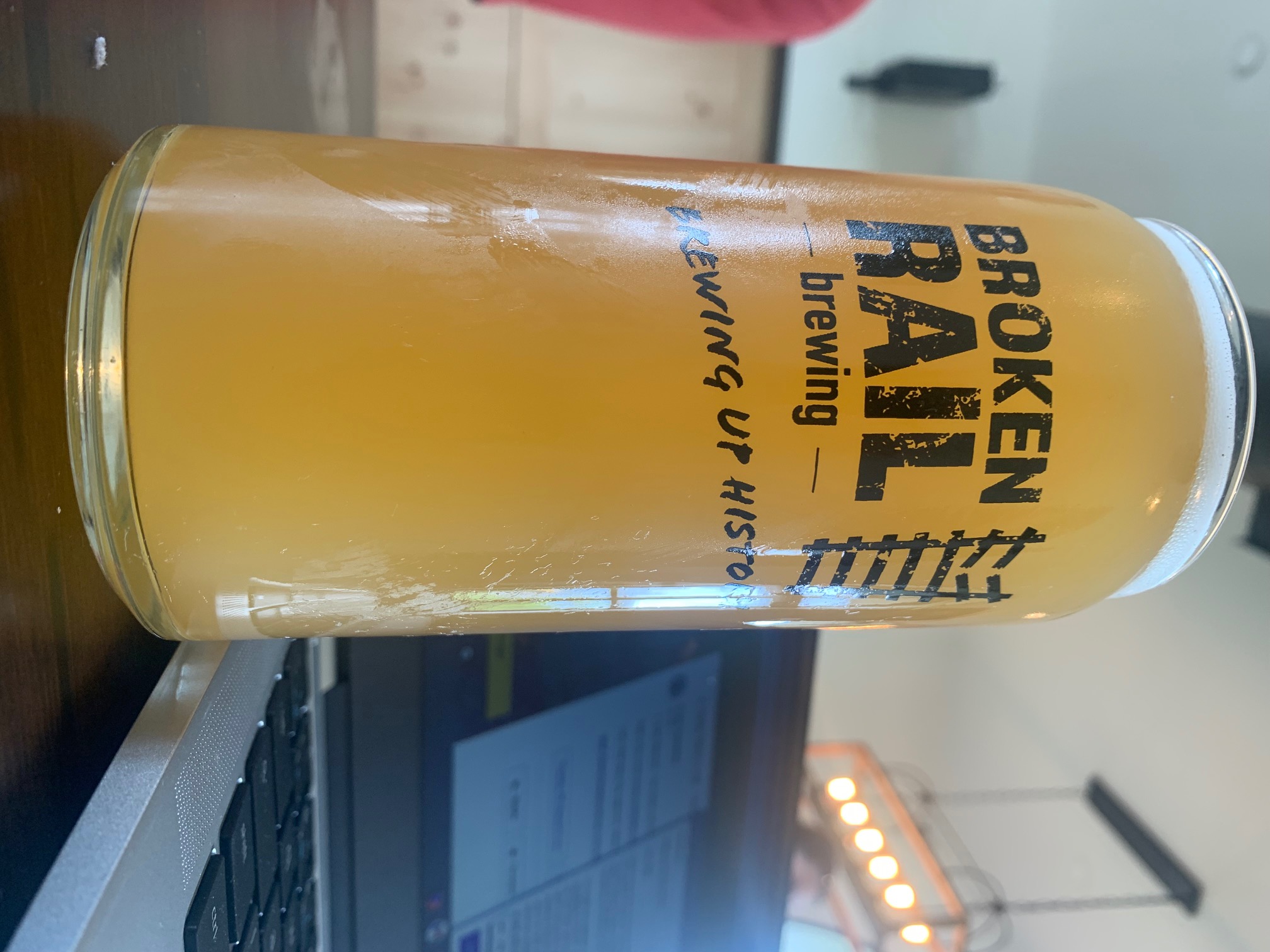 This was actually a business meeting so we snagged the long table, opened up our Chromebooks and ordered a beer while taking over the place. We were asked by a patron if we were the owners as apparently we could have owned the place. I do like to mix beer with business so we are off to a great start.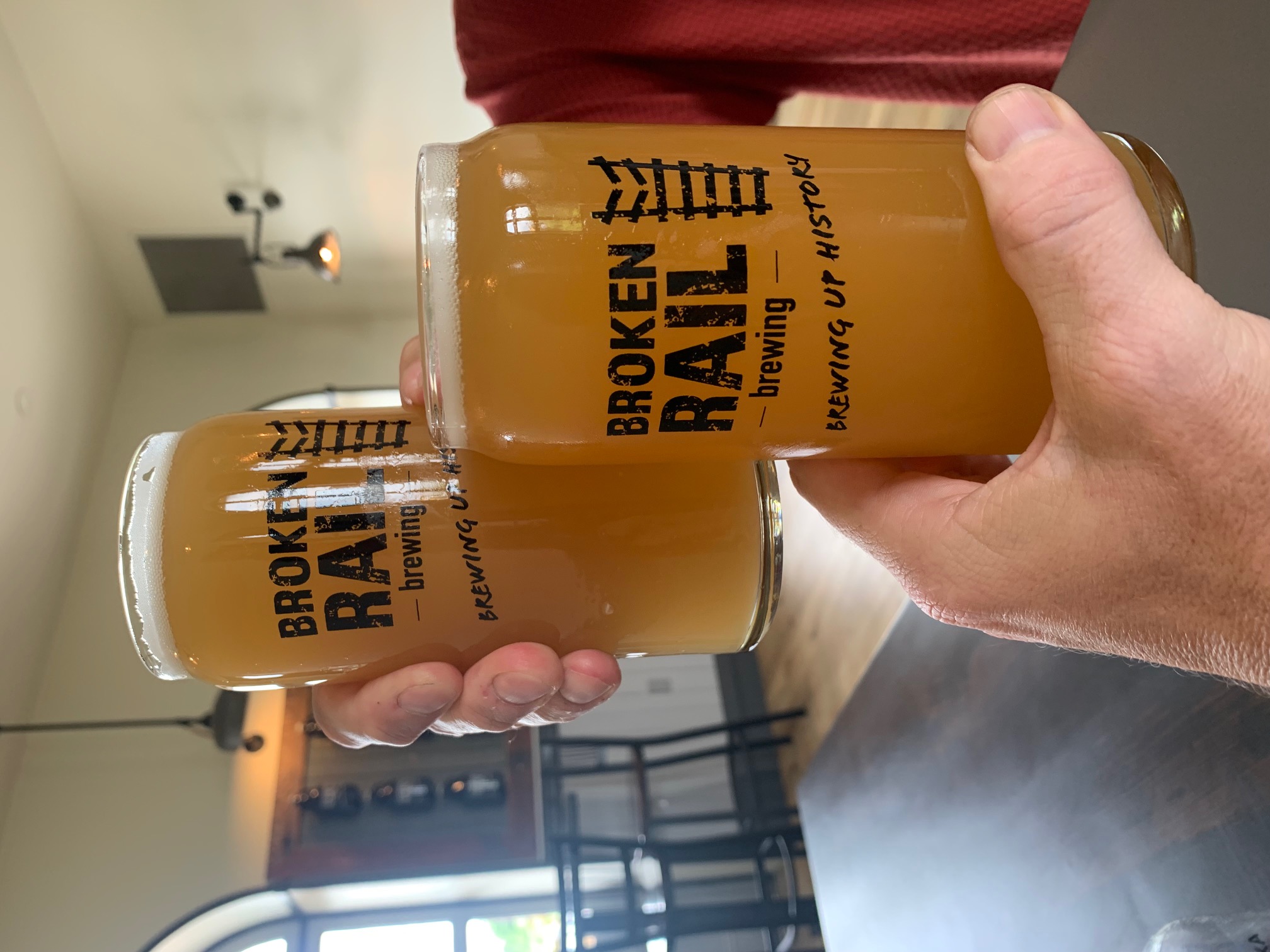 Here is the patented Identity Protection Shot as
@sequentialvibe
and I toast and get ready to sample our first beer. You may be able to tell from looking but longtime readers will deduce this is their IPA from the haziness. I do love to judge a new brewery by its IPA and this place is no different. I like how the glassware is different from the norm and actually looks like a pint can.
This one is Tesla's Revenge IPA https://www.brokenrailbrewing.ca/our-brews There are a few businesses in the region that claim to have had Thomas Edison as a patron, resident or employee back in the day. Here is a toast to how challenged he was competing with Nikola Tesla, and how great this beer turned out.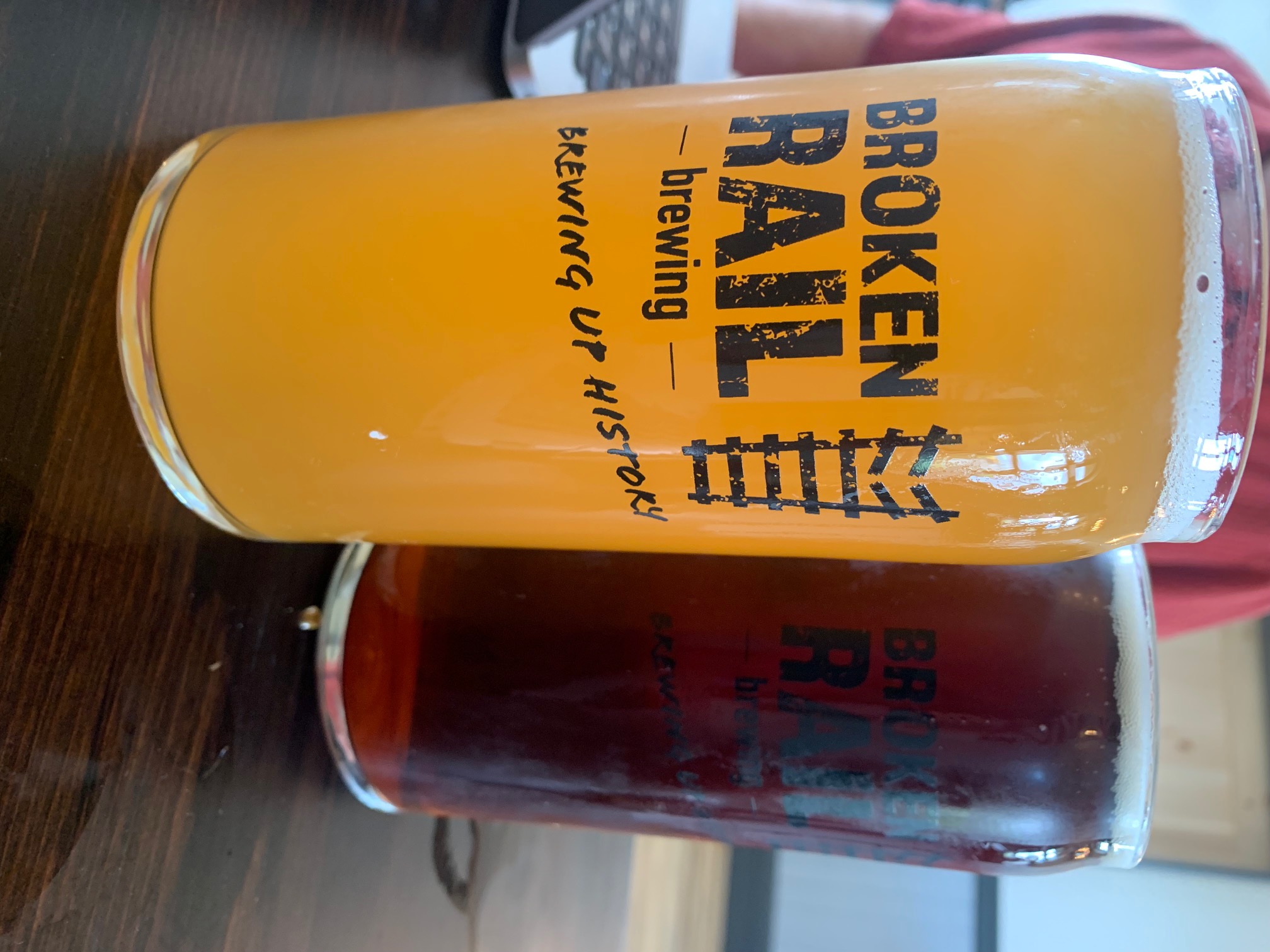 1 is rarely enough for a proper business meeting so we elected to sample something different for the second round. This contrast is brought to you by the Boys to the Yard Milkshake IPA (I had to read that out loud a few times before I got it) and the Delta 88 Alt Bier. I enjoyed this one a bit extra as most milkshake IPAs are just too sweet and not beery enough. The lactose sugar was subtle and still allowed this pint to be a solid beer. My partner never met a beer he didn't like and enjoyed his malty alt bier as much as the rest.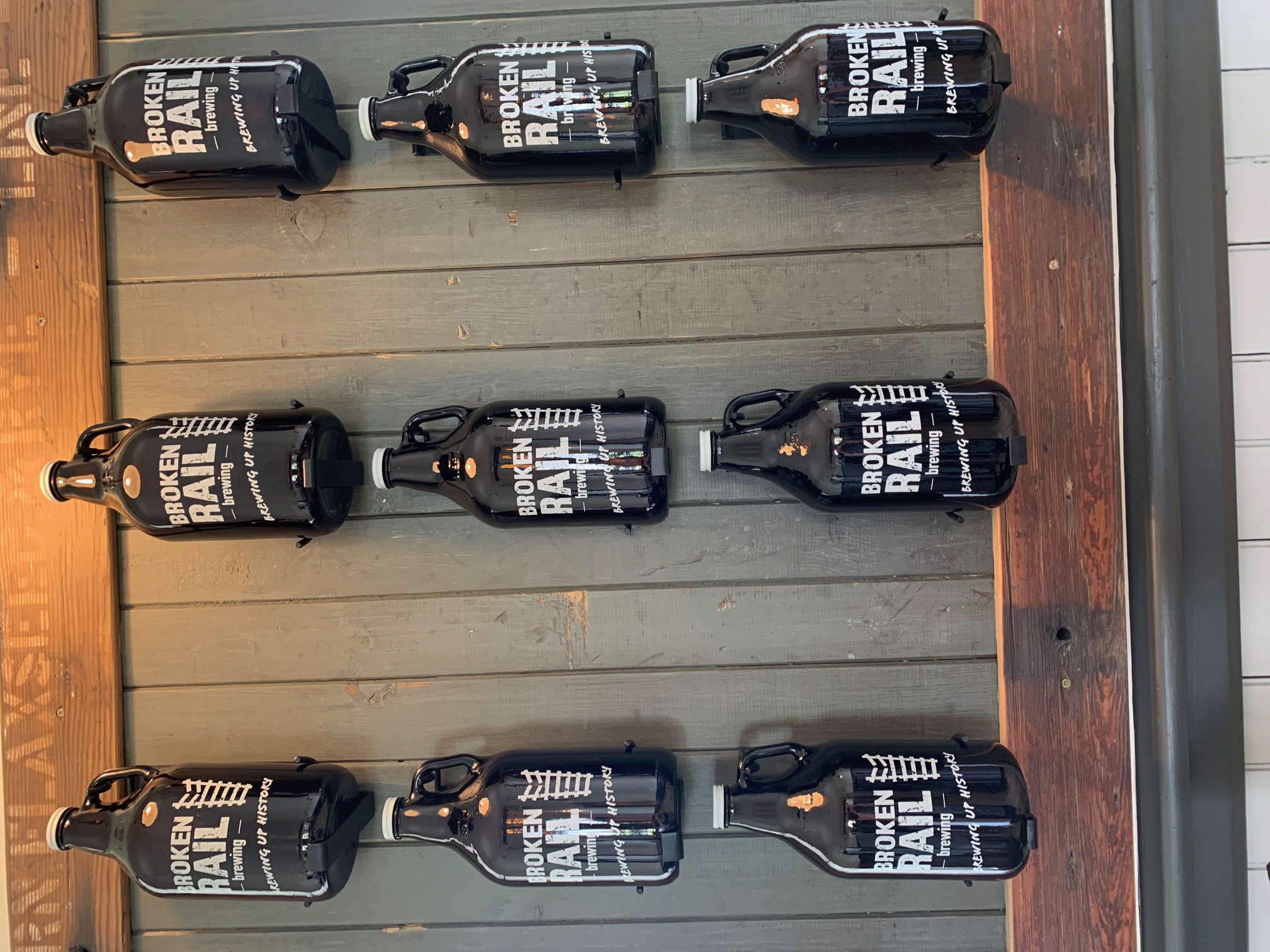 I have to show you some of the brewery ambiance as well as there were a couple neat ornaments. One of them was this simple display of their growlers. What better way to show your brand, decorate the place, and advertise that these big vessels are ready for you to take some freshly poured craft beer home with you.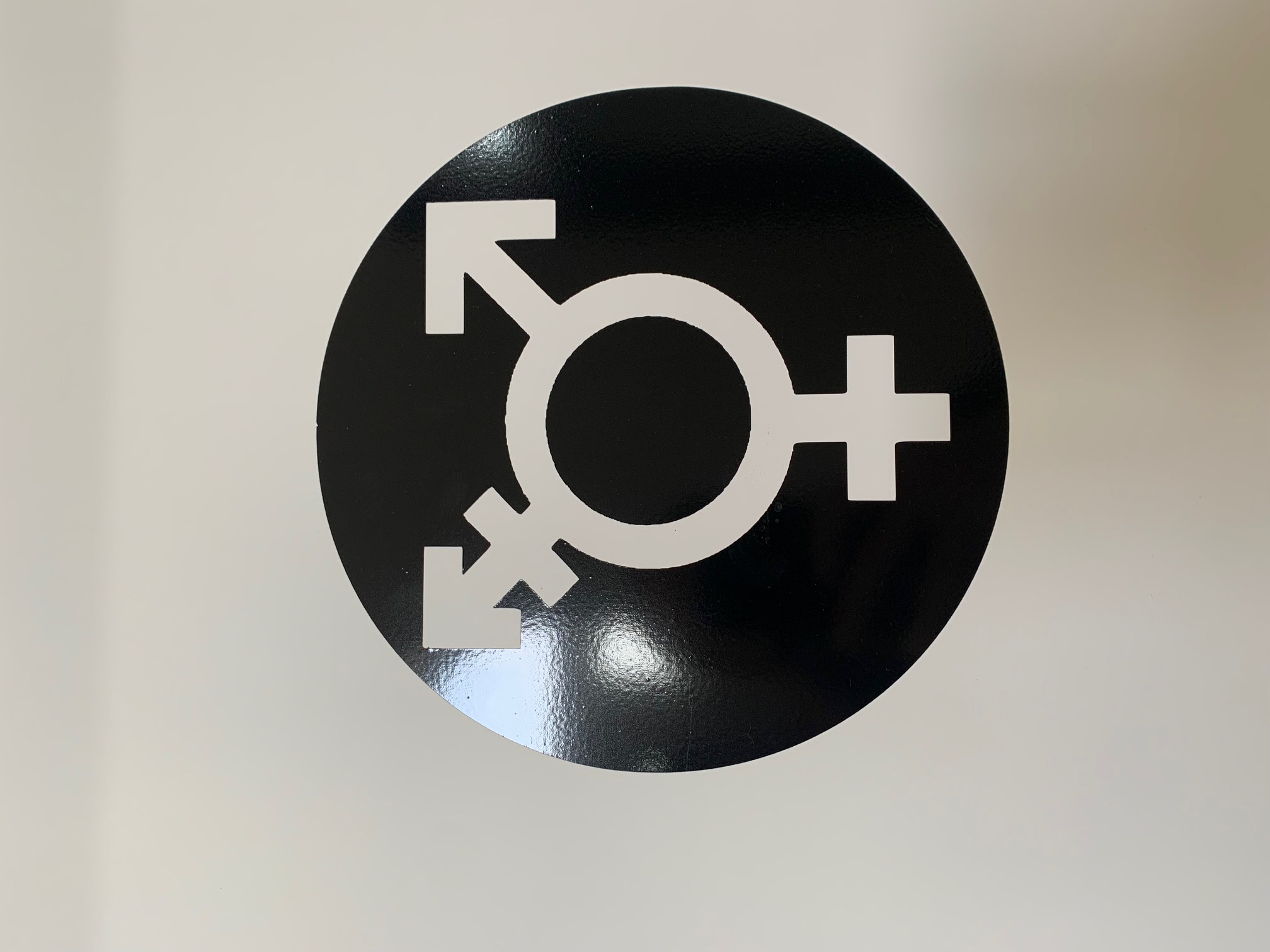 Another neat feature was the signs on the restrooms as it is pleasantly trendy to have them not defined by sex. So, each of them are available to men, women, or anything else you would identify as. Almost looks as if Prince would approve as well.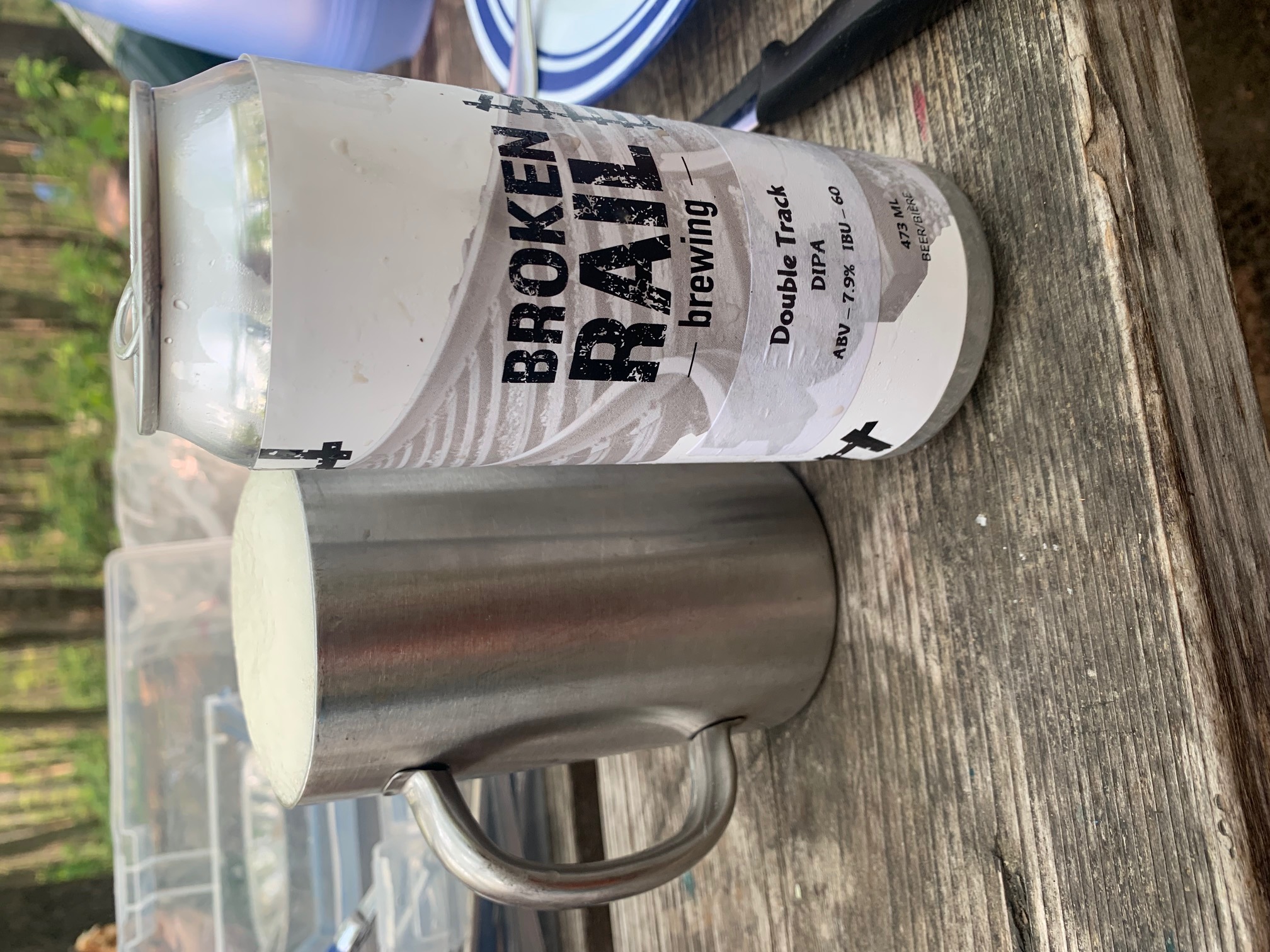 That about wraps up our first visit to this quaint and charming brewery! This will not be the last you will hear of it from me as I know we will be back. Fun staff, great beer, and there was a Double IPA available for take-away on our first visit! Some made them home to the fridge but this warrior accompanied us on our camping trip. After bouncing around in the cooler for a couple hours, it poured nicely into the camp mug and was enjoyed up in Awenda Provincial Park. Perhaps the longest one has travelled?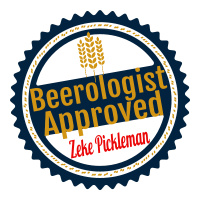 Broken Rail gets my coveted seal of approval for being as good as it is new, and finally gracing St. Marys with its own Craft Brewery. See you again soon.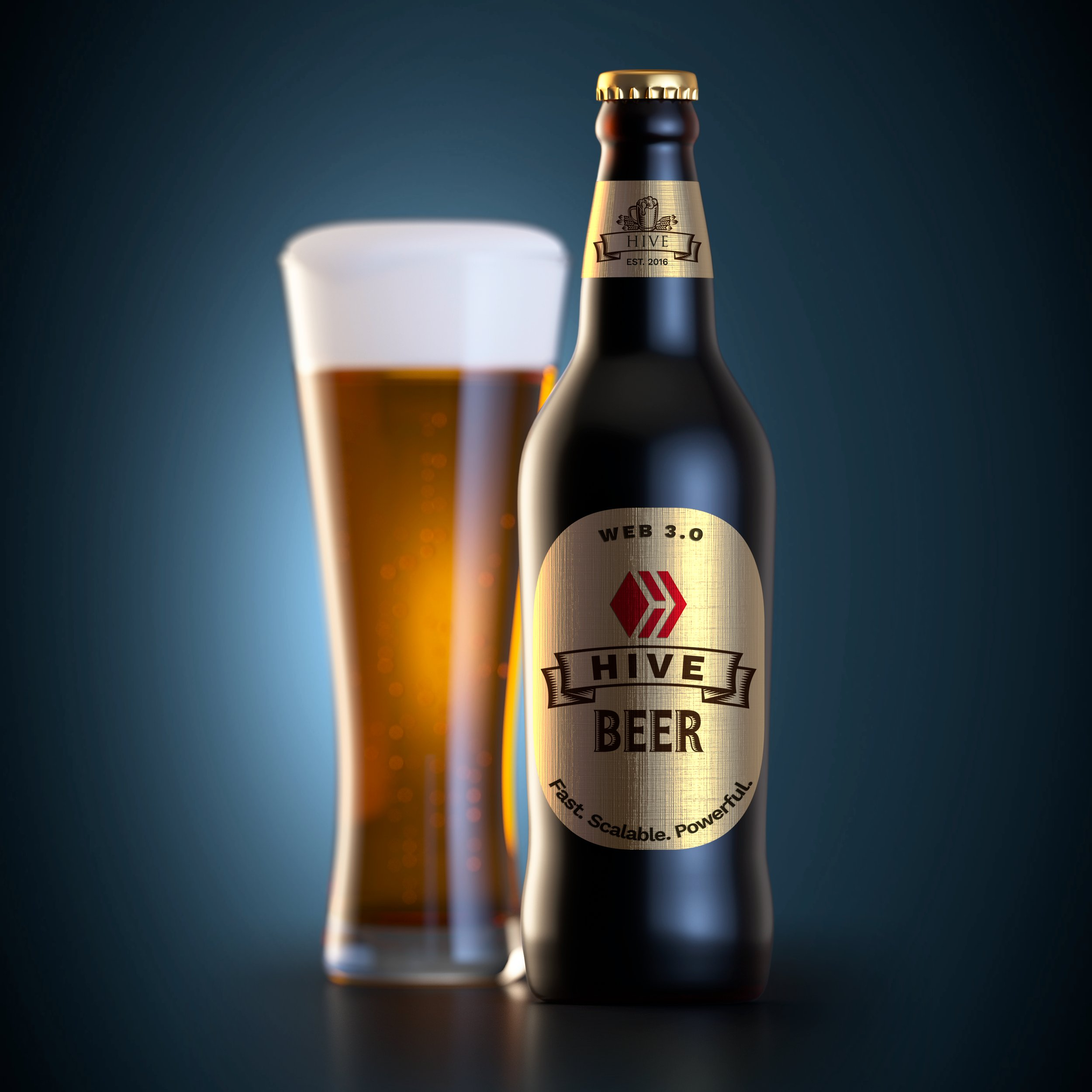 Thanks again for this wonderful
#hive
#beer
gift by
@spirall
on Twitter! Hop in on the marketing push with us and invite the world of beer bloggers to join us on Hive.
It is week 214 (that is right...213 weeks of #beersaturday s in a row!) and @detlev is a little tired out from catching up on the winners posts. Either way, type up your beer post and keep an eye on his blog for the opening of the #beersaturday #Cryptopub here https://hive.blog/@detlev/posts
I invite a friend to the party every week and this week it is my newest friend @dkid14 who is a big basketball and sports fan, and is into digital marketing like me!
Cheers to our global family of beer-drinkers!!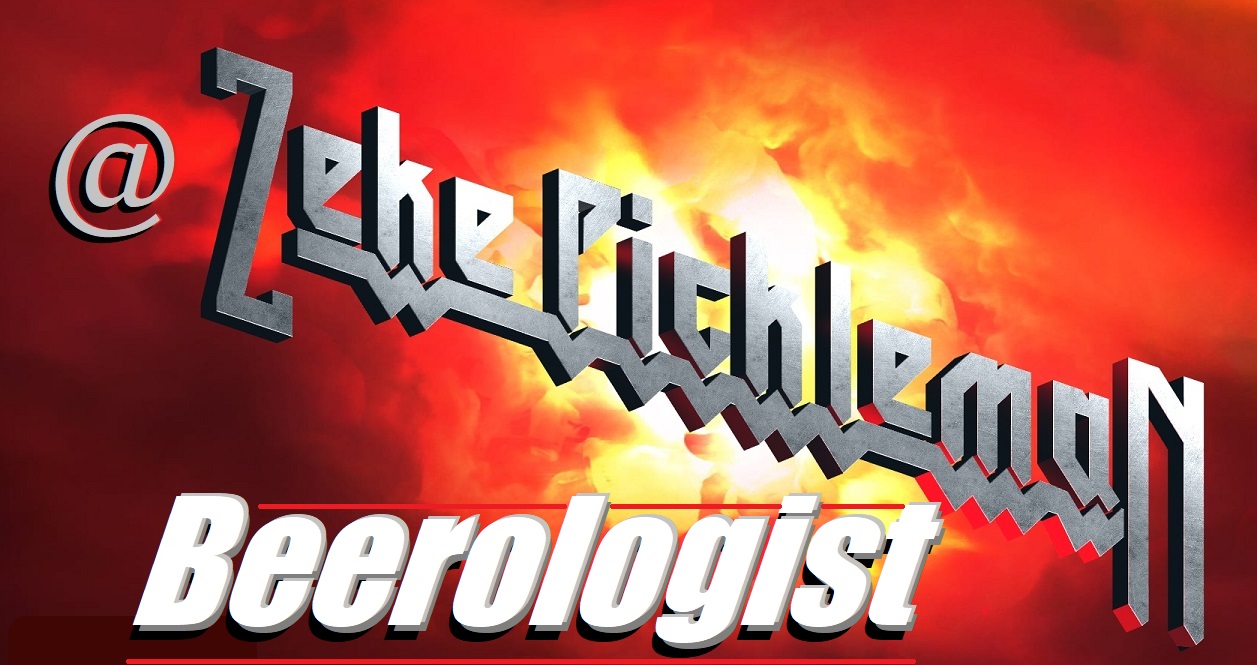 JOIN US ON DISCORD
SUBSCRIBE TO THE LIFESTYLE LOUNGE COMMUNITY HERE
JOIN US ON TWITTER

I am honoured to curate for:



Have you toured a brewery lately?