Idea | Intro | << #blockchaincat >>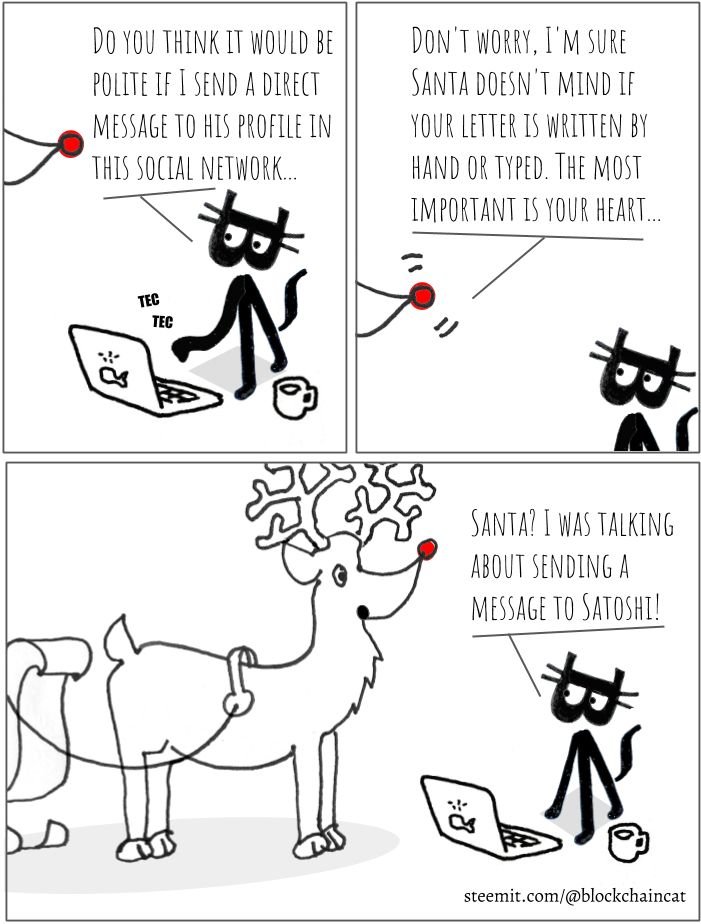 Hi steemians! After knowing in person the prestigious, misterious and self-proclaimed inventor of Bitcoin in the last adventure, Blockchain Cat now is obsessed with his influence, bright ideas and "nour". Talking with fellows animals as usual, the situation now remind us what happened before in meetings with bulls, bears, penguins and whales.
But let's putting aside any misunderstanding because it's time to party and celebrate, after the traditional Merry Xmas Blockchain Cat now proposes a Merry Bmas too. Of course the B is for Bitcoin, Satoshi Nakamoto's revolutionary and remarkable creation. And as the New Year is coming, here is a wish for a Happy 2019 for all, specially the blockchain and crypto friends worldwide!
If you want to change the dialogues, christmas and new year greetings, adding images and create you own new stories with the Santa's reindeer and Blockchain Cat, it's under Creative Commons attribution license. Anyone can copy, distribute, display, perform and remix the work if credit the original creator. To make new versions easier, there is a shared public Google Presentation file that you can copy and edit if you like.
May the nour be with you! Merry Bmas and Happy 2019!!
Thank you very much and good luck again!
12/24/2018 @wagnertamanaha
The author is also an user of Earn.com, Presearch, Birdchain, and Minds, plus this story is published in Supload and Refind. In these sites you can answer emails, search, share SMS messages, images and links and earn bitcoin or cryptocurrencies.
Log on to Steemit and take rewards for your content too >>>
Idea | Intro | << #blockchaincat >>
---
Sponsored ( Powered by dclick )