I remember reading about this a while ago and was surprised to see Kodak reach into the mining industry, I guess they either regret doing it or never did in the first place.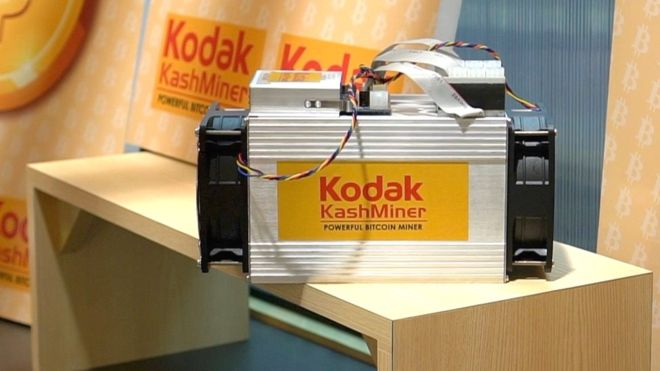 The company behind a Kodak-branded crypto-currency mining scheme has confirmed the plan has collapsed.
In January, a Bitcoin mining computer labelled Kodak KashMiner was on display on Kodak's official stand at the CES technology show in Las Vegas.
But critics labelled it a "scam" and said the advertised profits were unachievable and misleading.
Now the company behind the scheme says it will not go ahead. Kodak told the BBC it was never officially licensed.
What was the plan?
Spotlite USA is one of many companies that licenses the Kodak brand to put on its own products.
It showed off a Bitcoin-mining computer labelled Kodak KashMiner in January and told the BBC that it planned to let people rent the machines.
To mine crypto-currency, computers are tasked with solving complicated mathematical problems in order to verify crypto-currency transactions. Successful miners are rewarded with bitcoins for their efforts.
Spotlite planned to let people pay an up-front fee of around $3,400 (£2,500) to rent a KashMiner, and would let customers keep a cut of any bitcoins generated.
Its chief executive Halston Mikail detailed plans to install hundreds of the devices at the Kodak headquarters in Rochester, New York, to take advantage of cheap electricity offered by an on-site power plant.
He said 80 devices were already in operation.
But Kodak told the BBC that the venture was never officially licensed and that no devices had ever been installed.
'Unrealistic' plans
In its promotional material, Spotlite said an up-front investment of $3,400 would generate earnings of $375 a month for two years by mining Bitcoin.
However, critics said the promised profits did not take into account that mining Bitcoin is becoming increasingly difficult.
Writer and sceptic David Gerard called it a "crypto-currency folly", suggesting the scheme never went beyond its unfinished website. [Example shown below]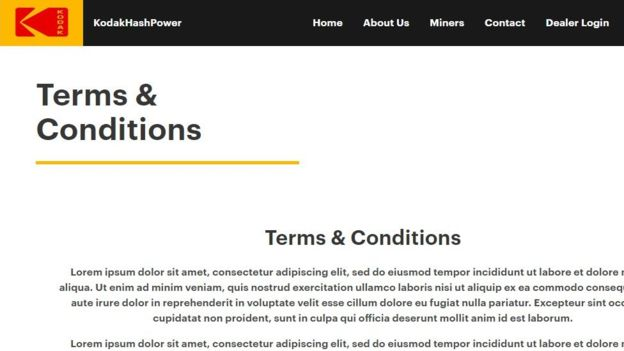 "There is no way your magical Kodak miner will make the same $375 every month," wrote economist Saifedean Ammous, who pointed out that anybody taking the gamble would have made a loss on their investment.
In a phone call with the BBC, Spotlite's Halston Mikail said the US Securities and Exchange Commission (SEC) had prevented the scheme from going ahead.
He said the company would instead run its mining operation privately with equipment installed in Iceland, instead of renting capacity to consumers.
A spokesman for Kodak told the BBC: "While you saw units at CES from our licensee Spotlite, the KashMiner is not a Kodak brand licensed product. Units were not installed at our headquarters."