My technical analysis tells me the cryptocurrency market has turned, and we're in the early moments of the next massive bull run.
Christmas may have been the very bottom of this U-shaped pullback the cryptos began exactly a year earlier - Christmas 2017.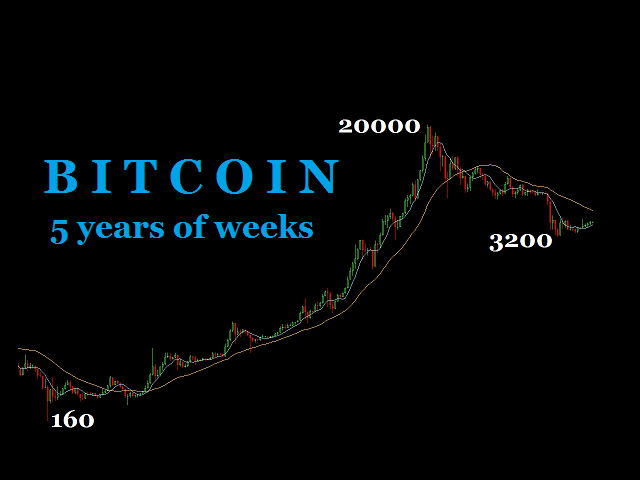 This logarithmic chart contains almost 5 years of weekly candles, clearly showing that the market follows an obvious long-term trend of U-shaped corrections and bull markets reaching new highs. The same pattern goes back to the very beginning of the charts around 2011, and also repeats within the chart on a smaller scale.
The bitcoin chart should be the pictorial entry for 'human psychology' in the encyclopedia. There's a very good reason for the pattern we see, and it's nothing to do with manipulation or trickery. That's the human mind, powerful and flawed as it is, at work in a mainly free market. That's what happens when you create something that is both useful and finite, and keep its controls out of the hands of bankers and elites.
Gold and silver are money, but bitcoin and the other cryptos are the new reigning champions of currency.
Notice on the chart we're currently in the 5th consecutive up week. Also notice that the price is approaching the moving average (in yellow) for the first time since we fell out of the previous bull market, one year ago.
I expect once we reach the moving average (approx 2-6 weeks?) there will be some more choppy sideways action, and likely one more buying opportunity to shake out the final weak hands, perhaps back down to where we are now (4k).
After that, it would be absolutely bonkers off-to-the-fuckin-races moonshot runforthehills everybody-including-the-babysitter-takes-bitcoin kind of situation for at least a full year, perhaps two.
Which brings things to the $100k area for bitcoin, Steem maybe $30 or so.
Assuming human psychology remains fairly constant, and nobody manages to regulate or manipulate the market. The former assumption is fairly sound. Jury is out on the second.
I look forward to subtly linking back to this post at $100k, another in a long line of almost flawless reads of the chart, since before anyone had heard of bitcoin, cryptocurrency, or blockchain. I know of nobody who has been right more often, or for as long as I have. If anyone does, please speak up, as I'd be eager to learn from him/her!
Shout out to @sunsethunter, one of the only commenters on my bitcoin/crypto posts. Thanks for keeping the conversation going! :)
(This is not to be taken as investment or lifestyle advice. Use this as one part of an array of research before making your own decisions.)
DRutter