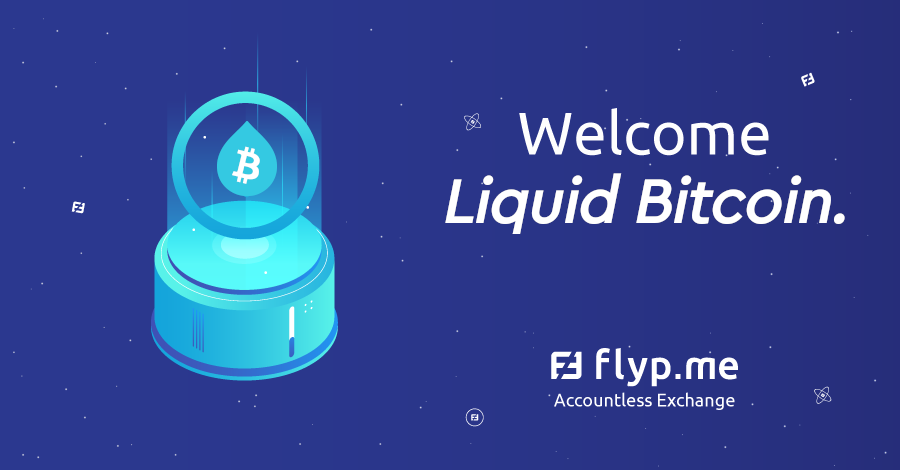 Bitcoin is a revolutionary asset — one that has changed the world with its very existence. It has remained the largest and most popular asset ever since, as well as the front face of the entire cryptocurrency industry.
In addition, Blockstream developers have found an alternative to improve BTC by creating the Liquid Network.
Now, Flyp.me, the instant crypto exchange that requires no account creation to swap coins, has decided to add support for the Liquid Network and add L-BTC.
What is Liquid Network?
The Liquid Network is a sidechain-based settlement network for individuals and businesses such as crypto exchanges. It offers faster, more confidential transactions, as well as the ability to create new digital Liquid assets. It allows users to deposit BTC, and in doing so, create L-BTC — a pegged version of Bitcoin, that are verifiably backed 1:1 by BTC on the Bitcoin mainchain.
After users transfer their BTC to L-BTC, they can make crypto transactions at much faster speeds, and increase their privacy and confidentiality when receiving or sending digital currency. The Liquid Network allows even more — it lets anyone to create Liquid Assets, as well.
The Liquid Network's main advantage, however, is its speed, as transactions are ten times faster than Bitcoin's mainchain. As such, it offers a lot of possibilities for users, especially when it comes to confidential transactions. As a ten-times faster settlement network, each block would only last one minute, instead of 10 minutes, as is the case with Bitcoin mainnet. And final, irreversible settlement only requires two blocks (two minutes).
L-BTC is also very secure, being a sidechain to Bitcoin's own network. It is overseen by a group of federated nodes that are hosted by trusted crypto exchanges, large OTC trading desks, and alike.
Peg-outs can be performed by federation members at any point. But, when a member does this, the process will be reversed, and L-BTC will be destroyed. That way, L-BTC in circulation are always backed 1:1.
Flyp.me adds support for Liquid Network and L-BTC
As mentioned, L-BTC will now be added to Flyp.me — best of all, Flyp.me doesn't require you to sign up for an account to swap L-BTC, making it an instant crypto exchange that is easy to use. The addition of Liquid Network support is a big step for the accountless platform, as it will now join the group of platforms where you can easily and quickly transfer L-BTC to any wallet supporting it.
This can be extremely useful in these volatile periods, when making a fast transaction is of high importance. Since L-BTC is pegged to BTC and backed by it, its price moves in accordance with Bitcoin. Ready to grab some L-BTC for yourself? Head over to Flyp.me, and complete three easy steps to get L-BTC locked and loaded in your wallet.
Select the cryptocurrency you will use to exchange, then enter your L-BTC wallet destination address and the amount to be exchanged.
Enter a refund address for the cryptocurrency wallet you are exchanging from (ie. if trading with BTC, enter a BTC wallet address).
Send BTC to the Flyp.me transfer wallet address.
That's it! Flyp.me, will automatically deposit L-BTC to your specified destination wallet.
With the BTC price recently hitting an all-time high of $60,000, Bitcoin trading is larger than ever before. Institutional interest further pushes the demand for BTC, making it more and more valuable, so if there was ever a need for BTC transactions to be processed with speed — that time is definitely now.
About Flyp.me
Flyp.me is the professional tool for instant crypto trading. There is no registration necessary and no hidden analytics tracking you. Moreover, Flyp.me does not control users' funds, so your private keys are not at risk of being held on third-party services.
Flyp.me currently supports over 30 cryptocurrencies and is continuing to add more: Bitcoin, Ethereum, Zcash, Augur, Litecoin, Syscoin, Pivx, Blackcoin, Dash, Decred, Dogecoin, Flyp.me Token, Gamecredits, Peercoin, Aidcoin, 0x, Vertcoin, Basic Attention Token, BLOCKv, Groestlcoin, DAI, Power Ledger, Enjincoin, TrueUSD, Cardano, Storj, Monero, Maker, TetherUS, DigiByte, USD Coin, MANA, Enigma, Aragon, Chainlink, REN, Pax Dollar, FunFair, COMP, Pax Gold, AAVE and now Liquid Bitcoin.