This is my favorite rock cliff in the Grand Forks BC Canada area: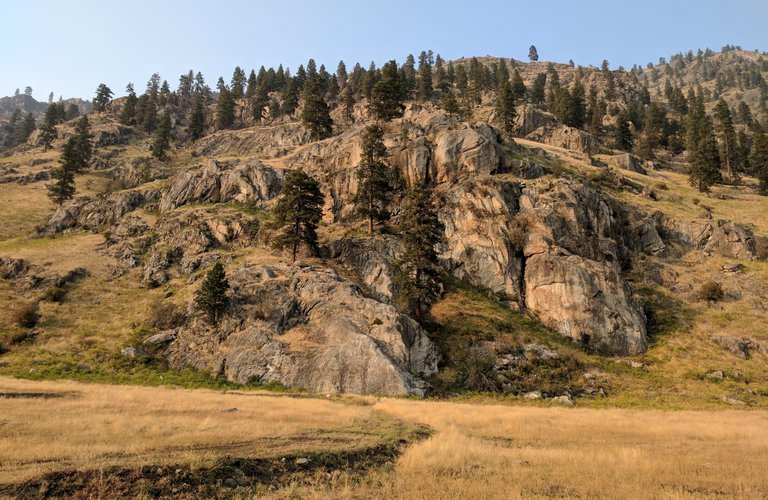 Bitcoin is not a currency even though some think it is and it behaves like one and will most likely become one. Bitcoin is a 'utility' and since it can be used like money some are doing such like me and my friends. The utility is: the most secure data base ever invented. As simple as that. My analogy is: picture it like a big spread sheet (an excel spread sheet) with 21 million cells. Each cell has a password assigned to it and that is called the keys to that cell. These keys can be transferred to other cell keys and are then owned or controlled by the new keys. Cool eh! There is even an open source protocol that releases these cell ownership controls over time ensuring decentralization and utilizing consensus systematic for any updates.
So now, what's the big deal in having a spread sheet that you can transfer cell ownership rights to each other? This spreadsheet is validated by lots of processing power every 10 minutes. Validated; means witnessed or notarized by the community and to date more processing power is validating the bitcoin blockchain than has ever been used for a single purpose in the history of mankind.
Okay, once again what's the big deal: well you can attach data to the cell - that is the epiphany! You can store contract law in the cell and use the validated spreadsheet to confirm ownership rights assigned to the cell or to the contract inside the cell. No more need for a middle man like a clearing house, notary, bank, lawyer etc. Cuts a lot of fat from the current utilities we are using for such items now like: car or land registration, identification, licenses, passports etc.
Now then how does it become money: it becomes money when a value is attached to the controlling or ownership of the cell. Why would someone want to own such a utility or a portion of it? There is value in someone notarizing contracts in a manner so secure it has had zero down time and zero hacks or errors from the early stages - currently now running over 9 years worth of 10 minute blocks of transactions. I call it triple entry accounting: a transaction 1) buyer 2) seller 3) witness by ledger and community. Or debit, credit and witness. You can sell services on this backbone and therefore owning control allows for a return on investment.
Not to throw rocks at Jamie Dimon but here is a picture of a few that slid down in the Crowsnest Pass BC Canada known as Frank Slide:

Jamie Dimon the most powerful private banker calling bitcoin a fraud exposes him to either being ignorant of the facts like most people or deceptive like most of the largest shareholders of the banks. Jamie Dimon's bank received one of the biggest bailouts in history so I hope you don't take a bankrupt has-been as knowing much about technology.
It becomes money when people realize they can transfer each cell or a portion to the power of 8 to someone else. Like transferring your IBM share certificate online in fractions with very little effort huge security and little cost - therefore starts to feel like money.