Bitcoin Non-Commercial Speculator Positions: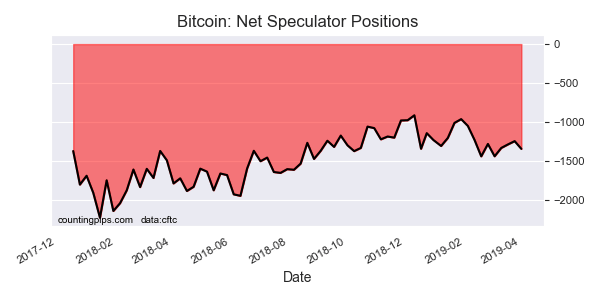 Large cryptocurrency speculators added to their bearish net positions in the Bitcoin futures markets this week, according to the latest Commitment of Traders (COT) data released by the Commodity Futures Trading Commission (CFTC) on Friday.
The non-commercial futures contracts of Bitcoin futures, traded by large speculators and hedge funds, totaled a net position of -1,343 contracts in the data reported through Tuesday April 2nd. This was a weekly change of -99 net contracts from the previous week which had a total of -1,244 net contracts.
The week's net position was the result of the gross bullish position (longs) tumbling by -3 contracts to a weekly total of 1,453 contracts in addition to the gross bearish position (shorts) which saw a rise by 96 contracts for the week to a total of 2,796 contracts.
The bitcoin net speculator position had seen declining bearish bets in the previous three weeks before this week's slight turnaround. The speculator bearish level has now been over -1,000 net contracts for nine straight weeks.
Bitcoin Small Trader Positions: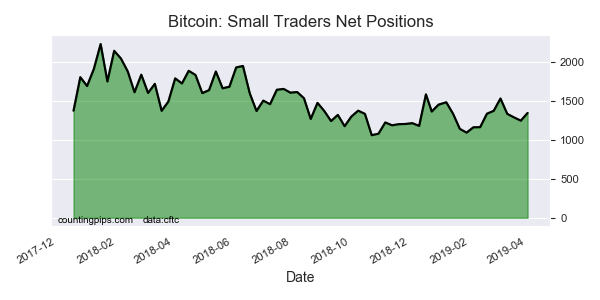 The small traders position, a mix of hedgers and speculators that don't meet the requirement for large traders, rose for the first time in four weeks to a total of 1,343 net contracts. This was a weekly gain of 99 contracts from the previous week.
The small trader position is directly opposite the speculators at the moment and have continued to see positions in a range of between +1,000 and +1,500 net contracts over the past weeks and months.
Bitcoin Futures:
Over the same weekly reporting time-frame, from Tuesday to Tuesday, the Bitcoin Futures (Front Month) closed at approximately $4775 which was an advance of $870 from the previous close of $3905, according to unofficial market data.
Posted using Partiko Android