Here's how I'm viewing the TA on BTC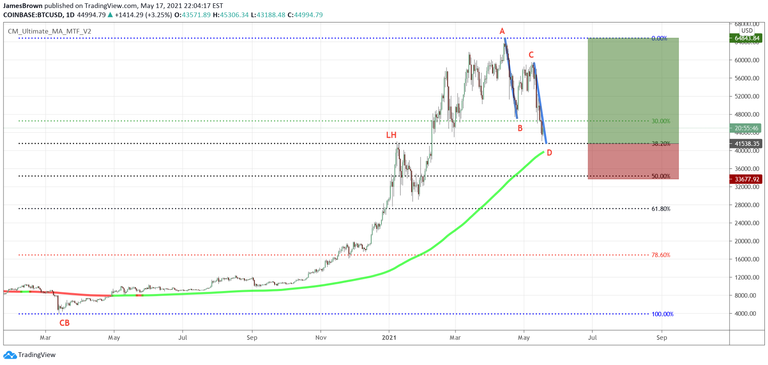 https://www.tradingview.com/chart/BTCUSD/u9o6iZTo-BTC-Convergence-of-support-in-an-uptrend/
In short, a convergence of potential supports, each of them having a history of being support enough, in and of themselves, to cause price action to pivot into a new wave up in bullish trends.
The aforementioned supports that are converging near the same price:
1.) AB = CD pattern
Corrective waves often repeat in terms of the amount of price that they drop. In this case AB would equal CD at around $41,500.
2.) Testing a major "local high" (LH)
Testing what was once a major price pivot (to the downside) - a strong resistance in the past (strong resistances tend to become strong supports)
3.) fibonacci, 38.2% retracement, between all-time high (ATH) and cycle bottom (CB)
This percent of retracement tends to act as a strong support in a strong bull market.
4.) close support of the 200 day "simple moving average" (DSMA)
The 200 day average of BTC closing prices sits currently at around $39,700. This also tends to act as strong support in a strong bull market. The fact that it has never yet been tested in this bull market cycle could mean that a test of it is imminent. One would expect that we at least get a decent bounce out of this first test.
In total
So that's 4 major supports all converging within about a $1,000 zone, and it's an even smaller range if we leave out the 200 DSMA (under $500 range). That ain't bad. You don't see that much convergence of support/ resistance in any market that often, which means that this could be a ripe opportunity for taking a swing trade position and/or long-term position.
Of course, it should go without saying, but I'll say it anyways, we can never be sure how a market will behave, should the price come down to these support zones. There's no guarantee that any of them will be able to withstand the selling pressure, or even that they'll provide a significant "bounce", be it of the "dead cat" variety or any other.
Trade
I threw up an idea for how to trade this set-up, as a swing trade position, with a stop-loss just under the 50% retracement level (between CB and ATH) and a "take profit" at the ATH. The reward to risk (R/R) is a few points shy of 3 to 1, which isn't too shabby.
Obviously, you could make for a better R/R by tightening the stop, but then you're also more likely to be "stopped out".