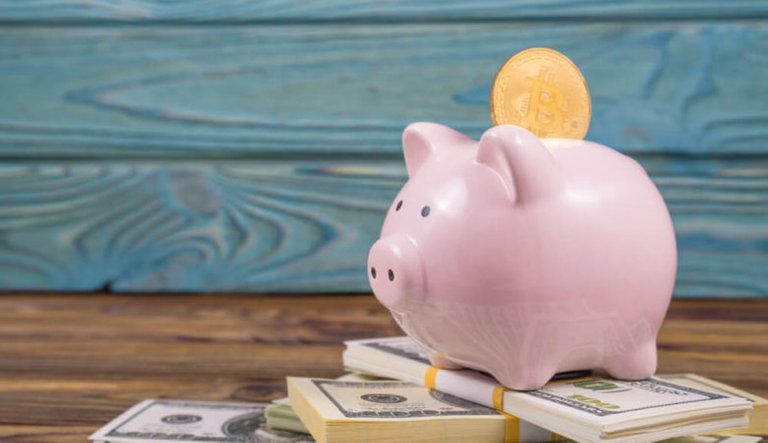 The first month of the New Year has ended and Bitcoin does not look much better than at the beginning. On the contrary… at the end of the month, Bitcoin went down to almost 3400 USD.
We can see a little hope in growing buy orders around 3300 USD which are already higher than the sell ones. But that does not have to mean anything. It is possible, that the imbalance arose only because the buyers make their orders in a way so they can catch sell orders of current holders which will sell even more with further price fall. Just a few people expect growth at this moment.
But who knows… maybe the Chinese year of Pig is going to be reflected in further development. I would wait for this at the end of 2019. So far, this graph might help us with it:
When there are further sales, interesting things will start to happen
The price is under pressure of red trend line and supported by the purple one. This could indicate the possibility of a turnover, but there is not a significant volume. Now I think that the price will slowly decrease throughout the first half of February. When there are further sales, I would expect a drop to 3122 USD which is the lowest price at Bitstamp since December 2017.
And here the interesting happens. There will be a reflection, and that could indicate the start of a new growth with a return of at least somewhere to 5200 USD, or we can expect to go down up to 2300 USD, or maybe to slightly touch 1000 USD. But those 1000 USD is a catastrophic scenario involving the activity of many nervous owners who start selling out of fear that Bitcoin is ending and goes to zero.
Personally, I would rather see some kind of reflection and comeback so the market would be more active. A moment for purchase will be a short sale, followed by a pump over the red line. I personally recommend buying while crossing the line, or wait a day for a short correction.
Sentiment in the market
Bitmex Leader Board: 50:50
Bitfinex: 32 thousands BTC long, 24 thousands BTC short
OKEX: 54 - long, 43 - short
Recommendation: Wait with the purchase. The signal may be exceeding the red line with a higher volume. Before that, a decline can be expected as a result of more sales and attacks on stop-losses.
---
Disclaimer: These articles cannot be considered as an investment advice, and it is still a good idea to make speculation on bitcoin stock exchanges only with funds you can afford to lose. The high profit potential is balanced with a significant risk of losing, especially here on the crypto markets.
Česky: https://btctip.cz/kurz-bitcoinu-analyza-ozivi-trh-zacinajici-rok-vepre/
---
View this post on Steeve, an AI-powered Steem interface