Bitcoin bearish trend after the all time of $19,000 in the 4th Quarter of 2017 may have found the new bottom ranging between $5000 and $7000.
On 11th Aug, bitcoin found a new bottom of $6100, while on 21st Aug MACD crosses over indicating a possible uptrend in coming days.
The point marked as bull confirmation was the turning point confirmation of price reversal in the up trend.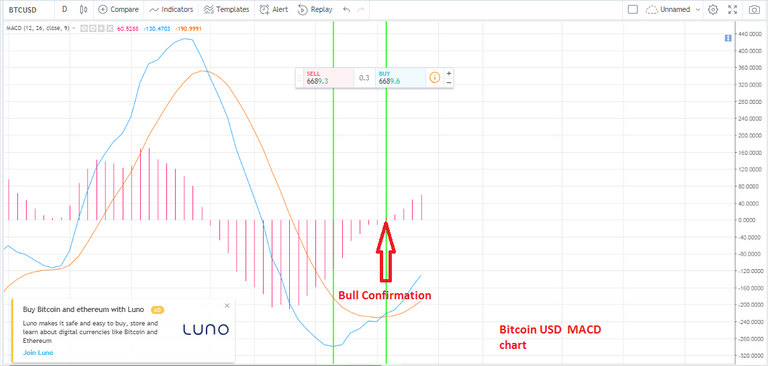 In the last Quarter of 2018, i believe BTC migh rally up to $10,000
A quick short term trading plan targeting $8300 from $6100. Buy and sell position indicated below.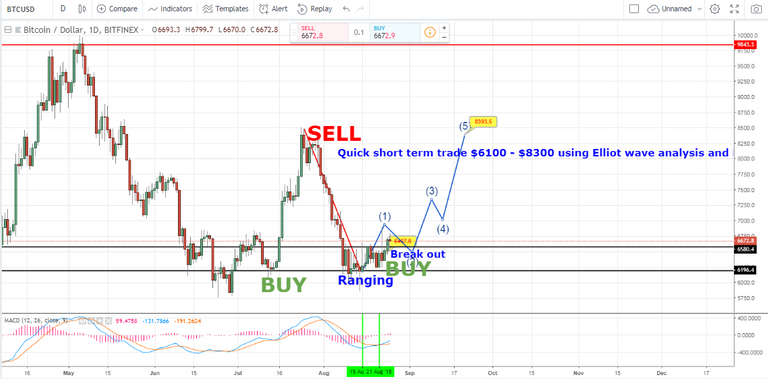 Your Comments, suggestion and questions are highly welcomed
If this blog post has entertained or helped you to profit,
Please UPVOTE, FOLLOW, RESTEEM and/or consider giving some donations:
BTS Wallet - trizle1
BTC Wallet - 1AxEcPUi6nNQDaaT8CKTohmBKeYFhUJyFE
ETH Wallet - 0xDFf7E134291E1C82F98E3976be47BC3484F595B9
LTC Wallet - LbpwNMUYPj2uPMXh6RiDwvzap7UBtQGiAS