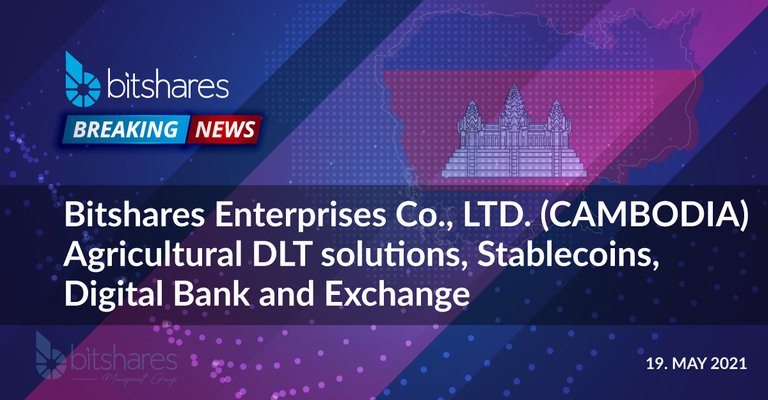 Following up on previous business updates from Twitter and in community chats (Telegram). BitShares Management Group firstly are pleased to announce the successful approval and registration of BitShares Enterprises Co LTD in Cambodia.
The reason behind launching this entity is because there exists a fabulous opportunity arising from our activities in recent months. We are blessed to have made connections with excellent regional partners, whereby with Cambodia, there exists one main goal of launching a stable-currency and attempt to satisfy the agricultural requirements to move onto DLT, as well as providing an exchange and digital bank to operate it. This means BitShares technology can soon be exposed and promoted heavily in the Kingdom of Cambodia, as innovation and as a DLT, a solution and means for a digital currency which can be provided in a transparent, incorruptible manner.

BitShares will now be further able to extend global outreach from Cambodia. which is also a modern day melting pot for expats, and forms one of fastest growing hubs of business and foreign investment/business development. Interesting to note about the country in modern times, Cambodia has transformed into a lower middle-income status since 2015.
Should you not be familiar with history, and mainly out of respect - we should never forget the reasons (or lessons learnt) that Cambodia is still developing, still recovering, due to tragic past events. Today, it's a country on a long-term growth trajectory, and finally very much open to the world as a dynamic locale for the international business community.

Modern Phnom Penh (image by allPhoto Bangkok)

Business registration info
https://www.businessregistration.moc.gov.kh/ >> Select 'Online Services' > Search entity > search for BitShares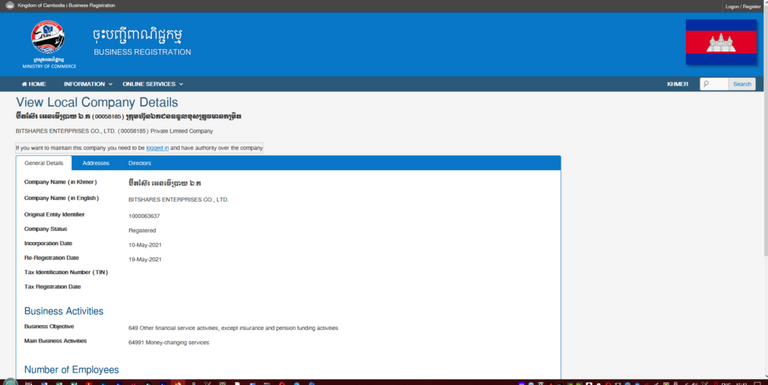 See info above to view on the website by yourself
Information repeated here for info:

Director 1
Name (Khmer)
សំ សុផល
Name (English)
Sam SOPHAL
Chairman of the Board of Directors
Company Name (in Khmer)
ប៊ីតស៊ែរ អេនធើប្រាយ ឯ.ក
Company Name (in English)
BITSHARES ENTERPRISES CO., LTD.
Original Entity Identifier
1000063637
Company Status
Registered
Incorporation Date
10-May-2021
Re-Registration Date
19-May-2021
Tax Identification Number (TIN)
K009-902102261

649 Other financial service activities, except insurance and pension funding activities
64991 Money-changing services
Bank Account Information: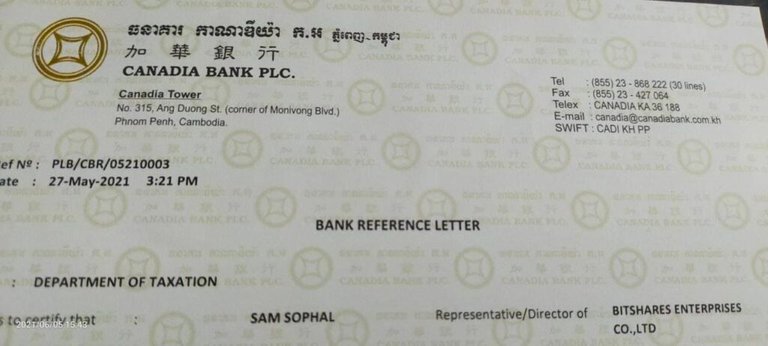 Conclusion
As a result of this and other activity, BitShares has begun expansion towards a global footprint. Consequently the Business is registered, local CEO hired, and bank account opened. Certainly, a big potential exists in the next steps, with a proposal to fulfill the DLT requirements set out and bringing BitShares digital banking technology to the Kingdom of Cambodia. Finally, Cambodia should make for an interesting place within international business community to thus promote and spread awareness of BitShares blockchain and crypto/DeFi. All this of course, with full corporate, legal, regulatory approvals in place.
---
Posted from BitShares News with Exxp : https://news.bitshares.org/bitshares-enterprises-active-in-cambodia/
---