Corporate Goals, Philosophy, Vision, and action items undertaken
Exec Summary - This article is to provide insights and details on the corporate structure/roadmap progress of BitShares Management Group (and beyond) so far Jan-Jun 2021, as reflected on BitShares.org and bitsharesmanagement.group websites.
Since this year, businesses are being incorporated in Southeast Asia for BitShares. Thailand for the main BitShares Management Group corporation. Cambodia for BitShares Enterprises, a DLT and digital payment services offering. Furthermore, as earlier posted on Twitter - BitShares now has a named USA registered business entity:
---
Officially - Bitshares USA [sic]
---
Corporate Philosophy
Transparent management of funding and returns on them to grow BitShares by invitation-only investment partners and collaboration are happening in the background as required. Only business or corporate style management can allow this to occur, and for the opportunity to blossom for all token holders or participant around BitShares. Virtues of innovation and long-term vision remain a guiding principle. Value is being baked into the BitShares sphere, as leadership now exists enabling things to become coherent, legal, branded and organized. In that sense, BitShares was never granted this before. Of special note on this update, on the new corporate website, and this article, are the range of new products and services being launched which includes Staking, NFTs, and more.
---
From Vision to Mission

see https://bitsharesmanagement.group
---
Corporate Website
BitShares.org main website remains as a technology site describing the BitShares blockchain as a whole. The new BitShares Management Group (BTSMG) website provides the top-level corporate view and management, where you'll also find the below statements:
"As of 2020, BitShares 4.0 (May 2020) and later 5.0 (September 2020), releases were activated with stake-lock voting, removed collateral voting, added voting decay, revised BitAssets1.0, AMM (Automated Market Making) and more. As a net outcome the BitShares ecosystem now filters both investors and users by the core logic of the blockchain and actions they take, while keeping reserve pool and blockchain integrity protected.
Starting in late September thru November 2020, core team and architect behind new corporate structure of BitShares, Milos (Digital Lucifer) Preocanin, held a long discussion on 2020 trading profits, equity markets opportunities, and potential leverage of the global pandemic as an alternative investment vehicle that would be bringing back real value to the BitShares brand. With full blessings of BitShares.org domain and EU Trademark owner, to start a global incorporation using 'BitShares' name.
In order to become highly compliant under the Kingdom of Thailand's business regulatory system, they have decided to invest 16.96 Bitcoin ($BTC) as a donation and marked birth of the first legal decentralized autonomous parent company and key management of the BitShares ecosystem."
With the above statements, following are more brief highlights, descriptions and documents to illustrate the recent activities required to make it happen.
---
BTS Staking Process: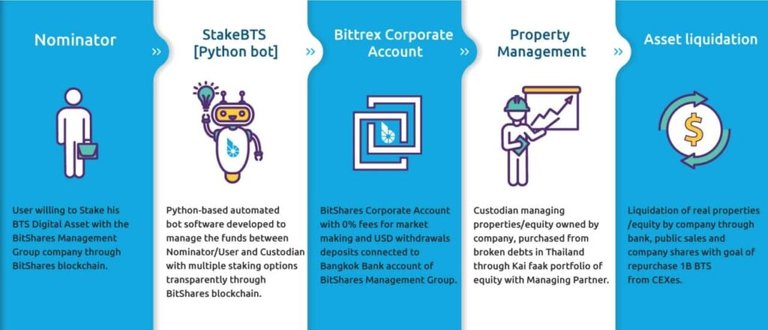 BTS staking process for investor
Above provides illustration of how it will be possible for users willing to stake BTS to participate in the corporate growth.
---
[THAILAND] Incorporation details for BitShares Management Group
The first major roadmap marker was the necessary founding of a new Management Group in order to handle real world matters and fill a gap missing in this project since the former BitShares Foundation disbanded.
Feb 2021 - Founded BitShares Management Group ("BTSMG") in Thailand.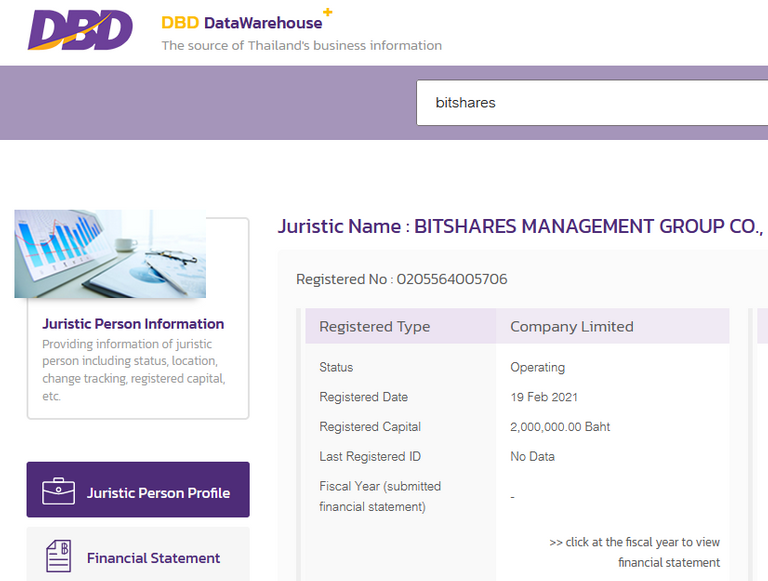 https://datawarehouse.dbd.go.th/ select English and search for "BitShares"
---
23 objectives from incorporation papers

Following are the (certified) translations from Thai language of the list of permitted business activities. In entirety therefore, a total corporate umbrella or license to operate and manage many types of 'general daily business', with obvious omissions like securities, pharma, and military. Most importantly, with investments and actual documentation on chain, we will be using real world assets to provide actual backing and ROI of trading in the real world. This includes real world assets acquired using "Kai Faak" style and left for longer return when a buyer comes along, OR, interests can be paid and assets can be repurchased by the borrower for the original value loaned. In short, a business structure is also required which is more involved than for a typical one-industry/concept or small business, and what BitShares now has is more of a corporate umbrella.
BTSMG license permits it to engage in any business from the following categories.
(from certified translation)
Purchase, provide, rent, book rent, have ownership of, be in possession of, improve, use and
manage any assets and the interest of those assets.
Sell, transfer, mortgage, pawn, exchange and deal assets in other ways.
Be an agent, dealer, foreign exchange dealer in any kind of activity and business except
insurance business, looking for members for the corporation and trade in securities.
Take on loans, overdraft from banks, juristic persons, or other financial institute and lend money
or give credit in other ways, having guarantee or not, including receiving, paying, transferring
and endorsing bills or negotiable instruments except in banking business, funds business and
Credit Financier.
Establish branch offices or assign agents, both domestic and abroad.
Come in as a limited partner in a limited partnership, be a shareholder in a limited company and
a public company limited, objectives in connection with running a service business.
Running contractor business for: commercial buildings, residential buildings, offices, streets,
bridges, dams, tunnels and any other construction work, including every kind of civil work.
Running hotel, restaurant, bar, night club activities.
Running transport and – transfer of goods and passengers over land by water, by air, both
within the country and between countries including the service of getting goods of any kind
from the harbor by clearing them from customs and organizing them during transport.
Run packaging, collect, make, print and publish statistics, agricultural, industrial, commercial,
financial, marketing information, including analyzing and assessing the results of running
business.
Run legal, accounting engineering, architectural service activities including advertising.
Run guarantying for debts and responsibility services and acting according to an agreement of
others, service including rendering guarantor services for persons who came traveling into or
travel out of the country according to the acts about immigration, taxes and other acts.
Run service business as a consultant, give advice about problems in managing commercial
industrial work including problems in production, marketing and distribution of goods.
Run service business of being the manager and caretaker of interests, yield the benefits and
manage the assets of other persons.
Run activities of private hospitals and nursing facilities, treat patients and ill people.
Run activities of making movies and distributing them, movie theaters and other amusement
halls, resorts, swimming pools, bowling alley.
Run repair, maintenance, inspection, greasing and rust proofing every kind of vehicles, running
services including installation, inspection, equipment fixing and calamity prevention - services of
all kinds.
Operate laundry, hair cutting, hair dressing and beauty care – activities.
Perform photographing, (film) developing, print and enlarging services including documents.
Run massage parlor activities.
Run auctioning activities for hiring people to make goods according to all the objectives, for
persons, groups of persons, juristic persons, government instances and government
organizations.
Perform activities, purchase, book rental, have ownership of assets and real estate for auction
and trading.
Perform activities as the agent, broker, trade all kinds of real estate.
---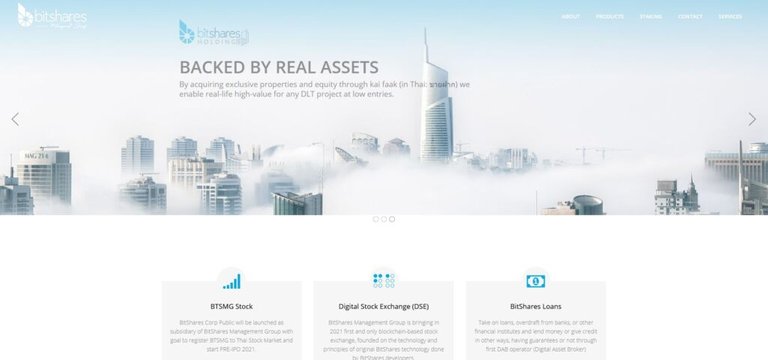 BTSMG website
---
Mutual Opportunity
During the Covid-19 Pandemic, there has been a decline in all industries and markets across the world. As a Thai-based company we've seen the opportunity to actually purchase luxury properties and assets, where they can be purchased from broken bad-debts known in Thai as "kai fak"- agreements by law, (in Thai: ขายฝาก). This law is widely used by both foreigners and Thais. It can also be a win-win for both parties, as it allows debtors to walk free of any further liability.
With being a licensed broker, construction company for private and public work, legal, accounting, logistics and few other objectives - we bring the most value and returns on the prices that are under the market values. This can continue as a core means of creating share/stakeholder value and generating further REAL WORLD profits by the trading in and managing of any of the above business categories, imagine what possibilities this entails for bringing together all into NFTs and other types of smart contract, recorded indelibly as real and having approvals in local law (Thailand/Cambodia) by recording such assets on a trusted DLT.
---
Round-up of further activity:
The following gathers the rest of the activity completed or ongoing. Do check back often for separate articles on some of these.
Community Stake earnings backed by real equity
Staking is another new product being launched, designed with our community with small-holding of BTS to get involved with. (No KYC stake-locking) and accredited (KYC & AML) for larger sums, with enhanced staking terms and potential of 'trader returns' up to 96% APY. Mostly for market making (some automated and some manually), by trading specialist techniques for simple market making, liquidity mining with continual human monitoring, funds are locked or reloaded to fixed price non-volatile assets, conservative scalping and short term holding of funds to generate profits for the staking pool. Backed by innovative and legally structured terms, to create a low risk staking environment, think of it as a corporate style of fund management, with profits re-distributed as dividends to both the holders and reserve pool of the BitShares blockchain.

BTSMG website
---
[CAMBODIA] BitShares Enterprises Co LTD (founded by BTSMG Thailand)
The main goal of launching stable currency for Cambodia and attempt to satisfy their agricultural requirements to move onto DLT, as well as exchange and digital bank.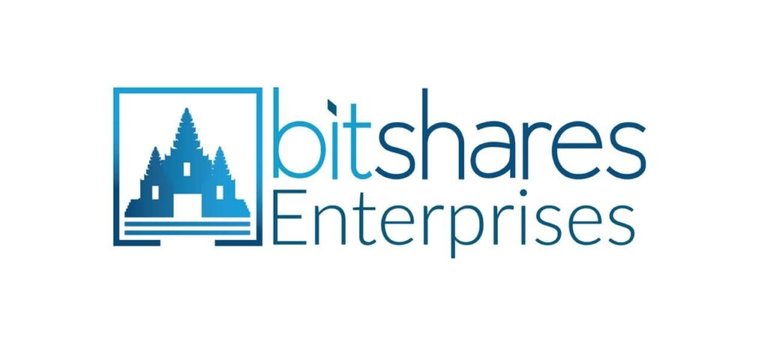 In short, registration of BitShares Enterprises in Cambodia is complete, and you can refer to more detail here.
---
BitShares Management Group - Coming Next:
Once BTSMG Limited passes the SEC process - it allows a DLT fork of BitShares native technology (being prepared by develoeprs) to go live as a private blockchain. Instead of traditional coin/token/digital asset it will hold an e-stock named BTSMG. DSX (Decentralized Stock eXchange) will be a dApp providing the ability to issue new e-stocks while enabling a high-performance secured alternate 1-1 version of the traditional Thai stock market. In addition, blockchain data, sales, access will only be to registered stock brokers, issuers, authorities, banks and any other institutional investors/partners of the business participating.
This exchange then will not only showcase a real life DLT version of a stock market which the BitShares blockchain always had built-in, it'll actually enable it for these participants to use as a real 'front end' for stock trades. Further, BitShares blockchain is capable of 125k transactions per second on localhost. Based on that BitShares core dev team estimation, that's processing of up to x45000 times more activity than than the current traditional stock market. In other words, performance will be far great enough.
---
Conclusion
This sums up all the progress updates so far in 2021. A big thanks to all community and holders for the renewed enthusiasm and interest since version 5.0. New efforts are gaining BitShares true recognition and credibility once again.
---
---
Posted from BitShares News with Exxp : https://news.bitshares.org/bitshares-update-q1-2021/
---