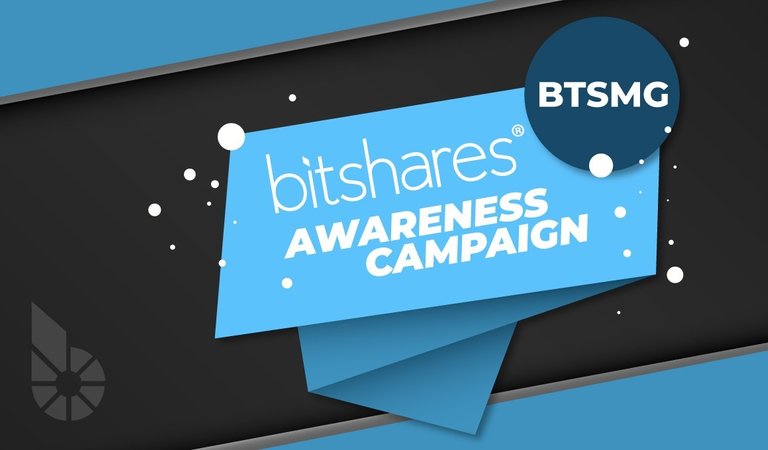 BitShares in Bang Saen, Chonburi, Thailand
Brand Awareness Initiative by BTSMG for the BitShares blockchain, taking the form of street-food vendor promotional sponsorship, 6 month renewable contracts.
Hatching of a campaign idea
BTSMG has been discussing ideas for brand awareness marketing. A local Thai person known to the group would be setting up and starting a street-food BBQ stall.
After some discussions the vendor was offered money upfront as we had seen enough to believe they really could do the business, and would only get there with some financial assistance. They agreed to provide IDs attached to a simple pen and paper signed contract. In just 10 days, the vendor was ready with a sign made up including the BitShares logo. The current sign is temporary, so we have time to complete another sign and clothing items for them soon.

Family Street Stall from concept to returns in 10 days
We want to share with you a little of the success story and how we hope to create similar positive effects with this initiative. The stall is Thai BBQ style with 'yakitori' style (grilled chicken or pork on a stick), plus fried sausages and meatballs. Already experienced using a motorcycle cart to sell sausages and meatballs, a brother asked his sister join forces, to expand into more BBQ 'picnic' style items and be on a fixed street stall next to 7-Eleven, in the bustling street market area. A large part of the preparation was for the sister to complete training 5 days with an experienced 'Auntie' and learn the full process, preparation of raw meat safety, master the cutting techniques, and learn the recipes so the product will always be consistent and delicious. The result is a more unique product. Other investments were just some basic equipment and raw materials but it was money they couldn't get from a bank, because a street stall has no 'equity'.
The stall they created was open and making daily returns in about 10 days. We didn't expect such a fast result, their motivation and hard work is inspiring. They have expressed thanks to BitShares by telling me it would not have been possible otherwise, someone would have taken the selling spot before them. Now they're proud to display our branding as a sponsored advert.
---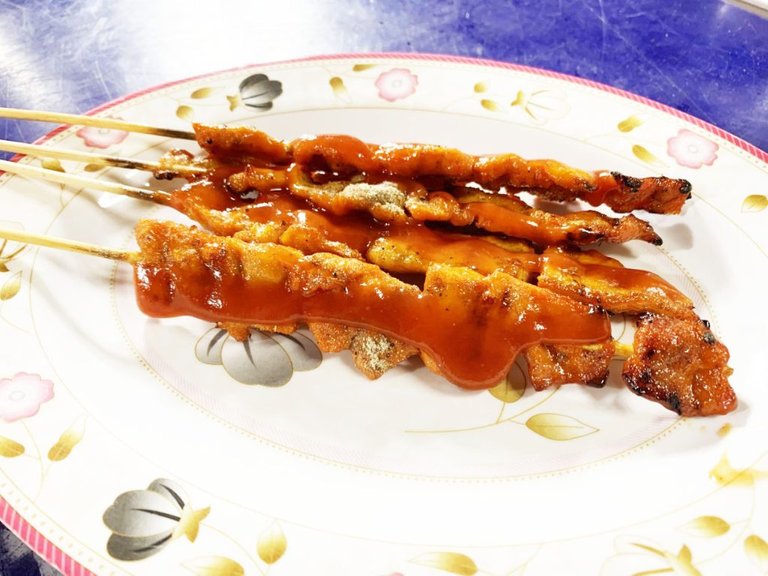 Grilled Pork with sauce - product from the actual stall
Next Steps
From this first try at sponsorship, it seems to be a viable option for more awareness marketing. There are surely more success stories waiting for us by providing small sponsorship packages and branding to street stalls. All walks of life from moto-taxi drivers, students, or millionaire and billionaire businessman love to buy street food, and will view the signs and t-shirts. So we can get a lot more community and economic contribution than only commercial forms of advertising.
After some more legal and technical roadmap items come into place for BitShares, (such as exchange listings) sponsored stalls could easily be upgraded to cryptocurrency payment options including BitShares. The sponsored stalls would become a readily available base to start BitShares payments.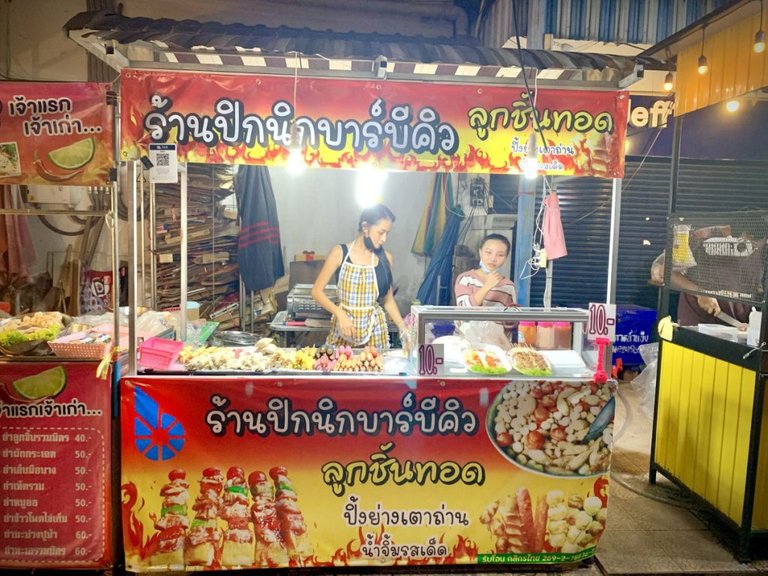 PICKNICK BBQ 'v1' family street stall sponsored by BitShares - With the B logo. New signage with t-shirts and design coming soon!

Location, Location ..
The location is set with a popular and relaxed street market area in a seaside town that's big with Bangkok visitors on weekends and students from the local
Burapha University
the rest of the time. Out of interest and again aligning with BitShares philosophy, Burapha University is 80th in the world by the ranking of top 100 Innovative Universities 2020 (WURI 2020: Global Top 100 Innovative Universities). Bangsaen Beach town has an excellent demographic for this campaign.
Conclusion
First off a success and well received by the vendor, who is proud to display our logo in return for sponsorship. A neighboring vendor asked if they can be next to receive a new sign! All parties benefit. It'd be worth expanding the initiative to several vendor carts, so that later they can also take on BitShares/$BTS payment options.
---
Cross-posted from BitShares News using Exxp to Hive.blog : https://news.bitshares.org/btsmg-bitshares-awareness-campaign-in-bang-saen-thailand/
---