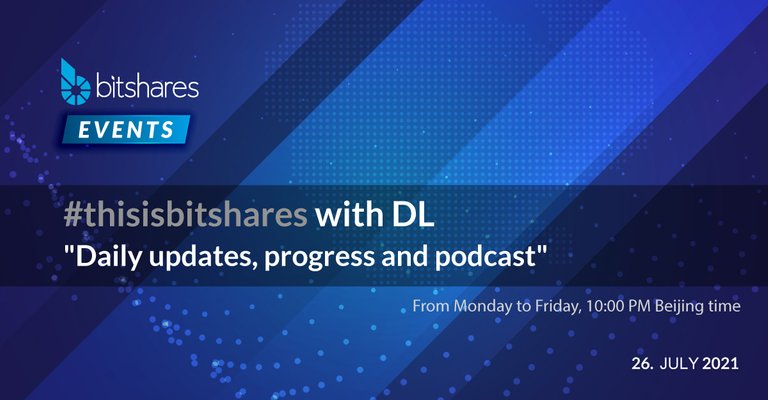 Brief
During late 2020 and throughout 2021, BitShares has been undergoing a major transformation. Milos "Digital Lucifer" Preocanin announced new daily live streams and a podcast with all activities of BitShares (public and non-profit, as well as reports from the for-profits recently started). This article covers earlier history and sets the scene for these casts.
The overall intent is to highlight how BitShares has gone from a 'free for all' decentralized 'digital democracy', (that failed to allow the project to grow and turned into state-corporate organized crime) and what it now means to have a consolidated, centralized, and focused layer of management to stimulate and nurture growth that is publicly visible. BitShares is finally able to engage real industry and business whilst retaining all of the openness, community, and possibilities of this very FIRST and powerful DLT/DeFi technology platform along the way. The live streams will further stimulate activity and discussions about this.

What is BitShares?
Before we dive in further into all the BitShares updates, a quick orientation for the benefit of any readers who might be new to the space or BitShares ($BTS) in particular. BitShares was created in July 2014. This makes BitShares the very first DPoS (Delegated Proof-of-Stake) blockchain as a business complete platform: a flexible, hugely scalable and performant, plus Eco-friendly alternative to the 'mining' seen in Proof-Of-Work. Further on, STEEM (now HIVE.blog) and EOS were also created by early members who left and then forked BitShares.
BitShares was the first to introduce a core cryptocurrency ($BTS) with very fast transaction times (blocks are produced every 1.5secs, irreversible once the 21 validators have done a round, <1min). Anyone can open an account, load it with $BTS (tokens available for purchase @ Bittrex), and use the Wallet UI, the Token Factory that is now renamed to BitShares Mint (where organizations can create their own crypto-tokens), and a Digital Exchange - all powered by fees paid in $BTS.
For a glimpse of the possibilities - More serious businesses or developers can build their own interfaces, and integrate it with their own tokens and gateways. This could be pegged to actual company funds and enable management and flexibility in the 'DeFi' sense, where an organization can perform a lot of business transactions traditionally supplied by financial service providers (middle-men). Of special note, BitShares also came out with the first stable coins BitUSD and BitCNY, BitEUR. Designed to smooth volatility of the Crypto market so business and industry could use it rationally and in quantities everyone understands (1-1 peg). All of this long before the acronym 'DeFi' existed! (See also https://www.bitshares.org)
BitShares today
BitShares in brief then, is a platform now in holding a corporate identity, with endlessly flexible use cases for business. Possibilities cover all industries - corporate, financial, healthcare, insurance, charities, property, logistics, data-warehousing, stock market/digitization of traditional exchanges and more. Organizations can apply nearly any business logic for managing decisions, budgets, approvals, granular/daily payouts, overseas remittances, and endless other scenarios which become clearer the more one learns about BitShares technological hands and legs.
Through the structure explained in a moment, BitShares technology is open and available to any company or corporation in the world to come and assess how it could power up their own operations, or consider bringing this astonishingly powerful and working DLT technology platform into their R&D.

BitShares Corporate Structure 2021
Without delving into history too much, different iterations of decentralized management existed in the past for BitShares, and all are now defunct. This included an organization no longer operating who handled proxy payouts of salaries for BitShares workers. Since then however, the EUIPO trademarks, logos, web domains, business registrations were all consolidated to a non-profit foundation first partnered with in the Crypto friendly nation of Slovenia. Today the non-profit Move Institute remains the registered trademark holder and owner of BitShares as a brand.
Next was to spread globally and also setup headquarters of the main operations. A new entity in the US was also setup along with Thailand, see this article for that and more important info on the corporate side. BitShares prior to 2021 never had such structure or business/corporate and regulated, legal entities to step up and represent it. Finally this is in place.
Since some of the main leaders were located in Asia, particularly Thailand, as a desirable digital destination and having many resources, would become the base of operations. Note this does not include trading cryptocurrency, issuing tokens, or a digital exchange. Business licenses obtained cover a wide umbrella of business activity which will increase value for stakeholders. All can be mirrored on the blockchain as a ledger operating the company transparently for any inspection. All decision making and funds movement will be recorded on-chain.
Southeast Asia
In Cambodia, BitShares Enterprises launched. The goal is a stable-currency and attempt to satisfy the countries agricultural requirements for utilizing DLT. Read more here.
Meanwhile, BitShares Management Group acts as Mother company for corporate management of BitShares technology, products, subsidiaries, services and corporate clients. BTSMG is managed by original BitShares people and owned 100% by Thai nationals. Firstly, $BTS is to be cleared through SEC process as a legitimate digital asset. This will open the door to a public fork being presented and proposed to the financial regulators as a Digital Stock Exchange solution. Today, BTSMG operates from investment of developers and managers of BitShares into Thailand. It's used to obtain land, property, businesses and other assets purchased approximately 40-60% of market value from bad debtors (under Thai law known as 'Kai Faak'). These assets are then managed/leased/held/sold on for profit. The business has the dual goal of creating real world value from assets, while funding the most cutting edge solutions in the DLT space.

BitShares Updates on Products and Offerings
A run down of all the websites, products, and other BitShares updates happening in 2021.
BitShares NFTs
(In process of development)
The NFT market has really taken off lately, however BitShares takes a more pragmatic and long-term approach vs hype. Real-world items are the emphasis, providing art, antiques, or other very unique pieces provenance with on-chain smart-contracts and documentation. Registered buyers login and place bids by public auction. They choose for purchases to either remain stored with the company, or shipped worldwide. Either way the NFT holder is the owner of the physical item. See the (demo) website along with more information here.
BitShares Staking
(Production)
Since the corporate overhaul, there is in place KYC process to stake BTS for voting rights and rewards. See 'How StakeBTS works' on the BTSMG website.
BitSharesTalk Forum
(In process of deployment by 3rd party)
Long due an overhaul, and an example of BitShares web development capabilities will be the new Forums coming online soon. A demo is available here.
BitShares News
(Production)
Started in March 2019 and now in a third year of operation. Ranking at times in the top 150k or above globally by Alexa ranking, as a niche interest cryptocurrency site. See news.bitshares.org (in case you're reading elsewhere) for more articles on the progress of BitShares since then until today.
BitShares Website
(In process of 2nd overhaul)
By early 2021 it was time to overhaul the main website. Held by Move Institute as non-profit and legal representative of the organization, the dev team consolidated it onto the WordPress platform. With all the changes in business structure, on-going obstacles and challenges from the incorporation of BitShares, the website still has a few pieces to be completely finished. We should have a surprise coming up in the first half of August. See www.bitshares.org
dBTS ERC-20 (Token, website and swap)
(In process)
As it was incompatible with ERC-20, $BTS faced frequent rejection by 3rd party platform ecosystems. Instead, BitShares team created dBTS, an ERC-20 compatible token to be pegged 1-1 with $BTS. Featuring a playful tortoise logo, which represents how BTS slows down to work on ERC-20, like the tortoise and hare - we believe it's gonna be whole new world. See it on GitHub.

Business and Industry
In conclusion, the project is ready to expand through further engagement in the real world. Corporations and organizations having DLT requirements can get in touch. BitShares has set clear goals to dominate markets and competitions through brand recognition and excellence of service and products with financial institutions, stock markets, any serious corporate industry level and also regulators in each main jurisdiction of the Global economy and its Leaders. To understand the seriousness of this last wording, please read carefully article on corporation and its details here.
Don't forget to catch more daily BitShares updates with DL, starting on Monday 10:00PM Beijing time.
---
Posted from BitShares News with Exxp : https://news.bitshares.org/thisisbitshares-with-dl-daily-updates-progress-podcast/
---