We are presenting P2P cryptocurrency exchange MRKT.CASH where you can buy and sell tokens for fiat money such as USD, RUB, EUR, CNY and others.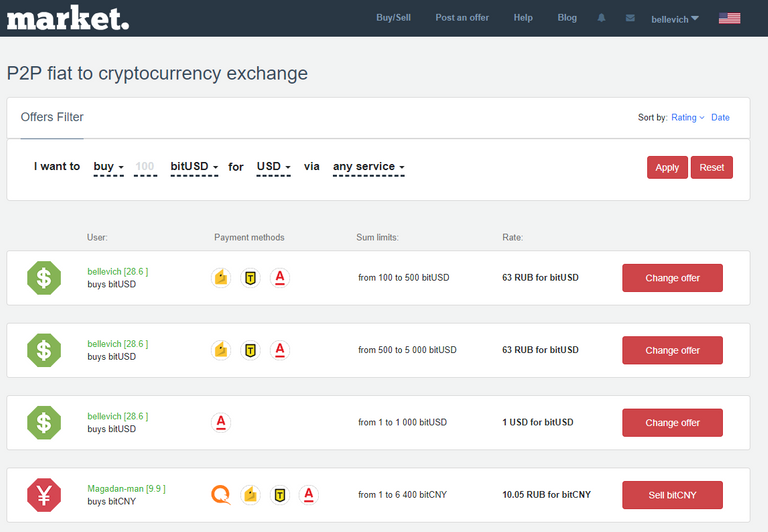 At the moment users can:
Create user account.
Attach accounts in BitShares blockchain.
Create advertisements for trading tokens in BitShares blockchain.
Respond to advertisements created by other users;
Make safe deals to buy or sell tokens by using escrow-account of the service mrkt.cash: mrkt-bts-escrow.
Join referral program and get up to 25% fees from completed deals.
Cumulative rating
For each deal completed with a new user you get points to your rating.
up to 1 000 USD (other currencies equivalent) - 0,1 point;
from 1 000 USD- 0,2 point;
from 3 000 USD - 1 point;
from 15 000 USD - 2 points;
from 50 000 USD - 3 points;
from 100 000 USD - 4 points.
Maximum possible amount of points from deals completed with one trader is 7.
User's high rating means that they made deals with many users and with substantial sums of money. Fraud risk while making deals with the user who has a high rating is offset.
Guaranteed deal
All the deals are made via escrow account mrkt-bts-escrow in Bitshares blockchain. It means that the seller of cryptocurrency must deposit funds on mrkt-bts-escrow account. Thus mrkt.cash acts as guarantor of fair deals.
Join us to trade cryptocurrency for fiat money in Bitshares blockchain in a fast and secure way.
Follow us in a social network:
https://twitter.com/mrktcash
https://steemit.com/@mrkt.cash
Telegram English:
https://t.me/mrkt_cash_eng
Telegram Korea:
https://t.me/mrkt_cash_korea
Telegram China
https://t.me/mrkt_cash_china
Telegram Bot:
https://t.me/mrkt_cash_bot
Be the first to hear our latest news.