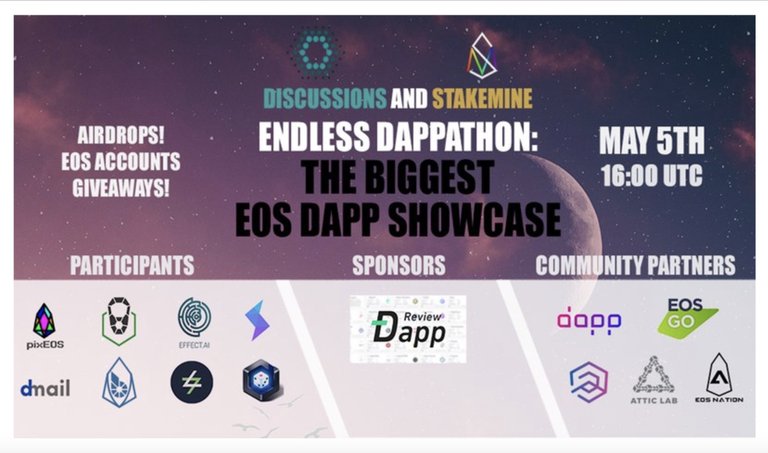 I'm delighted to have the chance to present our BEOS projects in this collection of great EOS Dapps.
Here's a summary of the event: https://www.crowdcast.io/e/endless-dappathon-by-eos/register
Reprinted in part below...
The second Endless Dapp's series Live with Discussions and StakeMine where we will be hearing from Dapps around the ecosphere and you will be able to have chances to ask questions and find out what the latest is around the EOSIO Space.
Stay tuned for a live AMA token airdrop during the event!
Current Dapps Joining us on the second Endless Dapps crowdcast (all times in UTC+00):
(16.00-16.10 UTC+00) Discussions and Stakemine:
Discussions: An on-chain community forum for all EOS discussions
StakeMine: An revolutionary investing model where your token never need to leave your wallet.
Website: https://eos.discussions.app
Telegram: https://t.me/atmosforum
Forum discussion group: https://eos.discussions.app/tag/novusphere
Website: https://www.stakemine.io
Telegram: https://t.me/stakemine
Forum discussion group: https://eos.discussions.app/tag/stakemine
(16.10-16.35 UTC+00) Pixeos:
Where Games and Art Collide - an Art Gamification Project on EOS platform.
Website: https://pixeos.io/
Telegram: https://t.me/PIXEOS
Forum discussion group: https://eos.discussions.app/tag/pixeos
(16.35-17.00 UTC+00) Sense chat:
Sense.Chat allows you to safely chat and transact with your friends and family. Share EOS and SENSE with the built-in wallet.
Website: https://www.sense.chat/
Telegram: https://t.me/SenseToken
Forum discussion group: https://eos.discussions.app/tag/sense
(17.00-17.25 UTC+00) Effect.ai:
An open, democratic & Decentralized Network for Artificial Intelligence
Website: https://effect.ai/
Telegram: https://t.me/effectai
Forum discussion group: https://eos.discussions.app/tag/effectai
(17.25-17.45 UTC+00) Switcheo + Obolus:
The preferred exchange for trustless and secure trading.
Website: https://switcheo.network/
Telegram: https://t.me/switcheo
Forum discussion group: https://eos.discussions.app/tag/switcheo
Obolus:
Website | Twitter | LinkedIn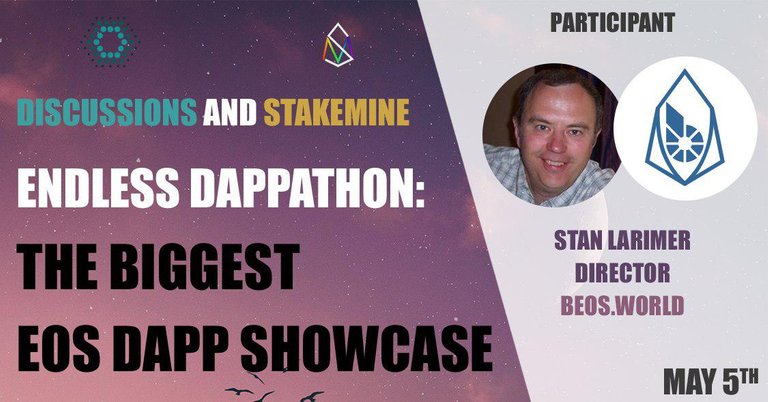 (17.45-18.10 UTC+00) BEOS:
A middle chain between Bitshares and EOS for business.
Website: https://www.beos.world/
Telegram: https://t.me/officialbeos
Forum discussion group: https://eos.discussions.app/tag/beos
(18.10-18.35 UTC+00) Metal Packaging Token:
A blockchain-based solution to improve cost-effectiveness within the metal packaging industry
Website: http://www.metpacktoken.org/
Telegram: https://t.me/joinchat/GHpqDxLMYCvr2_g9PvwRCw
Forum discussion group: https://eos.discussions.app/tag/metalpackagingtoken
(18.35-19.00 UTC+00) Dmail:
Blockchain-based email
Telegram: https://t.me/dmailcommunity
Forum discussion group: https://eos.discussions.app/tag/dmail
(19.00-19.25 UTC+00) Dice.one:
Blockchain-Based social gaming platform.
Website: https://dice.one/
Telegram: https://t.me/dice1_en
Forum discussion group: https://eos.discussions.app/tag/diceone
(19.25-19.40 UTC+00) Closing words
---
Feel free to contact the sponsor for any questions you might have at: https://t.me/eosdiscussionsapp