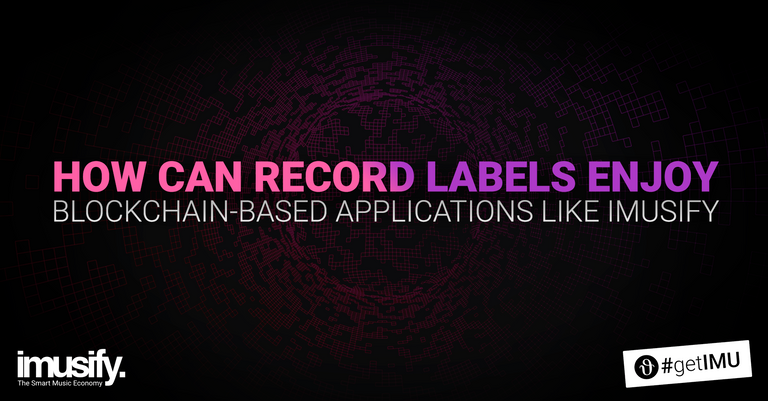 We talk a lot about how musicians could benefit from the blockchain. Today, blockchain technology may be the only response to the industry's well-known pitfalls with regards to musicians payouts. The award-winning platform imusify aims to generate new streams of revenues for artists. The pain for record labels is not only to scout real talents i.e. musicians with high potential but also to manage all artists' royalties, copyrights, and other time-consuming tasks while generating revenues for themselves. So how can record labels enjoy blockchain to help raise musicians' profiles? How can artists resort and trust labels, again?
Why artists still need record labels?
Signing up to a label is similar to finding a great partner; as labels nurture artists. Furthermore, record labels help artists in their career ensuring that the distribution of their music is done efficiently on the best possible channels (physical, digital) while promoting musicians accordingly. Plus, labels create a real home for musicians, not only matching their musical career (i.e. style or type of music) but furthermore to raise their profile within the industry itself. Independent labels may have a limited budget but could bring important connections to musicians and open new doors to them with their networks. As a summary, signing to a label is both an artistic choice and a strategic path to pursue within one's career.
Yet, labels may enjoy less publicity than the past since musicians' revenues keep on decreasing. For example, some labels are accused of poor royalties management, bringing some artists to look at labels suspiciously. Other services or platforms have been encouraging artists to ditch labels throughout the years. But the truth is that artists still need labels to handle a variety of administrative tasks, and for this reason, labels should be more self-managed — or should perform better with regards to copyright management and promoting the artists in general.
What does imusify bring to labels?
imusify has created an entire platform enticed to help the music industry entirely. From musicians to fans, from music managers to record labels, all the actors within the business will soon be able to manage artists more efficiently than ever. For example, the number one problem for record labels is how to become efficient as far as royalties are concerned. With imusify, every song that belongs to a label is encrypted on the blockchain, meaning every co-author or remixer gets their fair portion of royalties as smart contracts — a blockchain capability — enable transparent distribution of payouts. The latter boils down to record label's second issue which is how to compensate artists fairly for their true contribution and how to keep track of what gets played and where i.e. licensing and so forth. Well, imusify solves this issue, too.
Because the blockchain tracks every time a song is played and where — whether it be on the radio or in a mix for instance — instant payouts can be generated and sent to the respective copyright owners. Hence, labels don't need to be constrained behind a tough budget or missing streaming royalties. We can further imagine that labels can enjoy imusify to raise funds to fund an album promo or even shoot a photo campaign for new artists they believe will become big. No matter what the label strategy is, labels are in the best position to harmonize their actions and be more efficient when managing artists when using imusify.
The best for indie labels is to join blockchain-based applications that are proven to revolutionize the business i.e. music projects with a solid business model and an enticing cryptocurrency that users can trust. Yet most labels need to educate themselves on the benefits of using an innovative platform such as imusify. But now it's time!
By: Angel Lebailly @angelbali | imusify
IMU token will be listed on O3 and Switcheo