BlockTrades' new Affiliates program allows web sites to refer customers to our cryptocurrency exchange service and monetize the referral.
How do I join the Affiliates program?
Create an account on BlockTrades where you will receive credits for transactions you refer to our service.
On the profile page of your BlockTrades account, select the Affiliates sub-menu. Click the Help menu on the Affiliates page for details on how to configure your web site as an affiliate.
For most affiliates, the simplest/best solution will be to directly embed our QuickTrade widget into their web site (no real web programming is required with this solution, just basic HTML skills are needed). Below is a picture of the widget: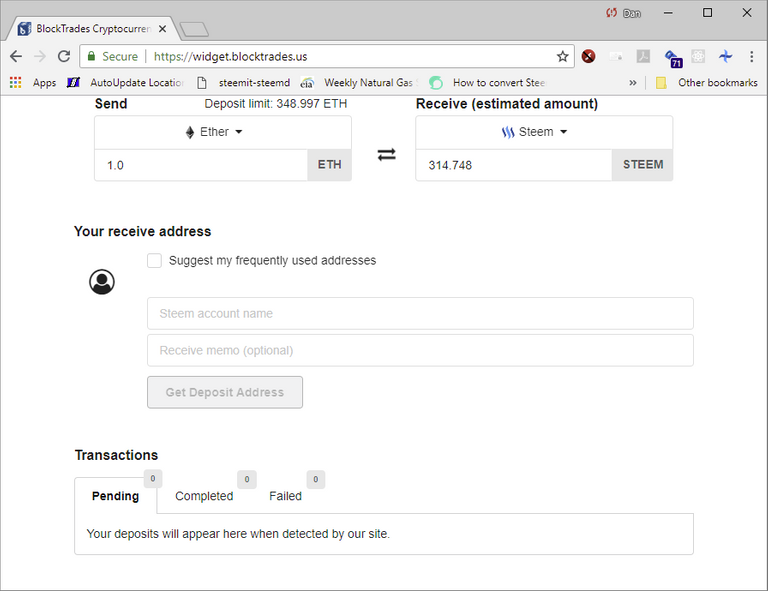 In rare cases an affiliate may want more direct control of the look-and-feel of the conversion process. If you do need to customize the look of the conversion process, your web site can directly make API calls to our server. Note that this latter process requires some experience in Javascript programming or a similar web programming language. This latter approach will also likely require more maintenance over time versus embedding the widget, as we will make automatic improvements to our widget that could require corresponding changes in your custom web code.
How do affiliate rewards accumulate?
Each time our system sees a valid payment that is tied to your affiliate account id, your affiliate account will be credited with a small percentage of the payment (if you've configured your account to collect a fee on transactions in the transaction's coin type). For example, you could set a 0.1% fee on all purchases made with Steem through your site and a 0.2% fee on all purchases made with bitcoin through your site.
Accumulated rewards can later be withdrawn to a blockchain address/account of your choosing. Currently we only support withdrawals directly in the coin type, but we will soon offer the ability to convert the rewards to other coin types directly from our service (this will save you the cost of one or two blockchain transaction fees).
How do I claim affiliate rewards?
To claim affiliate rewards, login to your account, go to the Affiliates page (under account profile) and press the "claim" button beside one of your credit balances. The claim button will only appear after a balance has been credited to your account (i.e. there has been at least one transaction that was linked to your affiliate id code).
Becoming a successful affiliate
That's all that you need to do to become a BlockTrades' affiliate: 1) register with our system, 2) create or modify an existing web site to embed our QuickTrade widget, 3) periodically claim your affiliate rewards. Beyond those basic steps, successful affiliates will probably want to make sure they do sufficient marketing for their web site and offer unique value-adds that encourage their site's usage.
If you have general questions about our Affiliate program, feel free to ask them in the comments below.